28 May
Restrictions come after former Marine is arrested on suspicion of murdering woman on southern Japanese island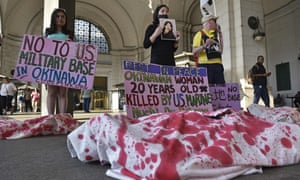 Activists take part in a demonstration to protest against the US military presence in Okinawa and the murder of a young woman. Photograph: AFP/Getty Images
Associated Press
The US military in Japan is restricting celebrations and off-base alcohol consumption in Okinawa after the arrest of a former Marine suspected of killing a woman on the southern Japanese island.
The Marine Corps commander in Japan said on Saturday the measures were not punishment but an effort to show respect for the victim's family and mourn with the people of Okinawa.
"We should not be out shooting fireworks. We should not be out having large celebrations and parties while the Okinawan people are in mourning. If we really believe we are part of the Okinawan community, then we too must be in mourning. And we do," Lt Gen Lawrence Nicholson said at a news conference at a US base in Okinawa.
The 30,000 US troops will not be allowed to drink alcohol off-base, and visiting clubs and bars is prohibited. Upcoming festivals and concerts on bases are being postponed until later in the summer. The restrictions took effect on Friday and will last until 24 June.
Police say they arrested 32-year-old Kenneth Shinzato on 19 May after he told investigators where they could find a 20-year-old woman's body abandoned in a forest. Under Japanese law, he can be held for 21 days before charges are filed. The former Marine had married a Japanese woman and was working for a contractor that provided services to US bases on Okinawa.
Japan's prime minister, Shinzo Abe, said he had urged Obama to take steps to address crimes by US military and American base workers on Okinawa…………
Reynaldo Bignone sentenced to 20 years in prison for his part in running Operation Condor in 1970s and 80s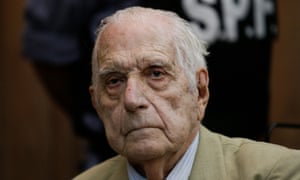 Reynaldo Bignone, former dictator waiting for the verdict of his trial in Buenos Aires. Photograph: Victor R Caivano/AP
Argentina's last military dictator, 88-year-old former general Reynaldo Bignone, was today sentenced to 20 years in prison for his role in Operation Condor, under which an international death squad was set up by six South American military dictatorships during the 1970s and 80s. The plan allowed death squads from Argentina, Bolivia, Brazil, Chile, Paraguay and Uruguay to cross into one another's territory to kidnap, torture and kill political opponents who had fled across the border.
Most of the 105 cases of "illegal arrest" followed by death covered by the trial involved foreign nationals – 45 Uruguayans, 22 Chileans, 13 Paraguayans and11 Bolivians – killed while living in exile in Argentina.
A boy holds a banner with pictures of some of the 3,000 people killed or disappeared during Augusto Pinochet's dictatorship (1973-90). Pinochet faced charges over the deaths of political opponents under Operation Condor. Photograph: Victor Rojas/AFP/Getty Images
Persecuted for political reasons in the military regimes in their own countries, many had escaped to Argentina before 1976, when the country became the last of the six nations to fall under a dictatorship. After their arrest, the victims were made to "disappear", usually by being cremated, or thrown drugged but still alive from military planes into the Atlantic Ocean…………….
Although the role of the US in Condor was not under examination, substantial evidence was produced during the three-year trial concerning Washington's role.
"We obtained documentation, both from declassified files of the US state department and from South American records, showing that the US was aware that Condor was killing people and even provided technical assistance," said Palmás Zaldúa. "There is evidence the CIA provided computers and that Condor members communicated via a US telex service based in Panama."
One US state department document from October 1981 related how Condor members "keep in touch with one another through a US communications installation in the Panama canal zone, which covers all of Latin America".
Although the telex service, dubbed Condortel, was officially meant to be used by South American officers under military training by the US in Panama, the document, a cable from the US embassy in Paraguay to Washington, states that "it is also employed to coordinate intelligence information among the Southern Cone countries". The document adds: "This is the Condor network which all of us have heard about over the last few years."
New revelations regarding the role of the US in Condor could emerge in the near future. "So far we have only seen US state department files," said lawyer Palmás Zaldúa. "We expect to find much more information once Pentagon and CIA files relating to the period of South America's military dictatorships are released."…………..
Health experts had urged the UN agency to act over concern that the games will speed up spread of virus linked to birth defects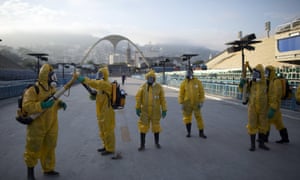 Health workers prepare to spray insecticide at the Sambadrome in Rio. Photograph: Leo Correa/AP
Already hit by recession and political turmoil, Brazil has come under more pressure as 150 health experts called for the Olympics in Rio de Janeiro to be postponed or moved because of the Zika epidemic.
In an open letter to the World Health Organisation, the signatories, who included a former White House science adviser, said the current plans for the Games needed to be revised "in the name of public health".
However, the WHO rejected the idea and said that suspending the Olympics or staging them elsewhere would "not significantly alter" the spread of the virus, which is linked to serious birth defects.
The open letter cited growing scientific studies that suggest the Zika virus is responsible for birth defects, including microcephaly. In rare cases, it can also cause Guillain-Barré syndrome, a neurological disease that results in temporary, and sometimes fatal, paralysis.
The experts fear that these defects could spread more rapidly around the world as a result of an influx of Olympic visitors to Rio, which has a high incidence of Zika cases…………
Coastguard sent in rescue ships after receiving a call for help reporting 350 people in the water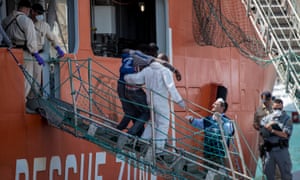 About 40,000 migrants and refugees have arrived in Italy's southern ports so far this year. Photograph: Ivan Romano / Pacific Press / BI
Agence France-Presse
The Italian navy has recovered the bodies of 45 people who drowned on Friday, while dozens of others are still missing in the third major tragedy in the Mediterranean in as many days.
Italian coastguards sent in rescue ships after a call for help reporting 350 people in the water, just one day after another shipwreck had left up to 30 dead.
With search efforts continuing late into the day, the navy rescued 130 people from the "half-submerged" large rubber boat and was still searching for others, it said.
"The vessel Vega rescued 135 migrants from a sinking vessel. Forty-five bodies were recovered and search efforts are ongoing," the navy said on Twitter.
While the European Union has pushed hard to limit the influx of people fleeing war and poverty, a bout of good weather as summer arrives has kicked off a fresh stream of boats trying to make the perilous crossing from Libya to Italy.
As foreign policy analysts and a former prisoner of war praise US, president's speech receives lukewarm reaction from other veterans on Friday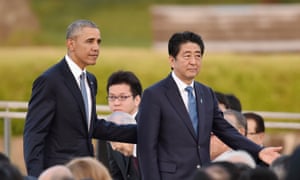 Barack Obama and and Japanese prime minister Shinzo Abe visit the Hiroshima Peace Memorial Park on Friday. Photograph: Atsushi Tomura/Getty Images
A former prisoner of war of the Japanese led domestic praise in America on Friday for Barack Obama's historic visit to Hiroshima, but expressed regret that he and fellow veterans had not been invited to attend.
Lester Tenney, 96, a survivor of the Bataan Death March, said he supported Obama's decision to become the first incumbent American president to set foot in Hiroshima since the US dropped a nuclear bomb there in August 1945. About 140,000 of the city's residents were estimated to have died by the end of that year.
"He had to do it," Tenney told the Guardian from his home in Carlsbad, California. "It was the right thing to do. He didn't say, 'I'm sorry', and he was not supposed to because he had no reason to."
At the Hiroshima Peace Memorial Park on Friday, Obama offered a floral wreath at the cenotaph, hugged one of the survivors and gave a speech in which he expressed hope that the Hiroshima and Nagasaki bombings would be "the start of our own moral awakening".
Tenney welcomed the president's tone. "It's so important to understand why he was there," he said. "He was paying tribute to all those who died in world war two…………..
Mountain goats, beavers and whooping cranes are among this week's pick of images from the natural world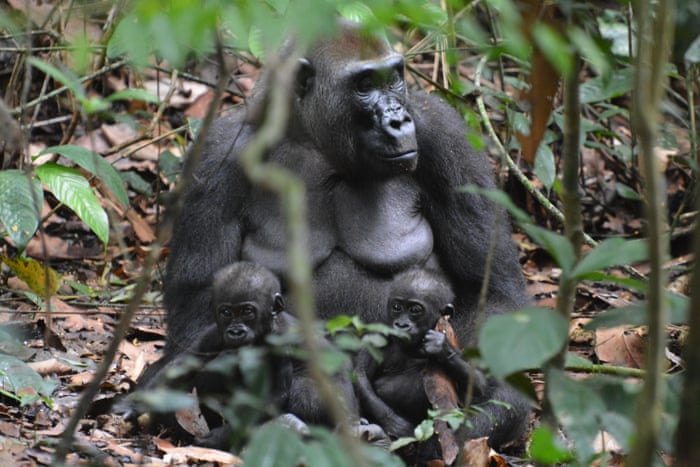 Malui the gorilla with her twins, the first born in central Africa in 16 years. The gorillas were named Ingada, after the leaves their mother nested on whilst giving birth, and Inguka, the leaves their mother fed on while pregnant.
The president has long been drawn to the ideal of a world without atomic weapons. His trip to Japan will encourage the vision, but the gritty realpolitik of the region renders it a distant dream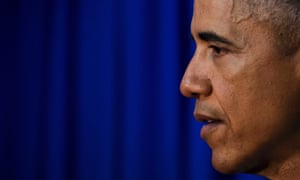 Barack Obama will not offer an apology for the decision taken by his wartime predecessor, Harry Truman – that would mean breaking a decades-old taboo. Photograph: Jim Watson/AFP/Getty
W

hat Barack Obama will see, when on Friday he becomes the first sitting US president to visit Hiroshima, is a large esplanade lined with trees, with a cenotaph monument to the victims of the A-bomb, with the words: "the error of the past will not be repeated". In the memorial park, he will see the gutted, skeletal, dome-shaped building that was once an exhibition hall; it has been preserved as the only structure left standing in the area where the Enola Gay dropped its charge at 8:15am, on 6 August 1945. He will also visit a museum exhibiting pictures of the city before and after the blast, as well as descriptions of what its inhabitants suffered in the inferno.
Mr Obama will not offer an apology for the decision taken by his wartime predecessor, Harry Truman – that would mean breaking a decades-old taboo among successive US administrations, and the White House has made clear Mr Obama would avoid such a move. But he will no doubt find the words to make the call that has been a hallmark of his presidency: the call to work towards a "world without nuclear weapons". Mr Obama first pronounced those words in a 2009 speech in Prague, and they helped him secure the Nobel peace prize later that same year. But seven years on, the message – and the dream – has run up against a wall of geopolitical realities.
The Japanese have long awaited a US presidential acknowledgement of the horrors unleashed on Hiroshima 71 years ago and then, three days later, Nagasaki. Some may take Mr Obama's visit as vindicating pacifist views, but the strategic context in Asia is not supportive of these. American nuclear deterrence is something many US allies in the region want to see consolidated, not dismantled or diminished. As he burnishes his legacy with this symbolic gesture, the president knows he needs to tread carefully, in an Asia in which China's rise has caused disruptive, and sometimes alarming shifts, in the balance of power. At the heart of this visit is a striking paradox: nuclear weapons are terrifying, but, amid bitter regional standoffs, the nuclear umbrella is as much in demand as ever. And while Japan continues to officially campaign – as Mr Obama has done – for the global elimination of atomic weapons, both it and South Korea actually want to see American defence assurances reiterated, if not strengthened.
As well as China's new military assertiveness, US allies in Asia have the unpredictability of North Korea to reckon with. China and Japan have been embroiled in a long-running dispute over ownership of the Senkaku islands in the East China Sea. China has put nerves on edge among its neighbours by building and militarising artificial islands in the South China Sea, and by claiming swaths of water. Earlier this year, North Korea carried out its fourth nuclear test and it has pushed ahead with ballistic missile development in defiance of international sanctions…………….
For a change from the same old news stories from the same old news networks, here are links to English-edition online newspapers from other parts of the world. Nearly all of these are English-edition daily newspapers. These sites have interesting editorials and essays, and many have links to other good news sources. We try to limit this list to those sites which are regularly updated, reliable, with a high percentage of "up" time.
Some of the available newspapers:
| | | |
| --- | --- | --- |
| Asia & CIS | | |
| | | |
| --- | --- | --- |
| China | | |
| | | |
| --- | --- | --- |
| China & Hong Kong | | |
| | | |
| --- | --- | --- |
| France | | |
| | | |
| --- | --- | --- |
| Israel | | |
| | | |
| --- | --- | --- |
| Norway | | |
| | | |
| --- | --- | --- |
| Palestine | | |
| | | |
| --- | --- | --- |
| Russia | | |
| | | |
| --- | --- | --- |
| Ukraine | | |