30 May
UNHCR says it is now certain that last week was the deadliest since April 2015 as rescue teams describe shocking scenes
Migrants fall into the sea from a boat that capsized last week as Italian navy ships attempted a rescue. Photograph: Reuters
More than 700 people are believed to have drowned in the Mediterranean last week, the deadliest seven days for Europe-bound asylum seekers in more than a year.
The casualties happened in three separate incidents on Wednesday, Thursday and Friday after more than 13,000 people set sail from Libya for Italy in an eight-day period.
The full details of the disasters emerged slowly because of the chaotic nature of the situation. The UN refugee agency said it was now certain that this was the highest weekly death toll since April 2015, when more than 1,300 died in two separate incidents off Libya.
"We are sure about this," UNHCR spokeswoman Carlotta Sami told the Guardian. "We can say that most probably there were more than 700 dead."
Rescue teams on Sunday described the shocking scenes that confronted them as they responded to the shipwrecks.
"It was pretty gruesome," said Giorgia Linardi, a member of a rescue team from German NGO Sea Watch, which arrived after an Italian navy ship had started to pull people from the water in Friday's disaster.
"There were already many dead bodies floating in the sea. Some of them were between life and death because they weren't reacting, but still breathing………….


Relatives of Mohammad Azam, killed while driving Mullah Mansoor across Pakistan, lodge a first investigation report for murder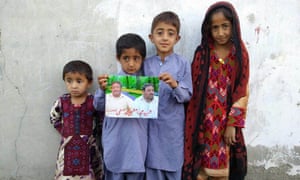 The family of Mohammad Azam, the taxi driver killed in US drone strike on Mullah Mansoor, say no one from the government has contacted them about compensation. Photograph: Jon Boone for the Guardian
Kiyya Baloch and Jon Boone in Islamabad
Mohammad Azam was killed on 21 May while unwittingly taking Taliban leader Mullah Akhtar Mansoor from the Iranian border to Quetta, the capital of Balochistan.
The unprecedented attack has thrown into uncertainty possible peace talks with the Taliban as well as US-Pakistan relations.
It has also devastated the family of Azam, who had been working for more than eight years as a driver in Taftan, a tiny desert town next to an important border crossing with Iran.
"He was the sole breadwinner of our large joint family, this was an attack on our family that hardly earns enough for two meals a day," said Mohammad Qasim, Azam's older brother.
Azam supported his wife, four children, and a disabled brother called Yar Muhammad.
A week after his death his children remain distraught and tearful. They describe their father as a "martyr".
"Who will feed them now?" asked Qasim. "I appeal to the civilised world, including all those human rights bodies, to investigate the brutal murder of my brother and compensate his children."…………….
Michael Hayden talks at Hay festival about Edward Snowden and how Facebook, not government, is new privacy battleground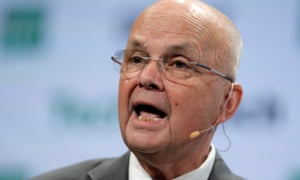 Former NSA and CIA director Michael Hayden in New York earlier in May. Photograph: Brendan Mcdermid/Reuters
British people are not demanding more transparency from the intelligence services as loudly as Americans, the former director of the US National Security Agency (NSA) and CIA has said.
Michael Hayden played a pivotal, leading role in American intelligence until he was replaced as director of the CIA shortly into the presidency of Barack Obama.
In a wide-ranging talk on the fourth day of the Hay festival, Hayden addressed CIA torture, targeted killings, what he thinks about Edward Snowden and how Facebook is perhaps a greater threat to privacy than government.
Hayden said the security services were changing faster in the US than the UK. "You as a population are far more tolerant of aggressive action on the part of your intelligence services than we are in the United States," he said.
The US intelligence services would not have validation from the American people unless there was a certain amount of knowledge, an increased transparency, he said.
Hayden talked about the tensions between the need to know and the need to protect.
In his newlypublished book Hayden calls Snowden naive and narcissistic and says he wanted to put him on a "kill list".
On the next page he said Snowden "highlighted the need for a broad cultural shift" in terms of transparency and what constitutes consent. On Sunday he said there was no contradiction between the two assertions.
"The 2% of what Snowden revealed that had to do with privacy accelerated a necessary conversation. The other 98% was about how the US and foreign governments collected legitimate material … that was incredibly damaging."…………….

Filing charges against adults may be difficult – as families are already grieving – but prosecutor Kym Worthy and others argue shootings are 'entirely' preventable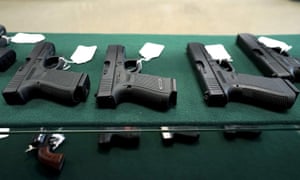 The prosecutor has also urged pediatricians to discuss gun safety, 'whether it's passing out a pamphlet or whatever … parents on the dangers of guns being at home.' Photograph: Reuters
Daylen Head's older sister found a sawn-off shotgun in a bedroom closet. While mimicking a video game, prosecutors say, she shot her nine-year-old brother dead.
Frankie Navarrette, 11, discovered his father's loaded shotgun and shot himself in the buttocks. He survived.
Mariah Davis, five, discovered a handgun under a pillow in her grandparents' room. She died.
According to the Wayne County prosecutor's office, these children were among eight to kill or seriously injure themselves with firearms in the county, in the last 17 months alone.
"I hope this is going to be a wake up call," said county prosecutor Kym Worthy, announcing charges in two such cases and calling for a broader public awareness of gun safety.
Worthy also urged pediatricians to discuss gun safety with parents.
"I'd like pediatricians to be able to take much more action," she said, "and notify, even just for a few minutes, whether it's passing out a pamphlet or whatever … parents on the dangers of guns being at home."
In the case of Mariah, Worthy's office filed involuntary manslaughter charges against the girl's grandparents, Frederick Davis and Patricia McNeal.
In the case of an unnamed four-year-old boy who shot himself in the hand last November, second-degree child abuse charges were filed against his mother and great-grandfather……………
Opinion
As a budget crisis bites, liberals and some conservatives wonder if rightwing fears over abortion and transgender rights are tipping their state into chaos
Tom Dart in Oklahoma City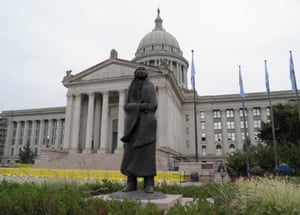 The Oklahoma state capitol is home to oil derricks, a dome bearing the name of energy sector sponsors – and a brutal budget crisis. Photograph: Reuters
Sitting in a boat on a lake in northern Oklahoma, on a weekend away, Troy Stevenson took a phone call about the news from Washington. He resigned himself to a busy Monday.
That was two weeks ago, and he has hardly stopped since. Stevenson is executive director of Freedom Oklahoma, an LGBT rights group. With the state legislature in session and Republicans around the country fulminating about the Obama administration's guidelines telling schools they must let transgender students use facilities that match their gender identity, he knew what was coming.
Stevenson and other activists had spent months working successfully to thwart 27 bills they saw as anti-LGBT – the most of any state this year. But on 13 May, the federal directive threw conservatives fresh meat.
Oklahoma Republicans introduced a resolution calling for Barack Obama's impeachment and, with the end of the session looming, scrambled to push through Senate Bill 1619. The bill justified its late addition to the slate by claiming a public health and safety "emergency" and pressing two hot-button topics: proposing that if a school allows transgender students to use the facilities of their choice, a student with "sincerely held religious beliefs" could request a "religious accommodation" for access to a transgender-free bathroom.
Its proponents argued the bill fought DC overreach while protecting religious liberty and child safety. Opponents decried it as bigoted, unnecessary and impractical. Content aside, to many in a struggling state the bill's timing seemed awry.
Oklahoma's intertwined relationship between politics and the energy industry is unabashedly symbolised at the statehouse, where oil derricks stand on the grounds.
Since the summer of 2014, sinking prices of crude oil and natural gas have contributed to a $1.3bn budget shortfall. Yet only a couple of days before the end of the legislative session, some rightwing lawmakers were occupied with transgender "bathroom bills" and plots to override a veto by the Republican governor, Mary Fallin, of a bill defying federal law that would in effect have banned abortions by criminalising doctors who perform them.
In the middle of a crisis so severe that some Oklahoma school districts are switching to four-day weeks to save money, the state's politicians voted for this seemingly unconstitutional measure that would inevitably have become embroiled in legal action. They fussed about restrooms, which transformed from a non-issue to an urgent matter of public safety and religious liberty almost overnight…………….
For a change from the same old news stories from the same old news networks, here are links to English-edition online newspapers from other parts of the world. Nearly all of these are English-edition daily newspapers. These sites have interesting editorials and essays, and many have links to other good news sources. We try to limit this list to those sites which are regularly updated, reliable, with a high percentage of "up" time.
Some of the available newspapers:
| | | |
| --- | --- | --- |
| Asia & CIS | | |
| | | |
| --- | --- | --- |
| China | | |
| | | |
| --- | --- | --- |
| China & Hong Kong | | |
| | | |
| --- | --- | --- |
| France | | |
| | | |
| --- | --- | --- |
| Israel | | |
| | | |
| --- | --- | --- |
| Norway | | |
| | | |
| --- | --- | --- |
| Palestine | | |
| | | |
| --- | --- | --- |
| Russia | | |
| | | |
| --- | --- | --- |
| Ukraine | | |