07 Jun
UN accused of giving in to political manipulation as Riyadh hits back at claims over child deaths in Yemen conflict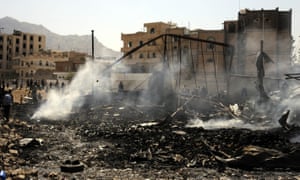 The scene of an airstrike in Sana'a, Yemen. Photograph: Anadolu Agency/Getty Images
Ian Black Middle East editor
Human rights groups have condemned a UN decision to remove Saudi Arabia from a blacklist of countries and groups accused of violating children's rights, after the Saudis' campaign against Houthi rebels in Yemen was blamed for causing 60% of child deaths in the conflict.
Human Rights Watch accused Ban Ki-moon, the UN secretary general, of giving in to "political manipulation" in the wake of furious protests from Riyadh. It said the UN had executed a "shocking flip-flop".
Amnesty International decried "blatant pandering", which it said "damages the credibility of the UN as a whole". Oxfam said the world body's decision to retract its findings was "a moral failure."
But the Saudi government said it was "wildly exaggerated" to claim that the coalition it leads was responsible for 60% of the child deaths and injuries in Yemen last year. A UN report released last week attacked both coalition and rebel forces for a "very large number of violations" including attacks on schools and hospitals.
It attributed 510 child deaths and 667 injuries to the coalition and 142 child deaths and 247 injuries to the Houthis. In 324 incidents, the responsible party could not be identified.
The UN said on Monday that it would now carry out a joint review with the coalition of the cases listed in the report. But the Saudi ambassador to the UN, Abdallah al-Mouallimi, insisted that the removal of the coalition from the blacklist was "irreversible and unconditional"………….
Stanford law professor leads campaign against judge who gave six months to the former Stanford swimmer who sexually assaulted an unconscious woman
Speaking to CBS San Francisco, students at Stanford University said they were deeply moved by the impact statement of a 23-year-old woman sexually assaulted on campus. Brock Turner, a former swimmer at Stanford, was sentenced to six months in jail and probation for sexually assaulting the woman while she was unconscious. Her 12-page statement on the attack and how it affected her has attracted global attention
The victim of a sexual assault by a former Stanford University swimmer said on Monday she was "overwhelmed and speechless" at the deluge of support for her as the judge who gave her attacker a light sentence faced a recall campaign.
Brock Allen Turner, 20, who was convicted of sexually assaulting an unconscious woman on campus, was sentenced to six months in county jail and probation – a punishment that is significantly less severe than the minimum prison time of two years prescribed by state law for his felony offenses.
The light sentencing, along with comments from Turner's father, who said his son is paying a "steep price" for "20 minutes of action", have sparked global consternation.
In a brief phone interview with the Guardian on Monday, the victim, whose emotional testimony has since gone viral, said the positive responses to her statement have been moving. "I'm worried that my heart is going to grow too big for my chest," she said. "I've just been overwhelmed and speechless."
The Guardian can also reveal that the judge who gave the former Stanford athlete the light sentence will now face a recall campaign led by a law professor at the elite university who argues the jurist took extraordinary measures to allow the student to avoid prison.
Further scrutiny on the judge's remarks at sentencing appear to suggest he concluded the defendant had "less moral culpability" because he was drunk, and that a light sentence would be an "antidote" to the anxiety he had suffered from intense media attention on the case.
Michele Landis Dauber, a Stanford law professor who has been outspoken about sexual assault policies on campus, said she is launching the recall campaign against Aaron Persky, Santa Clara County superior court judge.
Campaigners hope the Thai temple raid will stir the world's conscience – but the trafficking of tiger parts to China is a booming business
 A Thai Buddhist monk feeds water to a tiger at the tiger temple, in Kanchanaburi province, west of Bangkok. Photograph: Sakchai Lalit/AP
A

week ago it cost 600 baht (£11.50) to visit the tiger temple in Thailand's Kanchanaburi province, west of the capital, Bangkok. Tourists moved by the spectacle of such splendid creatures living side by side with human beings could also pay the saffron-robed Buddhist monks an extra £15 to help feed the cubs, or to have their picture taken with an adult tiger's head resting on their lap.
Along with nearly 250,000 people, Jay Z, Beyoncé and their daughter Blue Ivy posed with the animals last year, and marvelled that some of the world's fiercest creatures could be so tame.
Now the doors of the temple have been closed and the animals removed, possibly for ever. After a decade of allegations by animal groups of cruelty, illegal wildlife trafficking and breeding, 1,000 police, military and government officials descended on the temple to expose a shadowy trade in tiger parts that feeds an insatiable market in China and threatens the few remaining tigers in the wild.
The figures are stark and depressing. Today's population of wild tigers is estimated to be around 3,200, down from 100,000 in 1900. But research by the Environmental Investigation Agency (EIA), Australia's Conservation and Environmental Education 4 Life (Cee4life) and others, backed by investigations for Traffic, the wildlife trade monitoring network, suggest that more than 5,000 tigers are being farmed in China, 1,450 in Thailand, 180 in Vietnam and possibly 400 in Laos. In addition, there are private collections and zoos in most other Asian countries………………
US politics
Election 2016
Fighting snakes, a rare sand cat family and Belgium's newborn giant panda are among this week's pick of images from the natural world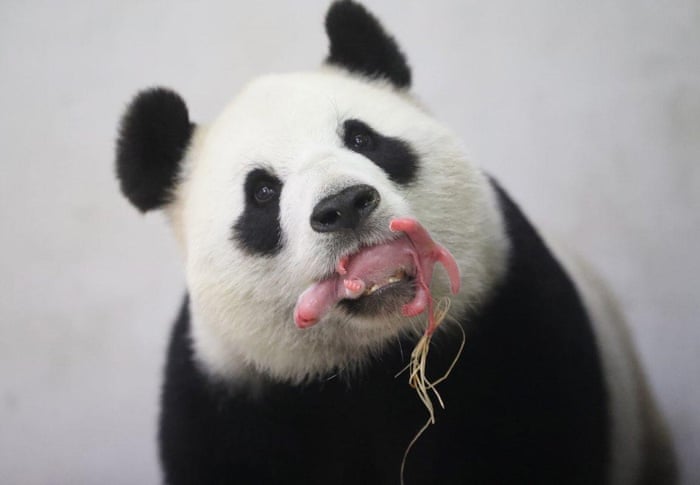 Giant panda mother Hao Hao holds her newborn cub in her mouth at the Pairi Daiza zoo in Brugelette, Belgium. Belgium is reportedly only the third country in Europe where a panda baby has been born. There are only an estimated 2,000 of the endangered species left in the wild.
Photograph: Benoit Bouchez/ Pairi Daiza/EPA

English Online International Newspapers
For a change from the same old news stories from the same old news networks, here are links to English-edition online newspapers from other parts of the world. Nearly all of these are English-edition daily newspapers. These sites have interesting editorials and essays, and many have links to other good news sources. We try to limit this list to those sites which are regularly updated, reliable, with a high percentage of "up" time.
View All
Some of the available newspapers:
| | | |
| --- | --- | --- |
| Asia & CIS | | www.newscentralasia.com/ |
| | | |
| --- | --- | --- |
| China | | english.peopledaily.com.cn/home.html |
| | | |
| --- | --- | --- |
| China & Hong Kong | | www.scmp.com/news |
| | | |
| --- | --- | --- |
| France | | www.france24.com/en/france/ |
| | | |
| --- | --- | --- |
| Israel | | www.haaretz.com/ |
| | | |
| --- | --- | --- |
| Norway | | www.newsinenglish.no/category/news/ |
| | | |
| --- | --- | --- |
| Palestine | | english.pnn.ps/ |
| | | |
| --- | --- | --- |
| Russia | | english.pravda.ru/ |
| | | |
| --- | --- | --- |
| Ukraine | | www.ukrainianjournal.com/ |