08 Jun
Li Heping's six-year-old daughter Li Jiamei dresses as a superhero, hoping to free her human rights lawyer father from prison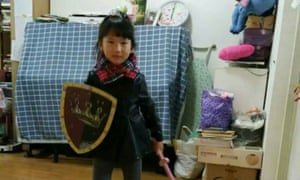 Li Jiamei, the six-year-old daughter of Li Heping, has not heard from her father since he disappeared in July 2015.
With a superhero's green and blue cape cascading down her back, Li Jiamei skipped into her Beijing nursery wielding a pink plastic sword.
When classmates asked the Chinese schoolgirl who she had come to the Halloween fancy dress party as, she had an immediate reply.
"I want to be a knight!" Li declared. "That way I can rescue my dad!"
For all her gallantry, it is a battle the six-year-old is unlikely to win.
Li Jiamei is the daughter of Li Heping, a top Chinese human rights lawyer who has not been heard of since he disappeared into the custody of China's security services in July 2015.
Next month will mark one year since China began an unprecedented attack on such lawyers, rounding up and interrogating more than 300 people in what activists believe was a bid to cow the country's vibrant "rights defence" movement and strike a blow to those daring to challenge the administration of President Xi Jinping.
Nearly 12 months after the crackdown began, human rights groups say at least 20 of its targets remain in detention facing accusations that they connived to overthrow China's authoritarian one-party system. Li Jiamei is still waiting for her father to come home.
"She's small. She misses her dad," said her mother, Wang Qiaoling, during a two-hour interview conducted in the smokey backroom of a Beijing café in order escape the gaze of security agents who now monitor the lawyers' families around the clock. "I tell her I miss him too and that we must try to get through this together."…………..
Exclusive: Extract from Stanford swimmer's letter to judge shows he placed blame on 'alcohol' and 'party culture'; victim says he 'failed to exhibit sincere remorse or responsibility'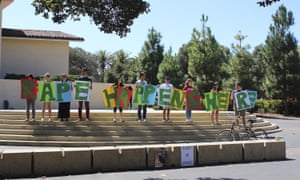 Stanford students protest the handling of sexual assaults at the prestigious university. Photograph: Tessa Ormenyi/AP
The woman who was assaulted by former Stanford University student Brock Turner has received international attention for her powerful statement describing the trauma she and her family have experienced. One particularly compelling part of the victim's testimony is her anguish over Turner's refusal to express remorse and take responsibility for sexually assaulting her while she was unconscious – an attack that led a jury to convict him of three felonies.
The Guardian has since obtained a copy of Turner's full statement to judge Aaron Persky, who gave him a lenient sentence of six months in county jail, sparking widespread outrage and a recall campaign.
The letter from the former swimmer offers a close look at the many ways Turner has refused to even acknowledge that he assaulted the woman, despite the guilty verdicts, and has instead continued to place blame on a "party culture" of "drinking".
Although the victim and the prosecutor raised concerns about Turner's hollow apology and his continued unwillingness to admit that he committed an assault – despite overwhelming evidence that the woman was unconscious – the judge said this should not count against him at sentencing…………
Education department survey finds wide disparities in school experience for US students in critical areas such as chronic absenteeism and access to counselors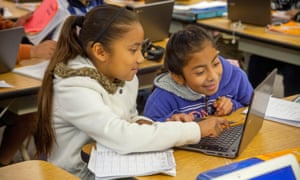 Chronic absenteeism reduces the likelihood of reading on a grade level by third grade, said Robert Balfanz, director of the Everyone Graduates Center at Johns Hopkins University. Photograph: Alamy Stock Photo
Black students are nearly four times as likely to be suspended as white students, according to new federal data.
The sweeping bi-annual survey of more than 50 million students by the US Department of Education found that suspensions overall have dramatically decreased by nearly 20% between the 2011-12 and 2013-14 school years.
But the data revealed a discrepancy between suspension rates across demographics. As early as preschool, black children are 3.6 times as likely to receive one or more suspensions as white children. According to the data, black girls represent 20% of female preschool enrollment, but account for 54% of preschool children suspensions. Black students were also twice as likely to be expelled as white students.
Liz King, director of education policy at the Leadership Conference on Civil and Human Rights, said the findings on discipline for black preschool children were "disturbing".
"We wonder what message that sends to those four-year-olds about their value in the school," King said.
The new data collection highlighted issues not covered in previous years by the education department, including chronic student absenteeism and the lack of resource officers in some schools………………
US politics
Election 2016
Bernie Sanders fights on in Democratic presidential race – video
Speaking at a rally in Santa Monica, California, on Tuesday, Bernie Sanders pledges to continue to fight for the Democratic presidential nomination, despite losing to Hillary Clinton in the New Jersey and New Mexico primaries

For a change from the same old news stories from the same old news networks, here are links to English-edition online newspapers from other parts of the world. Nearly all of these are English-edition daily newspapers. These sites have interesting editorials and essays, and many have links to other good news sources. We try to limit this list to those sites which are regularly updated, reliable, with a high percentage of "up" time.
Some of the available newspapers:
| | | |
| --- | --- | --- |
| Asia & CIS | | www.newscentralasia.com/ |
| | | |
| --- | --- | --- |
| China | | english.peopledaily.com.cn/home.html |
| | | |
| --- | --- | --- |
| China & Hong Kong | | www.scmp.com/news |
| | | |
| --- | --- | --- |
| France | | www.france24.com/en/france/ |
| | | |
| --- | --- | --- |
| Israel | | www.haaretz.com/ |
| | | |
| --- | --- | --- |
| Norway | | www.newsinenglish.no/category/news/ |
| | | |
| --- | --- | --- |
| Palestine | | english.pnn.ps/ |
| | | |
| --- | --- | --- |
| Russia | | english.pravda.ru/ |
| | | |
| --- | --- | --- |
| Ukraine | | www.ukrainianjournal.com/ |