09 Jun
Democratic candidate's campaign perseveres despite Hillary Clinton's delegate count but seems to be shifting focus to long-term impact on US politics
Speaking at a rally in Santa Monica, California, on Tuesday, Bernie Sanders pledges to continue to fight for the Democratic presidential nomination, despite losing to Hillary Clinton in the New Jersey and New Mexico primaries
From the dying embers of his presidential campaign, Bernie Sanders has forged a new slogan that gives a clue to what the defiant leftwinger will do next after losing the Democratic nomination to Hillary Clinton.
"The struggle continues" might not have the wit of "feel the Bern" or the ambition of promising "political revolution", but it hints at the dogged approach he is likely to take when he meets Barack Obama and other party leaders in Washington to discuss reconciliation on Thursday.
To the dismay of some Clinton supporters hoping for a swift capitulation from their Democratic opponent, Sanders has already scheduled another large rally immediately after his White House appointment and intends to contest the final primary election in DC next Tuesday.
But there is a subtle change in tone that suggests that plans to take this undefined "struggle" all the way to the party convention in Philadelphia next month need not be the divisive slog that the establishment fears………..

Warmest spring on record helps push states's year-to-date temperature more than 5.5C above average, reports Climate Central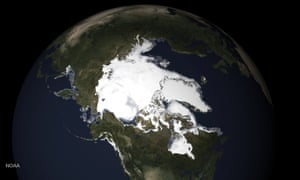 Noaa image showing the extent of sea ice and snow melt in northern Alaska this spring. Snow at Noaa's Barrow observatory began melting on 13 May, 10 days earlier than the previous record for city set in 2002. Photograph: Noaa
Andrea Thompson for Climate Central, part of the Guardian Environment Network
Alaska just can't seem to shake the fever it has been running. This spring was easily the hottest the state has ever recorded and it contributed to a year-to-date temperature that is more than 10°F (5.5°C) above average, according to data released Wednesday by the National Oceanic and Atmospheric Administration (Noaa).
The Lower 48, meanwhile, had its warmest spring since the record-breaking scorcher of 2012.
While May as a whole was only slightly above average – thanks in part to whiplashing weather from the beginning of the month to the end – every state in the contiguous US had warmer-than-normal temperatures for the spring as a whole.
The main area of relative cool in May was in the Central and Southern plains, where considerable rains fell during the month. Storm systems generally tend to drag in cooler air and cloudy days help to keep a lid on temperatures.
"In addition, when soils are waterlogged it prevents afternoon temperatures from rising as high as they would if soils were dry," Deke Arndt, chief of the monitoring branch of Noaa's National Centers for Environmental Information, said in an email…………..

Interactive: Almost a year since Beijing began a crackdown, more than 20 lawyers and activists remain in custody facing political subversion charges. Click through to read their stories
Chinese security forces have launched an unprecedented crackdown on the country's human rights movement. More than 300 people have been interrogated or detained. Today, almost a year since that crackdown began, more than 20 lawyers and activists remain in custody facing political subversion charges.
Her letter, which was read in court defending Brock Turner, sparked national outrage from people who said it perpetuated rape culture and blamed victims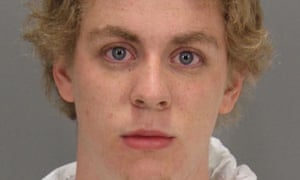 Brock Turner was convicted of three felonies in the sexual assault case. Photograph: Reuters
A woman who blamed a Stanford University sexual assault victim for drinking too much alcohol has issued a defensive apology, marking the latest controversy surrounding an athlete who avoided prison time for attacking an unconscious woman.
Leslie Rasmussen, a childhood friend of former Stanford swimmer Brock Turner, who was convicted of three felonies, wrote a letter to the judge saying that the assault was "a huge misunderstanding", Turner is "not a monster", and that she thought it was unfair "to base the fate of the next ten + years of his life on the decision of a girl who doesn't remember anything".
Her statement continued: "Where do we draw the line and stop worrying about being politically correct every second of the day and see that rape on campuses isn't always because people are rapists." The letter – a selection of which the judge read in court, saying it was a useful reference that highlighted Turner's strong character – went viral this week, sparking national outrage from people who said it perpetuated rape culture and cast blame on victims.
In the wake of significant backlash, Northside Festival, a New York music showcase, announced Tuesday that it had dropped Rasmussen's band from its lineup, and her group, Good English, has now released an apology from Rasmussen………..
Related
Witness who stopped Stanford sexual assault speaks out – video
As outrage grows over the sentencing of a former Stanford University swimmer convicted of sexually assaulting an unconscious woman, a witness to the attack has spoken out. Carl-Fredrik Arndt says he was riding his bike when he saw Brock Turner, 20, on top of the victim, behind a dumpster. Arndt says he and a friend shouted out to Turner, who then turned and fled before they detained him until police arrived
US politics
Election 2016

Opinion
Hillary Clinton squarely won the democratic nomination. But it's not just Bernie Sanders supporters who are decrying the flaws in methodology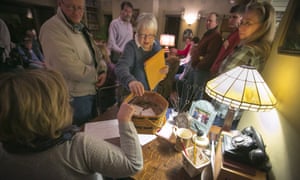 Votes to be counted at this year's Iowa caucus. Photograph: Dave Weaver/AP
T

here's no debate at this point that Hillary Clinton has won the popular vote and the delegate count to win the Democratic primary. But even Clinton supporters should agree that our supposedly "democratic" system for picking nominees for president is terribly broken and should be dramatically overhauled.
It's not just Bernie Sanders' campaign that should (and has) argued that the voting system in this country is "rigged". Virtually every major campaign in both parties griped about how the other was winning at some point during this campaign, and along the way almost all of them were right.
First, there are the delegates themselves – the "representatives" that voters "choose" to express their interests at the party conventions (but sometimes don't have to comply). Each state has its own rules for how delegates are allocated, and they are almost always ridiculously complicated. In both parties, delegate counts regularly do not match up to the percentage of votes candidates received in the primaries. For example, as Fusion's Felix Salmon demonstrated in March, Trump had dramatically more delegates than his percentage of the Republican vote at that point, and Sanders had dramatically fewer delegates than his percentage on the Democratic side.
Why, in 2016, do we even have this convoluted system? We don't live in the 1800s anymore, and it's not like the party primary rules are written into the Constitution like the antiquated electoral college is. A recent poll showed that a whopping 71% of the public would prefer to cut out delegates altogether and vote directly. Just eliminate them.
The Sanders campaign's biggest criticism throughout the campaign was the superdelegates – and for good reason. It is a massively undemocratic system where almost a fifth of the party delegates are decided by already elected officials and people appointed by the party leadership, who inevitably tilt toward the establishment candidate. They put any insurgent candidate far behind in the race for president before a ballot is even cast, and can effectively end an election in the media before voters have a chance to express their opinion.
Another problem is caucuses. Why haven't they been abolished? On top of being absurdly complicated, they take hours to complete, leaving many working people unable to attend them. And those who can attend sometimes won't just because it's so boring, confusing and long. For example, despite the massive media attention, only 15.7% of registered voters turned out for this year's Iowa caucuses. Other states were even lower…………….

For a change from the same old news stories from the same old news networks, here are links to English-edition online newspapers from other parts of the world. Nearly all of these are English-edition daily newspapers. These sites have interesting editorials and essays, and many have links to other good news sources. We try to limit this list to those sites which are regularly updated, reliable, with a high percentage of "up" time.
Some of the available newspapers:
| | | |
| --- | --- | --- |
| Asia – UN IRIN News | | |
| Asia & CIS (Updated Link!) | | |