12 Jun
Police carry out controlled explosion at Pulse LGBT nightclub and confirm gunman killed after hostage situation
Footage emerges of the aftermath of a shooting at an LGBT nightclub in Florida on Sunday, as police confirm at least one gunman remains inside the club. Posted on Facebook, the footage shows emergency services helping those involved. Footage also shows police arriving at the scene as shots are heard from outside the club
A suspected terrorist shooting at an LGBT nightclub in Orlando has left at least 20 people dead, police have confirmed, adding that the attacker had been killed following a hostage situation at the club.
Shots were fired at the Pulse Club, in the early hours of Sunday. Staff at the venue posted on Facebook: "Everyone get out of pulse and keep running" and there were quickly reports on social media of an ongoing attack.
Orlando police said the shooting was being treated as an "act of domestic terrorism" and had resulted in mass casualties, urging people to stay away from the area.
Police said a number of people had been killed in the attack – in the "vicinity of 20" – but refused to give an exact death toll. They added that 42 people had been taken to hospital, including one police officer who had been shot in the head, but whose "life had been saved by his Kevlar helmet". They confirmed the gunman was armed with an assault rifle, handgun and "some kind of device".
In a press conference on Sunday morning, an FBI spokesman said investigators believed the attacker may have had extremist beliefs, and would consider possible links to Isis, but cautioned they were pursuing multiple leads……………

Graduation would normally be a happy time for Stanford students, but the outcry over Brock Turner's light sentence has shifted the mood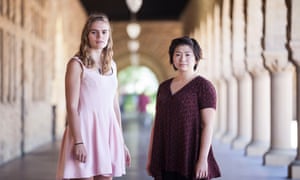 Amanda Lorei, left, and Tina Ju help organize campus demonstrations stand at the Stanford University. Photograph: Ramin Talaie for the Guardian
The rape survivor support group meeting at Stanford University on Tuesday started with birthday cake. But when the sweets were gone and the birthday song ended, the pain began again.
"Did you guys want to talk about your feelings about the Brock Turner case?" one woman asked, shaken and emotional. "I'm feeling really sad and angry."
Just days earlier, Turner had been sentenced to six months in jail, after being convicted of sexual assault and facing 14 years in prison. The former Stanford freshman was caught assaulting an unconscious woman behind a frat house dumpster in 2015. He blamed the school's "party culture." His father pleaded for leniency so "20 minutes of action" wouldn't ruin his son's life. The victim's statement has been widely read and shared and the case has caused international outrage.
The two-hour support group meeting stretched into five. When it ended around midnight, the women had a plan: to protest Sunday's commencement ceremony while the world was watching. In recent days, others both on campus and off have joined forces with them. There will be signs, bicycle billboards, a plane flying over campus pulling a banner.
"Our focus is not pursuing offenders," said Amanda Lorei, 23, who will be graduating on Sunday with a master's degree in Russian, Eastern European and Eurasian studies, "but rather making campus safe and holding the university accountable."……………..

Mike Hubbard may be the first official convicted, but he is not the only lawmaker under investigation and facing potential dismissal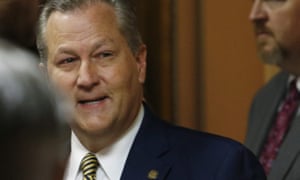 Mike Hubbard was released on a $160,000 bond on Friday ahead of a 8 July sentencing that could see him imprisoned for up to 20 years on each count. Photograph: Todd J. Van Emst/AP
Alabama house speaker Mike Hubbard, convicted on 12 felony charges in an ethics case , was released on a $160,000 bond on Friday ahead of sentencing that could see him imprisoned for up to 20 years on each count.
Hubbard, 54, who took the stand for three days in his own defense and described the case against him as a "political witch hunt", was convicted on charges that he used the power of his office to improperly funnel huge sums in work and party money to his companies and his clients. Prosecutors accused him of making $2.3m off his party and position.
He faces a sentencing hearing on 8 July.
Alabama attorney general Luther Strange welcomed Hubbard's conviction as a "good day for the rule of law in our state". He added: "This should send a clear message that in Alabama we hold public officials accountable for their actions."
Hubbard will be replaced by acting speaker Victor Gaston. In a statement he said the incident "offers strong proof that the ethics reforms passed by the legislature in 2010 remain among the toughest in the nation".
Though Hubbard is the first official convicted in the current corruption crackdown, he is not the only one under intense scrutiny. The state is facing a series of further investigations and potential dismissals that have turned its local government into something verging on a comedic spectacle………….

The District of Columbia's bid to become the 51st state is back in the spotlight after Bernie Sanders voiced his support – but the battle remains uphill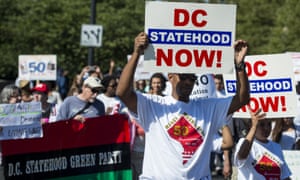 DC statehood supporters march to the Lincoln Memorial in 2013. Bernie Sanders has offered the movement a lift. Photograph: Bill Clark/Getty Images
The leading contender is New Columbia, but that has associations with Christopher Columbus some would question. Other options include Anacostia or Potomac. Or how about Douglass Commonwealth – conveniently DC – after the abolitionist Frederick Douglass?
The debate over what to call America's hypothetical 51st state is just one of the thorny issues facing campaigners as they strive to correct what they claim is a long historical injustice unique among capital cities around the world.
The effort to gain statehood for Washington, District of Columbia, received a boost on Thursday when the Democratic candidate Bernie Sanders reaffirmed his support. "I hope that the next time I'm back we're going to be talking about the state of Washington DC," he said to cheers at a rally ahead of Tuesday's Democratic primary.
Hillary Clinton has also endorsed the plan, although the fact that Washington's Democratic primary is the last in the country, and a "dead rubber" now that Clinton is certain of victory, could be seen as symbolic of how one city deeply underrepresented in Washington politics is Washington itself. It was not until 1964 that residents of DC could even vote for president……………
US politics
Election 2016

Opinion
Hypothetical decisions to leave home are hard to make, which is why such threats are empty until the time comes. But I hope it never does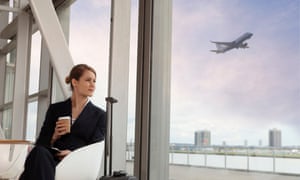 'When one looks at Trump, tossing out whatever threats come to mind, ignorant, silly, hot-headed and vain, what one thinks is this: if this guy becomes president he's going to get us all killed.' Photograph: Nick White / Image Source/Alamy
I

t is a truism of modern politics that the only people who leave a stable democracy for political reasons are tax exiles or draft-age men during a war. The rest of us, faced with a candidate we despise, might threaten and grumble, or joke about "going to Canada", but ultimately we stay put. Even if we did have somewhere else to go, for those with the resources to actually do it, the stakes are never quite high enough.
Or at least, that has been the assumption since the end of the last world war. After Hillary Clinton's de facto ascendancy to the Democratic nomination this week, we enter the final phase of the election and with it, a possible challenge to that complacency: Donald Trump.
In a recent poll conducted for the Hill, 28% of those surveyed said they would consider leaving the country if Trump was president, an instinct shared by many looking on from abroad. In the last few weeks, more than one friend in Britain has emailed to ask me: "What will you do if Trump gets in?", and it's not a rhetorical question. One even added "be honest", as if the possibility of staying in the US under Trump, when I have a perfectly good home elsewhere, would represent a shameful collusion with fascism.
There are two reasons to leave a country when the political climate changes: out of protest and, more realistically, in the interests of self-preservation. The latter brings to mind analogies with 1930s Germany, a too-easily applied parallel in this election, given the ongoing suspicion that Trump is all mouth and no trousers. Still, no one wants to be the bourgeois German, looking on in horror but never quite reaching a tipping point. As Adam Gopnik wrote so persuasively in the New Yorker last month, Trump is not Hitler – "well, of course he isn't. But then Hitler wasn't Hitler – until he was."
The question then becomes: could one continue paying taxes and participating in civic life – or worse, actively benefiting from a Trump presidency, given his racist assault on American democracy? That is the cool, morally responsible consideration……………..

For a change from the same old news stories from the same old news networks, here are links to English-edition online newspapers from other parts of the world. Nearly all of these are English-edition daily newspapers. These sites have interesting editorials and essays, and many have links to other good news sources. We try to limit this list to those sites which are regularly updated, reliable, with a high percentage of "up" time.
Some of the available newspapers:
| | | |
| --- | --- | --- |
| Asia – UN IRIN News | | |
| Asia & CIS (Updated Link!) | | |