15 Jun
Letter asking the president to prevent future hunting for oil in the waters follows a series of new heat and melting records in the Arctic, which stunned researchers
Last week it was warmer in Nuuk, the capital of Greenland, than in New York City. Photograph: Daniella Beccaria/AP
Nearly 400 international scientists called on Barack Obama to rule out further expansion of oil and gas exploration in Arctic waters under US control.
The letter, signed by prominent Arctic, marine and climate specialists – including a former member of Obama's administration, urges the president to rule out any future hunting for oil in the waters of the Chukchi and Beaufort seas.
"No new oil and gas leasing or exploration should be allowed in the Chukchi and Beaufort seas in the foreseeable future, including in the next five-year leasing plan," the scientists write in the letter.
The letter follows a series of new heat and melting records in the Arctic, which have stunned scientists.
Last week it was warmer in Nuuk, the capital of Greenland, than in New York City. The Danish Meteorological Society said the 75F temperature was the second heat record since April, and followed a very early start to the ice melt season.
In addition to putting the entire Beaufort and Chukchi seas off-limits for the next oil and gas leasing offer, from 2017 to 2022, the letter urged the administration to consult native Alaskan groups on any further Arctic developments.
The scientists said in the letter that expanding Arctic marine protection would help counter the effects of climate change.
The letter commended Obama for putting 9.8m acres of Arctic waters off-limits to future drilling last year, and for entering into a joint initiative to protect the Arctic with Canada's Justin Trudeau……..
Search under way at Grand Floridian Hotel in Orlando after father battled with animal to try and rescue his son
The sheriff of Orange County, Florida, Jerry Demings, tells the media a toddler who was playing with his family on a beach at the resort was attacked by an alligator and has not yet been found. Demings says more than 50 law enforcement personnel are helping with the search effort and officers will stay at the lake until the boy is located.
A father fought in vain to wrestle his two-year-old son from the jaws of an alligator at the Disney World resort in Orlando, Florida, police have said.
A massive search is under way for the missing boy, who was on holiday with his parents and two siblings from Nebraska.
Jerry Demings, Orange County Sheriff, told a 1am press conference how the family, who have not been named, were relaxing in a beach area at the edge of a lake on Tuesday when the alligator struck.
"There is a sandy beach area and the family was out simply relaxing … and in the water along the lake's edge at the time the alligator attacked the child.
"It's my understanding the father was there nearby and the child was playing in the water, just a foot or so into the water, and the alligator came up," he said.
"The father at some point struggled to try to get his son and was not successful and then alerted others to try and assist him in the process."
"At some point I am told the mother may also have entered the water. The parents diligently tried to get the child," Demings said…………..
Aaron Persky, who declined to send Brock Turner to prison, was removed from an alike case amid concerns about his ability to 'fairly participate' in the proceeding
Judge Aaron Persky has been taken off of a case involving a male nurse who sexually assaulted an anesthetized female patient, according to local prosecutors. Photograph: Stephen Lam/Reuters
The judge who gave a lenient sentence to a former Stanford student convicted of sexual assault has been removed from a similar case due to prosecutors' concerns about his ability to "fairly participate" in the proceeding.
Judge Aaron Persky, who declined to send former Stanford swimmer Brock Turner to prison for sexually assaulting an unconscious woman, has been taken off of a case involving a male nurse who sexually assaulted an anesthetized female patient, according to local prosecutors.
The Santa Clara County district attorney's office, which successfully prosecuted Turner, has utilized a tactic known as "papering" a judge, which means prosecutors preemptively declared that Persky is "prejudiced", automatically disqualifying him from the case.
The removal of Persky, who is facing a recall campaign over his decision in the Stanford case, speaks to the intense scrutiny facing the northern California judge since he sentenced Turner to six months in county jail instead of the minimum of two years in state prison prescribed by law.
Two weeks after the 2 June sentencing, which went viral when the victim released her emotional impact statement, Persky was responsible for overseeing a new misdemeanor case involving stolen property, according to the district attorney…………….
Apple's newest encryption tool better secures files on all its devices, just the latest in a move to widespread encryption in the tech industry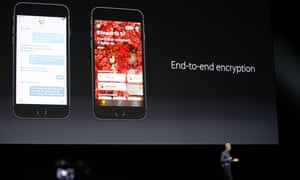 Craig Federighi, Apple senior vice president of software engineering, speaks at the Apple Worldwide Developers Conference in San Francisco on 13 June. Encryption has been tightened across Apple's software products. Photograph: Tony Avelar/AP
Apple revealed a slew of new software features for iPhone, iPad, Apple Watch and desktop computers on Monday – yet omitted an important new technology that will better protect customers' private data stored on Apple devices.
Apple File System, or APFS, is a new version of the technology Apple's products use to save and retrieve information, and improves the way information is organized and protected to make it faster and more secure.
The new feature is just the latest move towards more widespread encryption in consumer technology products following Apple's standoff with the FBI earlier in 2016, in which it refused to help the agency weaken its own security processes to access information on an iPhone belonging to a terrorist. Facebook and Google both pledged support for Apple during the fight, and both are subsequently reported to be planning encrypted versions of their messaging apps. WhatsApp went first, opting to fully encrypt all conversations by default…………..
Brazil's giant dams risk destroying heart of the Amazon, says Greenpeace
Construction of 40 dams in the Tapajós river basin would severely affect indigenous people and is not justifiable economically, says new report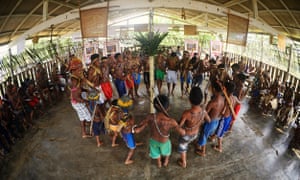 Munduruku indigenous people and other communities from the Tapajós river region, whose land is at risk from planned hydroelectric projects. Photograph: Gabriel Bicho/Greenpeace
Construction of 40 major dams in the Brazilian Amazon would destroy the heart of the world's largest rainforest, severely affect indigenous people and is not economically justifiable, says Greenpeace in a major new report.
The five large dams and 35 others planned for the Tapajós river and its tributaries south of Santarém have been promoted by the government and global engineering and energy companies as a solution to Brazil's recession and severe electricity shortages.
The projects form part of Brazil's plans to install 25GW of new hydropower capacity by 2024 and create a massive industrial waterway to allow soya and other crops to be exported more easily to Europe.
But Greenpeace questions the official forecasts of how much energy will be generated and says Brazil's dash for hydropower on the Tapajós is a potentially disastrous ecological and economic mistake.
Aside from flooding hundreds of square miles of pristine forest, the dams will lead to uncontrolled economic exploitation, massive deforestation and colonisation of the wider Amazon basin with devastating ecological consequences, it says……………
US politics
Election 2016
Opinion
Donald Trump's response to the Orlando shootings was so heinous that it spurred Barack Obama to make his most passionate defense of our values yet
Barack Obama, speaking on Tuesday, criticises Donald Trump's proposed plan to ban Muslims from travelling to the United States, following the presumptive Republican nominee's response to the Orlando massacre. Obama also says he will not be using the term 'radical Islam', pointing out that using the label would achieve nothing
Barack Obama didn't need to give a speech on the Orlando shooting Tuesday, having already addressed it in solemn voice the day before. But following a meeting with his national security team on the state of our country's fight against Islamic State, he found he had something important to say.
He was haunted by an ugliness – not overseas, but right here in America – that's beginning to rear its head once again. It's a darkness embodied not just in the horrific attack in Orlando on Sunday, which left 50 dead and 53 wounded, but more by how we as a society respond, and even who we become in its aftermath.
The day after the attack, Donald Trump spoke, not to console us as a country, but to stoke fears and fuel unfounded hatreds. He sought to further terrify the American electorate by casting the act not as aberrant and extreme and the consequence of how readily available weapons of war are to all, but as the logical conclusion of our country's immigration policy. He called, yet again, for a ban on all Muslim immigration, despite the fact that the shooter was born in the United States, and despite the fact that his motives remain unclear.
"We cannot continue to allow thousands upon thousands of people to pour into our country, many of whom have the same thought process as this savage killer," Trump said of any Muslim who would come to America. It was a frightening portrait of what America could become under a Trump presidency.
"That's not the America we want – it doesn't reflect our Democratic ideals," the president said Tuesday of Trump's anti-Muslim stance.
We are at a crossroads in this election, and the choices before us have perhaps never been more stark than they are today. Obama is right to be worried: it's not just our safety that's in question, but our country's heart and soul.
After all, we've seen this before from America. We saw it in the wake of the 9/11 attacks, when Muslims around the country were unfairly victimized and scapegoated for years. And we remembered it when authors like Alia Malek chronicled the stories of how Arab Americans were wronged. She did it so we would remember what not to do, and who not to be, and what doesn't help us as a nation recovering from loss.
But we are seeing it all over again anyway.
And with Trump we've seen it not just with regard to Muslim Americans, but also in his treatment of women, when he calls us "fat pigs" and "animals" and treats us as less than human. We've seen it in the violence of his rallies and his failure to distance himself from overtures from former KKK leaders. And we've seen it perhaps most poignantly in the wake of the San Bernardino attack, when he first called for the introduction of a temporary ban on all Muslim immigration…………….
For a change from the same old news stories from the same old news networks, here are links to English-edition online newspapers from other parts of the world. Nearly all of these are English-edition daily newspapers. These sites have interesting editorials and essays, and many have links to other good news sources. We try to limit this list to those sites which are regularly updated, reliable, with a high percentage of "up" time.
Some of the available newspapers:
| | | |
| --- | --- | --- |
| Asia – UN IRIN News | | |
| Asia & CIS (Updated Link!) | | |