22 Jun
Some members of LGBT community who faced harassment and disparate treatment from police say increased security doesn't mean they feel more safe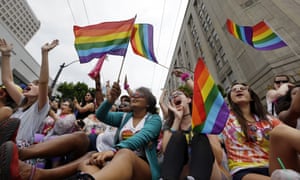 A 2015 study of the LGBTQ residents of San Francisco found that just 50% of LGBTQ people of color and 40% of transgender people of color believe that police officers would help them if needed. Photograph: Elaine Thompson/AP
San Francisco is ramping up security at its annual Pride festivities this weekend in the wake of the deadly attack on queer people of color in Orlando – a move that is alienating some members of the community that this year's "racial and economic justice"-themed event is meant to celebrate.
There will be a "significant police presence", officials said, and, for the first time in San Francisco Pride's 46-year history, attendees will be required to go through security screenings to enter the festival area at the Civic Center.
But for some members of the city's LGBT community, who have historically faced harassment and disparate treatment from police, increased security does not translate into an increased sense of safety.
"You're turning out an armed force that has a record of racist violence against people of color in a march themed Black Lives Matter. If folks can't see the irony of that, I don't know what to tell you," said Malkia Cyril, a member of Black Lives Matter, the organizational grand marshal for this year's parade.
A 2015 study of the LGBTQ residents of San Francisco found that just 50% of LGBTQ people of color and 40% of transgender people of color believe that police officers would help them if needed.
Sam Singer, spokesman for SF Pride, the not-for-profit organization that stages the annual event, said the organization had "lengthy discussions" with law enforcement "and mutually came to the recommendation that in light of the terrorist attack in Orlando, this level of security was necessary".
Attendees at the Pride festival – a two-day event of music, dance, drag and Dykes on Bikes – will be screened with walk-through metal detectors or handheld wands and will be "subject to additional searches of their person or possessions", according to a police statement. The department plans to increase staffing and says that there will be a "significant police presence", both of uniformed and undercover officers………….
Democrats and Republicans band together in bid to prevent terrorist suspects from buying guns, a day after Senate failed to advance series of new measures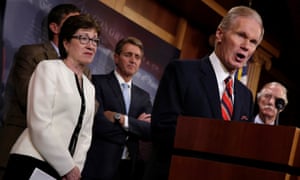 Senator Susan Collins listens to Senator Bill Nelson during a news conference with a bipartisan group of senators to unveil a compromise proposal on gun control. Photograph: Yuri Gripas/Reuters
A group of bipartisan senators on Tuesday unveiled a rare compromise around gun policy, calling on leaders in both parties to rally around a proposal to prevent suspected terrorists from purchasing firearms in the wake of the deadliest mass shooting in US history.
One day after the Senate failed to advance a series of new measures to rein in America's gun violence epidemic, a coalition of Democrats and moderate Republicans banded together to carve out a way forward so that individuals on the FBI terror watch list do not have access to guns.
Led by Susan Collins, a Republican senator from Maine known to work with others across the aisle, the lawmakers dubbed their approach a middle ground method of implementing a "No-Fly, No Buy" rule while protecting the due process of Americans who are wrongfully kept under surveillance by the federal government. Collins was joined in the push by three Republicans, four Democrats and her Maine colleague Angus King, an independent who caucuses with Democrats.
The bill would authorize the US attorney general to stop firearm sales to individuals on the no-fly list or a "selectee" list composed of people who are subject to extra screening at airports. Americans and green-card holders would be able to appeal if they believed they were wrongfully denied, and their legal fees would be reimbursed by the government were it proved they were put on the list by error.
The FBI has said Omar Mateen, the gunman who killed 49 people at the Pulse nightclub in Orlando last week, was on a terrorist watchlist from 2013 to 2014…………..
Related:
Gun owners on why they oppose background checks – video

The US Senate failed to pass new restrictions aimed at curtailing gun violence on Monday, voting down four separate measures including basic amendments to background checks. So why is there such opposition to expanded checks? The Guardian spoke to several gun owners about that very issue in May during the National Rifle Association's annual meeting in Louisville, Kentucky
Exclusive: PM criticises narrow focus of Farage, Gove and Hilton and says remain vote would show rejection of insular view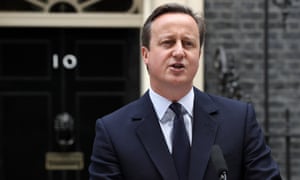 David Cameron said the UK was arguably the most successful multi-ethnic, multi-faith democracy in the world. Photograph: Dan Kitwood/Getty Images
David Cameron has accused leave campaigners of stoking intolerance and division with extreme warnings on immigration, and said Britain will be seen as a more "narrow, insular and inward-looking" country if it votes to leave the EU.
In an interview with the Guardian two days before the referendum, the prime minister said all sides of the leave campaign had "become very narrowly focused" on immigration and that the decision could carry consequences.
"I've always believed that we have to be able to discuss and to debate immigration. But I've always believed that this is an issue that needs careful handling," he said, speaking in his Downing Street office on Tuesday before embarking on a final 24 hours of campaigning……
Military says 15-year-old died and four others were wounded in West Bank after soldiers mistook them for stone-throwers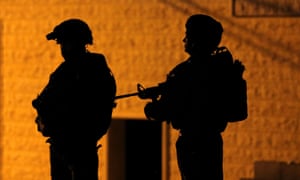 A night raid by the Israeli army on the West Bank last week. Photograph: Abed Al Hashlamoun/EPA
Donald Macintyre in Jerusalem
Israeli troops have shot dead a 15-year-old Palestinian boy as he travelled home from a family outing, after opening fire in response to stone-throwing in which the boy had not been involved.
A preliminary investigation by the Israeli military found that the car the boy was travelling in had been "mistakenly hit" as the soldiers chased Palestinian stone throwers who had injured an Israeli bus passenger and two tourists in another vehicle. The shooting near the village of Beit Sira was angrily condemned by the Palestinian leadership in Ramallah.
The military said that at around 1am firebombs and rocks had been thrown and oil spilled on to the busy Route 443 between Jerusalem and Modi'in. The road, which is often used as an alternative route between Jerusalem and Tel Aviv, cuts through the occupied West Bank where it is overlooked at points by Palestinian villages.
The Palestinian Authority, who named the dead boy as Mahmoud Rafat Badran, from the village of Beit-Uhr-Eh-Tahta, said that three other Palestinians also injured were treated at a medical centre in Ramallah, and a fourth wounded person had been taken to Israel for treatment…………
US politics
Election 2016
Opinion
A year since the pope's clarion call to climate action, Australia must declare a moratorium on new coal, oil and gas mines and end fossil fuel subsidies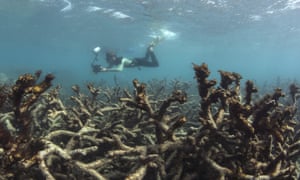 Australian religious leaders say in an open letter that the tragic bleaching of the Great Barrier Reef should be a wake-up call. Photograph: Xl Catlin Seaview Survey/EPA
Stephen Pickard and Thea Ormerod
F

ew papal proclamations have reverberated more strongly throughout the world than Pope Francis's encyclical on the environment, Laudato Si'. The anniversary of this clarion call to protect the environment comes as Australia's election is in full swing and, in terms of its message, the contrast could not be greater.
Released exactly a year ago, the encyclical was part of a deluge of statements from the major faith traditions in the leadup to the Paris climate agreement.
Today diverse Australian religious leaders note that Australia was a signatory to that historic agreement, but they ask: where are the policies to match?
The realities of global warming are being felt more painfully by the year. Polls show there is strong electoral support for climate action and now Australia has international obligations. In the meantime, our national emissions keep rising and climate policy scarcely rates a mention in election debates.
We know why. Both sides of politics have overly close relationships with the fossil fuel industry, and this has a profoundly distorting effect on our democracy. The common good is being sacrificed for political self-interest.
We have a stark choice before us concerning the future of the planet and its peoples. On one side there are civil society, innovators in low-carbon technologies and socially responsible investors. These are working for a transformation of our economies which will protect our life-sustaining ecosystems.
On the other side is sheer inertia, our collective addiction to fossil fuels and industries which are fixated on continuing as usual, regardless of the long-term costs to people and the environment. They have used their wealth to gain political influence and fund climate skepticism and denialism. As Pope Francis says in paragraph 54, "There are too many special interests, and economic interests easily end up trumping the common good and manipulating information so that their own plans will not be affected."………….
.
For a change from the same old news stories from the same old news networks, here are links to English-edition online newspapers from other parts of the world. Nearly all of these are English-edition daily newspapers. These sites have interesting editorials and essays, and many have links to other good news sources. We try to limit this list to those sites which are regularly updated, reliable, with a high percentage of "up" time.
Some of the available newspapers: