28 Jun
The mayors of Paris and London have penned a joint letter published Monday in Le Parisien and the Financial Times calling on the two "global cities" to "work more closely together than ever" despite Britain's decision to leave the European Union.
Paris Mayor Anne Hidalgo and her London counterpart, Sadiq Khan, said they were committed to forging stronger alliances in short statements published on Monday, four days after the UK opted to quit the EU in a historic referendum.
"There is so much that unites our two great cities," Hidalgo and Kahn wrote. "Despite the outcome of the EU referendum, our two cities must now work more closely together than ever before in order to deliver on our shared agendas."…………..
Decision deals major blow to leave campaign leaders, who show no sign of wanting to launch formal proceedings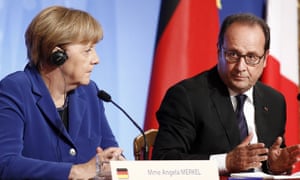 Germany's Angela Merkel with François Hollande of France. An aide said the two countries were in 'full agreement on how to handle the situation'. Photograph: Thierry Chesnot/Getty Images
The leaders of Germany, France and Italy have insisted that no Brexit talks of any kind can begin until Britain has formally applied to leave the European Union, which EU officials expect to happen before the end of the year.
On the eve of a crunch summit in Brussels, the German chancellor, Angela Merkel, said she, president François Hollande of France and Italy's prime minister, Matteo Renzi, had agreed at their meeting in Berlin that "there will be no formal or informal talks about Britain's exit" until the UK has triggered article 50, the untested procedure that governs a member state leaving.
Hollande urged Britain to "not waste time" in launching the leaving process. "Being responsible means not wasting time in engaging with the question of Britain's departure and setting this new impulse we want to lend the new European Union," he said, adding that "nothing is worse than uncertainty – and Britain has already had painful experience of this".
Fearful of a prolonged period of political and economic uncertainty, European leaders are eager for the UK to make a swift start on the marathon task of extricating itself from the bloc by triggering article 50 as soon as possible.
But London is reluctant to launch formal exit proceedings yet. Chancellor George Osborne said the UK would activate Article 50 only when it has a "clear view" of how its future relations with the bloc would look.
David Cameron has left the task to his successor and leading Brexit campaigners have repeatedly said they want informal talks on the possible terms of a withdrawal deal before locking Britain into the strict two-year timeframe laid down in the article 50 process………….
UN children's agency report highlights toll on youngsters by 2030 unless world leaders turn rhetoric into reality on fighting poverty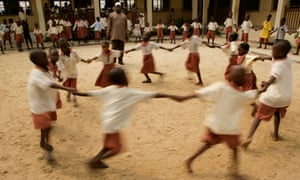 Nearly half of the deaths the report foresees will be in sub-Saharan Africa. Photograph: Mike Goldwater/Alamy
Less than a year after the world promised to leave no one behind by signing up to an ambitious 15-year blueprint to end inequality, the UN children's agency says that 69 million children will die from mostly preventable causes by 2030, and 167 million will be living in extreme poverty, unless world leaders turn rhetoric into reality.
In its latest State of the World's Children report, Unicef also says 750 million women will have been married as children by 2030, the date by which the sustainable development goals to tackle poverty and secure the planet's future are supposed to have been achieved.
Nearly half of the 69 million children whose deaths the report foresees will be in sub-Saharan Africa, where at least 247 million children – two in every three – are deprived of what they need to survive and develop.
"Before they draw their first breath, the life chances of poor and excluded children are often being shaped by inequities. Disadvantage and discrimination against their communities and families will help determine whether they live or die, whether they have a chance to learn, and later earn a decent living," Unicef's executive director, Anthony Lake, writes in the report……….
Investigators say chief Larry O'Dea accidentally shot a close friend in the back while hunting in April, but initially told police that the man had shot himself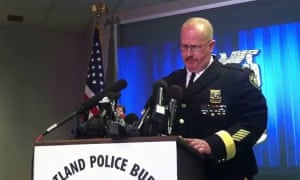 Portland police chief Larry O'Dea. Portland is the latest in a slew of police bureaus to lose its leader. Photograph: Youtube
The Portland, Oregon police chief has stepped down amid a criminal investigation into allegations that he lied about shooting a friend, making him the latest top cop in the US to lose his job in the wake of a high-profile scandal.
Police bureau chief Larry O'Dea accidentally shot a close friend in the back while hunting in April, but initially told local police that the injured man had shot himself, according to investigators.
At a press conference Monday morning at city hall, mayor Charlie Hales announced that O'Dea had chosen to "retire" and slammed reporters for their coverage of the controversy.
"I'll continue to wait on passing judgment until I have all the facts," Hales said. "I've been very disappointed by the trial by media … I would ask you to be as energetic in clearing his name as you have been in smearing it."……………
A prosecutor is considering whether Bud, a 19-year-old African grey parrot, could be used in trial of woman accused of shooting his owner, Martin Duram
A Michigan prosecutor is considering whether the words of a pet parrot could be used to try the woman accused of killing his owner.
Bud, a 19-year-old African grey parrot, has been repeating the phrase "don't fucking shoot" ever since his owner, Martin Duram, was shot multiple times and killed in Sand Lake, Michigan during May 2015.
"He's using Marty's voice," said Christina Keller, Duram's ex-wife, who now owns Bud. "It imprinted in his brain, and he can't let it go," Keller told WOOD TV in Detroit. Several times a week, she said, Bud parrots what may have been Duram's final words.
Duram's wife, Glenna, is standing trial for the murder. She survived a self-inflicted gun wound to the head the day of Martin Duram's murder. The Newago County prosecuting attorney Robert Springstead said his office was trying to study Bud's words and learn if they could be admissible in court. "It's an interesting novelty and it's been a great opportunity for me to learn about African parrots," Springstead told the Detroit Free Press.
It isn't the first time a parrot's testimony has been considered for court. In 1993, the Santa Rosa attorney Charles Ogulnick was the public defender for a man accused of murdering a business associate. The murdered woman's parrot, Max, an African grey like Bud, was in the home at the time of the killing and had begun repeating the phrase: "No, Richard, no, no, no!"……………
Opinion
Many Republicans have endorsed her. It could be because GOP stalwarts are terrified of Donald Trump. Or it could be that her policies align with theirs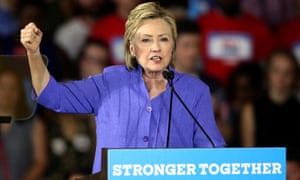 'The neocon love affair with Clinton started well before Trump was even in the discussion of Republican candidates, let alone the party's nominee.' Photograph: Aaron Josefczyk/Reuters
A

nother week, and another set of Republicans have endorsed Hillary Clinton. Is it because of existential threat of Donald Trump, or could it be because many of Clinton's potential policies conveniently line up with theirs?
Longtime Republican foreign policy stalwart and Iraq warmonger Robert Kagan became the latest neoconservative to endorse Clinton for president last week. He has even offered to host a fundraiser on her behalf, as Foreign Policy Magazine first reported on Thursday. Kagan has followed the likes of former Bush deputy secretary of state Richard Armitage and a slew of lower-profile officials in their endorsement of Clinton over Trump.
Now, it's entirely possible that these Republicans are endorsing Clinton because Trump is an unhinged maniac who has given people of all political persuasions plenty of reason to not want him anywhere near the levers of power. But here's the thing: the neocon love affair with Clinton started well before Trump was even in the discussion of Republican candidates, let alone the party's likely nominee.
Several neoconservatives have spent years gushing about Clinton's penchant for supporting basically every foreign war or military escalation in the last decade, including Kagan, who said in 2014: "I feel comfortable with her on foreign policy … If she pursues a policy which we think she will pursue, it's something that might have been called neocon, but clearly her supporters are not going to call it that; they are going to call it something else."
Her campaign hasn't really deviated from that position, either. While she's hit Trump for being too erratic and dangerous a man to have in charge of the nuclear codes, she also promised more ground troops in the fight against Isis, expressed support for a no-fly zone in Syria (effectively a declaration of war against Assad) and called for more weapons for various rebels in the region.
Just this past weekend, we learned yet another lesson about what constant military intervention in the Middle East has gotten us: one more disaster where untold numbers of US guns and weapons fell into the hands of the people we are fighting. The New York Times reported that the classified CIA program that armed and trained Syrian rebels directly fighting Assad – a policy Clinton pushed for while in the Obama administration and that she has subsequently said we should expand – led to the systematic stealing of millions of dollars of US weapons, which were then sold on the black market and even contributed to the killing of Americans…………..
.
For a change from the same old news stories from the same old news networks, here are links to English-edition online newspapers from other parts of the world. Nearly all of these are English-edition daily newspapers. These sites have interesting editorials and essays, and many have links to other good news sources. We try to limit this list to those sites which are regularly updated, reliable, with a high percentage of "up" time.
Some of the available newspapers:
| | | |
| --- | --- | --- |
| Asia & CIS | | |
| | | |
| --- | --- | --- |
| China | | |
| | | |
| --- | --- | --- |
| China & Hong Kong | | |
| | | |
| --- | --- | --- |
| France | | |
| | | |
| --- | --- | --- |
| Israel | | |
| | | |
| --- | --- | --- |
| Norway | | |
| | | |
| --- | --- | --- |
| Palestine | | |
| | | |
| --- | --- | --- |
| Russia | | |
| | | |
| --- | --- | --- |
| Ukraine | | |
.