03 Jul
The McGlynn:

Today's news is all about one man. And one damn question that comes out from my past, reference forgotten. "Where were you, God of kindness, in Auschwitz? What was going on in heaven, at the celestial tribunal, while your children were marked for humiliation, isolation and death only because they were Jewish?"
The McGlynn

The prolific author and human rights activist has died at the age of 87, according to Israeli media. Wiesel was best known for his book "Night," which described his experiences at the Auschwitz concentration camp.
Israeli newspaper Haaretz reported the Nobel Peace Prize winner's death on its website on Saturday. The Israeli center for Holocaust research, Yad Vashem, tweeted a message about the death of the writer and activist.
Germany promises 'never to forget'
Frank-Walter Steinmeier, Germany's foreign minister, called Wiesel "not only a great author, philanthropist and scholar … but above all, a tireless campaigner against hate, intolerance and violence."
In a statement posted on Facebook, Steinmeier remembered a "powerful" speech Wiesel delivered to the German parliament 16 years ago in which he called on Germany's younger generation "to create a better society than he, himself, had experienced in his childhood."
"It was a haunting message of hope and responsibility that we should take to heart, today," Steinmeier added.
German President Joachim Gauck also wrote to Wiesel's wife Marion, saying her husband's death was "a great loss" and that "we will never forget him."
"Your husband knew how to use vivid and empathic words to keep the memory of the darkest years of German history that he witnessed alive and to warn young people especially of the dangers of right-wing extremism and xenophobia," he said.
German Justice Minister Heiko Maas meanwhile tweeted that he felt "sadness over the death of Nobel Peace Prize Laureate Elie Wiesel. Witness of the Holocaust and chronicler of the indescribable."
"We must always take sides. Neutrality helps the oppressor, never the victim. Silence encourages the tormentor, never the tormented."
Reactions around the world
Israeli Prime Minister Benjamin Netanyahu hailed Wiesel as a "master of words" who gave expression to the victory of the human spirit over cruelty and evil with his unusual personality and captivating stories."
"Out of the darkness of the Holocaust, Elie became a powerful force for light, truth and dignity," he added.
In 2009, German Chancellor Angela Merkel and US President Barack Obama accompanied Wiesel on a tour of the Buchenwald camp. In his remarks on Wiesel's passing, Obama remembered the late author's comments during their visit:
"After we walked together among the barbed wire and guard towers of Buchenwald… Elie spoke words I've never forgotten: 'Memory has become a sacred duty of all people of goodwill,'" Obama said Saturday.
"Elie was not just the world's most prominent Holocaust survivor, he was a living memorial."
A tragic life
Eliezer "Elie" Wiesel was born in 1928 in Transylvania, Romania. He was deported to Auschwitz along with his family when he was 15 years old. His mother and younger sister died in the camp and Wiesel was moved to Buchenwald with his father, who died shortly before Allied forces liberated the prisoners in 1945.
According to a description of Wiesel's life on the Elie Wiesel Foundation for Humanity's website, the holocaust survivor lived in Paris after the end of World War II and studied to become a journalist.
In the years that followed, Wiesel was motivated to write his book "Night," which detailed his experiences in the Nazi concentration camps. It sold more than 10 million copies. "Night" was the first book of the Holocaust memorial trilogy, which included "Dawn" and "Day." He also authored over 60 books, mostly in French. These included "A Beggar in Jerusalem", "The Testament," "The Fifth Son" and his memoirs.
A strong supporter of Israel, Wiesel also took a keen interest in the cause of the Soviet Jews, Cambodia's refugees, the Kurds, and the apartheid in South Africa, among others. From time to time, Wiesel also attracted criticism for his uncompromising stances on certain issues.
Aside from his work as a writer, Wiesel also enjoyed a career as an academic, serving at the Boston, Columbia and Yale universities. Wiesel was honored with the Nobel Peace Prize in 1986 for his lifelong work on raising awareness about the holocaust, or the "Shoah," as it is known in Hebrew.
Elie Wiesel was 15 years old when he and his family were deported by the Nazis from their home in Sighet, Transylvania, to Auschwitz in 1943. His mother and younger sister perished; his two older sisters survived.
Wiesel and his father were transported to Buchenwald in January 1945, where his father died. The camp was liberated in April 1945.
After the Holocaust, Wiesel became one of the most notable voices bearing witness to the events of the Holocaust.
He has authored more than 40 books, and his memoir, Night, has been translated into more than thirty languages. Wiesel led the creation of the United States Holocaust Memorial Museum.
In 1986, he won the Nobel Prize for Peace. He is also a leading voice tying memorialization of the Holocaust to an obligation to speak out against threats of genocide.
Author and activist Elie Wiesel, a World War II death camp survivor who won the Nobel Peace Prize for becoming the voice of millions of Holocaust victims, died on Saturday at the age of 87, Israel's Holocaust memorial Yad Vashem said.
Wiesel was a philosopher, speaker, playwright and professor who campaigned tirelessly for the oppressed around the world.
The Romanian-born Wiesel lived by the credo expressed in "Night," his landmark story of the Holocaust: "To forget the dead would be akin to killing them a second time."
In awarding the Peace Prize in 1986, the Nobel Committee praised Wiesel as a "messenger to mankind" and "one of the most important spiritual leaders and guides in an age when violence, repression and racism continue to characterise the world".
Wiesel did not waver in his campaign never to let the world forget the Holocaust horror. While at the White House in 1985 to receive the Congressional Gold Medal, he even rebuked then president Ronald Reagan for planning to lay a wreath at a German cemetery where some of Hitler's notorious Waffen SS troops were buried.
"Don't go to Bitburg," Wiesel said. "That place is not your place. Your place is with the victims of the SS."
Wiesel became close to President Barack Obama but the friendship did not deter him from criticising US policy on Israel. He spoke out in favour of Jewish settlements in East Jerusalem and pushed the United States and other world powers to take a harder stance against Iran over its nuclear programme. Wiesel attended the joint session of Congress in 2015 when Israeli Prime Minister Benjamin Netanyahu spoke on the dangers of the Iranian programme.
Wiesel and his foundation were both victims of the notorious Ponzi scheme run by New York financier Bernie Madoff, with Wiesel and his wife losing their life's savings and the foundation losing $15.2 million. "'Psychopath' – it's too nice a word for him," he said of Madoff in 2009.
Wiesel was 16 years old when he emerged from the newly liberated Buchenwald concentration camp in 1945. He had been orphaned by the Nazis and their identification number, A-7713, was tattooed on his arm as a physical manifestation of his broken faith and the nightmares that would haunt him throughout his life.
Wiesel and his family had first been taken by the Nazis from the village of Sighetu Marmatiei in the Transylvania region of Romania to Auschwitz, where his mother and one of his sisters died. Wiesel and his father, Shlomo, ended up in Buchenwald, where Shlomo died. In "Night" Wiesel wrote of his shame at lying silently in his bunk while his father was beaten nearby.
After the war Wiesel made his way to France, studied at the Sorbonne, and by 19 had become a journalist. He pondered suicide and never wrote of or discussed his Holocaust experience until 10 years after the war as part of a vow to himself. He was 27 years old in 1955 when "Night" was published in Yiddish, and Wiesel would later rewrite it for a worldwide audience.
"Never shall I forget that night, the first night in camp, which has turned my life into long night, seven times cursed and seven times sealed …," Wiesel wrote. "Never shall I forget those flames that consumed my faith forever. Never shall I forget that nocturnal silence which deprived me, for all eternity, of the desire to live."
Asked by an interviewer in 2000 why he did not go insane, Wiesel said: "To this day that is a mystery to me."
By 2008, the New York Times said "Night" had sold an estimated 10 million copies, including 3 million after talk-show hostess Oprah Winfrey made it a spotlight selection for her book club in 2006.
In 1985 Wiesel helped break ground in Washington for the US Holocaust Memorial Museum and the following year was awarded the Nobel Peace Prize. He dedicated the prize to all those who survived the Nazi horror, calling them "an example to humankind how not to succumb to despair".
Wiesel, who became a US citizen in 1963, was slight in stature but a compelling figure when he spoke. With a chiseled profile, burning eyes and a shock of gray hair, he could silence a crowd by merely standing up.
He was often described as sombre. An old friend, Chicago professor Irving Abrahamson, once said of him: "I've never seen Elie give a belly laugh. He'll chuckle, he'll smile, there'll be a twinkle in his eye. But never a laugh from within."
A few years after winning the peace prize, he established the Elie Wiesel Foundation for Humanity. In addition to Israeli and Jewish causes, it campaigned for Miskito Indians in Nicaragua, Cambodian refugees, victims of South African apartheid, and those suffering from famine and genocide in Africa.
Wiesel wrote more than 50 books – novels, non-fiction, memoirs and many with a Holocaust theme – and held a long-running professorship at Boston University. In one of his later books, "Open Heart", he used his 2011 quintuple-bypass surgery as impetus for reflection on his life.
"I have already been the beneficiary of so many miracles, which I know I owe to my ancestors," he wrote. "All I have achieved has been and continues to be dedicated to their murdered dreams – and hopes."
He collected scores of awards and honours, including an honorary knighthood in Britain. Obama presented him the National Humanities Medal in 2009.
Wiesel was attacked in a San Francisco hotel in 2007 by a 22-year-old Holocaust denier but not injured.
Wiesel and wife Marion married in 1969. Their son Elisha was born in 1972.
(FRANCE 24 with REUTERS)
The Holocaust survivor and Nobel laureate, who died on Saturday, is praised by world leaders past and present, including the Clintons and Netanyahu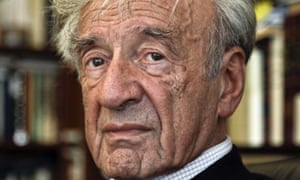 Barack Obama called Elie Wiesel 'one of the great moral voices of our time'. Photograph: Bebeto Matthews/AP
Barack Obama led tributes to the Holocaust survivor and Nobel laureate Elie Wiesel, who died on Saturday at the age of 87, saying the author had been "a living memorial" and a clear voice against injustice in the world.
"Elie Wiesel was one of the great moral voices of our time, and in many ways, the conscience of the world." Obama said. "He raised his voice, not just against antisemitism but against hatred, bigotry and intolerance in all its forms."
In 2009, Obama traveled with Wiesel and German chancellor Angela Merkel to the Nazi concentration camp of Buchenwald.
"After we walked together among the barbed wire and guard towers of Buchenwald where he was held as a teenager and where his father perished," Obama said, "Elie spoke words I've never forgotten: 'Memory has become a sacred duty of all people of goodwill.'
"Upholding that sacred duty was the purpose of Elie's life."
On Sunday, Wiesel was remembered at a private service in New York City. Among the mourners at Fifth Avenue Synagogue on the Upper East Side was former national director of the Anti-Defamation League Abraham Foxman. In 2013, Wiesel and his wife Marion were honored by the ADL with the Jabotinsky Award Courageous Jewish Leadership.
Wiesel spent decades advocating for human rights in his books, university classrooms and the world stage. In 1985, he confronted Ronald Reagan for his decision to visit a German cemetery that contained the remains of SS officers. In 1993, he urged Bill Clinton to action on the mounting atrocities in the former Yugoslavia.
"Elie shouldered the blessing and the burden of survival," said the former president and his wife Hillary Clinton, now the presumptive Democratic nominee for president.
"In words and deeds, he bore witness and built a monument to memory to teach the living and generations to come the perils of human indifference. As he often said, one person of integrity can make a difference."
Binyamin Netanyahu, the Israeli prime minister, praised Wiesel's books as an "expression to the victory of the human spirit over cruelty and evil".
"In the darkness of the Holocaust," Netanyahu said, "Elie Wiesel served as a ray of light and an example of humanity that believes in the goodness of man."
Born in Romania and for years an expatriate, Wiesel spent most of his life primarily in the US, but married in Israel and was active in the nation's politics. He told an interviewer in 2014 that Netanyahu had urged him to run for president.
"Tonight we bid farewell to a hero of the Jewish People, and a giant of all humanity," Israeli president Reuven Rivlin said on Saturday. "Elie Wiesel, of blessed memory, embodied the determination of the human spirit to overcome the darkest of evils, and survive against all the odds."
He added: "May his memory be a blessing, everlastingly engraved in the heart of the nation."
"We have lost the most articulate witness to history's greatest crime," said Ronald Lauder, president of the World Jewish Congress. "Without Elie Wiesel in the world, it is up to every one of us now to stand up to the deniers."
Menachem Rosensaft, general counsel for the WJC, remembered his late friend's expansive interests and great generosity.
"He had an encyclopedic knowledge of literature and philosophy coupled with a seemingly inexhaustible intellectual curiosity," Rosensaft wrote in Tablet magazine.
"He often said that he could not, would not speak on behalf of the dead. He did, however, speak forcefully, eloquently for the collectivity of the survivors, and they revered and loved him for it."
Wiesel received awards from all over the world, including the Nobel peace prize, presidential medal of freedom, congressional gold medal and an honorary knighthood.
He published the first edition of his best known work, Night, in France, where he was awarded rank of Grand-Croix in the Légion d'Honneur. President François Hollande said his country "honors the memory of a grand humanist, tireless defender of peace".
The American diplomat Madeleine Albright, herself an immigrant from central Europe, recalled Wiesel's relentless pursuit of justice.
"Elie Wiesel taught us never to be silent wherever and whenever there is suffering," she said. "May his memory, like his life, be a blessing to us all."
The author is survived by his wife, a stepdaughter and a son, who also released a statement in honor of his father.
"My father raised his voice to presidents and prime ministers when he felt issues on the world stage demanded action," Elisha Wiesel said.
"But those who knew him in private life had the pleasure of experiencing a gentle and devout man who was always interested in others, and whose quiet voice moved them to better themselves."
.
For a change from the same old news stories from the same old news networks, here are links to English-edition online newspapers from other parts of the world. Nearly all of these are English-edition daily newspapers. These sites have interesting editorials and essays, and many have links to other good news sources. We try to limit this list to those sites which are regularly updated, reliable, with a high percentage of "up" time.
Some of the available newspapers:
| | | |
| --- | --- | --- |
| Asia & CIS | | |
| | | |
| --- | --- | --- |
| China | | |
| | | |
| --- | --- | --- |
| China & Hong Kong | | |
| | | |
| --- | --- | --- |
| France | | |
| | | |
| --- | --- | --- |
| Israel | | |
| | | |
| --- | --- | --- |
| Norway | | |
| | | |
| --- | --- | --- |
| Palestine | | |
| | | |
| --- | --- | --- |
| Russia | | |
| | | |
| --- | --- | --- |
| Ukraine | | |
.