04 Jul
Deputy ambassador apologises after Ohio receptionist calls 911 on man in formal dress, thinking he was a member of Isis
A man from the United Arab Emirates visiting Ohio for medical treatment is rushed and detained by officers from Avon City police department outside his hotel on Wednesday after a desk clerk had her sister call 911 to report a man pledging allegiance to Isis. The man, who was quickly released, later collapsed and was taken to hospital. The police department has apologised and said it is investigating
The United Arab Emirates has urged men to avoid wearing the white robes, headscarf and headband of the national dress when travelling abroad, after a businessman visiting the United States was wrestled to the ground and held as an Islamic State suspect.
UAE media reported that the Emirati man was detained in Avon, Ohio, last week after a female clerk at a local hotel called 911 to report what she had described as a man affiliated to Islamic State, according to the Arabic-language al-Bayan newspaper.
The English language newspaper the National said the receptionist at the Fairfield Inn hotel called the police after she heard the man talking on his phone in the hotel lobby. The woman reportedly described him as "a suspicious man with disposable phones – two of them – in a full head dress."………..
Justin Trudeau makes announcement as he becomes first Canadian prime minister to march in gay pride parade
Justin Trudeau becomes the first Canadian prime minister to march in a gay pride parade, dancing on the streets at the show of solidarity in Toronto on Sunday. Trudeau said the annual parade in Toronto was particularly poignant after the massacre at the Pulse gay nightclub in Orlando, Florida. Photograph: Xinhua / Barcroft Images
Canada is exploring the use of gender-neutral options on identity cards, Justin Trudeau told a television station on Sunday as he became the first Canadian prime minister to march in a gay pride parade.
Trudeau, who participated in the downtown Toronto parade along with other politicians, did not give details, saying only the government was exploring the "best way" and studying other jurisdictions.
"That's part of the great arc of history sweeping towards justice," he told CP24.
Last week, the Canadian province of Ontario said it would allow the use of a third gender indicator, X, for driver's licenses, which are commonly used in North America to provide identification.
Trudeau poses for a photo as he greets spectators at the Toronto pride parade. Photograph: Mark Blinch/AP
Countries including Australia, New Zealand and Nepal already allow the use of the X gender indicator.
Trudeau also said last month's relaxation of Canadian blood-donation restrictions on men who have sex with other men was "not good enough," saying the government was going to work toward easing it further.
According to Canadian Blood Services, men who have sex with other men can now donate after one year of abstinence, down from five years previously…………….
OECD's Pascal Saint-Amans says efforts to improve sharing of information between countries must go further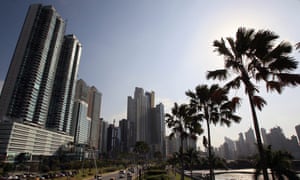 Panama City. The UK has led calls for more information sharing in the wake of the Panama Papers scandal. Photograph: Alejandro Bolivar/EPA
Police and tax inspectors must be able to discover who sits behind opaque corporate trusts if international efforts to fight tax dodging and corruption in the wake of the Panama Papers scandal are to prove effective, one of the world's top tax reformers has warned.
Pascal Saint-Amans, head of tax at the Organisation for Economic Cooperation and Development (OECD), said existing efforts to improve the sharing of information between countries – championed by David Cameron – needed to go further.
In particular, he said countries needed to look again at new registers of company ownership, suggesting these should be improved and expanded. One of his proposals is that as well as recording the beneficial owner of each company, these registers should also show similar information for trusts.
An effective regime, Saint-Amans told the Guardian, "will definitely require improved availability of, and access to, information on beneficial owners of all legal arrangements – including trusts"……..
Labour and SNP figures consider legal action against former PM to ban him from office over role in Iraq war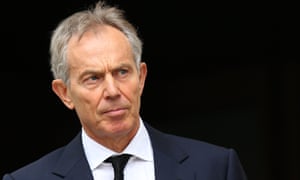 The Chilcot report is due to be released on Wednesday 6 July. Photograph: Chris Jackson/PA
Senior figures from Labour and the Scottish National party are considering calls for legal action against Tony Blair if the former prime minister faces severe criticisms from the long-awaited inquiry into the war in Iraq.
A number of MPs led by Alex Salmond are expected to use an ancient law to try to impeach the former prime minister when the Chilcot report comes out on Wednesday.
The law, last used in 1806 when the Tory minister Lord Melville was charged for misappropriating official funds, is seen in Westminster as an alternative form of punishment that could ensure Blair never holds office again.
Triggering the process simply requires an MP to propose a motion and provide supporting evidence as part of a document called the article of impeachment which has no time limit placed upon it. If the impeachment attempt is approved by MPs, the defendant is delivered to Black Rod before a trial.
A simple majority is required to convict, at which point a sentence can be passed which could, in theory, involve Blair being sent to prison. However, MPs have said the attempt will be symbolic and is unlikely to result in imprisonment.
Salmond, the former Scottish first minister, said there "has to be a judicial or political reckoning" for Blair's role in the Iraq conflict. "He seemed puzzled as to why Jeremy Corbyn thinks he is a war criminal, why people don't like him," he told Sky News.
"The reason is 179 British war dead, 150,000 immediate dead from the Iraq conflict, the Middle East in flames, the world faced with an existential crisis on terrorism – these are just some of the reasons perhaps he should understand why people don't hold him in the highest regard……………..
Opinion
Obama's announcement doesn't provide enough information about those killed by drones or the decision making processes that led to their deaths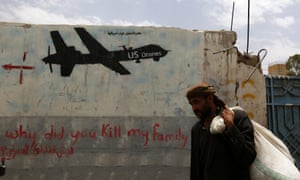 'The drone data should not be the government's last word on the impact of drone strikes: it should acknowledge, apologize and compensate civilian victims.' Photograph: Yahya Arhab/EPA
T

he Situation Room, a commander-in-chief with rapidly graying hair, a cluster of grim-faced men and women debating the ethics and the legality of a killing. This is how the Obama administration has for years sought to portray its notorious global drone killing program: cautious, calculated and as conscientious as possible.
The Obama administration just released numbers suggesting this depiction is closer to reality than fiction. It announced that drone strikes in countries excluding Iraq, Afghanistan and Syria have resulted in between at least 64 and 116 noncombatant deaths during his administration. The president also issued an executive order effectively directing his successor to do as he is doing, and publish this data going forward.
This is a remarkable shift, even if you're skeptical of numbers this low. Human rights groups and media have been seeking this information for years. The administration had always refused, citing national security. Instead of openly providing numbers, the administration leaked details about President Obama's personal involvement in decision-making. The public was asked to trust its law professor president. He was no mere mortal, deigning to play judge, jury and executioner.
Today's announcement may simply reflect that Obama doesn't trust his successors to be as scrupulous as he believes he has been. And no matter how one views the credibility of this data, that's a good thing: no president should have the authority to kill in secret. Obama set a harmful precedent of doing just that, carrying out strikes on a kind of global battlefield, spanning Pakistan, Yemen, Somalia, and perhaps places unknown to us. Now, he's starting to dismantle his own dangerous legacy.
The new executive order means it will be harder for the next president to kill in total secrecy. After Obama leaves, it will stay in effect unless his successor withdraws it. But to go backward on this commitment to disclose casualties annually, the next president would have to explain why – to a Congress that could be hostile, or simply thirsty for information about how the administration is handling counter-terrorism operations.
The announcements could also have a ripple effect on the dozens of governments currently seeking to acquire drone technology. Obama's use over the last seven years set a disastrous global precedent: using a new weapons technology as an excuse to kill in secret and without regard for international law. Today's developments are an incremental but important step away from the notion that new technology is a license for secrecy – one that was all the more frightening because lethal autonomous robots and weaponized artificial intelligence, though still smacking of science fiction, are actually on the horizon……………..
.