10 Jul
Police scour headquarters in effort to find suspicious person as demonstrators return to streets across the nation
Dallas police searched in vain for a suspicious man spotted in its headquarters on Saturday evening amid fresh threats to the city's officers and renewed anti-police violence protests across the country.
Amid heightened security in Dallas, Swat team officers and dog units scoured a multi-level parking garage connected to the police force's building. An explosive device and a shotgun were used to gain entry to locked passages, according to police.
Shortly before 8pm it was announced no one had been located. "Out of an abundance of caution, officers searched the garage to ensure reports of a suspicious person was thoroughly investigated," the department said on Twitter.
It was unclear whether officers planned to seek the man elsewhere or whether he was considered to pose any threat. Dallas police chief David Brown congratulated his officers on a "great job"………….
The Fox News executive has been accused of sustained and brutal sexual harassment – but in the past, he has not been one to bow to external pressure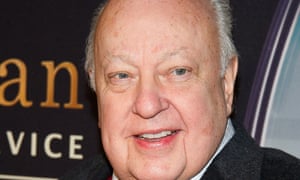 Roger Ailes faces a sexual harassment lawsuit from the former anchor Gretchen Carlson. Photograph: Charles Sykes/Invision/AP
A

re Roger Ailes' days numbered? The eccentric chairman of Fox News has always had his quirks – there was his war with a 16-page local tabloid in his home of Philipstown, New York. There are his office windows, allegedly combat-hardened against possible attack by gay terrorists – the network denied this. And there's his occasional choice of talent who chase off lucrative advertisers.
Now, many are asking whether his latest scandal, over a lawsuit alleging extensive and protracted sexual harassment of the former Fox & Friends anchor Gretchen Carlson, will be the end of his career. Late Friday, Ailes' lawyers tried to force the case into closed arbitration, arguing that it was an employment dispute that fell under the terms of her contract and should to be handled away from prying eyes. Carlson is suing Ailes directly, not the network.
But as of Saturday, half a dozen more women have come forward, alleging a pattern of abuse across Ailes' career.
Gabriel Sherman, chronicler of Ailes' TV work from the Nixon administration to the present day, has suggested that the chairman of Fox News's "luck may have finally expired"; Carlson's lawyer Nancy Erika Smith told the Guardian that allegations of Ailes's misconduct from even more women are forthcoming……………….
Yoweri Museveni, 71, causes consternation as his remarks mix up Israel and Palestine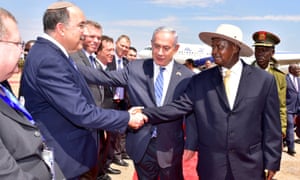 Binyamin Netanyahu introduces members of his delegation to President Museveni. Photograph: Reuters
Caroline Ariba
A lengthy speech by Uganda's 71-year-old president, Yoweri Museveni, has become a hit on social media.
The elderly statesman was speaking at the 40th anniversary celebrations of the raid on Entebbe, during which Israeli commandos freed hostages who had been taken by Palestinian and German terrorists from a flight from Tel Aviv.
It was supposed to be an event that bonded Israel with Uganda, but to onlookers' consternation Museveni continually referred to Israel as Palestine in his rambling speech. Given that the Israeli prime minister, Binyamin Netanyahu, his wife and dignitaries were present, this error was unexpected, particularly as Netanyahu's brother Yonatan was killed in the raid.
Museveni told Netanyahu: "I want to thank him for turning this sad story 40 years ago into yet another instrument of bonding the holy land of Israel-Palestine, with the heartland Uganda in particular, and Africa in general."
This was startling enough, but those who thought Museveni's speech would return to the normal world would be disappointed; he had only just started. "The sad event, 40 years ago, turned to another bond linking Palestine to Africa. I say this is yet another bond between Africa and Palestine because there were earlier bondage events," he pronounced……………
Elderly Salt Lake County resident, who also had another health condition, contracted virus while travelling outside the country, authorities say
An Aedes aegypti mosquito is kept in a glass tube at amid screening for mosquitos naturally infected with the Zika virus in Rio de Janeiro, Brazil. Photograph: Felipe Dana/AP
Associated Press in Salt Lake City
A person infected with Zika has died in Utah, and while the exact cause is unclear, authorities said Friday it marks the first death related to the virus in the continental US.
The unidentified Salt Lake County resident contracted the virus while travelling abroad to an area with a Zika outbreak, health officials said.
The patient, who died in late June, was elderly and also suffered from another health condition, according to the Salt Lake County health department.
The person had Zika symptoms including rash, fever and conjunctivitis but it's unclear if or how the virus contributed to the death, said Centers for Disease Control and Prevention spokesman Benjamin Haynes.
Officials discovered the case while reviewing death certificates, and lab tests confirmed their suspicions, said Gary Edwards, executive director of the Salt Lake County health department……………
Open letter released on anniversary of human rights crackdown says Beijing's campaign of fear will not stop them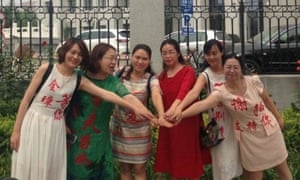 The wives of human rights lawyers who have been seized by Chinese security have joined forces to write an open letter of protest on the one-year anniversary of the crackdown. Photograph: Li Wenzu
The wives of some of China's most prominent civil rights lawyers have issued an emotional and spirited plea for their release, one year after they were seized by police during a government offensive against dissent.
In an open letter released on Saturday to mark the anniversary, relatives of the lawyers called on Beijing to end the harassment and persecution of their families.
"As a citizen, asking for the legitimate rights and interests of your family to be protected is the most basic requirement," they write, warning: "He who plays with fire will get burnt. One day you reap what you sow for the various illegal methods you are today using."
On 9 July last year security officials launched what activists describe as an unprecedented roundup of human rights lawyers and activists, taking well-known attorneys such as Wang Yu, Li Heping and Wang Quanzhang into secret detention…………..
Manmade climate change increased the risk of heat-related deaths by about 70% in Paris and 20% in London in 2003, research shows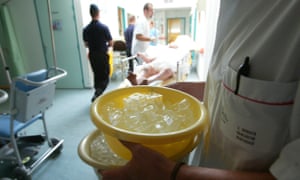 A doctor carries ice cubes to help cool down a patient suffering from hyperthermia, during the Paris heatwave of August 2003. Photograph: Thomas Coex/AFP/Getty Images
Press Association
Hundreds of deaths in the searing European heatwave of 2003 can be attributed to manmade climate change, say scientists.
Researchers calculated that 506 out of 735 heat-related deaths recorded that summer in Paris – the hottest city – were due to global warming.
The impact of climate change was less severe in London, where 64 out of 315 deaths were blamed on manmade effects.
Scientists arrived at the figures after combining climate model simulations of the 2003 heatwave with a health impact assessment.
They found that human-induced climate change increased the risk of heat-related deaths by about 70% in central Paris and 20% in London.
Lead researcher Dr Daniel Mitchell, from Oxford University, said: "It is often difficult to understand the implications of a planet that is 1C warmer than pre-industrial levels in the global average, but we are now at the stage where we can identify the cost to our health of manmade global warming……………
Opinion
Our collective response to fatal gun violence is practically routine by now, including unheeded pleas for change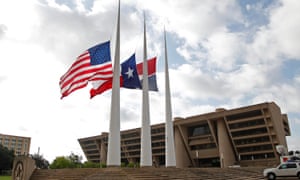 'When you kill innocents to avenge the death of innocents, it's not justice or even retaliation, it's senseless murder.' Photograph: Stewart F. House/Getty Images
Less than a month after the tragedy in Orlando, a familiar cycle is setting in.
On Wednesday, Americans went to bed thinking about one shooting. On Thursday morning, we woke up to another, watching an innocent victim die on a video taken by his girlfriend. On Thursday night, we fell asleep to the horrors of a third.
Such events used to feel like an aberration. And while the killing of blameless cops reporting for duty at a peaceful Black Lives Matter protest in Dallas on Thursday night is a new, heinous twist, the outcome – the gunning down of innocents – has become the status quo.
The trouble is, ending America's scourge of mass shootings and the deep-seated bias in police killings will require many things that our country is not good at. It will require persistence and cooperation, empathy and bipartisanship. It will require policy reform and, specifically, gun control. It will require us to walk a line between numb detachment and murderous rage.
So far, we haven't found the line.
President Obama sure tries. Overseas for a Nato summit in Warsaw on Thursday, he had just given extended remarks on the police killings of Alton Sterling and Philando Castile, when the ambush-style attack in Dallas forced him to take up the topic of gun violence yet again.
He proceeded to say the obvious things that somehow, sadly, still need to be said, that "there is no possible justification for these kinds of attacks or any violence against law enforcement", and that their deaths are a reminder of the sacrifices they make for our safety.
And then he said the same thing he's been saying since he took office seven years ago, that easy access to powerful weapons is a big part of the problem. He's tried just about everything on that front: soaring speeches, executive actions, congressional entreaties, even leading a black congregation in a soulful rendition of Amazing Grace.
But nothing's worked. Washington hasn't budged. If anything, Republicans have dug in their heels.
House Democrats' sit-in for a vote on gun control last month was dismissed by their Republican counterparts as a "publicity stunt" and "not becoming US Congress". And this week Republican leadership put its focus on ways to punish Democrats for their actions……………..