19 Jul

World Bulletin / News Desk
Related:
Turkey's Prime Ministry suspended almost 260 personnel on Tuesday amid a nationwide move against those suspected of having links to Friday's military coup attempt which killed hundreds of people.
According to premiership sources, the 257 individuals include 230 clerks, six advisers and two legal advisers.
Suspensions have also taken place in other top institutions in the country.
In a separate operation in Turkey's Religious Affairs Directorate, 492 people were suspended from duty over Friday's attempted coup.
The deadly coup attempt occurred late on July 15 when rogue elements of the Turkish military tried to overthrow the country's democratically elected government.
At least 208 people, including members of the security forces and civilians, were martyred in Istanbul and Ankara and nearly 1,500 others wounded as they protested against the coup.
The government has said the attempted coup was organized by followers of U.S.-based preacher Fetullah Gulen, who is accused of a long-running campaign to overthrow the state through supporters within Turkish institutions, particularly the military, police and judiciary, forming the so-called parallel state.
West calls on Turkish president to respect democracy and civil liberties as supporters defend large-scale arrests and repression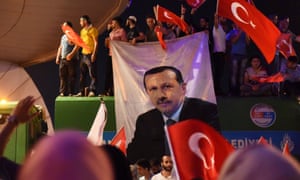 Pro-Erdoran rally in Istanbul. More than 6,000 soldiers, and 103 generals and admirals, have been detained. Photograph: Xinhua/Rex/Shutterstock
The Turkish president, Recep Tayyip Erdoran, has refused to rule out executing the ringleaders of last week's failed coup, despite repeated warnings from western leaders who said the use of the death penalty would end Turkish hopes of joining the European Union.
"The people have the opinion that these terrorists should be killed," Erdo?an said in interview for CNN on Monday night. "Why should I keep them and feed them in prisons for years to come? That's what the people say." Erdoran said the final decision lay with parliament and that "as the president, I will approve any decision to come out of the parliament".
Some fear that Erdoran may be using the backlash against the plot's architects as a smokescreen for a wider crackdown on other political opponents.
Erdoran's allies said measures taken by the government were a necessary and justified response to a coup attempt that had almost toppled an elected administration, left the parliament badly damaged and killed hundreds of civilians.
Erdoran was nevertheless accused of mission creep, with almost 9,000 policemen, 30 regional governors and more than 50 senior civil servants dismissed since Friday and more than 7,500 people arrested……………
Actor, who grew up amid the Aids crisis in South Africa, says the virus has a racial stigma that people have been afraid to talk about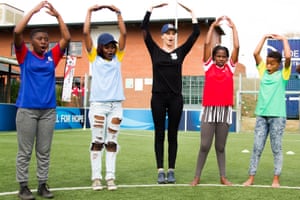 Charlize Theron with with young participants of one of her project's grantees, WhizzKids United. Photograph: Leigh Page
Racism is one of the underlying causes of the HIV epidemic and one of the reasons why it has not yet been brought to an end, according to actress and Aids campaigner Charlize Theron, who says that people are afraid to talk about it.
Theron, one of the speakers at the official opening of the International Aids Conference in Durban on Monday night, is South African by birth and started a foundation in 2007 to help prevent adolescents and young people becoming infected with HIV in ever greater numbers.
In an interview with the Guardian, she said increased funding was very important in the effort to end Aids. "But at the same time I also think that there are very fundamental issues like stigma, and there's a racial part of it too that I think we haven't really talked about or people are too scared to talk about.
"HIV the virus doesn't know the difference between black skin and white skin and when we look at how it's so disproportionately affected people, we have to look at the racial issue. We [also] have to look at the fact that women are just thought of as less than men globally. These are all real drivers.
"There are things that we have been too scared to openly talk about and I'm hoping to start that conversation."…………..
Theron's early and teenage years were lived in the shadow of a growing HIV epidemic in South Africa. "I have very vivid memories [of] being very young and being affected by what was happening. I don't think anyone at that time knew what it was and I think that was what was so incredibly scary. But it left quite an impression on me that stayed with me for the rest of my life," she said…………
Police chiefs in major US cities may tend to favor more stringent gun laws, but elected sheriffs and smaller departments are likely to support gun rights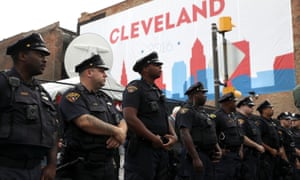 Cleveland's police union asked Governor John Kasich to suspend the open-carry law in the immediate area of the Republican national convention. Photograph: Justin Sullivan/Getty Images
Police officers, on the front lines of gun violence every day, have particular reason to be on edge in the presence of civilians carrying guns, after 11 days in which eight officers were killed in two planned shootings.
With Cleveland's open-carry law now also in the spotlight as many fear violence around the Republican national convention, the Cleveland police union went so far as to ask Governor (and former Republican presidential candidate) John Kasich to suspend the open-carry law in the immediate area of the convention.
But America's law enforcement officials are not reflexively in favor of tougher gun laws. Although police chiefs and major city forces tend to favor more stringent gun laws, elected sheriffs and smaller departments are likely to lean the other way.
"When you are around gun violence all the time and you see this stuff, I think it shapes the way you think about your personal safety when you're off duty," Jim Bueermann, a former police chief and the president of the Police Foundation, a research and training group. He said street-level officers are more likely to support gun rights than the police chiefs who oversee them.
"You'll hear this from street cops: 'I don't go anywhere without my gun'," he said. "Police chiefs tend to take a much more strategic view of crime control than line-level officers do."
After the Dallas attack, police chief David Brown, suggested that policymakers should "do their job" and do "something on guns".
"There's too many things we all agree on on both sides of the aisle that we haven't gotten done," he said at a press conference. Brown resisted addressing any specifics of what laws he might favor, saying that he did not want to "get in that debate and get swallowed up by both sides who are ………
Bikers for Trump are a self-described vigilante collective that has come to Cleveland, Ohio, for the Republican national convention. In Ohio it's legal to openly carry licensed firearms and some of the bikers have been outspoken in their desire to freely show their weapons at the convention
Opinion
The constitution lets Americans bear arms to fight against state tyranny. I know from experience that this leaves police vulnerable – and on edge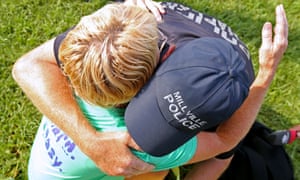 'This fear causes police to continue to be on edge.' Photograph: Curtis Compton/AP
T

he tragic shootings in Baton Rouge on Sunday are yet another reminder that the second amendment, which grants Americans a constitutional right to be armed, is an extreme danger to police officers. It always was and it always will be.
The right to bear arms means that police operate in an environment in which members of the public can purchase, store and practice with weaponry similar to that of police and military. Some of this weaponry can send pieces of armor-piercing lead through whatever bullet protection police officers may be wearing. This threat makes many police feel scared for their lives.
The reasoning behind the second amendment is that it guarantees Americans the right to fight back – with arms – against a tyrannical government. But who defines what is tyrannical?
Ammon and Ryan Bundy, who led the occupation of a federally owned wildlife refuge in Oregon early this year, view government restrictions on land use as "tyrannical". I think that the victims of police induced trauma have a clear case for being under a tyrannical occupation, too. As police officers are the enforcement wing of the government, the subjective notion of what is "tyranny" leaves them particularly vulnerable to gun violence by those who think they are just protecting themselves from an abusive, threatening government.
Police officers do not want to be the next mother or father who does not make it home to their loved ones. And many Americans, especially people of color, do not want to be the next Philando Castile or Alton Sterling. On both sides of that perspective, the fear of the gun is central.
This fear causes police to continue to be on edge. Being on edge increases reliance on aggression and violence. This, in turn, erodes police legitimacy. And an erosion of police legitimacy is, or at least can be perceived to be, the first step towards tyranny. It's a vicious and dangerous cycle.
The Washington Post recently wrote about the strong correlation of a state's gun ownership rates to increased police fatalities. The author of the relevant study concluded that if you care about police lives, then preventing interactions with an armed population is necessary.
Police even kill each other at alarming rates because of their fear of guns. In Baltimore, the killing of William Torbit, an officer of color, by intentional fire traumatized the agency. The killing of Jacai Colson, also an officer of color, in neighboring Prince George's County from intentional fire is currently traumatizing that agency. In those five years since Torbit's killing, nothing changed. These officer deaths show where Black Lives Matter and police safety intersect…………..