23 Jul
Police say motive of German-Iranian teenager, who is believed to have acted alone and also shot himself, is 'completely unclear'
10 people were killed in the German city of Munich following a shooting at a shopping centre, including the attacker who appears to have committed suicide. Police say the attacker is an 18-year-old German of Iranian descent, and that he seems to have acted alone
A teenager with German-Iranian citizenship has shot and killed nine people and wounded more than 15 at a shopping centre in Munich, in the third attack on civilians in Europe in eight days.
The 18-year-old man, who police believe acted alone, is understood to have lived in Munich for up to two years. He reportedly shouted "I am German" during the prolonged attack on Friday evening, at the end of which he killed himself.
Germany's third largest city was forced into lockdown after the gunman opened fire on diners in a McDonald's restaurant before moving to a nearby shopping mall.
His motive was "completely unclear", said Munich police chief Hubertus Andrae. There was no immediate evidence of an Islamist or other terrorist motive.
Police raided the attacker's home in the early hours of Saturday, according to local media, but there were no details of his identity and he was not known to police.
A video posted on Twitter appeared to show the gunman in a furious exchange with a bystander as the attack was going on. In the footage, an unseen man can be heard shouting abuse at a man who appears to be the attacker pacing the top of a car park.
The unseen man can be heard telling other people with him that the man in the carpark has a gun, to which the man purported to be shooter responds: "Fucking Turks!"……………


Breaion King dragged and thrown to ground after traffic stop escalated
Officer told her 'people' fear of black people's 'violent tendencies'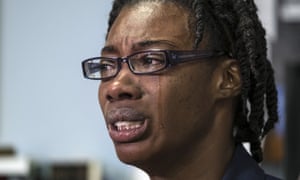 Breaion King is overcome with emotion as she describes being pulled from her car and thrown to the ground by an Austin police officer during a traffic stop in 2015. Photograph: Rodolfo Gonzalez/AP
Stopped by police for going 15mph over the speed limit, Breaion King pulled into a fast-food joint's parking lot. Within a minute of an officer asking to see her driver's license, the schoolteacher was dragged out of her car and thrown to the ground.
"Put your hands behind your back! You are under arrest!" officer Bryan Richter yells, in video footage published on Thursday. He tells her to "stop resisting!" and struggles to force her down as she wails and cries: "Oh my God, why are you doing this to me?"
Later, handcuffed in the back of a vehicle as she is driven to jail, King has a conversation about racism with another white officer, Patrick Spradlin.
"Let me ask you this, why are so many people afraid of black people?" he asks. "I can give you a really good idea of why it might be that way: violent tendencies."………
Recep Tayyip Erdogan also uses state of emergency powers granted after coup attempt to extend detention period of criminal suspects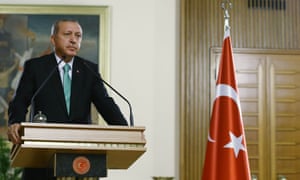 President Erdogan has launched a purge of state personnel who he believes are linked to the exiled cleric Fethullah Gülen. Photograph: Kayhan Ozer/AFP/Getty Images
Reuters
The president of Turkey, Recep Tayyip Erdogan, has ordered the closure of more than 1,000 private schools and extended the period of detention without charge for criminal suspects in his first decree since declaring a three-month state of emergency.
Erdogan said the state of emergency, which was approved by parliament on Thursday, would enable authorities to swiftly and effectively root out supporters of last weekend's failed military coup in which at least 246 people were killed.
It allows the president and government to pass laws without first having to win parliamentary support, and also to curb or suspend rights and freedoms as they deem necessary.
Turkish authorities have already launched a series of mass purges of the armed forces, police, judiciary and education system, particularly targeting followers of a US-based Muslim cleric, Fethullah Gülen, whom Erdogan has accused of masterminding the failed coup. The reclusive 75-year-old Gülen denies the charge.
The first decree signed by Erdogan authorises the closure of 1,043 private schools, 1,229 charities and foundations, 19 trade unions, 15 universities and 35 medical institutions over suspected links to the Gülen movement, the state news agency Anadolu reported on Saturday.
Erdogan has also approved the extension of the period in which some suspects can be detained to 30 days from a maximum of four days, Anadolu said. This change was to help facilitate a full investigation into the coup attempt………………..
A greater roadrunner and a pair of snub-nosed monkeys are among this week's pick of images from the natural world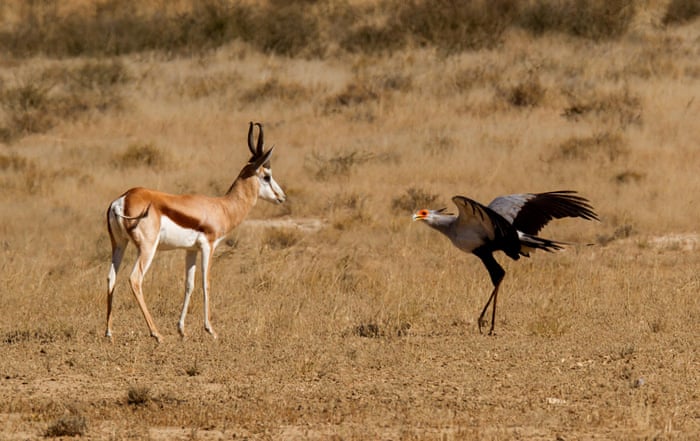 Opinion
The image of me protesting travelled around the world. I was there because the slaughter of our people by police officers had opened my eyes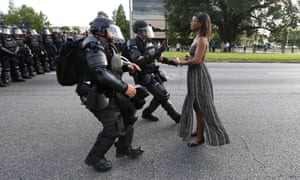 'When the armored officers rushed at me, I had no fear. I wasn't afraid.' Ieshia Evans protesting in Baton Rouge. Photograph: Jonathan Bachman/Reuters
I

t was 1am in Queens, New York. I was 18 years old. My roommate and I just wanted to buy some juice on our journey home from working night shifts in Manhattan. But as we came up to the busy corner store, a white police officer stopped me. He searched me and asked for my identification. I didn't understand why.
"I just need to make sure that you're not a prostitute," he said, projecting his voice so that all the customers in the store could hear. Their jaws dropped. I was so embarrassed. We went home without the juice.
Would this have happened if I were a white woman? I don't think so. I wasn't dressed in a provocative way. You have the right to wear whatever the heck you want – in New York, it's legal for women to go shirtless – but still: I was wearing a knee-length skirt and a dark blazer. I wasn't hanging on a corner. My head was not stuck inside a guy's car.
I had been blinded to the fact that this, and so much worse, was going on in America. That racism, whether subtle or blunt, is systemic.
It is in our neighborhoods, which are structured for the failure of our people. Here is your liquor store; here is your church; here are your overcrowded schools with books stuck together with scotch tape. And very little else.
It is in our media, where the light-skinned black woman with the green eyes and softer-textured hair is the one all over the billboards. Where there is uproar over a black man, his white wife and their interracial child featuring in a simple Cheerios commercial.
And it is in the abuse of power, not just by police officers but the entire judicial system, against black people. Abuse that culminates in the deadly shootings of men like Alton Sterling, whose killing in Baton Rouge drew me to Louisiana earlier this month.
When Ferguson, Baltimore and other protests broke out, I would make selfish excuses. I couldn't travel. I had to work in my job as a nurse, because I had to pay the bills. I remember the guilt of feeling that I should be there.
This time, enough was enough. I had to do something………….