25 Jul

The International Olympic Committee has decided not to exclude team Russia from the Summer Olympic Games in Rio de Janeiro. Decisions pertaining to the admission of each Russian athlete to the Olympic Games will be made by corresponding sports federations, the IOC ruled as a result of the meeting in Lausanne.
The latest move does not apply to Russian track-and-field athletes, as the IAAF deprived the All-Russian Athletics Federation of its membership, having thus excluded all Russian track-and-field athletes from international tournaments. Only one Russian track-and-field athlete, long jumper Darya Klishina, will be allowed to participate in the 2016 Olympic Games.
All Russian athletes, who were found guilty of using doping, will be barred from the Summer Olympic Games as well, the IOC said.
Victims include 1,509 children – a third of the total – a grim indicator of growing insecurity as Taliban step up insurgency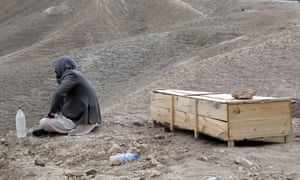 A man sits beside the coffin of his relative who was killed in a suicide bomb attack in Kabul, Afghanistan. Photograph: Jawad Jalali/EPA
Agence France-Presse in Kabul
Civilian casualties in Afghanistan reached a record high in the first half of 2016, the UN has said, with children in particular paying a heavy price as insurgent groups stepped up the fighting.
The UN report, which comes two days after the deadliest attack in Kabul since 2001, cited ground combat between militants and Nato-backed Afghan forces as the leading cause of casualties.
Between January and June, 1,601 civilians were killed and 3,565 wounded – a 4% increase in casualties compared with the same period last year, the United Nations Assistance Mission in Afghanistan (Unama) said.
Casualties have reached their highest level since the UN began issuing its authoritative reports in 2009. Victims of the fighting include 1,509 children – roughly one-third of the total – a figure the UN described as "alarming and shameful"………
Istanbul's Taksim square fills on Sunday for first cross-party rally to condemn coup plot against Recep Tayyip Erdo?an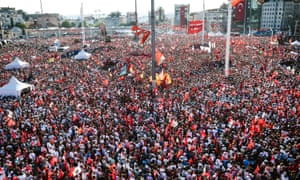 Demonstrators wave Turkish flags and pictures of Ataturk, founder of modern Turkey, in Istanbul's Taksim Square on Sunday. Photograph: Bulent Kilic/AFP/Getty Images
Agence France-Presse
Many thousands of Turks massed on Sunday for the first cross-party rally to condemn the coup attempt against the president, Recep Tayyip Erdo?an, amid a purge of suspected state enemies.
Istanbul's Taksim square was transformed into a sea of national flags as Erdo?an's ruling Islamic-conservatives and the opposition secular camps briefly set aside their differences in a show of national unity.
But in stark contrast to the broadly celebratory mood in Istanbul, human rights group Amnesty International in London claimed it had "credible evidence" of the beating and torture of post-coup detainees.
The official number of those in custody since the 15 July putsch has surged above 13,000 soldiers, police, justice officials and civilians in a wave of arrests that has alarmed Nato allies and European leaders.
Despite the high tensions since the coup attempt, the mood at the Istanbul rally was strongly patriotic.
"We defend the republic and democracy" read one sign in the vast crowd, while others declared "sovereignty belongs to the people alone" and "no to the coup, yes to democracy!"……….
Directors and employers of Ferrovial told they risk prosecution over firm's role at offshore detention sites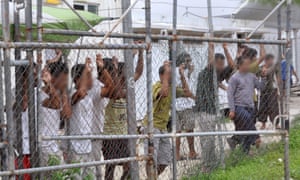 Asylum seekers at the Manus Island detention centre in Papua New Guinea. Asylum seekers who arrive in Australia by boat without a visa are sent to either Manus or Nauru, where most are held in indefinite, arbitrary detention. Photograph: Stringer/Reuters
The company that has taken over the management of Australia's offshore immigration detention regime has been warned by international law experts that its employees could be liable for crimes against humanity.
Spanish infrastructure corporation Ferrovial, which is owned by one of the world's richest families and the major stakeholder in Heathrow airport, has been warned by professors at Stanford Law School that its directors and employees risk prosecution under international law for supplying services to Australia's camps on Nauru and Manus Island in Papua New Guinea.
"Based on our examination of the facts, it is possible that individual officers at Ferrovial might be exposed to criminal liability for crimes against humanity under the Rome Statute," said Diala Shamas, a clinical supervising attorney at the International Human Rights and Conflict Resolution Clinic at Stanford Law School.
"We have raised our concerns with Ferrovial in a private communication to their officers and directors detailing our findings. We have yet to hear back."…………
•

Sports minister Vitaly Mutko expresses gratitude to IOC


•

Lingering anger at doping allegations and absence of track and field in Rio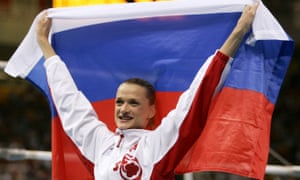 The Olympic gold medal-winning gymnast, Svetlana Khorkina, cautioned Russian athletes that more "traps will probably be laid" for them at the Games in Rio. Photograph: Wolfgang Rattay/Reuters
The International Olympic Committee's decision not to ban Russia from the Rio Games was met here with relief and jubilation but also lingering anger over state-sponsored doping allegations that are viewed as a political attack on the country.
The IOC said that rather than an across-the-board ban, the 28 federations that govern summer Olympic sports would review Russian athletes' records and decide who can compete in Rio next month……..
Intense heat no barrier to demonstrations as clean energy activists and Bernie Sanders supporters jam route from city hall to Liberty Bell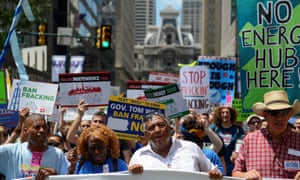 Protesters march in the street ahead of the Democratic national convention in Philadelphia. Photograph: Bryan Woolston/Reuters
Associated Press in Philadelphia
Thousands of demonstrators took to the sweltering streets of Philadelphia on Sunday, chanting and beating drums in the first major protests ahead of the Democratic national convention.
Throngs of clean energy activists jammed a major thoroughfare in a mile-long march from city hall to Independence Mall, near the Liberty Bell. They held anti-fracking and anti-pipeline signs, some with illustrations such as a train surrounded by a fireball and the words "No Exploding Trains". Others held "Bernie or Bust" signs.
Sam Miller, 82, had traveled from Erie, Pennsylvania, to join the march that stretched several blocks and across a wide street as temperatures in the city soared into the mid-90s. He said he was inspired because "fracking is invading Mother Earth".
As in Cleveland around the Republican convention this week, police were using bicycles as barricades and volunteers were handing out water to marchers. Shoppers came out of stores to watch the march.
Chants of "Bernie! Bernie!" were met by counter echoes of "Hillary! Hillary!"………….
Opinion
Charles Kinsey was shot in the leg as he lay unarmed with his hands up in the street. But Tamir Rice's death didn't cause changes, so I doubt this will either
Once again, the unnecessary shooting of an unarmed black man by a police officer to whom he posed no danger is making headlines. Charles Kinsey, a behavioral therapist, was working with an autistic client earlier this week when he was shot by a Miami police officer. Shot as he held his hands in the air and assured the cop that he was no threat.
The big difference in the Kinsey shooting and the others that we often discuss in spaces like this is that he lived to tell the tale. What isn't different is the inevitable question: "If an innocent guy like that can get shot, how can black people ever feel safe at the hands of police?"
We are reminded, once again, that the answer is "they can't". Not without a complete upheaval of the law enforcement system as we know it, at least. But how many 'good' men, women and children have to be harmed to get us to a place where we can even dream of such a thing? What sort of victim do we require to have The Moment that changes the hearts and minds of a nation committed to notions of inherent black criminality?
We haven't found out yet for another great American shame, gun control.
"In retrospect Sandy Hook marked the end of the US gun control debate. Once America decided killing children was bearable, it was over."
That tweet, from Mail commentator Dan Hodges, has been shared on Twitter more than 86,000 times, and it seems to sum up what many of us think about the likelihood of decreasing access to guns of any sort in the United States. If the murders of 20 first-graders – mostly white and middle-class ones, at that – couldn't bring any real change, what could?
I think the 2014 death of 12-year-old Tamir Rice is the police violence analogue. Video of officer Timothy Loehmann gunning the child down as he played alone with a toy rifle was viewed by people across the globe. Two years, and many noteworthy police shooting videos later, the fight to stop law enforcement officers from killing black civilians with relative impunity is nowhere near won………..