26 Jul
The first lady proved the perfect Trump antidote and drew a 'wow' from Bill Clinton as she declared: 'Because of Hillary Clinton, my daughters … take for granted that a woman can be president'
The McGlynn:
"The story of generations of people who have felt the lash of bondage, the shame of servitude, the sting of segregation but who kept on striving and doing what needed to be done so that today I wake up every morning in a house that was built by slaves and I watch my daughters, two beautiful, intelligent black young women, playing with their dogs on the White House lawn."
Truly a bone chilling talk,  destroying the opposition without demeaning them.
She is a wise, honest, and decent woman.
 The problem is that wisdom and decency is still incompatible with today's  politics, and has been for much too long. But the rise in popularity of Bernie Sanders hopefully signals an increasing appetite for social and political change.
The McGlynn
Video provided by
The McGlynn

via C Span

Michelle Obama's stirring speech

H

ere, at last, the profound, moving and devastating riposte to Donald Trump that many in America, and the world, had been waiting for. And the antidote to the non-politician came from another non-politician – a mother.
Michelle Obama, the first black first lady in American history, gave a 15-minute address to the Democratic national convention that drew cheers, left some delegates openly weeping and did more than any governor or congressman to unite and fire up the party for November's presidential election.
It also added a chapter to the dynastic saga of the Obamas and the Clintons, coming four years after Bill Clinton gave an extraordinary speech to help Barack Obama get re-elected.
The former president was in the audience on Monday – caught on camera mouthing the word "wow" as Michelle Obama delivered one of the most passionate speeches of election year. On Twitter, President Obama wrote: "Incredible speech by an incredible woman."
She made reference to a speech made by Hillary Clinton when she conceded defeat to Barack Obama in 2008, saying: "We weren't able to shatter that highest, hardest glass ceiling this time" after a bruising primary campaign.
Clinton "has the grace and the guts to keep coming back and put cracks in that highest and hardest glass ceiling until she finally breaks through, lifting all of us with her", the first lady told a packed arena in Philadelphia. "That is the story of this country. The story that has brought me to this stage tonight."
The election of the first African American president, and now potentially the first female president, were testament to the true America and a repudiation of all Trump stands for, she continued.
"The story of generations of people who have felt the lash of bondage, the shame of servitude, the sting of segregation but who kept on striving and doing what needed to be done so that today I wake up every morning in a house that was built by slaves and I watch my daughters, two beautiful, intelligent black young women, playing with their dogs on the White House lawn."………


Man armed with knives attacks facility in Sagamihara, outside Tokyo, before telling police: 'It is better that disabled people disappear'
At least 19 people were killed and 26 injured in a knife attack at a facility for disabled people in Sagamihara, Japan. Public broadcaster NHK said the 26-year-old suspect was arrested after turning himself in to police. The attack is one of the worst mass killings in Japanese postwar history
A man who claimed he wanted to kill disabled people left at least 19 dead and 26 others injured after a knife attack at a care facility in Japan.
Petrified staff at the Tsukui Yamayuri En (Tsukui Lily Garden) facility in Sagamihara, south of Tokyo, called police at about 2.30am local time after the suspect, named as Satoshi Uematsu, launched his attack. It was the country's worst mass killing in decades.
Emergency workers said at least 20 of the wounded had sustained serious injuries, according to the Kyodo news agency.
Police in Kanagawa prefecture said Uematsu had driven to the nearby Tsukui police station and turned himself in after the attack.
"I did it," the 26-year-old former employee of the facility was quoted as saying. "It is better that disabled people disappear," he was said to have added.
Uematsu, a resident of Sagamighara, was carrying a bag full of knives and other sharp-edged tools, some of which were bloodstained, when he handed himself in.
A police spokesman declined to give details of the investigation, saying: "We are still confirming details of the case."…………
Australian prime minister says he is 'deeply shocked and appalled' by footage of teenager being hooded in a restraint chair and other apparent abuses
Australia's prime minister has launched a public inquiry following the broadcast of footage of children in detention being abused, hooded and bound in a manner likened to Abu Ghraib and Guantánamo Bay.
Malcolm Turnbull announced a royal commission hours after the national broadcaster aired shocking footage showing children in detention at the Don Dale facility outside Darwin in the Northern Territory.
In another scene that the program compared with images from Guantánamo Bay or the Abu Ghraib jail in Baghdad, 17-year-old Dylan Voller was shown hooded and tied in a restraint chair for two hours.
The chairs are among items recently including in a widened list of "approved restraints" under laws passed by the NT government.
Voller – who was featured repeatedly suffering apparent mistreatment at the hands of guards – and five other former Don Dale prisoners intend to sue the Northern Territory government over their treatment in detention.
Peter O'Brien, the lawyer representing Voller and another former prisoner, Jake Roper, said Voller was currently in a form of segregated imprisonment in an adult prison and called for his immediate release. "The impact of these years of brutalisation must be immediately measured and he needs immediate assistance."
Turnbull said that he was "deeply shocked … and appalled" at the instances of abuse at the centre revealed in the investigation…………..
Online portals permitted to publish stories on sensitive topics only if sourced from government-controlled news agencies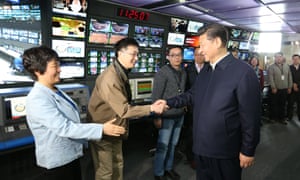 Chinese president Xi Jinping meets staff at China Central Television (CCTV) in Beijing where he told editors they must pledge absolute loyalty to the party. Photograph: Ma Zhancheng/AP
Top Chinese internet portals had been forbidden from producing original reporting on politically sensitive topics in what experts say is the latest step in President Xi Jinping's battle to bring Chinese journalism under control.
Internet giants including Netease, Sina and Sohu were ordered to pull the plug on their current affairs operations on Monday, the Cyberspace Administration of China (CAC), Beijing's internet watchdog announced.
Such independent journalism had "seriously violated regulations and had a completely vile effect," the watchdog's Beijing operation said, according to Reuters.
Citing a CAC official, the Global Times, a Beijing-controlled tabloid, said online portals were permitted to publish stories on "social and political issues" only if they had been sourced from government-controlled news agencies.
Law enforcement against such websites would be "enhanced", the official warned.
The move was widely interpreted as the latest step in the Communist party's bid to bring China's already tightly controlled media to heel.
It comes just over five months after Xi made a high-profile tour of state media outlets in Beijing, demanding "absolute loyalty" from their journalists and instructing them to serve as "disseminators of the Party's policies and propositions".
Qiao Mu, a journalism professor from Beijing's Foreign Languages University, said online portals had long been barred from publishing original news stories about politically sensitives subjects…………..
Opinion
No, Sanders supporters will not be flocking to Donald Trump – not after Sanders embraced Hillary Clinton in his call to unite the party behind her candidacy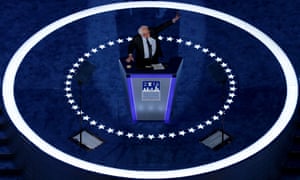 Sanders said on Monday night: 'Any objective observer will conclude that – based on her ideas and her leadership – Hillary Clinton must become the next president of the United States." Photograph: Chip Somodevilla/Getty Images
T

he thumbs of Donald Trump were poised to tweet his sense of moral outrage as Bernie Sanders walked on stage in Philadelphia.
Trump wants you to know that he is deeply concerned about Sanders and his treatment by the Democratic national convention and Hillary Clinton. His empathy for Bernie and his bros knows no bounds. The system is rigged against socialists, and Trump feels as bad about that as the Russians feel about the collapse of the Soviet Union.
Or he could just be faking it, in a naked attempt to hoodwink Sanders supporters into thinking that he cares about the 99%.
On the face of it, Trump and Sanders share something beyond the unlikely journey they took through the primaries.
They both stunned the political establishment with their insurgent campaigns. They both railed against trade deals and the media. They both liked to brag about their polling and voting numbers, after bringing new voters into the primaries. And they both channeled post-recession anger into the passion of their fan base.
That passion was clear in the extended ovation for Sanders as he walked into the convention hall in Philadelphia on Monday.
But the similarities with Trump ended just as soon as Sanders finished bragging, once again, about the number of voters and delegates he'd won.
Amid the tears of his supporters on the convention floor, Sanders detailed the economic decline of the middle class, the grotesque wealth of the 1%, and the Republican role in Wall Street's recklessness.
Then he made the kind of pivot that the Republicans singularly failed to engineer in Cleveland last week. Trump himself expressed no generosity about the politicians he had vanquished, and his defeated rivals could barely show up at his convention. Those who did show up, like Ted Cruz, struggled to say his name.
Yet for all his bitterness towards the Clinton campaign, Sanders went far beyond the mere act of showing up in Philadelphia. He embraced Clinton's nomination even as his supporters cried and jeered through his first references to her name.
"We need leadership in this country which will improve the lives of working families, the children, the elderly, the sick and the poor," he explained. "We need leadership which brings our people together and makes us stronger – not leadership which insults Latinos and Mexicans, insults Muslims, women, African-Americans, Sikhs and veterans, and divides us up………….