02 Aug
The nation has the money and resources to play a more prominent role in defence, including the fight against Islamic State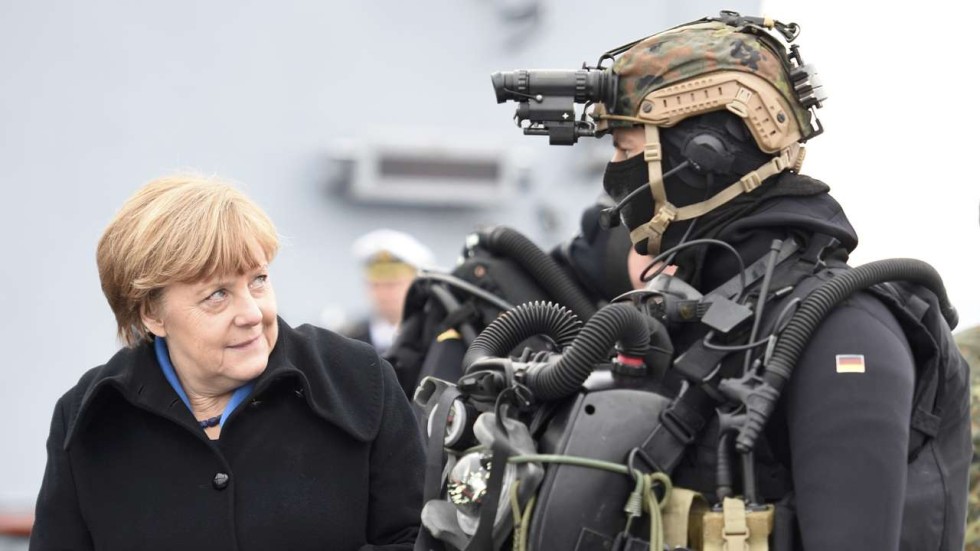 Germany is Europe's wealthiest and most populous country and a respected member of the international community. Yet for all its economic might, it punches well below its weight when it comes to diplomacy. A defence white paper issued earlier this month accepts the need for a changed approach, envisaging a military able to better contribute to peace and security on the continent and elsewhere. It is a role that the nation has an obligation to embrace.
A Nazi past and the Holocaust have made Germans reticent about contributing to overseas military missions. Germans harbour deep pacifist instincts and as a result, have let their defence forces become weak. Not until 1994 did the country's highest court allow participation in multinational peacekeeping missions and since 1999, soldiers have been sent to conflict zones from the Balkans to Afghanistan. But there remains a reluctance to not get too involved, as on plain show in 2011 with a decision not to join Nato in its Libya bombing mission.
But times have changed and Europe and the world need Germany as never before. The European Union perceives Russia as an ever-growing military threat to its eastern borders, the Islamic State group is causing instability far beyond its territory in northern Iraq and Syria and the refugee crisis remains daunting. The US is scaling back its German presence and expects Berlin to take up the slack in Nato. The chequebook diplomacy that Germans once favoured as a means to contribute to international defence operations is no longer acceptable………

Pennsylvania frees four men in their 50s and 60s amid new hope for thousands across US after supreme court banned mandatory life terms for minors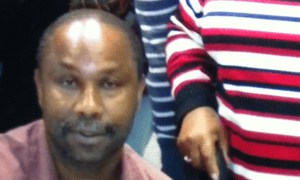 Tyrone Jones, one of Pennsylvania's 'juvenile lifers' freed on parole after the us supreme court banned mandatory life sentences for minors. Photograph: Innocence Project
Associated Press in Philadelphia
Pennsylvania officials have granted parole to four "juvenile lifers" jailed decades ago after the US supreme court retroactively banned mandatory life terms for minors.
The court decision means that more than 500 Pennsylvania inmates and 2,500 across the country can seek new sentencing hearings and perhaps parole.
The four Philadelphia-area men being released have spent decades in prison for crimes they committed as juveniles. They are now in their 50s and 60s. The state parole board chairman who met with them last week found their outlook on life surprising.
"The one thing that I will say stood out last week has been the surprising optimism of the ones we interviewed, based on the light at the end of the tunnel being turned back on. That was something very nice to see … their positive attitude," Leo Dunn said.
Defence lawyers concerned about how the board would view the cases are also feeling optimistic, if cautiously so. The inmates must first be resentenced by judges and then, if granted a chance at parole, persuade the majority of the nine-member board they are no longer a safety risk.
"They were told they were going to go to prison and die, so it's a source of incredible optimism," said Bradley Bridge, a lead lawyer working on the issue at the Defenders Association of Philadelphia. "[But] anytime there's hope you have to temper it with caution."
Dunn expects it to take a few years for the courts and parole board to work through the Pennsylvania cases. About 300 of them were tried in Philadelphia, including that of Tyrone Jones, who has spent 43 years in prison for a 1973 gang-related killing…………….

Prominent rights lawyer filmed denouncing campaigners and blaming 'foreign forces' for law firm's activities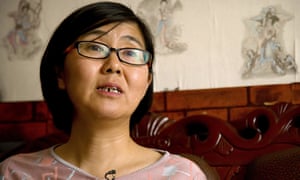 Wang Yu, lawyer at Fengrui law firm, appeared in a videotaped interview denouncing the practice's former boss Zhou Shifeng. Photograph: Mark Schiefelbein/AP
China has has put on trial a number of detained human rights activists, handing down a suspended three-year sentence to one activist after he reportedly confessed to colluding to subvert the state.
Zhai Yamin, who has been accused of working with rights lawyers from the Fengrui law firm, was given a relatively light sentence, suggesting he might have cooperated with the investigation.
Authorities have detained and arrested hundreds of activists and lawyers since the government deepened a crackdown on dissent in mid-2015. Many of those detained were associated with the Fengrui law firm, previously headed by Zhou Shifeng, who is also expected to go on trial this week.
On Monday, one prominent lawyer at the firm, Wang Yu, appeared in a videotaped interview, denouncing Zhou Shifeng and blaming "foreign forces" for the law firm's activities.
"I am Chinese and I only accept the leadership of the Chinese government," Wang is seen saying in the videotaped interview on ONTV, a website affiliated with Oriental Daily, a Hong Kong newspaper.
Human rights groups say Wang's videotaped interview was clearly coerced and part of an attempt by the Chinese authorities to lend legal legitimacy to its year-long crackdown.
"She and others detained have been held incommunicado, without access to lawyers of their choice, for a year," said Maya Wang, China researcher for Human Rights Watch. "In that situation, it is very difficult for someone to maintain their stance."………….

Asylum seekers held at detention centre on Lesbos describe Christianity conversion forms seen by the Guardian as insensitive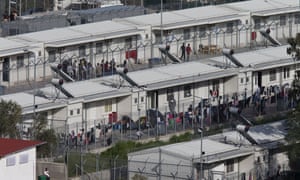 Migrants and refugees inside Moria camp on the Greek island of Lesbos. Photograph: Petros Giannakouris/AP
Christians working in Greece's most notorious asylum detention centre have tried to convert some of the Muslim detainees, who have been held under the terms of the EU-Turkey migration deal.
On at least two occasions in recent months, aid workers have distributed conversion forms inside copies of Arabic versions of the St John's gospel to people held at the Moria detention camp on Lesbos.
The forms, seen by the Guardian, invite asylum seekers to sign a statement declaring the following: "I know I'm a sinner … I ask Jesus to forgive my sins and grant me eternal life. My desire is to love and obey his word."
Muslim asylum seekers who received the booklet said they found the aid workers' intervention insensitive.
"It's a big problem because a lot of the people are Muslim and they have a problem with changing their religion," said Mohamed, a detainee from Damascus. "They were trying this during Ramadan, the holiest Muslim month."
A second Syrian, Ahmed, said: "We like all religions, but if you are a Christian, and I give you a Qur'an, how would you feel?"
Detainees alleged that the forms were distributed by at least two representatives of Euro Relief, a Greek charity that became the largest aid group active in Moria after other aid organisations pulled out in protest against the EU-Turkey deal. The camp is overseen by the Greek migration ministry, but aid groups perform most of the day-to-day management…………….

The ShutDownCityHallNYC protest was organized by a group affiliated with the Black Lives Matter movement and is demanding Bratton's termination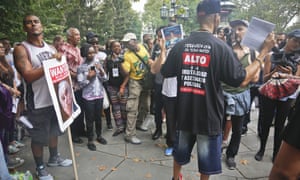 Josmar Truijillo with the organization New Yorkers Against Bratton on Monday in New York's city hall park. Photograph: Bebeto Matthews/AP
Protesters in New York City began occupying the park next to city hall in Manhattan on Monday, declaring they would not leave until police commissioner Bill Bratton was fired.
Organized by Millions March NYC, a group affiliated with Black Lives Matter movement, the #ShutDownCityHallNYC protest has been inspired by protesters setting up encampments in public spaces in Chicago and Los Angeles to fight for the abolition of the police.
"We are planning an encampment," said Nabil Hassein, a 27-year-old Millions March NYC organizer from Crown Heights, Brooklyn. "I'm going to stay as long as I can."
"We're here to decolonialize and to liberate our territory and our land from these racist occupiers," said Vienna Rye, another organizer from Millions March NYC.
Protesters are planning to stay as long as needed – whether that be days or weeks or longer. Food was already prepared, with rice and beans being cooked offsite and snacks of fresh fruit, and peanut butter and jelly sandwiches available for hungry protesters. Local Starbucks and libraries were to be used as restroom facilities. A schedule has been written up for event organizers and others so they could balance paid jobs with the protests………………..