05 Aug
The city by the bay has the nation's priciest real estate, and a battle is raging over whether tech wealth, population growth, or political will is to blame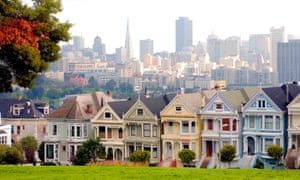 San Francisco has been ranked among the 10 least affordable cities in the world. The cheapest home for sale in late July was fire-gutted and uninhabitable, and priced at $228,000. Photograph: ISOPRESS/REX FEATURES
A

ll you need to know about San Francisco in 2016 was on display one recent Sunday at 83 McAllister St, an office building turned into condominiums at the edge of the Tenderloin.
Prospective home buyers tromped through an open house in a fifth-floor unit: two bedrooms, 430 square feet, $599,000. Just outside the building's front door, a couple dozen of the homeless and hard up gathered for Open Cathedral, a regularly scheduled Sunday service followed by a free lunch.
There it was, all in one place: outrageous prices for a tiny slice of a scarce commodity. Haves. Have nots. And the yawning gulf between the two.
San Francisco has the priciest real estate in the country by many metrics. It has been ranked among the 10 least affordable cities in the world. It suffers under the worst income inequality in California. The top 1% of households in the metropolitan area earned $3.6m on average in 2013, according to one recent report, or 44 times the average income of the bottom 99%.
This is the place where a 25-year-old made national news in March for paying $400 a month to live in a wooden box in a friend's living room. Where a 99-year-old widow went to court in April to fight eviction from the flat she'd lived in since the 1940s. Where the cheapest home for sale in late July was fire-gutted, uninhabitable and still cost $228,000.
Battles rage about what the problem is – an affordability crisis? a housing shortage? lack of political will? – how to fix it, how the city got into such a mess in the first place and who to blame. The current favorite whipping boy is the tech sector, but the pain began long before the first laptop was a gleam in British designer Bill Moggridge's eye.
"The tech boom is a clear factor", said Peter Cohen, co-director of the Council of Community Housing Organizations. "When you're dealing with this total concentration of wealth and this absurd slosh of real estate money, you're not dealing with housing that's serving a growing population. You're dealing with housing as a real estate commodity for speculation"…………..

Stephen Rankin, who had been charged with first-degree murder, convicted of voluntary manslaughter in killing of 18-year-old over alleged shoplifting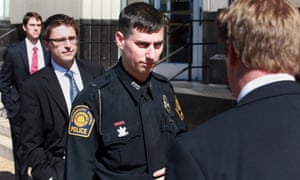 Officer Stephen Rankin had tried to stop William Chapman in the parking lot of a Walmart to investigate a suspect theft from the store. Photograph: Brian J Clark/The Virginian-Pilot
Jon Swaine in Portsmouth, Virginia
A police officer in southern Virginia was convicted of manslaughter and jurors recommended a sentence of two and a half years in prison on Thursday for his fatal shooting of an unarmed black 18-year-old during a confrontation over a suspected shoplifting.
Jurors at Portsmouth circuit court found Stephen Rankin guilty of voluntary manslaughter for killing William Chapman in April last year. It was Rankin's second fatal shooting of an unarmed man in the city.
Chapman's mother, Sallie, wept as the verdict was read out by the court clerk. Rankin stared directly ahead as his supporters sat in silence.
Rankin had been charged with first-degree murder and using a firearm to commit a felony but the judge had told jurors they could convict him on lesser charges.
The jury of seven women and five men deliberated for 13 hours after hearing four days of detailed testimony from witnesses to the shooting, a series of experts and Rankin himself. Rankin, 36, was terminated from his job at the police department after being indicted for murder………..

The triple gold medallist says new laws passed in her home state of California make it more difficult for her to practise
The McGlynn: Bullshit!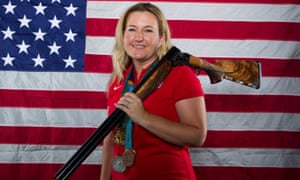 Kim Rhode: 'Having to do a background check every time I purchase ammo … [is] very, very challenging for me.' Photograph: Lucas Jackson/Reuters
America's top Olympic shooter, Kim Rhode, took a strong stand against gun-control laws, offering full support for carrying concealed weapons and attacking anti-gun legislation in her home state of California.
"I'm definitely becoming more vocal because I see the need," said Rhode, a skeet shooter going for a medal in her sixth-straight Olympics. "We just had six laws that were passed in California that will directly affect me. For example, one of them being an ammunition law. I shoot 500–10,000 rounds a day, having to do a background check every time I purchase ammo or when I bring ammo out for a competition or a match – those are very, very challenging for me."
Her comments come as gun control has become a central issue in the US 2016 presidential election. Hillary Clinton is running for the White House vowing to tighten gun laws and challenge the might of the National Rifle Association, which has fought reforms and given Donald Trump its endorsement..

Rights lawyer Gou Hongguo given a three-year suspended prison sentence after state media says he tried to 'subvert state power'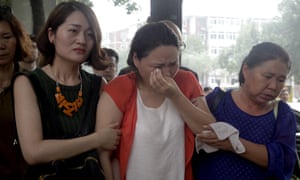 Fan Lili, center, the wife of activist Gou Hongguo, is escorted by Li Wenzu, left, the wife of imprisoned lawyer Wang Quanzhang outside the Tianjin No. 2 Intermediate People's Court in Tianjin, China. Photograph: Gerry Shih/AP
Agence France-Presse
A Chinese human rights activist was on Friday given a three-year suspended prison sentence for subversion, state media said – the fourth such case this week as authorities crack down on dissent.
Christian activist Gou Hongguo had gone abroad to be trained in "subverting state power", the second intermediate people's court in the northern city of Tianjin said on Friday on a verified social media account.
He also sought to turn public opinion against the government and attempted to overthrow the socialist system, among a litany of other offences, it said.
He was given three years in prison, suspended for three years, the official Xinhua news agency said, adding that he had pleaded guilty and said he would not appeal.
The sentence is relatively light by the standards of dissident trials in China, where the courts are controlled by the ruling Communist party.
Gou, who had protested against forced evictions, was one of more than 200 activists and lawyers involved in cases the Communist party considers sensitive who were detained in the so-called "709 crackdown" – named for its main date in July 2015.
Gou's trial was the fourth at the Tianjin court this week, and followed that of high-profile rights lawyer Zhou Shifeng, whose Fengrui law firm – known for taking on cases of dissident scholars, victims of sexual abuse and members of banned religious groups – has been at the centre of the 709 crackdown………

Officials said top priority was to lower mosquito count as aerial spraying began in Miami where 15 cases were reported with more diagnoses expected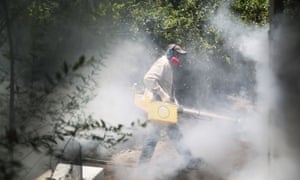 A mosquito control inspector sprays pesticide to kill mosquitos in the Wynwood neighborhood of Miami, where at least 15 people have been infected by Zika virus via mosquitos. Photograph: Joe Raedle/Getty Images
A 500 square foot area in the Wynwood neighborhood of Miami, Florida is now the epicenter of the US fight against Zika, as federal and state health officials said at least 15 people were infected with the virus by local mosquitoes.
Officials said more diagnoses could be made in the coming days. The cases represent the first Zika infections transmitted by mainland American mosquitoes. The city began aerial spraying against the mosquitoes, a technique whose effectiveness is hotly criticized.
"Zika is unprecedented," said Centers for Disease Control and Prevention director Dr Tom Frieden, at a press conference Thursday with Florida governor Rick Scott and state health officials. "We've never before had a mosquito-borne disease that can cause birth defects."
Frieden said his top priority is to lower mosquito populations in the area. The mosquito that transmits the disease, Aedes aegypti, lives in and around homes, and can breed in containers as tiny as a bottle cap.
"It's not going to easy, this is a difficult mosquito to control," said Frieden. "Coffee cup, paint can, bucket for collecting rainwater … trash that can support a little bit of water when it rains" all will need to be emptied, Frieden said, and "a major effort to clean that entire effort" will be undertaken.
"What we want to see is mosquito counts coming down," he said………

Suit accuses police of using a 'militarized and aggressive manner' in arresting Mckesson and 200 others during protests following Alton Sterling's death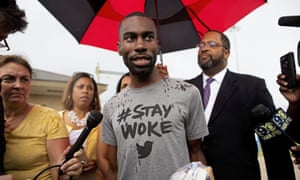 Black Lives Matter activist DeRay Mckesson talks to the media after his release from the Baton Rouge jail in Louisiana on 10 July 2016. Photograph: Max Becherer/AP
Activist DeRay Mckesson, a leader of the Black Lives Matter movement, is suing the city of Baton Rouge following his arrest last month during a demonstration against police violence in the city.
Mckesson's class action suit, filed in federal court, accuses police of approaching protesters in a "militarized and aggressive manner", according to the Associated Press, while wearing riot gear and using armored vehicles. Officers pointed their weapons at protesters, the suit says.
A few days after the mass arrests, the Baton Rouge police announced they would not be charging about half of the people arrested, including Mckesson, who is an employee at Baltimore public schools. They also defended the military-style response to protesters, saying they had uncovered specific threats against police.
One was discovered, they said, after a teenage suspect in a pawn shop gun heist said the guns were to be used in an attack on police. Within a week, a lone gunman in Dallas shot and killed five police officers during a protest, and another in Baton Rouge shot and killed police and wounded three others outside a beauty supply store. Both shooters apparently operated alone, according to police, but had radical black separatist ties…………

Protesters holding up copies of the US constitution were booed out of a Trump rally in Portland, Maine on Thursday afternoon. The protest appeared to reference the speech made by Khizr Khan at the Democratic national convention, in which he questioned Donald Trump's commitment to America's founding principles. Khan memorably held up a miniature copy of the constitution midway through his speech

Opinion
One of the goals of Millions March NYC has already been met: the police commissioner resigned. Now it's time to take their other demands seriously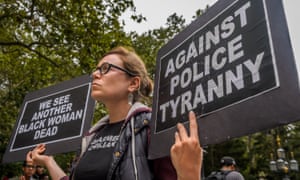 Police departments are clearly failing, and they should be taken over. Photograph: Erik Mc/Pacific/Barcroft Images
M

y professor friend AJ and I led a walking tour of college students earlier this week about protest and policing in New York City. Between our stop at One Police Plaza, where "broken windows" policing was unleashed on our city, and the site of Eric Garner's death on Staten Island, we stopped at the newest occupation in town at City Hall Park.
Mayor Bill de Blasio had just announced police commissioner Bill Bratton's resignation as we walked through the park, quickly achieving one of the occupying group's three ambitious goals when they appeared on Monday. The other two call for defunding the NYPD and using some of that money for reparations for survivors of "police terrorism".
The group, Millions March NYC, makes a solid point: it is imperative to defund police departments across the country immediately, redirecting that money instead to black futures and the marginalized. Because while reparations paid to next of kin for police abuse is already a billion-dollar business, there is no need for anyone to be executed in the first place.
As Millions March accurately explains, "Policing is a violent, anti­-black institution that originated as slave patrols and expanded into the domestic occupying force seen today in working­ class communities and communities of color."
Policing doesn't work. While crime was at historic low levels in 2015, American police managed to kill 1,146 people that year, and another 633 so far in 2016. But police acting as judge, jury and executioner in these killings – which often occur in poor neighborhoods – isn't what has made national crime low overall. "The differences between what parts of the country are more safe is not a matter of who has the most policing," Elsa, a protester at City Hall Park eloquently put it to me. "It's a matter of who has the most resources."
Policing can't be reformed by technology, and cameras aren't slowing down or stopping police killing sprees. We are routinely hearing that supposedly mandatory body camera are mysteriously or deliberately turned off at crucial moments. Still, even when officers know they are on video, they still seem to have no trouble killing (or even telling the dying, "fuck your breath"). Police violence can't be solved by tech. In fact, viral videos of police abuse and death serve an important purpose: they inspire fear and terror, in what some hope will create docility and compliance among black people………..