17 Aug
Cabinet approves legislation that could see someone imprisoned for three years for using phrase to refer to second world war concentration camps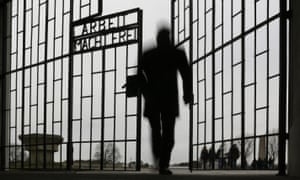 A man enters the Sachsenhausen concentration camp. Poland has for years battled against foreign media outlets using the phrase 'Polish death camps' Photograph: Markus Schreiber/AP
Associated Press in Warsaw
The Polish government has approved a new bill that foresees prison terms of up to three years for anyone who uses phrases like "Polish death camps" to refer to Auschwitz and other camps that Nazi Germany operated in occupied Poland during the second world war.
The justice department said the prime minister Beata Szyd?o's cabinet approved the legislation on Tuesday. It is expected to pass easily in the parliament, where the nationalistic ruling party Law and Justice enjoys a majority.
Video shows Sigmar Gabriel making the gesture after far-right activists interrupt election campaign event in Salzgitter
Footage emerged on Tuesday of Sigmar Gabriel giving the finger to protesters chanting that the Social Democrat leader has betrayed the country. Taunting him about his Nazi-sympathiser father, the masked group brand the vice-chancellor a traitor. Gabriel is seen dismissing their comments by giving them the Stinkefinger
A video has emerged showing Germany's vice-chancellor giving the middle finger to a group of neo-Nazi protesters who had called the politician a "race traitor".
The clip, filmed last Friday but posted on social media on Tuesday, shows a group of about 20 men in Germany flag masks interrupting an election campaign event in Salzgitter, Lower Saxony, involving the Social Democrat politician Sigmar Gabriel.
The protesters can be heard calling the centre-left politician a "communist and cultural Marxist", as well as making a reference to Gabriel's father, a Nazi sympathiser: "Your father loved his country, and what do you do? You destroy it."
The deputy to the German chancellor, Angela Merkel, is then seen laughing before raising his middle finger and turning his back on the group.
In an interview about his upbringing published before the 2013 federal elections, Gabriel had revealed that he broke off contact with his father after discovering his Nazi beliefs when he was 18. In the interview, Gabriel said: "What remains is an almost untameable anger. When I see something unfair, when injustice is being done to people, I can get properly worked up."………….
In a state that stays prepared for hurricanes, the devastating floods that have left tens of thousands homeless seemed to creep up almost without notice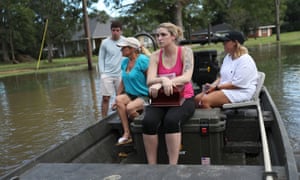 Allie Amond holds a box with her father's ashes in it that she retrieved from her flooded home in Baton Rouge, Louisiana. Photograph: Joe Raedle/Getty Images
An enormous and slow-moving rainstorm has laid waste to much of southern Louisiana, which the National Weather Service has called a "1,000-year" disaster.
By Monday afternoon, more than 20,000 residents had been rescued from the historic floodwaters, and as many as seven had died.
People here stay prepared for hurricanes, and all the cataclysm they bring. But this storm did not arrive with noise and velocity; instead it unfolded over several days, sneaking up almost without notice. Then the rivers topped their banks.
In Tangipahoa parish, Louisiana, Donnie Prince woke up Thursday morning to the sound of police on a bullhorn.
Southern Louisiana has been ravaged by a slow-moving rainstorm that the National Weather Service has called a '1,000-year' disaster. Thousands of people have evacuated their homes and at least eight people are dead as of Tuesday morning. The historic storm began in the corner of Florida's gulf coast in the first week of August
"Evacuate immediately," the voice said from outside his home……….
Fanned by strong winds and high temperatures, the wildfire outside LA has prompted chaotic scenes as families scrambled to flee

Smoke from the Blue Cut fire billows over a freeway near Los Angeles, California.
Rory Carroll in Los Angeles
A wildfire fanned by strong winds and 100F (37C) temperatures has ripped through rural communities outside Los Angeles, unleashing fire tornados and triggering evacuation orders for more than 80,000 people.
The so-called Blue Cut fire flared 60 miles east of LA on Tuesday and swiftly scorched 9,000 acres, sending walls of flame down the Cajon Pass and surrounding areas and prompting chaotic scenes as families scrambled to flee.
Television footage captured a fire tornado, more accurately known as a fire whirl, a phenomenon in which flames and gusts combine to form whirling eddies.
California's governor, Jerry Brown, declared a state of emergency in San Bernardino county on Tuesday. The Red Cross set up emergency shelters for evacuees, including one for animals.
"There is imminent threat to public safety, rail traffic and structures. Please follow the evacuation instructions, as this is a very quickly growing wildfire," said the state incident information system. "An estimated 34,500 homes and 82,640 people are being affected by the evacuation warnings."……
Chancellor Nicholas Dirks is the latest high-profile administrator to step down at the elite college, which has been at the center of several scandals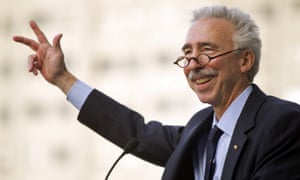 UC Berkeley chancellor Nicholas Dirks at a welcome ceremony. Photograph: D. Ross Cameron/AP
Nicholas Dirks, chancellor of the University of California, Berkeley announced his resignation on Tuesday, the latest high-profile administrator to step down at the elite college that has been plagued by repeated sexual harassment scandals.
Dirks has faced backlash for his administration's handling of harassment cases involving powerful faculty at the state's most prestigious public university. He wrote in a campus-wide letter that it was a "personal decision that the time is right for me to step aside and allow someone else to take up the financial and institutional challenges ahead of us".
Dirks briefly addressed the ongoing sexual misconduct controversies in his note, saying that during his time as chancellor, "we have begun to address growing concerns around sexual assault, violence, and harassment on campus".
In a short statement, UC president Janet Napolitano said she accepted the resignation "with deep appreciation for Chancellor Dirks's efforts on behalf of this great institution". She said the university would immediately form a committee to search for his successor and that Dirks would remain on the job until his replacement takes over…………..