21 Aug
PNN/ Bethlehem/
The Israeli army on Tuesday has shot dead a 17-year-old Palestinian teen in Al-Fawwar refugee camp during clashes that broke out during an Israeli raid raid on the camp, in addition to injuring dozens of others with teargas, rubber bullets and live ammunition.
The teen was identified as Mohammed Hashhash. According to the Palestinian Red Crescent, he was shot with live ammunition in the heart.
Abu Hashhash he became the 218th Palestinian to have been killed by Israelis since the beginning of a wave of unrest across the West Bank and Israel in October. At least half of those who have been killed since October died during protests and clashes and were not armed.
In July, Israeli rights group Adalah revealed that Israeli police had unveiled new regulations which permit Israeli officers to use live ammunition on Palestinian protesters and stone throwers before trying any non-lethal option.
Visit of giant cruise ship will bring money and tourists to the Northwest Passage, but fears grow for the area's people and its ecosystem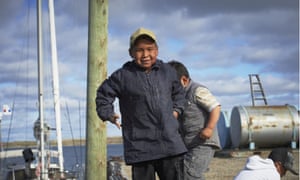 Inuit children in Cambridge Bay, Nunavut, Canada, one of the ports that the Crystal Serenity will visit. Photograph: Design Pics Inc/REX/Shutterstock
Robin McKie Observer science editor
In a few days, one of the world's largest cruise ships, the Crystal Serenity, will visit the tiny Inuit village of Ulukhaktok in northern Canada. Hundreds of passengers will be ferried to the little community, more than doubling its population of around 400. The Serenity will then raise anchor and head through the Northwest Passage to visit several more Inuit settlements before sailing to Greenland and finally New York.
It will be a massive undertaking, representing an almost tenfold increase in passenger numbers taken through the Arctic on a single vessel – and it has triggered considerable controversy among Arctic experts. Inuit leaders fear that visits by giant cruise ships could overwhelm fragile communities, while others warn that the Arctic ecosystem, already suffering the effects of global warming, could be seriously damaged.
"This is extinction tourism," said international law expert Professor Michael Byers, of the University of British Columbia. "Making this trip has only become possible because carbon emissions have so warmed the atmosphere that Arctic sea ice in summer is disappearing. The terrible irony is that this ship – which even has a helicopter for sightseeing and a huge staff-to-passenger ratio – has an enormous carbon footprint that is only going to make things even worse in the Arctic."
The Serenity is by far the biggest cruise vessel to traverse the fabled Northwest Passage, whose exploration has claimed the lives of hundreds of seamen. The ship has a crew of 655 and carries 1,070 passengers, who have paid between £19,000 and £120,000 for a voyage that Crystal Cruises says will take them on an "intrepid adventure" from Anchorage in Alaska to New York over 32 days.
For its part, Crystal insists its clients will have to follow a strict code of conduct during shore visits, while the ship's air, water and rubbish discharges will be tightly controlled. Only low-sulphur fuel will be burned in the Serenity's engines, said a spokesman. The Serenity will be accompanied by the UK icebreaker the RSS Ernest Shackleton, he added.
However, it is not the voyage that directly poses danger, Byers said. "This is a well-supported, carefully worked-out trip. I acknowledge that. The trouble is that it is going to open the door to mass tourism in the high Arctic and many other operators – who could easily turn out to be far less scrupulous or painstaking – will be eyeing it up for major operations. That could end in disaster. "
Federal judge stops short of requiring Democratic presidential nominee to submit to sworn deposition amid lawsuit by conservative watchdog organization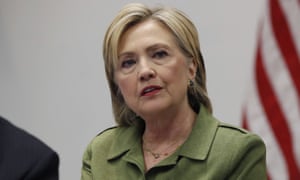 Hillary Clinton must respond in writing to questions about her email server, a federal judge says. Photograph: Carolyn Kaster/AP
A federal judge has ordered Hillary Clinton to answer written questions about her use of a private email server while at the state department in response to a lawsuit by a conservative watchdog group, though he declined to make her submit to a sworn deposition.
District court judge Emmet Sullivan said Clinton must reply in writing to questions posed by the group, Judicial Watch, about why she set up a system to conduct state department business, a decision that led to an FBI investigation and has haunted the Democratic nominee's campaign for over a year.
The judge said the group failed to demonstrate that an hours-long deposition was necessary to clarify why Clinton set up the private server, as opposed to seeking the information "through other, less burdensome or intrusive means such as interrogatories".
"Judicial Watch's argument that a deposition is preferable in this case because of the ability to ask follow-up questions is not persuasive," Sullivan wrote. "Given the extensive public record related to the clintonemail.com system, a record which Judicial Watch has acknowledged, Judicial Watch will be able to anticipate many follow-up questions."
Judicial Watch made a name for itself by dogging former president Bill Clinton, and has now filed a number of lawsuits under the Freedom of Information Act (Foia) seeking records from the state department about Hillary Clinton's time spent as the nation's top diplomat.
Judicial Watch's president, Tom Fitton, praised the judge's decision in a statement. "We are pleased that this federal court ordered Hillary Clinton to provide written answers under oath to some key questions about her email scandal," he said. "We will move quickly to get these answers. The decision is a reminder that Hillary Clinton is not above the law."
The decision means Clinton will probably not have to step away from the campaign trail to sit for an interview with some of her fiercest critics, but ensures that the controversy will continue to follower her throughout the final weeks of the presidential campaign.
Judicial Watch has until 14 October to submit questions to Clinton, who must respond within 30 days, according to the decision.
As the Republican-led state legislature has slashed funding to reproductive healthcare clinics, the maternal mortality rate doubled over just a two-year period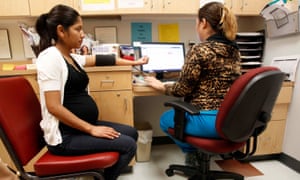 About half of Texas lacks ready access to OB-GYN care, making it difficult for women to obtain contraception or for pregnant women to confirm the health of their babies. Photograph: Delcia Lopez/Reuters
The rate of Texas women who died from complications related to pregnancy doubled from 2010 to 2014, a new study has found, for an estimated maternal mortality rate that is unmatched in any other state and the rest of the developed world.
The finding comes from a report, appearing in the September issue of the journal Obstetrics and Gynecology, that the maternal mortality rate in the United States increased between 2000 and 2014, even while the rest of the world succeeded in reducing its rate. Excluding California, where maternal mortality declined, and Texas, where it surged, the estimated number of maternal deaths per 100,000 births rose to 23.8 in 2014 from 18.8 in 2000 – or about 27%.
But the report singled out Texas for special concern, saying the doubling of mortality rates in a two-year period was hard to explain "in the absence of war, natural disaster, or severe economic upheaval".
From 2000 to the end of 2010, Texas's estimated maternal mortality rate hovered between 17.7 and 18.6 per 100,000 births. But after 2010, that rate had leaped to 33 deaths per 100,000, and in 2014 it was 35.8. Between 2010 and 2014, more than 600 women died for reasons related to their pregnancies.
No other state saw a comparable increase.
In the wake of the report, reproductive health advocates are blaming the increase on Republican-led budget cuts that decimated the ranks of Texas's reproductive healthcare clinics. In 2011, just as the spike began, the Texas state legislature cut $73.6m from the state's family planning budget of $111.5m. The two-thirds cut forced more than 80 family planning clinics to shut down across the state. The remaining clinics managed to provide services – such as low-cost or free birth control, cancer screenings and well-woman exams – to only half as many women as before.
DNA evidence shows he and three codefendants weren't involved in fatal shootings of two teenagers, judge says, as case heads to appeals court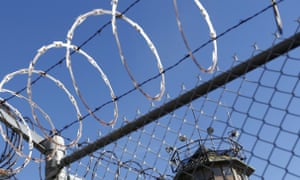 Richard Bryan Kussmaul should be free, a judge has ruled. Photograph: Stephen Lam / Reuters/Reuters
Associated Press in Waco, Texas
A central Texas man serving a life sentence for a double murder in 1992 is innocent, as are three codefendants no longer in prison, a state judge has found.
Retired district judge George Allen ruled Friday that Richard Bryan Kussmaul, 45, should be free. His three codefendants each received 20-year sentences and have already been released.
DNA evidence not available two decades ago shows the four weren't involved in the fatal shootings of 17-year-old Leslie Murphy and 14-year-old Stephen Neighbors at a home near Moody, south of Waco, Allen said in a four-page opinion.
Allen's recommendation now goes to the Texas court of criminal appeals for a final decision. The state's top criminal appeals court had ordered a hearing held last month to look into the men's claims they were innocent.
"The evidence just seemed overwhelming, with the DNA evidence having excluded these men from any contact whatsoever with these people," Kussmaul's lawyer, David Sheppard, told the Waco Tribune-Herald.
Allen presided over the trial where Kussmaul was convicted of murder. His three co-defendants, James Edward Long, Michael Dewayne Shelton and James Wayne Pitts Jr, were convicted of sexual assault. Long and Pitts served 20 years. Shelton was released after 17 years.
At the hearing last month, Long, Shelton and Pitts all testified they gave false testimony against Kussmaul at his trial because a prosecutor promised them probation. They also said their confessions were coerced by a deputy who threatened them with the death penalty.