22 Aug
Opinion
By Dr. Saeb Erekat/
Israeli government officials have announced further measures against nonviolent actions by civil society. During the First Intifada, the Israeli occupation authorities deported non-violent activists and tried to prevent any peaceful demonstration against the imposed and oppressive policies. Nowadays, Israel, with some international support, is trying to quash a growing solidarity movement with the Palestinian cause for freedom and independence.
Over the past year, the Israeli government and other organizations have conducted a campaign against any expression of disapproval of the Israeli occupation of Palestine, its crimes and its racist policies. Palestinian human rights organizations, such as Al Haq, have been victims of orchestrated efforts aimed at jeopardizing their funding, including vicious attacks and hateful incitement that has led to death threats against some of their employees.
Regrettably, this campaign against Palestinian civil society and partners has been somehow accepted and even encouraged by some members of the international community. We were astonished to see an official European Union presence at two anti-BDS conferences, with the EU representative to Tel Aviv not only praising Israel for its "human rights record," but also by publicly stating that "settlement products are welcome in European markets."
Several EU representatives, including Federica Mogherini, have publicly committed that no concrete actions, other than statements, will be taken against Israeli violations of international law, just as the head of the EU Parliament, Martin Schultz, told his Israeli counterpart, a settler himself, that he is against the labeling of Israeli settlement products.
When the United Kingdom decided to criminalize boycott campaigns against the Israeli occupation, we made clear to British officials that it is no longer acceptable for any government to claim support for the two-state solution while granting immunity to Israeli crimes and systematic violations of international law.
Furthermore, over the past few months some other governments have expressed willingness to tolerate Israeli violations of international law, such as the Paraguayan foreign minister going on record to declare that Jerusalem's Old City is not under Israeli occupation, while Colombia signed a Free Trade Agreement with Israel that provides preferential treatment to Israeli settlement products as regular Israeli products.
While Israeli settlements continue to grow, including its associated settlement industry and regime, Palestinian homes continue to be demolished. The maximum the international community is willing to offer in this regard is condemnation rather than concrete actions to end the oldest foreign military occupation in modern history. No matter how many U.N. resolutions are violated by Israel, certain countries not only are unwilling to act, but also prevent their own civil societies from taking action against human rights violations in Palestine.
It is precisely in response to the lack of international political will to assume responsibilities towards the inalienable rights of the Palestinian people, that several groups of Palestinian, Israeli and international civil society are leading courageous campaigns that show the reality on the ground and ask for concrete action from the international community. They have all become a target for the Israeli government and its associated organizations, despite the fact that not all of them call for a boycott of Israel.
The latest Israeli announcement to deport or deny entry to foreign passport holders that are involved in peaceful campaigns against the Israeli occupation, not only reflects the extent of control that Israel has over the borders and every person in Occupied Palestine, but exposes the Israeli government's will to end any peaceful resistance against its systematic violations of Palestinian human rights.
The least we could expect from the international community, particularly Europe, is to take an active role in supporting the right to take peaceful action against human rights violations, rather than supporting, either directly or indirectly, the attempts to criminalize such actions.
Palestinians will not sit idle while Israeli bulldozers continue to demolish Palestinian homes and label Palestinian land for settlement construction. People of good conscience will continue to act in order to stop this colonialist crime. Not all governments may be willing to stand on the right side of history, but they should at least support and protect their citizens that don't want to be complicit with the systematic denial of the Palestinian people's rights to freedom and independence.
Dr. Saeb Erekat is secretary general of the Palestine Liberation Organization.
GAZA/PNN/ The Israeli occupation army fired missiles into the northern Gaza Strip town of Beit Hanoun on Sunday afternoon
Several Palestinians injured in Israeli military raids which break pattern of limited retaliation during relatively quiet periods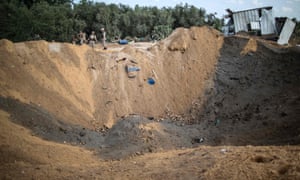 Palestinian militants inspect a crater in northern Gaza after an Israeli airstrike. Photograph: Mahmud Hams/AFP/Getty Images
The Israeli military has launched dozens of strikes on Gaza in an unusually strong response to a rocket fired from Gaza that landed between two houses in the Israeli community of Sderot.
Responsibility for the rocket attack on Sunday was initially claimed by both Ahfad a-Sahaba, one of the small Salafist groups that have recently become more active in Gaza, and the Popular Front for the Liberation of Palestine. It prompted a wave of up to 50 retaliatory attacks, according to Israeli military sources, hitting several of Gaza's armed Palestinian factions.
A security source said raids targeted Hamas's Izzedin Qassam Brigades, the Islamic Jihad's Quds Brigades and the PFLP. Artillery shells also hit the area of Al Burej in central Gaza and Beit Hanoun in the north. Several Palestinians, including a 17-year-old boy, were reportedly wounded.
The raids broke the pattern of limited Israeli retaliation during periods of relative quiet, leading the Islamist group Hamas to accuse Israel of escalating tensions.
According to reports, the Israeli response came in two waves, the first immediately after the rocket attack, and then again during the night, involving three Israeli jets and tank fire.
A Hamas spokesman said in a statement: "We hold [Israel] responsible for the escalation in the Gaza Strip and we stress that its aggression will not succeed in breaking the will of our people and dictate terms to the resistance."
An Israel military spokesman said in a statement that the military "remains committed to the stability of the region and operated in order to bring quiet to the people of southern Israel. When terrorists in Hamas' Gaza Strip, driven by a radical agenda based on hatred, attack people in the middle of the summer vacation, their intentions are clear – to inflict pain, cause fear and to terrorise."
While corruption, kidnapping and drug trafficking go unpunished, Heliodoro Morales has languished on remand for seven months for allegedly killing rabbits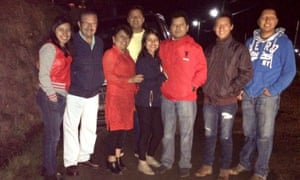 Local councillor Heliodoro Morales Mendoza, third right, was at work when four armed police officers arrested him in front of his colleagues. Denied bail, he faces up to 10 years in prison. Photograph: Handout
Heliodoro Morales Mendoza was at work in the municipal offices of the small Mexican town where he lives, when four armed police officers burst in and arrested him in front of his colleagues.
Morales was denied bail and has been held in pre-trial detention for seven months; he is facing up to 10 years in prison.
His alleged offence is not corruption, kidnapping, drug trafficking or involvement with the many criminal factions which have unleashed bloodshed across the country.
Morales stands accused of killing three rabbits.
Heliodoro Morales Mendoza. Photograph: Handout
Morales, from the mostly indigenous Zapotec town of Tlacolula de Matamoros in the southern state of Oaxaca, was arrested in January. He was charged under legislation governing serious crimes against biodiversity, which his lawyers say is intended to protect endangered species like jaguars and pumas.
The charge may be unusual, but his prolonged pre-trial detention is not: more than 100,000 prisoners – about 41% of the total prison population – have been refused bail while their cases drag through the notoriously slow system.
Ana Aguilar, director of projects at the Institute of Criminal Justice Procedure (IJPP), said that preventive detention had traditionally been used as a populist measure to generate public confidence in the justice system.
Opinion
A vote for the Republicans or Democrats is a vote for the status quo. Pressure from the radical left could be the beginning of a transformational change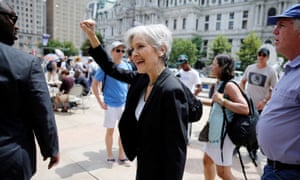 'The two parties use fear to manipulate voters. For example, they push the Nader myth; despite Gore losing 308,000 Democratic votes and 191,000 liberal votes in Florida to Bush and Nader only winning about 30,000 of each.' Photograph: Dominick Reuter/Reuters
NBC News recently projected that Hillary Clinton has surpassed the 270 electoral college votes she needs to be elected president. Based on polls, which have been surprisingly accurate this year, Politico reports that if you include states where Clinton leads by 5%, she has 302 electoral college votes. There may be no swing states in 2016. Indeed, no one with her lead at this stage of the campaign has lost the popular vote in 16 elections, since modern polling began.
Thomas Frank wrote in the Guardian that with Clinton certain to win, she will ignore populist movements and govern to the right. Glen Ford of Black Agenda Report writes that Clinton is stuffing the entire US ruling class into her campaign: neocons and neoliberals, Wall Street and big business, military and intelligence – they are all there, with progressives, blacks and Latinos pushed to the side.
Though two establishment big business parties are the tradition in the United States, history shows people's voices have still impacted the direction of the country. The formula has been: mass movement + independent electoral party = transformational change.
By forcing their issues onto the political agenda, people have broken up banking and energy monopolies, won the right to form unions and an eight-hour work day, ended child labor and won the vote for women. The entire New Deal came from the Progressive and Socialist parties. All of these changes occurred without a third party winning the presidency. They won their issues by showing enough political support to impact the outcome of an election, which the two parties call "spoiling". This forced one of the two parties to adopt the issue of the era, or become the Whigs and disappear.
There is one example of a third party winning a presidential election. The first political party, the Democrats, was a party of slave plantation owners. The second long-lasting political grouping was the Whig party, northern industrialists who profited from slavery. By the mid-1800s slavery was more valuable than manufacturing, banking and railroads combined. There had been an abolition movement since before the founding of the nation, but it was stalled, even going backward. Abolitionists decided to force their issue onto the agenda by running for office. They lost repeatedly, but over nearly two decades they weakened the Whigs and divided the Democrats. Abraham Lincoln, a former Whig, won a four-way race in 1860 for the Republicans with less than 40% of the vote.
The abolitionist spoilers were hated because they were blamed for the Mexican war by giving the greater-evil Democrats the presidency. But, we should be eternally grateful to those who voted in those losing elections to end slavery. They were democracy heroes, using the tools available to force an end to slavery