24 Aug
Authorities in 15 towns have banned burkinis, citing public concern following recent terrorist attacks in the country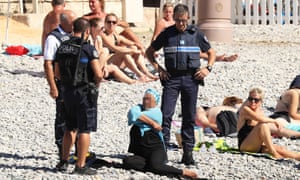 French agency AFP saw a ticket given to the woman by police, which said she was not 'wearing an outfit respecting good morals and secularism'. Photograph: Vantagenews.com
Photographs have emerged of armed French police confronting a woman on a beach and making her remove some of her clothing as part of a controversial ban on the burkini.
Authorities in several French towns have implemented bans on the Burkini, which covers the body and head, citing concerns about religious clothing in the wake of recent terrorist killings in the country.
The images of police confronting the woman in Nice on Tuesday show at least four police officers standing over a woman who was resting on the shore at the town's Promenade des Anglais, the scene of last month's Bastille Day lorry attack.
After they arrive, she appears to remove a blue long-sleeved tunic, although one of the officers appears to take notes or issue an on-the-spot fine.
The photographs emerged as a mother of two also told on Tuesday how she had been fined on the beach in nearby Cannes wearing leggings, a tunic and a headscarf.
Her ticket, seen by French news agency AFP, read that she was not wearing "an outfit respecting good morals and secularism".
Political rivals Hamas and Fatah are locked in a battle of words and images over conditions in the Hamas-ruled coastal strip
Hamas and Fatah, the two most powerful Palestinian political movements in Gaza, are turning to social media ahead of municipal elections in October. At odds with reality, Hamas has released a video celebrating life in the city under its rule. Scenes flit from artfully lit-office blocks to an amusement park. In reply, Fatah has re-edited the video to show what it believes to be the reality of almost a decade of Hamas rule. Footage of exploding bombs, damaged neighbourhoods and police violence have been added to the violence
The two most powerful Palestinian political movements in Gaza – Hamas and Fatah – are slugging it out in a social media war that is pitting video against video and hashtag against hashtag ahead of municipal elections in the Palestinian territories slated for October.
The widespread use of social media for the first time in Palestinian elections has seen both sides locked in a conflict of narratives over conditions in the coastal strip ruled by Hamas since 2007, which has lived through three devastating conflicts with Israel in the last eight years.
The battle of words and images was triggered by a series of slick videos posted on YouTube representing Hamas's pitch for the municipal elections – not least in Gaza City, one of the three most important and populous Palestinian cities.
The message, after years emphasising Israeli occupation, siege and resistance, is relentlessly upbeat, featuring two key phrases that have also been deployed as hashtags on Twitter and Facebook: "Thank you, Hamas" and "Gaza is more beautiful".
The online battle has continued as the Israeli military – on Sunday and overnight on Monday – launched some 50 strikes against targets in Gaza. The attacks by jets and Israeli tanks were in response to a missile, claimed by a jihadist group, that hit the nearby Israeli community of Sderot.
Matt Bissonnette, whose book No Easy Day included firsthand account of Osama bin Laden's killing, ruled to have violated non-disclosure agreements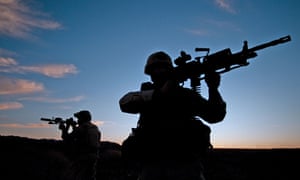 US Navy Seals training for desert combat. Photograph: US Navy Photo / Alamy/Alamy
The former Navy Seal who wrote a book about his role in the raid that killed Osama bin Laden must now pay the US federal government more than $6.6m (£4.9m) for violating non-disclosure agreements and publishing without clearance from the defence department.
Matt Bissonnette, who wrote No Easy Day under the pseudonym Mark Owen, will give the US government all profits and royalties from the book or movie rights. The proceeds already total more than $6.6m. He will have four years to pay the bulk of that sum.
The payments were outlined in settlement documents filed in US district court in Virginia.
The book triggered a justice department investigation into claims it contained classified material. Bissonnette had signed non-disclosure agreements during his service as a Seal, and he took part in a number of highly secret operations including the Bin Laden raid.
Under the agreement, Bissonnette said he would acknowledge he made a mistake by failing to submit the book for pre-publication review. And in exchange for the payments, the US government has dismissed other liability claims.
Justice department spokeswoman Nicole Navas said the agreement doesn't discredit Bissonnette's military service, but reinforces that service members must comply with the non-disclosure documents they sign.
Opinion
Lawsuits can destroy media organizations. Whatever you think of the stories, the prospect of journalists being silenced by a wealthy elite is deeply troubling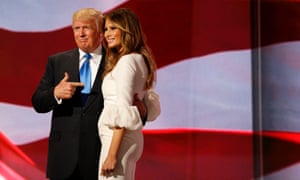 Donald and Melania Trump. Photograph: Michael Reynolds/EPA
L

ess than 24 hours after Gawker.com was killed by billionaire Peter Thiel's legal crusade against it, another billionaire couple – Donald and Melania Trump – is already using the same law firm Thiel did to threaten more media organizations into silence. And this time, it could have a direct effect on the presidential election.
The Guardian reported late on Monday night that Melania Trump's lawyers have sent threatening letters and are considering filing lawsuits against a variety of media organizations – including the Daily Mail, Politico and the Week – for reporting on rumors of Melania Trump's past, including her alleged immigration status when she came to the United States.
This is the quintessential example of the disturbing precedent Peter Thiel has just set by creating a blueprint for billionaires to destroy news organizations they do not like. He has shown that all they need is a little persistence. And in a media landscape that is increasingly dominated by the rich and powerful, that should give even Gawker's most ardent critics pause.
We know Donald Trump and others have gone down this path before. Trump has openly bragged about the fact that he sued a former New York Times reporter in the early aughts for the purpose of trying to hit the reporter involved financially. Trump did lose that lawsuit, but not until after litigation that undoubtedly cost hundreds of thousands of dollars in legal fees for the winning party.
And if you think the Trumps are litigious now, just wait until after November. Peter Scheer, director of the First Amendment coalition, explained the consequences of the Gawker case succinctly:
Say five years from now, if Trump loses and people are writing critical postmortems, will they have to worry that Trump will turn around and sue them? Because of the Gawker trial, I fear that many journalists will wonder, "Could that happen to me, even in writing about Trump?" They will be censoring themselves. That is the worst outcome here, and it's quite likely.
But Trump is not the only culprit. In yet another ominous example, Mother Jones, the liberal nonprofit magazine known for its investigative journalism, spent millions of dollars in legal fees when another billionaire, Frank VanderSloot, sued the company and its reporters over a critical story and some tweets from its editors. Mother Jones won the case last year, relatively early in the process, but still faced an existential financial crisis because of the enormous legal costs associated with the lawsuit. VanderSloot then announced a million-dollar fund to be used for suing Mother Jones and additional members of the "liberal press" in other cases.