25 Aug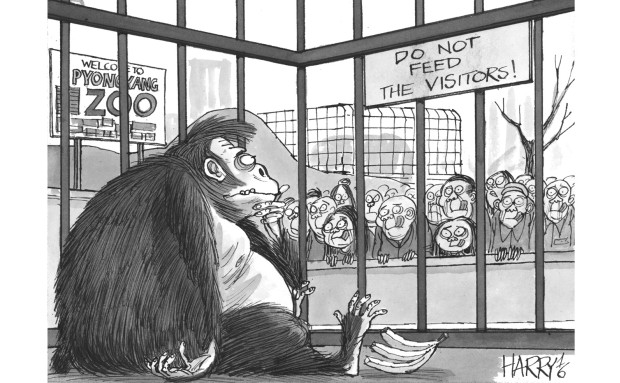 18-month-old girl whose mother survived 2009 L'Aquila quake is among victims as towns including Amatrice are razed
Rescuers find a 10-year-old alive under the rubble of a collapsed building in Pescara del Tronto on Wednesday, 17 hours after a 6.2 magnitude earthquake struck central Italy. Bystanders applaud and cheer as five rescuers help uncover the young girl and lift her to safety. Pescara del Tronto was one of the three towns most severely damaged by the quake
The death toll from the devastating pre-dawn earthquake that struck central Italy has risen to 247, after rescue teams using sniffer dogs, bulldozers and their bare hands worked through the night in a desperate search for survivors.
At least 368 more people were injured, the national civil protection agency said in Rome, and an unknown number remained trapped in the rubble of collapsed and damaged buildings in the cluster of ancient hilltop towns and villages, some almost entirely razed by the 6.2-magnitude quake.
The Ansa news agency reported that one of the youngest victims was an 18-month-old girl whose mother survived the 2009 quake in L'Aquila, a few miles south of the epicentre of Wednesday's 3.36am tremor that flattened houses, buckled roads and buried residents under mounds of debris in and around Amatrice, Accumoli and Arquata and Pescara del Tronto.
Pictures of woman removing long-sleeved top surrounded by police cause outrage as France's top court prepares to review bans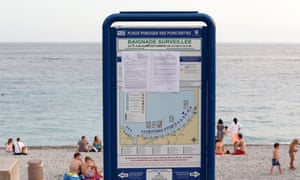 A sign at Ponchettes beach in Nice shows the law forbidding the wearing of clothing such as the burkini. Photograph: Jean Christophe Magnenet/AFP/Getty
The political row in France over mayors banning the burkini has intensified after a woman in a headscarf was photographed on a beach in Nice removing a long-sleeved top while surrounded by armed police.
The series of pictures, taken by a local French news photographer, showed a woman dressed in leggings, a long-sleeved tunic and headscarf being approached by four officers. As the police stand around her, she removes her long-sleeved top, revealing a short-sleeved top underneath. It is unclear whether or not the woman was ordered to do so. In another image, a police officer appears to write out a fine.
A spokesman for Vantage News, which released the pictures in the UK, said they were taken at about 11am (10am BST) on Tuesday. "The woman was fined, she left the beach and so did the police," the spokesman said.
On Thursday, the council of state, France's highest administrative court, will examine a request by the French Human Rights League to scrap the burkini bans. Lawyers argue that the short-term decrees are illegal.
The Nice mayor's office denied that she had been forced to remove clothing, telling Agence France-Presse that the woman was showing police the swimsuit she was wearing under her tunic over a pair of leggings.
'No conspiracy' to hide privately funded program in which cameras took continuous photographs since January, police spokesman claims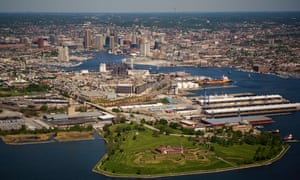 Persistent Surveillance Systems will continue to photograph the city for a few more weeks, a Baltimore police spokesperson said. Photograph: Alamy
Baltimore police on Wednesday acknowledged for the first time that city residents had been subject to aerial surveillance, after a Bloomberg Businessweek story revealed that airborne cameras had snapped continuous photos in cooperation with the police since January.
Police spokesman TJ Smith insisted that the privately funded agreement between Persistent Surveillance Systems and city police "was not a secret surveillance program". Before Wednesday, not even the mayor, city council, and board of estimates had been told about the program.
"There was no conspiracy not to disclose it," Smith said.
Many officials and activists thought otherwise. The office of the public defender issued a statement saying that the "secrecy of the program has precluded any oversight of the technology's use" and warned of "abuses that are ripe from its use".
American Civil Liberties Union senior policy analyst Jay Stanley said it was "stunning that American police forces feel that they can use deeply radical and controversial surveillance systems" in a blogpost.
Persistent Surveillance Systems began working in Baltimore in January, as first reported by Bloomberg Businessweek. The Ohio-based company provides data gleaned from its aerial surveillance to police as they investigate crimes in the city.
Opinion
Politicians have advanced numerous reasons to ban the swimwear at the seaside. They are mistaken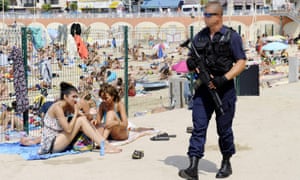 A French policeman patrols at the Catalans beach in Marseille. 'Women's right to dress as they feel comfortable and fitting should be defended against those coercing them into either covering or uncovering.' Photograph: Franck Pennant/AFP/Getty
S

o this is what liberation looks like: four armed officers ordering a woman to undress in public. France's prime minister, Manuel Valls, has backed the mayors ordering "burkini bans" on their beaches by arguing, among other things, that the garment is part of the enslavement of women. The photos from Nice, in which a Muslim woman removes her tunic under duress, show that claim of upholding women's rights to be as erroneous as the others advanced in support of the measures – variously, that covering up for religious reasons while at the seaside or while swimming is unhygienic, or a "provocation", or contrary to French values. The images are preposterous as well as ugly, highlighting the profound mismatch between stated ideals and their consequence; and an imagined threat to the national community and the means used to subdue it, with multiple gun-toting policemen required to confront one sunbathing woman. Which French values are being defended is unclear. Not liberation; nor equality; nor fraternity – since women who wish to wear the burkini (or, it seems, the hijab and loose-fitting clothes) are confronted with a choice between dressing as they feel fit or removing themselves from a public space.
The text of the Cannes ban refers to those who wear "ostentatiously" religious dress as disrespectful of good manners and laïcité, the French concept of secularism founded on freedom of conscience, a strict separation between religion and the state, and the freedom to exercise any faith. That reflects a deepening battle over the true meaning of the philosophy and, in particular, an attempt by the right to clothe its xenophobia and Islamophobia more respectably. France is becoming increasingly politically polarised in the run-up to this November's rightwing primaries and next year's presidential election, the electoral calendar meshing alarmingly with the fallout from terrorist atrocities. The rise of Marine Le Pen and her party has encouraged others to buy into her rhetoric. Nicolas Sarkozy's announcement this week that he would run again for top office came with a message clearly aimed at far-right voters. He promised to extend the ban on the hijab in schools to universities, to restrict access to benefits for women who repeatedly violate the existing burqa ban, and to scrap a law authorising immigrants to be reunited with their families. He has denounced "the tyranny of minorities".
The Nice ban refers specifically to last month's Bastille Day attack in the city, without mentioning that several of the 84 victims were Muslim, while the mayor of Cannes has described burkinis as referring to an allegiance to terrorist groups. Others have described them improbably as a provocation by Islamists (as if such groups were likely to urge women to bathe in form-fitting outfits on mixed-sex public beaches). It is hard to see the logical correlation. What can be said is that obsessing about the burkini is a good way to distract attention from the many social and economic reasons why young second and third generation immigrants may feel disenfranchised and harbour grievances against the republic – making some vulnerable to recruitment by extremists – and that it is likely to alienate more of them.