26 Aug
PM authorises preliminary €50m in emergency funding for stricken zone as Amatrice hit by 4.7-magnitude aftershock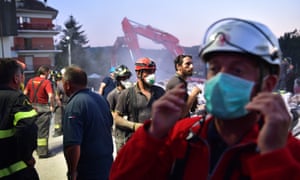 Emergency workers search the rubble of a destroyed building in Amatrice. Photograph: Carl Court/Getty Images
A 4.7-magnitude aftershock has hit the Italian town of Amatrice as rescuers and emergency teams continue their search of three flattened hilltop towns and Italy declares a state of emergency in the region.
With the provisional death toll from Wednesday's 6.2-magnitude quake standing at 267, including several foreigners, the Italian prime minister, Matteo Renzi, authorised a preliminary €50m (£43m) in emergency funding for the stricken zone.
The powerful aftershock, the latest of more than 500 since the initial quake, hit the area shortly after dawn on Friday, sending up plumes of thick grey dust, shaking buildings that were still standing and fuelling fears of fresh collapses which could hamper the rescue operation.
Presidential candidate takes hard line, positioning himself as defender of French values and tough on immigration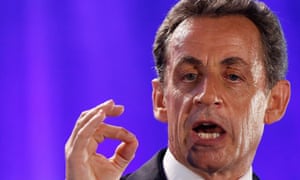 Nicolas Sarkozy speaks during his first presidential campaign rally in Châteaurenard, Provence, on Thursday. Photograph: Guillaume Horcajuelo/EPA
Nicolas Sarkozy says he will impose a nationwide ban on burkinis if re-elected to the presidency in 2017, positioning himself as a strong defender of French values and tough on immigration.
Hundreds of supporters waving French flags chanted "Nicolas! Nicolas!" and applauded as Sarkozy, a conservative president from 2007 to 2012 before losing an election to Socialist François Hollande, promised to protect the French people in his first rally for the 2017 election.
"I will be the president that re-establishes the authority of the state," Sarkozy told a crowd of more than 2,000 in a sports hall in Châteaurenard in Provence, a town where his Les Républicains beat the far-right Front National (FN) in regional elections last year.
"I want to be the president who guarantees the safety of France and of every French person," the 61-year-old said.
Taking a hard line on the burkini debate that has agitated France over recent weeks, Sarkozy said that the full-body swimwear should be banned from beaches across the country.
One year ago, a tweet made Germany the promised land for refugees entering Europe – and changed the course of history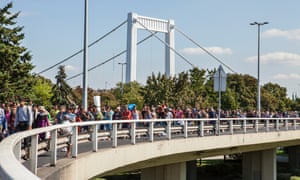 Syrian refugees marching through Budapest, heading towards Austria and then Germany, in September 2015. Photograph: Antonio Olmos for the Observer
T

he tweet was sent by Germany's federal agency for migration and refugees a year ago today. "The #Dublin procedure for Syrian citizens is at this point in time effectively no longer being adhered to," the message read. With 175 retweets and 165 likes, it doesn't look like classic viral content. But in Germany it is being spoken of as the first post on social media to change the course of European history.
Referring to an EU law determined at a convention in Dublin in 1990, the tweet was widely interpreted as a de facto suspension of the rule that the country in Europe where a refugee first arrives is responsible for handling his or her asylum application.
Activists fear the Dakota Access oil pipeline will pollute water and disturb sacred sites. A court is to decide next month if approval violated indigenous rights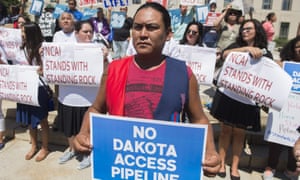 Protesters hold a rally with the Standing Rock Sioux tribe in support of a lawsuit against plans for the Dakota Access pipeline in Washington DC on Wednesday. Photograph: Saul Loeb/AFP/Getty Images
Native American activists have said they are still hopeful they can halt the construction of a controversial oil pipeline that will run from North Dakota to Illinois, after a federal judge said he needed more time to decide whether indigenous rights were violated when the project was approved.
Judge James Boasberg of the US district court said he will make a decision by 9 September on whether to stop work on the pipeline during tribal leaders' lawsuit against the US army Corps of Engineers for approving the Dakota Access project.
The pipeline will run close to the Standing Rock Sioux tribe's reservation in North Dakota and across several rivers, including the Missouri and the Mississippi, that supply drinking water for millions of people.
"Whatever the final outcome in court, I believe we have already established an important principle – that is, tribes will be heard on important matters that affect our vital interests," said Standing Rock Sioux chairman David Archambault, who has previously said the project would "knowingly poison water".
The rules of acceptable behavior in the national parks have changed drastically over the past 100 years. It was once legal to drive through trees, ride waterfalls, and boil an egg in the Yellowstone hot springs – but now such actions are generally frowned upon