29 Aug
President's recent comments doubting number of deaths during dictatorship rattle human rights activists and survivors – and mark first time denialist rhetoric has entered mainstream political discourse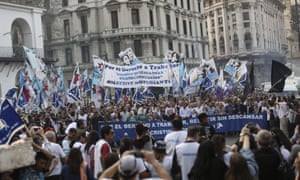 People participate in the 'Marcha de la Resistencia' (March of the Resistance), which was organized by Plaza de Mayo Mothers Foundation, in downtown Buenos Aires last week. Photograph: David Fernández/EPA
A

lmost uniquely among nations that have suffered mass killings under brutal dictatorships, Argentina was able not only to put a large number of its former torturers behind bars, but to establish a consensus across all political sectors that its 1976-83 military regime had executed a lower-intensity Nazi-style genocide that lacked any moral justification.
The country's dictator Jorge Videla was tried barely two years after the return of democracy, and since then more than 1,000 other former officers have been sentenced, making the country a standout among former South American dictatorships. Chile has attained a similar number of convictions, but its dictator Augusto Pinochet died without ever facing a day in court. In Brazil and Uruguay, where wide-ranging amnesties remain in place, a free pass was given to torturers to ensure a smooth democratic transition.
But Argentina's consensus on the gravity of dictatorship-era crimes has suddenly shattered under centre-right President Mauricio Macri.
Earlier this month, Macri rattled nerves in the human rights community when he appeared to doubt the long-accepted historical understanding that 30,000 people died under the dictatorship. Asked in an interview with Buzzfeed how many people had been murdered, he testily replied: "I have no idea. That's a debate I'm not going to enter, whether they were 9,000 or 30,000."
Some sympathisers with the former regime have long raised doubts over the number of desaparecidos, but Macri's words marked the first time that such denialist rhetoric gained admittance to mainstream political discourse.
Government faces dilemma over whether to enforce ruling that banning burkinis violates 'fundamental freedoms'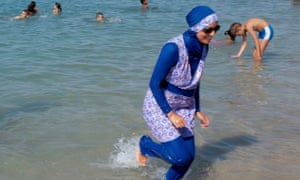 A woman wears a burkini on the beach in Marseille, France. Photograph: Reuters
A majority of mayors who have banned burkinis in about 30 French coastal resorts are refusing to lift the restrictions despite the country's highest administrative court ruling that the bans are illegal, leaving the state facing a dilemma about how to react.
More than 20 mayors have defiantly kept in place decrees under which municipal police can stop and fine any women in full-body swimsuits at the beach despite the ruling from the state council that the burkini bans are a "serious and manifestly illegal violation of fundamental freedoms".
In a test case expected to set legal precedent, the court suspended the burkini ban in one French Riviera town, Villeneuve-Loubet, which was obliged to immediately scrap its decree. But the ruling was dismissed by many other mayors.
The interior minister, Bernard Cazeneuve, who has called for calm and warned against stigmatising Muslims in France, is expected to make an announcement on the issue on Monday. The Green housing minister, Emmanuelle Cosse, said mayors who refused to take the court ruling into account were playing with fire.
All are residents or workers, predominantly foreign, in a particular suburban residential and industrial district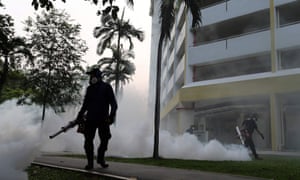 Workers fogging the housing estate at Aljunied Crescent in Singapore. Photograph: Wong Kwai Chow/AFP/Getty
Agence France-Presse in Singapore
Singapore has confirmed 41 locally transmitted cases of the Zika virus, which can cause deformities in unborn babies, and says more infections are likely.
A day after announcing its first locally transmitted case, that of a 47-year-old female Malaysian resident, on Sunday the government reported 40 more – mostly foreign workers at a construction site.
All 41 are residents or workers in a particular suburban residential and industrial district, the Ministry of Health and the National Environment Agency said in a joint statement.
"They are not known to have travelled to Zika-affected areas recently, and are thus likely to have been infected in Singapore," the statement said.
"This confirms that local transmission of Zika virus infection has taken place."
It said that at this point the community transmission of the virus appeared to be localised within the Aljunied Crescent and Sims Drive area, which hosts high-rise residential blocks and some industries.
However, since Zika is spread by the Aedes mosquito – which also carries the dengue virus – the health ministry "cannot rule out further community transmission … since some of those tested positive also live or work in other parts of Singapore", the statement said.
Tourists may be returning to the Kenyan coast, but the hinterland is being ravaged by Islamic militants, their defectors and armed police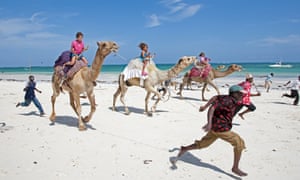 Tourists have returned to Kenya's beaches but are unaware of the death toll in the battle for locals' hearts and minds Photograph: Alamy Stock Photo
A football field and a grove of mango trees lie between Bongwe and its neighbouring village. On one side live the family of 33-year-old Subira Mwangole, shot dead by gunmen while watching television with friends one evening in May. On the other live his alleged murderers.
The two villages, 30km south of the port city of Mombasa on Kenya's coast, are almost identical: three-room houses with rusting tin or thatch roofs, a ramshackle primary school, a government office, a small mosque with white walls stained by rain, a crossroads where two tracks meet, a well, small plots of tall corn plants.
Yet, despite their placid appearances, the villages lie on the invisible frontline of a brutal, low-level, three-way war pitting security agencies against the Islamic extremist network al-Shabaab, and the militants against the local community. It is a war carried out by small groups of armed men who shoot first and ask few questions.
"We are very anxious, frightened. He knew he could die at any moment. We all know we could be next," said Ibrahim, a former al-Shabaab fighter and a close relative of Mwangole.
Yellowstone and other major parks grapple with illegal camping, vandalism, theft of resources, wildlife harassment and other misbehavior from visitors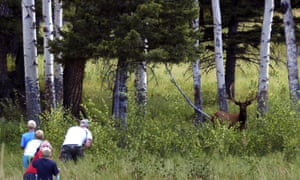 Yellowstone national park tourist John Gleason moves in on a large bull elk as four children follow. Photograph: Matthew Brown/AP
Associated Press in Yellowstone national park, Wyoming
On the edge of a meadow in Yellowstone national park, tourist John Gleason crept through the grass, four small children close behind, inching toward a bull elk with antlers like small trees.
"They're going to give me a heart attack," said Gleason's mother-in-law, Barbara Henry, as the group came within about a dozen yards of the massive animal.
The elk's ears pricked up, and it eyed the children and Washington state man before leaping up a hillside. Other tourists – likewise ignoring rules to keep 25 yards from wildlife – picked up the pursuit, snapping pictures and forcing the animal into headlong retreat.
Record visitor numbers at the nation's first national park have transformed its annual summer rush into a sometimes dangerous frenzy, with selfie-taking tourists routinely breaking park rules and getting too close to Yellowstone's storied elk herds, grizzly bears, wolves and bison.
Law enforcement records obtained through a Freedom of Information Act request suggest such problems are on the rise, offering a stark illustration of the pressures facing some of America's most treasured lands as the National Park Service marks its 100th anniversary.
From Tennessee's Great Smoky Mountains to the Grand Canyon of Arizona, major parks are grappling with illegal camping, vandalism, theft of resources, wildlife harassment and other misbehavior, according to the records. In July alone, law enforcement rangers handled more than 11,000 incidents at the 10 most-visited national parks.
In Yellowstone, rangers are recording more wildlife violations, more people treading on sensitive thermal areas and more camping in off-limit areas. The rule-breaking puts visitors in harm's way and can damage resources and displace wildlife, officials said.
Experts say humanity's impact on Earth now so profound that the Holocene must give way to epoch defined by nuclear bomb tests, plastic pollution and domesticated chicken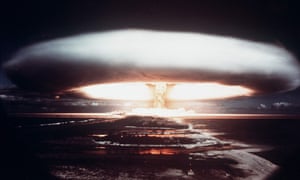 Nuclear test explosion in Mururoa atoll, French Polynesia, in 1971. The official expert group says the Anthropocene should begin about 1950 and is likely to be defined by the radioactive elements dispersed across Earth by nuclear bomb tests. Photograph: AFP/Getty Images
Humanity's impact on the Earth is now so profound that a new geological epoch – the Anthropocene – needs to be declared, according to an official expert group who presented the recommendation to the International Geological Congress in Cape Town on Monday.
The new epoch should begin about 1950, the experts said, and is likely to be defined by the radioactive elements dispersed across the planet by nuclear bomb tests, although an array of other signals, including plastic pollution, soot from power stations, concrete, and even the bones left by the global proliferation of the domestic chicken are now under consideration.
The current epoch, the Holocene, is the 12,000 years of stable climate since the last ice age during which all human civilisation developed. But the striking acceleration since the mid-20th century of carbon dioxide emissions and sea level rise, the global mass extinction of species, and the transformation of land by deforestation and development mark the end of that slice of geological time, the experts argue. The Earth is so profoundly changed that the Holocene must give way to the Anthropocene.
"The significance of the Anthropocene is that it sets a different trajectory for the Earth system, of which we of course are part," said Prof Jan Zalasiewicz, a geologist at the University of Leicester and chair of the Working Group on the Anthropocene (WGA), which started work in 2009.
"If our recommendation is accepted, the Anthropocene will have started just a little before I was born," he said. "We have lived most of our lives in something called the Anthropocene and are just realising the scale and permanence of the change."