30 Aug
Records of temperature that go back far further than 1800s suggest warming of recent decades is out of step with any period over the past millennium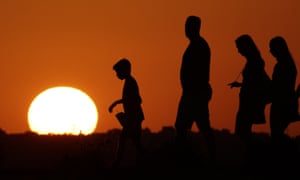 The sun sets beyond visitors to Liberty Memorial as the temperature hovers around 100F in Kansas City, Missouri, last month. Photograph: Charlie Riedel/AP
The planet is warming at a pace not experienced within the past 1,000 years, at least, making it "very unlikely" that the world will stay within a crucial temperature limit agreed by nations just last year, according to Nasa's top climate scientist.
This year has already seen scorching heat around the world, with the average global temperature peaking at 1.38C above levels experienced in the 19th century, perilously close to the 1.5C limit agreed in the landmark Paris climate accord. July was the warmest month since modern record keeping began in 1880, with each month since October 2015 setting a new high mark for heat.
But Nasa said that records of temperature that go back far further, taken via analysis of ice cores and sediments, suggest that the warming of recent decades is out of step with any period over the past millennium.

"In the last 30 years we've really moved into exceptional territory," Gavin Schmidt, director of Nasa's Goddard Institute for Space Studies, said. "It's unprecedented in 1,000 years. There's no period that has the trend seen in the 20th century in terms of the inclination (of temperatures)."
"Maintaining temperatures below the 1.5C guardrail requires significant and very rapid cuts in carbon dioxide emissions or co-ordinated geo-engineering. That is very unlikely. We are not even yet making emissions cuts commensurate with keeping warming below 2C."
Schmidt repeated his previous prediction that there is a 99% chance that 2016 will be the warmest year on record, with around 20% of the heat attributed to a strong El Niño climatic event. Last year is currently the warmest year on record, itself beating a landmark set in 2014.
"It's the long-term trend we have to worry about though and there's no evidence it's going away and lots of reasons to think it's here to stay," Schmidt said. "There's no pause or hiatus in temperature increase. People who think this is over are viewing the world through rose-tinted spectacles. This is a chronic problem for society for the next 100 years."
The European Commission says Ireland gave Apple illegal tax benefits worth up to €13bn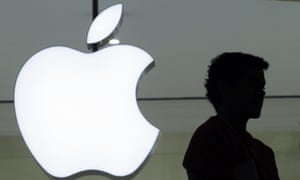 Photograph: Mark Lennihan/AP
The European Commission's investigation into Apple's tax affairs began in June 2014.
It concluded on Tuesday that Ireland has been giving the US tech giant illegal state aid since 1991, adding:
The commission can order recovery of illegal state aid for a 10-year period preceding the commission's first request for information in 2013. Ireland must now recover the unpaid taxes in Ireland from Apple for the years 2003 to 2014 of up to €13 billion, plus interest.
The tax treatment in Ireland enabled Apple to avoid taxation on almost all profits generated by sales of Apple products in the entire EU Single Market. This is due to Apple's decision to record all sales in Ireland rather than in the countries where the products were sold.
This structure is however outside the remit of EU state aid control. If other countries were to require Apple to pay more tax on profits of the two companies over the same period under their national taxation rules, this would reduce the amout
EU commissioner Margrethe Vestager on the Apple tax ruling.
The commission found fault with two tax rulings issued by Ireland to Apple that have "substantially and artificially lowered the tax paid by Apple in Ireland since 1991".
It says almost all profits recorded by two Irish incorporated companies of the Apple group were attributed to a "head office". However, the commission found these head offices existed only on paper, and could not have generated such profits.
These profits allocated to the "head offices" were not subject to tax in any country under specific provisions of the Irish tax law, which are no longer in force.

As a result of the allocation method endorsed in the tax rulings, Apple only paid an effective corporate tax rate that declined from 1% in 2003 to 0.005% in 2014 on the profits of Apple Sales International.
Exclusive: Guardian analysis shows series of contracts awarded to government and charities linked to president's family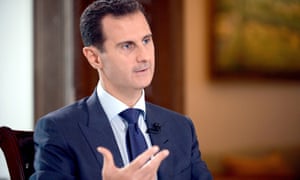 The UN says it must work with the Syrian regime, led by Bashar al-Assad, to reach vulnerable civilians. Photograph: Sana Handout/EPA
The UN has awarded contracts worth tens of millions of dollars to people closely associated with the Syrian president, Bashar al-Assad, as part of an aid programme that critics fear is increasingly at the whim of the government in Damascus, a Guardian investigation has found.
Businessmen whose companies are under US and EU sanctions have been paid substantial sums by the UN mission, as have government departments and charities – including one set up by the president's wife, Asma al-Assad, and another by his closest associate, Rami Makhlouf.
The UN says it can only work with a small number of partners approved by President Assad and that it does all it can to ensure the money is spent properly.
"Of paramount importance is reaching as many vulnerable civilians as possible," a spokesman said. "Our choices in Syria are limited by a highly insecure context where finding companies and partners who operate in besieged and hard to reach areas is extremely challenging."
However, critics believe the UN mission is in danger of being compromised.
They believe aid is being prioritised in government-held areas and argue UN money is effectively helping to prop up a regime responsible for the deaths of hundreds of thousands of its own citizens.
UN insiders admit the relief mission in Syria is the most expensive, challenging and complex it has ever undertaken.
But the contentious decisions it has had to make are now exposed for the first time by a Guardian analysis of hundreds of contracts it has awarded since the operation began in 2011.
Further:
Opinion
Though I mastered the French language and most of the cultural codes, people often reminded me that I was not exactly 'French'. That doesn't happen here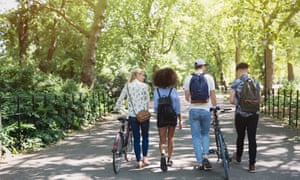 'I slowly fell in love with this heterogeneous society.' Photograph: Caiaimage/Sam Edwards/Getty Images/Caiaimage
I was born in Algeria in the mid-1980s in a middle-class, secular family deeply attached to democratic values. I grew up speaking French, Arabic and sometimes Berber. My childhood was filled with summers by the beach, simple pleasures like eating fresh watermelon on the sand, Friday visits to the market with my father and the weekly traditional couscous with a glass of leben, a dairy beverage. But the innocence of my childhood was soon disrupted by a civil war.
Algeria experienced an "Arab Fall" in 1988, which led to a war between armed Islamic groups and the Algerian army and state. Many journalists, intellectuals, artists were among about 200,000 Algerians who died under the blades and bullets of these fanatic murderers. Almost overnight, the face of Algerian society changed and entered one of the darkest times of its history.
During the paroxysm of the war in the mid-90s, my parents decided that it was safer to temporarily move to France, as my mother had received death threats. It was a return "home" for her as she was born and raised in France by immigrant Algerian parents.
I remember feeling grateful that I could finally walk down the street without being scared. But yet, I often felt out of place. I encountered racism for the first time and discovered what it was to be an outsider. I was surprised to discover that Algerians were not exactly well received and welcome. I did not know then, considering my age, the complicated intricacies inherited from colonial times.
Though I mastered the French language and most of the cultural codes, people often reminded me that I was not exactly "French". I remember people always asking if I felt more Algerian or French or which country I preferred and I never knew which box I was supposed to check.
I then started college and turned into the "typical" leftwing, feminist in the making, studying philosophy and sociology at the Sorbonne. I was very critical of American foreign policy – especially the war in Iraq. My political views have not drastically changed since then, but they have become more nuanced and pragmatic.