02 Sep
Pontiff says humans are turning planet into 'wasteland full of debris, desolation and filth' in call for urgent action on climate change
Pope Francis welcomes the Paris accord but suggests voters might need to take additional action to ensure their governments do not backtrack on the deal. Photograph: Galazka/Sipa/Rex Shutterstock
Josephine McKenna in Rome
Pope Francis has called for urgent action to stop climate change and proposed that caring for the environment be added to traditional Christian works of mercy such as feeding the hungry and visiting the sick.
In a message to mark the Catholic church's World Day of Prayer for the Care of Creation that he launched last year, Francis said the worst impact of global warming was being felt by those who were least responsible for it – refugees and the poor.
The pontiff used the occasion to revive many of the powerful issues he highlighted a year ago in his provocative encyclical on the environment, Laudato si', and his latest message seems certain to rankle conservatives.
Francis described man's destruction of the environment as a sin and accused mankind of turning the planet into a "polluted wasteland full of debris, desolation and filth".
"Global warming continues," the pope said. "2015 was the warmest year on record, and 2016 will likely be warmer still. This is leading to ever more severe droughts, floods, fires and extreme weather events.
"Climate change is also contributing to the heart-rending refugee crisis. The world's poor, though least responsible for climate change, are most vulnerable and already suffering its impact. "
The pope said the faithful should use the Holy Year of Mercy throughout 2016 to ask forgiveness for sins committed against the environment and our "selfish" system motivated by "profit at any price".
Interior minister says France will create accommodation for thousands of refugees elsewhere in France 'to unblock Calais'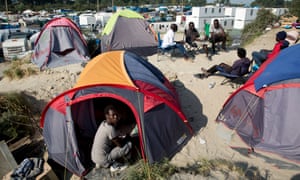 French authorities have made repeated efforts to shut down the Calais refugee camp. Photograph: Teri Pengilley for the Guardian
France is to gradually dismantle the "Jungle" refugee camp in Calais, the interior minister, Bernard Cazeneuve, has vowed.
Cazeneuve told the regional newspaper the Nord Littoral he would press ahead with the closure of the camp "with the greatest determination", dismantling the site in stages, clearing the former wasteland where record numbers of refugees and migrants are sleeping rough in dire sanitary conditions as many hope to reach Britain.
He said France would create accommodation for thousands elsewhere in the country "to unblock Calais".
French authorities have made repeated efforts to shut down the camp, which the state was responsible for creating in April 2015 when authorities evicted migrants and refugees from squats and outdoor camps across the Calais area and concentrated them into one patch of wasteland without shelter.
Less than six months ago, the authorities demolished a large area of the southern part of the camp, saying the aim was to radically reduce numbers. But this month the number of people in the camp reached an all-time high of almost 10,000 people, aid organisations estimate.
The French authorities put the official number of people in the camp at almost 7,000. Authorities have said over the past year more than 5,000 asylum seekers have left the northern French town for 161 special centres set up around France.
The Stanford University swimmer drew national notoriety after he was convicted of multiple felonies for sexually assaulting an unconscious woman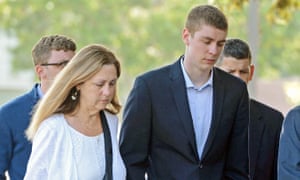 Brock Turner makes his way into the Santa Clara superior courthouse in Palo Alto, California on 2 June 2016. Photograph: Dan Honda/AP
Sam Levin in San Jose, California
Brock Turner, the American college athlete whose sexual assault case sparked international debates about campus violence, was released from jail on Friday after serving half of a six-month sentence, prompting protests by victims' advocates and women's rights groups.
The 21-year-old former Stanford University swimmer drew national notoriety after he was convicted of multiple felonies for sexually assaulting an unconscious woman outside a fraternity house on the elite campus in California.
Rape survivors and activists are scheduled to gather outside a local courthouse in San Jose on Friday to criticize the short sentence as an insult to victims and to call for the removal of the judge who chose not to send Turner to state prison.
"This kind of unfair and unreasonable and unjustifiable sentencing is not going to be tolerated any longer," said Jacqueline Lin, a 21-year-old student who says she was sexually assaulted while at Stanford.
On the night of 18 January 2015, two Swedish graduate students were biking by Stanford's Kappa Alpha fraternity when they saw a man "thrusting" on top of a motionless woman next to a dumpster. The bystanders intervened and held Turner until police arrived and found the woman, then 22 years old, "completely unresponsive" and partially clothed.
Investigation into Rhode Island boarding school details more than 60 alleged incidents and accuses six faculty and staff by name of crimes including rape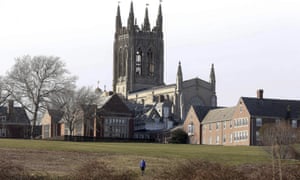 The investigation follows a settlement agreement in August between the school and nearly 30 alumni. Photograph: Steven Senne/AP
The Boston law firm representing dozens of alleged victims of sex abuse at an elite Rhode Island boarding school released a long awaited investigation on Thursday detailing more than 60 alleged incidents of sexual abuse at St George's school, and accusing six faculty and staff members by name of crimes ranging from molestation to rape.
The report comes eight months after Anne Scott, an alumnus, told the Boston Globe that a former athletic trainer, Al Gibbs, had raped her when she was 15 years old. The story unleashed a cascade of accusations from former students, many of them decades removed from St George's, who said they, too, were raped and sexually abused by members of the school's faculty or staff. On St George's campus, it sent administrators on a scramble to uncover the extent of the abuse and the institution's share of blame.
In early August, nearly 30 St George's alumni entered a settlement agreement with the school, although the terms and finances involved have not been made public.
Thursday's report details a torrent of new accusations that school officials repeatedly failed to act in the protection of students.
Many of the new revelations pertain to Gibbs, the athletic trainer, whom the school fired in early 1980. One out of every five girls who was a student at St George's between 1972 and 1979 reported sexual abuse by Gibbs, and the investigation estimated that "the number of women who were actually abused by Gibbs substantially exceeds the reported figure".
Pipeline's planned route takes it close to Standing Rock Sioux reservation and Cannon Ball, which could endanger drinking water and threaten sacred sites

There is a battle under way near Cannon Ball, North Dakota, over plans for a multibillion-dollar oil pipeline. The North Dakota Access pipeline will run just outside the formal boundary of the Standing Rock Sioux reservation, and tribal members fear it will pollute local drinking water and disturb sacred sites
Nicky Woolf in Cannon Ball, North Dakota
T

he Cannonball river flows into the mighty Missouri about 50 miles due south of Bismarck, North Dakota.
At its confluence, a protest encampment – really a series of camps, on both sides of the Cannonball, strewn with kitchens and canteens, portable toilets, stabling for horses, sweat lodges and tall teepees, and stands selling indigenous art – has sprung up.
The inhabitants are there to block the planned $3.7bn Dakota Access Pipeline, which would transport fracked crude from the Bakken oil field in North Dakota to a refinery near Chicago.
Many at the encampment speak of two prophecies, dating back to the 1890s. A leader called Black Elk foretold that in seven generations, the Native American nations will unite to save the Earth; another legend predicted that a zuzeca snake – a black snake – would threaten the world. For many of the protesters here, the pipeline is that black snake. They are the seventh generation: their moment of destiny has come.
The pipeline's planned route takes it close to the northern boundary of the Standing Rock Sioux reservation and the town of Cannon Ball within it, which means it would cross the Missouri immediately upstream, endangering, protesters say, the reservation's drinking water and threatening sacred sites. At Standing Rock, they have put their bodies between the water and the oil.
A few days earlier, on 24 August, a federal judge in Washington DC delayed a ruling over whether indigenous rights were violated by the approval of the project. Tribal members say they were not sufficiently consulted about the route and are suing for an injunction.
The population of the camp ebbs and flows. Many have given up jobs and brought their families here, and a core of between 500 and 1,000 people live here semi-permanently. Some, such as Wiyaca Eagleman, a member of the Sicangu Lakota from Rosebud, South Dakota, have been here since the beginning of April. He plans to be here, he said, "as long as it takes".
Opinion
The Democratic candidate is forging a distinction between Donald Trump and other, saner Republicans. This won't help Dems trying to win other elections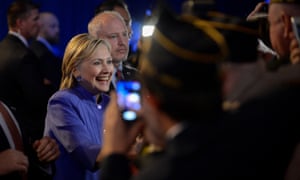 'Clinton may think that a shift toward the right is her best way to defeat Donald Trump. That should be a cause of concern to all candidates who are attempting to defeat other Republicans.' Photograph: Bryan Woolston/Reuters
T

he Clinton campaign has now spent months trying to convince relatively obscure former Republican officials to endorse her campaign while also adopting many Republican slogans and arguments in her quest for the presidency.
One has to wonder how much long term damage she is doing to progressive policies by deploying this strategy, even if she beats Donald Trump along the way.
Clinton gave a speech in Ohio on Wednesday with yet another former Bush official, James Clad. The speech was billed as touting "American exceptionalism", one of the more repellent nationalistic concepts that Republicans have used to shame progressives in the past. She spoke mostly about foreign policy, a subject in which Clinton – with her penchant for supporting foreign wars and beefed up US military presence everywhere – seemingly has more in common with mainstream Republicans than the Obama administration.
Last week, Clinton again handed legitimacy to the Republican party through the way she has decided to attack Trump. She gave a speech in which she praised prior GOP candidates for their treatment of Muslim Americans, including George W Bush, in an attempt to rhetorically separate Trump from these other supposedly upstanding Republicans. In the process, she is kneecapping Democratic candidates around the country who are attempting to retake the House and Senate.
Instead of hanging Trump around all Republicans' necks, she is cleaving him off from other GOP candidates and giving them an easy out, despite the fact that Trump is a direct product of the GOP's pandering to classist and racist elements of society for a decade. (Leaked Democratic National Committee emails show that at least some Democrats were worried about this exact scenario.)
Whether Clinton's strategy of trying to peel off a small percentage of Republicans to win the presidency will actually work remains to be seen. There seems to be scant evidence in the polls that a significant amount of Republicans will support her; Clinton's advantage mostly stems from the fact that black and Hispanic Americans understandably oppose Trump in historic numbers. But if the strategy hinders Democrats from retaking Congress, the damage is going to be seen for years.