05 Sep
News analysis
The absence of a red-carpet welcome for US President Barack Obama upon his arrival in Hangzhou has sparked speculation that China may have given him a diplomatic snub to express its displeasure over recent US moves.
Arriving last Saturday afternoon to attend the Group of 20 leaders' summit that opened yesterday, Mr Obama disembarked from the Air Force One plane through a rarely used metal stairway, instead of the rolling red-carpet staircase provided for other foreign leaders including Japanese Prime Minister Shinzo Abe.
Mr Obama later stepped onto a red carpet, but his treatment and arguments between US and Chinese officials over security protocol at the airport – and throughout the day over media access – raised questions over whether his treatment was a calculated snub or just a case of misunderstanding.
The so-called "Carpet-gate" saga has also raised questions over predictions that China would play nice to foreign states to project itself as a gracious host at the summit.
Sino-US relations expert Shen Dingli of Fudan University in Shanghai said China's track record and penchant for ensuring the right protocol is carried out, especially for top foreign leaders, show it could have been a deliberate snub.
He cited possible reasons such as China's displeasure over the US support for a Hague-based tribunal's ruling that dismissed China's maritime claims in the South China Sea, and also its deployment of a missile defence system in South Korea.
"The US should know well what they have done to upset China," Prof Shen told The Straits Times.
Mr Jorge Guajardo, Mexico's former ambassador to China, told The Guardian yesterday that his experience in hosting Mexican presidents in Beijing convinced him that Mr Obama's treatment "was part of a calculated snub" and possibly a "nationalist card" played by Chinese President Xi Jinping.
"It's a snub. It's a way of saying, 'You know, you're not that special to us.' It's part of the new Chinese arrogance. It's part of stirring up Chinese nationalism," he added.
But Sino-Korean expert Yu Yingli of the Shanghai Institute of International Affairs said China would not stage a snub, given that it has other means to voice its objections over issues of differences with the US.
"Interestingly, the US used to be less fixated over protocol than China in the past, but it now seems to be more affected. Does it reflect a lower self-confidence level on the part of the US?" Dr Yu said.
Hong Kong's South China Morning Post, quoting an unnamed Chinese Foreign Ministry spokesman, reported yesterday that it was the US' decision to dispense with the rolling staircase.
"China provides a rolling staircase for every arriving state leader, but the US side complained that the driver doesn't speak English and can't understand security instructions from the US," she said.
The spokesman added that China had offered to assign a translator to sit beside the driver but was turned down by the US side, which "insisted that they didn't need the staircase provided by the airport".
Singapore-based analyst Li Mingjiang said the red-carpet saga and quarrels between Chinese and American officials are "petty and insignificant issues" that would not have any impact on Sino-US ties.
China's leaders have been accused of delivering a calculated diplomatic snub to Barack Obama after the US president was not provided with a red carpet on the stairs of his plane as he disembarked in Hangzhou for the G20. But the US president says it is important not to "over crank" the significance of the chaotic airport scenes.
Police in Spain are investigating why bundles of bones wrapped in sheets with other objects were dumped at sea
Cristian López was about to begin a diving lesson off the coast of Alicante when something caught his eye in the clear, calm water below.
"I looked down and saw what looked like a bag of rubbish," said the 22-year-old diving instructor.
"We always try to pick them up to keep the environment clean, but when I went down, I saw it was a sheet. And then I saw a doll, which seemed weird, so I took it up to the boat."
When López and his colleagues returned to dry land and opened the knotted sheet, they found it held not rubbish but a bowl, sticks, bird feathers and, most puzzling of all, a large number of bones weathered a deep brown.
"When I saw the first one I knew it was a human femur," he said. "And then I saw a rib. I wasn't scared; more intrigued."
Since the discovery late last month, the intrigue has only deepened, as Spanish police investigate how and why the human remains came to be disinterred and used in what appears to be a religious ritual with an oddly fiscal twist.
A day after López's discovery, a specialist team of Guardia Civil divers found another bundle 300 metres from the first, which contained a knife, a doll and more bones – some of them possibly human. A third package was recovered from the waters off the town of Calpe in Alicante late on Thursday. It, too, contained bones.
Forensic tests have shown that the almost complete skeleton from the first bundle had been buried in the ground for 30 to 40 years before being thrown into the sea two or three days before it was discovered. The Guardia Civil say it, like the other bones, bore no signs of violence.
At least four radical candidates are set to take up a place in the legislative council in a huge shake-up for the city's politics
At least four pro-democracy activists win seats in the city's legislative council elections in Hong Kong on Monday. Nathan Law, a 23-year-old former student leader of the massive pro-democracy protests that rocked Hong Kong in 2014, says the outcome of the votes proves the people of Hong Kong want change. Eddie Chu Hoi-dick, a 38-year-old social activist won a landslide victory in the New Territories West constituency, plans to 'renew the democratic movement'. Photograph: Bobby Yip/Reuters
Two years after tens of thousands of young people poured on to the streets of Hong Kong to issue an unprecedented call for political change, a new generation of pro-democracy activists has gained a foothold in power in the former British colony.
At least four radical young activists who support greater political autonomy or outright independence from China claimed seats in Hong Kong's 70-member legislative council, or Legco, after a record 2.2 million people went to the polls on Sunday.
"I think it is a miracle," the former student leader, whose party has called for a referendum on independence, told reporters after his victory.

"This is absolutely unexpected – nobody imagined this would happen. Every day and night, our team used hard work and sweat to turn defeat into victory," added Law, who received more than 50,000 votes.
Katrina Lantos Swett, daughter of the late Tom Lantos, rejects distinguished award amid controversy over recipient who has made antisemitic remarks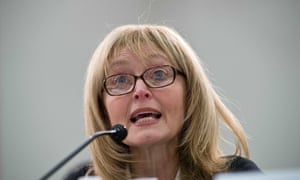 Katrina Lantos Swett, vice-chair of the US Commission on International Religious Freedom, in 2014. Photograph: Nicholas Kamm/AFP/Getty Images
Associated Press in Washington
The daughter of the late Hungarian-born US congressman Tom Lantos said on Sunday she is returning a distinguished state award to Hungary. Katrina Lantos Swett is protesting against the giving of the same award to journalist and writer Zsolt Bayer, who has made antisemitic and racist references in his articles.
Lantos Swett, who received the Knight's Cross of the Order of Merit in 2009, joins more than 100 other recipients in returning their awards.
Lantos Swett was honored for her work in setting up the Budapest-based Tom Lantos Institute, which focuses on minority rights. Tom Lantos, a California Democrat who died in 2008, was the only Holocaust survivor in Congress.
The United States Holocaust Memorial Museum in Washington earlier called on Hungarian prime minister Viktor Orban and President Janos Ader, who respectively nominated and granted the award to Bayer in August, to "immediately" rescind it.
Ader's office told news website hvg.hu that based on current laws the award could not be recalled.
Lantos Swett said that she had hoped to leave the award to her children, but felt Bayer's distinction had "sullied" the Knight's Cross.
"Mr Bayer's despicable record of overt and hateful antisemitism and racism is beneath contempt," Lantos Swett said in a statement. "He deserves censure, not honor, for his loathsome writings and speech."
She added that she was sure her father "would call on Hungary to restore the honor and virtue of this award by stripping Mr Bayer of this unmerited recognition".
An occasional columnist for the rightwing Magyar Hirlap daily, Bayer is close to prime minister Orban and co-founded a civil group that has organised massive pro-government street demonstrations.
Opinion
In the 19th century workers had little respite; Labor Day emerged as a protest. Now that we're on call all the time, the sentiment seems as relevant as ever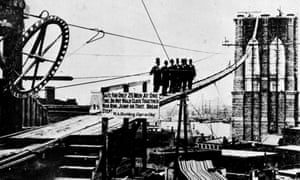 Construction of the Brooklyn bridge in1875, seven years before New York City instituted the nation's first Labor Day. Photograph: Museum of the City of New York/Getty Images
U

nlike most US holidays, Labor Day is a strange celebration without rituals, except for shopping and barbecuing. For most people it simply marks the last weekend of summer and the start of the school year.
The holiday's founders in the late 1800s envisioned something very different from what the day has become. The founders were looking for two things: a means of unifying union workers and a reduction in work time.
The first Labor Day occurred in 1882 in New York City under the direction of that city's Central Labor Union.
In the 1800s, unions covered only a small fraction of workers and were balkanized and relatively weak. The goal of organizations like the Central Labor Union and more recent counterparts like the AFL-CIO was to bring many small unions together to achieve a critical mass and power. The organizers of the first Labor Day were interested in creating an event that brought different types of workers together to meet each other and recognize their common interests.
However, the organizers had a large problem: no government or company recognized the first Monday in September as a day off work. The issue was solved temporarily by declaring a one-day strike in the city. All striking workers were expected to march in a parade and then eat and drink at a giant picnic afterwards.
Labor Day came about because workers felt they were spending too many hours and days on the job.
In the 1830s, manufacturing workers were putting in 70-hour weeks on average. Sixty years later, in 1890, hours of work had dropped, although the average manufacturing worker still toiled in a factory 60 hours a week.
These long working hours caused many union organizers to focus on winning a shorter eight-hour work day. They also focused on getting workers more days off, such as the Labor Day holiday, and reducing the workweek to just six days.
These early organizers clearly won since the most recent data show that the average person working in manufacturing is employed for a bit over 40 hours a week and most people work only five days a week.