08 Sep

The United States' "obsession with special privileges" lies behind several US media organization's accusation that China treated US reporters rudely during the G20 Leaders Summit in Hangzhou, sources said.
The sources, who are close to the matter, responded on condition of anonymity to news reports and opinion pieces in some US newspapers that accused China of failing to meet the US media demands.
They faulted China first with not allowing some US reporters to be close to President Barack Obama as he got off Air Force One in Hangzhou on Saturday.
Obama said on Sunday, however, that his talks on Saturday with President Xi Jinping had been "extremely productive" and that he "wouldn't overcrank the significance" of arguments that took place at the airport upon his arrival.
The Wall Street Journal complained that on Saturday "the Chinese barred Mr Obama from including his traveling press contingent in his motorcade".
The New York Times said on Tuesday that "The White House press corps, which normally has access to the president's public events wherever he travels, has been sequestered in buses 200 yards from the site of the Group of 20, without access to food or toilets."
In response, a Chinese source told China Daily that the US, brushing aside common journalistic practice in multilateral meetings, insisted on having a bus carrying about 20 US reporters follow Obama's motorcade directly to summit hall where closed-door meetings were held.
Normally, however, host countries of major multilateral meetings have journalists gather as a pool in the news center and have them go through routine security checks before they are led to the meeting hall.
Another source at the scene told China Daily that "the bus was of course not allowed to join the motorcade, according to press rules, and we arranged for the reporters to go to the news center. But some of them chose to stay on the bus, while some went to the bathrooms or the press center at the summit."
The New York Times reported that when Xi and Obama took a leisurely stroll after dinner on Saturday, "Chinese security cut the number of US journalists allowed to witness it to three from the original six, then ultimately to a single reporter".
But a second Chinese source said China "had never promised to allow six reporters".


Whistleblower's whereabouts after 2013 document release revealed as supporters donate to asylum seekers who protected him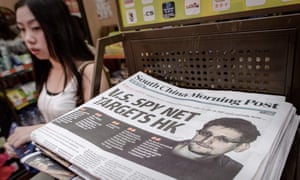 Revelation of the whistleblower's whereabouts when he went on the run was prompted by the movie Snowden. Photograph: Philippe Lopez/AFP/Getty
Supporters of Edward Snowden are raising funds to try to help refugees who helped hide him when he went on the run in Hong Kong in 2013.
Until now, the whereabouts of Snowden in the weeks after he leaked secret intelligence documents had remained a mystery. But it has now been revealed he was staying with refugees in cramped and impoverished flats in some of the poorer parts of the city.
One of the whistleblower's lawyers in Hong Kong, Robert Tibbo, disclosed the details in an interview with Canada's National Post. Tibbo said Snowden had sent $1,000 to each of the people who had helped him. Other supporters of Snowden are also sending donations.
The fear is that now those who helped him have been identified, they might face reprisals. The money is to try to help them.
After Snowden leaked tens of thousands of secret documents from America's National Security Agency and Britain's GCHQ to journalists in the Mira Hotel in Hong Kong, he fled, under the protection of two lawyers, Tibbo and Jonathan Man.
Snowden went to an office of the United Nations to apply for refugee status in an attempt to avoid extradition and then stayed with various refugee families.
Both Tibbo and Man had helped the asylum seekers in the past and felt they would not betray Snowden.
Small but vocal group of neo-Maoists dismiss western focus on famine and chaos to praise the republic's founder on anniversary of passing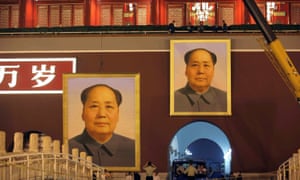 Portraits of Mao Zedong at Tiananmen Gate in Beijing. The Great Helmsman is still revered by many in China despite admissions by the country's new leaders that his rule caused 'grave disorder'. Photograph: China Daily/REUTERS
On Friday morning Zhang Hongliang, a 60-year-old academic, will jump out of bed and make his way to a secret rendezvous in north-western Beijing to sing a song about Mao Zedong.
Flanked by dozens of kindred Maoist spirits, the Chinese scholar will observe a minute's silence before delivering a speech on the glories of the Great Helmsman's 27-year-reign called: "Mao Zedong: the People's Leader".
Later that day, after hours spent pondering Mao's teachings, the memorial meeting will conclude with a rendition of The Internationale.
"If we abandon Mao's thoughts China will no have no future," said Zhang, a professor at Beijing's Minzu University and one of the country's most outspoken neo-Maoists. "Without Chairman Mao there would be no new China."
Zhang is not alone.
As the People's Republic of China prepares to celebrate the 40th anniversary of its founder's death, on 9 September 1976, similar memorials have been taking place across the country.
In Tangshan, an industrial hub that was levelled by an earthquake just over a month before Mao's death, supporters marked the revolutionary's passing with a two-day festival of poetry, shadow puppetry, calligraphy and storytelling.
In Caddo Parish, non-criminal attorneys are appointed, without pay, to criminal cases that public defenders do not have the resources to take. One likens it to a dermatologist being asked to perform brain surgery: 'You're in trouble if you want me to represent you'
Opinion
Those itching for conflict like to portray Putin as a grandmaster. In reality, his country is weak and his strategy is one of desperation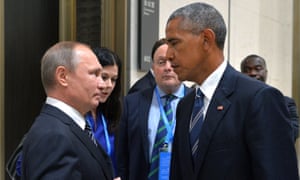 'Increasing military tensions with Russia is now a bipartisan issue.' Photograph: Alexei Druzhinin/TASS
T

hese days it is en vogue in Washington DC to be itching for conflict with Russia. Politicians and pundits alike are outdoing each other for how they can describe the supposed threat Putin now poses to the west. To his credit, Barack Obama seems to be the only politician not playing into the cold war 2.0 hysteria.
In little noticed comments last week, Hillary Clinton suggested that the US should start preparing "military" responses to cyber-attacks allegedly perpetrated by Russia on the DNC and voter registration files. And her campaign has also spent the last few weeks ratcheting up the fear-mongering that the Trump campaign is secretly a Russian plant of some sort.
Increasing military tensions with Russia is now a bipartisan issue. Republicans not named Donald Trump spent much of the primary earlier this year calling for a no-fly zone – a certain path to war – in Syria and were perfectly willing to shoot down Russian planes over the region, despite the real possibility of starting world war three.
Meanwhile, House Democrats recently called on the FBI to "investigate" unknown links between the Trump campaign and Russia, seemingly unaware of the historical analogies (and the irony) of calling for a government investigation into their political enemies. Trump is a menace and a buffoon in countless ways, but the idea that he is secretly doing secretly Putin's bidding is beyond absurd.
The media, in turn, largely seems to be eager to portray Putin as a 11th dimensional chess grandmaster, who is behind every major world event. (Conspiracy theories are almost universally mocked in the US, unless they involve Putin and Russia – then they are encouraged.)
Even some inside the Obama administration, like defense secretary Ash Carter, seem open to ratcheting up the tension with Russia, which, by the way, the sprawling defense industry is also openly rooting for. The Intercept reported weapons manufacturers have been telling investors that the "new" Russian threat is great for business. (Increased cyber tensions, needless to say, lead to better bottom lines for all the cybersecurity companies that have popped up in recent years as well.)
Obama has been generally right about Russia for years. In a 60 Minutes interview last year, correspondent Steve Kroft kept trying to get Obama to admit that Putin was asserting his dominance over the US, but as Obama calmly (and correctly) explained, what Russia is doing in Syria and Ukraine is not borne out of strength, but out of desperation. The idea of using our military purely to "show strength" against Russia in some sort of macho capacity may only make things worse.