It was 11pm, in the chill of January, but Daniel Jones needed a run around the Capitol.
During the winter of early 2014 Jones's only chance for serenity was these late hours. The CIA was demanding his boss, Senate intelligence committee chairwoman Dianne Feinstein, fire him. Feinstein's Republican colleagues, once supportive of Jones, were demanding he testify.
Testimony was treacherous. Sheldon Whitehouse, a Rhode Island senator and former federal prosecutor, warned Jones that asserting his rights against self-incrimination or seeking a lawyer's counsel could give committee Republicans a political lever against his highly controversial work. The CIA would soon formally insist that the US justice department actually prosecute Jones, the Senate staffer who had devoted over six years of his life to investigating the CIA's infamous post-9/11 torture program.
Jones, a former FBI counter-terrorism analyst, wanted to testify. The CIA had pushed him past the point where he could back down. Its lies, documented in a 6,700-page secret report which Jones was constantly rewriting that winter, were compounding: to Congress, to Barack Obama, to George W Bush, to the press, to the public. The lies were not random misstatements. They were directional, in the service of covering up the brutality of what it did to at least 119 terrorist suspects – some clearly innocent – it held in a global network of secret prisons. Jones was on the verge of exposing the coverup. As he saw it, the personalized intensity of the CIA's attacks on him, and the unprecedented steps they were taking, validated the account he had compiled after combing through over 6m classified CIA documents.
Jones put his Bose earbuds in, cued up a Tragically Hip record, and ran.
It couldn't be that long of a lap, just enough to clear his head and work the frustrations out. Jones would need to be back in the Senate intelligence committee's secured, classified offices very soon. Each day brought a new calculation: it might be the last that the committee had access to its own classified report. The CIA had gone "into war mode" with its congressional overseers, Jones told the Guardian. There was no choice but to work deeply into the night, leaving Capitol Hill at 3 or 4 in the morning, with breaks only for a run, and then back to work by 8 or 9 to repeat the cycle………….
On 17 December, the CIA sent its choice for its next top attorney, Caroline Krass, to the committee for a nomination hearing. Shortly before the hearing, a CIA attorney, Darrin Hostetler, met with Jones in private, once again sparring over the agency's response. Once again, Jones reminded Hostetler that the Panetta Review supported his conclusions. "I'm done talking to you, Dan," Hostetler said, ending the meeting. An agency official who worked with Jones at the satellite location apologized to Jones for Hostetler's behavior.
During the hearing, Mark Udall, a Colorado Democrat, lit into Krass. Unexpectedly, Udall mentioned the existence of the Panetta Review in public for the first time, demanding the disclosure of the document. Among the reasons for Udall's fervor: in August 2013, after the CIA had condemned the committee report in contradiction of the Panetta Review, its former chief lawyer Stephen Preston told Udall in writing that the agency provided the committee with "inaccurate information related to aspects of the [torture] program" – a major point the CIA was now disputing…………
"Then things totally went to hell," Jones said.
Many of the 3,000 refugee children in Greece are housed in 'deplorable' conditions with poor food and few facilities. They are the lucky ones
Child refugees in the youth wing of Amygdaleza camp, which is run by a charity. Photograph: Sofia Kouvelaki
Despite its barbed wire and razor strip fencing and armed guards, Amygdaleza, Greece's notorious detention centre for child refugees, in many ways is testimony to children doing childish things.
There is the girdle of graffiti on its walls, the hand-drawn pictures of animals and flowers. There are the slogans daubed high and low: "I love you", "I miss you", "life is love". And beyond its ill-lit dormitories – little more than grimy mattresses on grimy plinths – there's a playground of sorts with two goalposts and polychrome walls.
Then there are the inmates, some as young as 12, wide-eyed, fresh-faced, as quick to laugh as they are to cry.
You hear the hubbub and you do not think of a prison; you think of a school. But that is what Amygdaleza is: a camp initially established to host undocumented migrants – in a police academy on the northwestern edge of Athens – but now home to up to 40 unaccompanied minors at any given time.
In other places, in other eras, the flat-roofed building might have passed as a borstal. In Athens – on the frontline of Europe's worst refugee crisis since the second world war – it is a holding pen for innocents whose conditions, in the words of a scathing report issued by Human Rights Watch on Friday, is not only deplorable but should never exist. Greek authorities call it a "special place for the accommodation of foreigners", part of a chain of closed facilities available to some of the 3,464 migrant children registered nationwide. As a measure of last resort, minors, they say, are placed in such institutions for lack of viable alternatives and for their own protection.
In 2014, federal judge referred to accuser as 'the accused' throughout trial
He faces possible removal and says he didn't understand sexual assault law
The supreme court of Canada. The Canadian Judicial Council is considering removing federal judge Robin Camp for discriminatory remarks during a trial in which he badgered the accuser and acquitted the accused. Photograph: Chris Wattie/Reuters
Associated Press in Calgary
A Canadian federal judge is facing possible removal for asking the accuser in a 2014 rape trial: "Why couldn't you just keep your knees together?"
The Canadian Judicial Council (CJC) is determining the fate of justice Robin Camp, 64, who apologized on Friday for his questioning of the 19-year-old woman.
Camp, who was born in South Africa and moved to Calgary in 1998, was a provincial court judge at the time of the rape trial. He acquitted the man accused in the case after deciding his testimony was more credible.
Court transcripts show Camp also told the woman "pain and sex sometimes go together" and referred to her as "the accused" throughout the trial.
Camp's verdict was overturned on appeal and a new trial was ordered. Camp attributed his remarks to a lack of knowledge regarding Canada's sexual assault law.
He said he had been in South Africa during the 1960s through the 1980s and had not understood the changes to Canadian sexual assault law intended to protect women from discriminatory attitudes.
Fifteen years after the attacks on the Twin Towers in New York, a photographer tells the dramatic story behind her famous image of the day all hell broke loose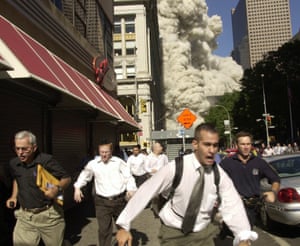 Suzanne Plunkett's photograph of people escaping as the South Tower collapsed on 9/11. 'I've been in touch with two of them and we've bonded over that shared moment.' Photograph: Suzanne Plunkett/AP
Suzanne Plunkett
That obstinate cop on the barricade at Fulton and Broadway probably saved my life. It's less than a minute before the South Tower of the World Trade Center collapses on the morning of 11 September 2001. I'm a block away trying to get closer, waving my press card in the cop's face. He stands his ground, barking: "It's not safe, it's not safe."
Then all hell breaks loose. Someone pelts past us screaming, "It's coming down", as billows of dust and smoke punch high into the sky over the end of the street. Adrenaline kicks in and I start to run across Broadway and down Fulton, chased by the debris of the collapsing South Tower.
About 20 metres down I skid to a stop, thinking: "Shit, I've got to take a picture." I spin around, grab one of my Nikons and position the shot. As people sprint towards me, I fire off 13 frames – among them the one that will become famous.
I run some more. Aware I can't escape the advancing cloud, I pick up my camera again and photograph the debris as it whooshes past, blotting out the sunlight and plunging us into a silent, twilight world of lurching, dust-covered people and tumbling ash.
"This is it, I'm going to die," I think as I struggle to breathe. That sends me into automatic mode. I'm a photographer for the Associated Press news agency. I've got to send my photos. I'm on deadline and the seconds are counting down like an incessant drumbeat.
I dive into the lobby of an office building where others are already taking shelter, but the noise of wailing and panicking voices unnerves me and I need to get out. I tie my cardigan around my face as a mask and head back out into the dust.
For a while I stumble around, dazed, inside the muffled quietness of the cloud, photographing others in the same state. At some point I call my dad, leaving him a voicemail to tell him I love him – it's a message he later says he listens to again and again for weeks.
Chicago police solved just 21% of 2016 homicides, a statistic due to more murders, fewer detectives and gang culture of silence, experts say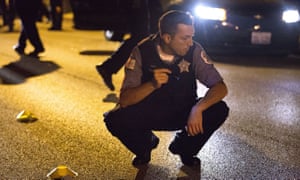 A member of the Chicago police department examines the scene of a shooting in the Homan Square neighborhood during Labor Day weekend 2016. Photograph: ddp USA/REX/Shutterstock
Associated Press in Chicago
Chicago police are solving homicides at a far lower rate than their counterparts in some other major cities, which may reflect how hard it is for detectives to crack the culture of silence surrounding the violence committed by the city's street gangs.
Of the 432 homicides committed between 1 January and 16 August this year, the department has solved 92, or 21%, the Chicago Tribune reported.
When homicides committed in all years are added in, the department says the clearance rate is about 30%. But even that figure is lower than the 49% clearance rate in Philadelphia and 56% clearance rate in Houston, which ranks just behind Chicago in terms of population size.
Experts say one reason so few homicides are solved is that, as police have long said, so many are related to gangs in the poor Chicago neighborhoods where most of the shootings occur. Witnesses who live in these neighborhoods are said to be afraid to come forward out of fear of retaliation and a gang culture in which gang members have been historically unwilling to cooperate with police.