12 Sep
*
By ARIK BENDER, JPOST.COM STAFF
The small fleet of 2 vessels is slated to carry dozens of women from various nations, including Israel, with the aim of breaching Israel's naval blockade of the Strip.
Gaza flotilla
Gaza flotilla. (photo credit:MAHMUD HAMS / AFP)
Despite the recent reconciliation of ties between Israel and Turkey, it appears that the controversial Gaza-bound flotilla movement has yet to subside.
An activist flotilla sailing under the banner "Mujeres Rumbo a Gaza" (Women's Boat to Gaza) was set to anchor off from Barcelona on Wednesday evening toward the Gaza Strip.
The small fleet of two vessels was slated to carry dozens of women from various nations, including Israel, with the aim of breaching and boycotting Israel's naval blockade of the coastal Palestinian enclave.
Meanwhile, Israel was prepared to thwart the flotilla from illegally infringing on the maritime blockade of Gaza, which was established in 2007 following the terrorist group Hamas's takeover of the Strip.
A diplomatic source on Sunday told The Jerusalem Post's Hebrew sister publication Ma'ariv that the Foreign Ministry was doing its utmost to deal with the matter. The source added that the ministry's efforts sought to minimize possible diplomatic and media harm caused by the flotilla.
Israel and Egypt have also implemented a ground and aerial blockade of Gaza to thwart weapons and rocket materials from reaching the hands of terrorist entities.
With the capacity to haul 15 passengers each, the Amal (Hope) and the Zaytouna (Olive) sail boats were expected to dock at various ports on their journey across the Mediterranean. After setting sail from Barcelona following two days of anti-Israel events and lectures, the boats were slated to first stop in Corsica.
Among the pro-Palestinian activists due to board the vessels were European Parliament member Malin Bjork from Sweden, retired US army colonel Ann Wright and doctor Fouzia Hassan from Malaysia.
Among the Israeli nationals expected to take part in the flotilla was the media spokeswoman for controversial Arab-Israeli MK Haneen Zoabi (Joint List), who was on the 2010 Turkish Mavi Marmara flotilla.
Ahmet Altan, a former newspaper editor, and his brother Mehmet, a prominent academic, have been taken into custody for 'subliminal messages'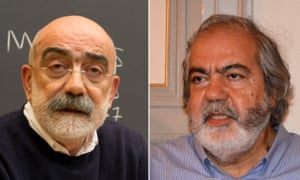 Composite photo of Ahmet Altan, left, and his brother, Mehmet Altan, who were arrested. Photograph: web
The Turkish police has detained Ahmet Altan, the journalist and author, and his brother Mehmet Altan, a prominent academic, raising international concern over Turkey's continued arrests of government critics in the wake of the bloody coup attempt in July.
The state-run Anadolu press agency reported that the two were detained early on Saturday over allegations of spreading "subliminal messages announcing a military coup" in a TV interview on 14 July, the day before sections of the Turkish military attempted to overthrow the justice and development – or AK – party's government. Two hundred and sixty people were killed.
Ahmet Altan was editor-in-chief of Taraf, a daily newspaper, for five years until 2012. The newspaper, one of over 100 media outlets that have been shut down since the botched coup, was seen as having close links to the network of Fethullah Gülen, a US-based cleric whom Ankara accuses of being behind the bloody coup attempt. The preacher has denied any involvement.
The channel – Can Erzincan TV – that aired the interview hosted by Mehmet Altan, a prominent economist and academic at Istanbul University, has since also been shut down by Turkish authorities over alleged links to Gülen. Nazl? Il?cak, a well-known journalist, had also participated in the programme and was arrested on terrorism charges on 29 July.
Veysel Ok, a lawyer, said that he has not been able to speak to either of the two brothers since they were detained on Saturday morning. "Because of the [emergency decree], lawyers can be kept from speaking to their clients for up to five days," he said. "At this point we don't know what they have been accused of and we were barred from seeing any of the related documents. I currently only know what has been reported by the [state-run] Anadolu news agency."
Teens in low-income communities, overlooked by childhood nutrition policies, do sex work, save school lunches, sell drugs and join gangs for food, report says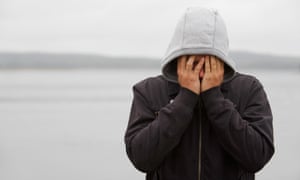 'Kids knew about all these strategies,' said Susan Popkin, lead author of the recent Urban Institute report. 'It was just very matter-of-fact and very common, in the richest country in the world.' Photograph: Sami Suni/Getty Images
Teenagers in America are resorting to sex work because they cannot afford food, according to a study that suggests widespread hunger in the world's wealthiest country.
Focus groups in all 10 communities analysed by the Urban Institute, a Washington-based thinktank, described girls "selling their body" or "sex for money" as a strategy to make ends meet. Boys desperate for food were said to go to extremes such as shoplifting and selling drugs.
The findings raise questions over the legacy of Bill Clinton's landmark welfare-reform legislation 20 years ago as well as the spending priorities of Congress and the impact of slow wage growth. Evidence of teenage girls turning to "transactional dating" with older men is likely to cause particular alarm.
"I've been doing research in low-income communities for a long time, and I've written extensively about the experiences of women in high poverty communities and the risk of sexual exploitation, but this was new," said Susan Popkin, a senior fellow at the Urban Institute and lead author of the report, Impossible Choices.
"Even for me, who has been paying attention to this and has heard women tell their stories for a long time, the extent to which we were hearing about food being related to this vulnerability was new and shocking to me, and the level of desperation that it implies was really shocking to me. It's a situation I think is just getting worse over time."
The qualitative study, carried out in partnership with the food banks network Feeding America, created two focus groups – one male, one female – in each of 10 poor communities across the US. The locations included big cities such as Chicago, Los Angeles and Washington and rural North Carolina and eastern Oregon. A total of 193 participants aged 13 to 18 took part and were allowed to remain anonymous.
Their testimony paints a picture of teenagers – often overlooked by policymakers focused on children aged zero to five – missing meals, making sacrifices and going hungry, with worrying long-term consequences.
While the BBC no longer gives climate denial and science equal air time, it continues to struggle with creeping false balance
For years, the BBC has been criticised for the false balance of its climate change coverage. And for years, the BBC has apparently been doing "ongoing work" to fix it. So far, however, this 'reform' has been more like a triumph of the middling. Yes, the BBC may broadcast less outright misinformation, but as a scientist and a citizen, I still feel let down by its continually careless handling of climate denial – most recently two weeks ago. This nod to mediocrity is a disservice to science, to public trust, and to the biggest news story in the world. And it is a huge, missed opportunity.
As a young PhD graduate working on climate change solutions, I am confronted daily by a world where the warnings of science are undercut by Fox 'News' and its ilk. It is a very different world to the trustworthy BBC broadcasts of David Attenborough and the Royal Institution Christmas Lectures that I grew up with, which helped inspire me to become a scientist. But as a recent BBC News segment by Science Editor David Shukman sadly reminded me, those worlds can too easily collide.
Shukman's broadcast was an interesting one. An important perspective on the "political battle over the future of fuel" in the swing state of Ohio, and its implications for U.S. energy policy. I transcribed it here. It was all pretty benign until, halfway through, something in Shukman's narration caught my ear (emphasis mine):
The problem with coal comes when you burn it. It releases carbon dioxide, which is blamed for global warming. Donald Trump says that isn't a problem. But Hillary Clinton says it is, and she's offering a greener future instead …
While the debate rages over whether climate change is a threat or not …
Shukman's accompanying BBC blog post beats the same drum, outlining the candidates' "starkly different visions of global warming":
The Democratic Party contender says she believes in the science of climate change. By contrast, the Republican candidate talks down the threat of rising temperatures.
As harmless as they sound, words like "blamed", "debate", and "believe" – without careful context – are the currency of public confusion. "Who, exactly, blames carbon dioxide for global warming?" we are forced to wonder. Clinton? Liberals? Scientists? And who disagrees? Trump? Other politicians? Some scientists too? Most importantly, who's right in this blame game?
Opinion
This past Labor Day, the United States bombed six different countries. The tragedy's 15th anniversary is a chance to reflect on how we can change course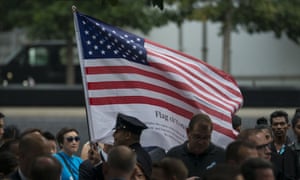 'Fifteen years later, the War on Terror continues with no end in sight and the question of whether Muslims should even be allowed to enter the United States is being vociferously debated.' Photograph: ddp USA/REX/Shutterstock
I

was in New York City 15 years ago, when the United States suffered the worst terrorist attack of its history. I remember that horrible day as vividly as if it were yesterday. September 11 was a Tuesday bright with sunshine, which meant that you could easily see the plumes of smoke and ash as they enveloped downtown after the attacks. It didn't take long for countless handmade posters to appear on poles and walls around the city, urgently and tragically asking about the whereabouts of people who had suddenly gone missing. The unmistakable smell of burning hung in the air for weeks. It seemed like everyone, myself included, was in shock, and we were all mourning the dead.
But these were anxious times, too. I recall the sense of dismay I felt that morning when watching the first plane hit and how that morphed, when the second plane came less than twenty minutes later, into a gut-wrenching realization that this was no accident. If the terrorists turned out to be Muslim, I thought at the time, the future could become very difficult for Muslims in the United States.
Fifteen years later, the War on Terror continues with no end in sight and the question of whether Muslims should even be allowed to enter the United States is being vociferously debated. Some politicians have even invoked Japanese internment as a model to follow when dealing with Muslims in this country. A registry of Muslims, already tried on non-immigrant males from 24 Muslim-majority countries (to disastrous effect), has also been proposed. Most polls put anti-Muslim sentiment in the United States at around 50% of the population. And anti-Muslim violence remains high. According to a Georgetown University study, American Muslims were approximately 6 to 9 times more likely to be attacked in a bias crime in 2015 when compared to pre-9/11 numbers.
Contributing to these depressing numbers and ugly proposals are the incomplete and inconclusive wars in Afghanistan and Iraq, as well as the fact that much of the Middle East is unstable, and that terrorist attacks around the world continue to kill innocent people and harden anti-Muslim sentiment. The Washington Post reported that over the Labor Day weekend, while most Americans were relaxing and enjoying the end of summer, the United States bombed six different countries (Iraq, Syria, Yemen, Libya, Somalia, and Afghanistan) with dozens of airstrikes. Has waging war become so numbingly routine or do we just not want to pay attention? With this depressing state of affairs, shouldn't we be asking, fifteen years on, if we have learned the right lessons from 9/11?