16 Sep
Foreign minister's warning comes amid Washington's unease at president Rodrigo Duterte's bloody 'war on drugs'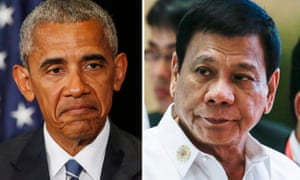 US-Philippines relations have been soured by comments about Barack Obama by his opposite number Rodrigo Duterte. Photograph: Narendra Shrestha/Mast Irham/EPA
The Philippines cannot "forever be the little brown brothers of America", the country's top diplomat has said, making it clear the country will not accept foreign criticism for a deadly crackdown on drugs.
Speaking in Washington, foreign secretary Perfecto Yasay said that while his country still regards the US as a trusted ally, the Philippines wanted mutual respect.
Americans used the term 'little brown brothers' to refer to native Filipinos during the era of US colonial rule that ended in 1946.
The south-east Asian nation has for decades been seen by Washington as a dependable partner, especially against China's expanding military reach in the region. American troops and ships are sent on regular rotations to the Philippines.
But the election of Rodrigo Duterte in May has soured the alliance, with the president's first months in office dominated by a bloody crackdown on the drug trade that has left 3,526 drug dealers, and also addicts, dead since July 1.
Last week, Barack Obama cancelled a meeting with Duterte at a regional summit after the Filipino leader he was a "son of a whore".

'Tremendous loss' of ice reinforces clear downward trend towards ice-free summers due to effects of climate change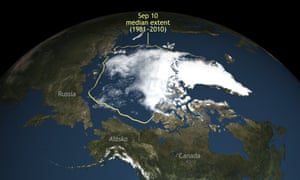 Arctic sea ice this summer shrank to its second lowest level since scientists started to monitor it by satellite. Photograph: AP
Associated Press
Arctic sea ice this summer shrank to its second lowest level since scientists started to monitor it by satellite, with scientists saying it is another ominous signal of global warming.
The National Snow and Ice Data Center in Colorado said the sea ice reached its summer low point on Saturday, extending 4.14m sq km (1.6m sq miles). That's behind only the mark set in 2012, 3.39m sq km.
Center director Mark Serreze said this year's level technically was 10,000 sq km less than 2007, but that's so close the two years are essentially tied.
Even though this year didn't set a record, "we have reinforced the overall downward trend. There is no evidence of recovery here," Serreze said. "We've always known that the Arctic is going to be the early warning system for climate change. What we've seen this year is reinforcing that."
This year's minimum level is nearly 2.56m sq km smaller than the 1979 to 2000 average. That's the size of Alaska and Texas combined.
"It's a tremendous loss that we're looking at here," Serreze said.
It was an unusual year for sea ice in the Arctic, Serreze said. In the winter, levels were among their lowest ever for the cold season, but then there were more storms than usual over the Arctic during the summer. Those storms normally keep the Arctic cloudy and cooler, but that didn't keep the sea ice from melting this year, he said.

Landmark deal follows US admission that Giovanni Lo Porto and Warren Weinstein were killed in counter-terrorism mission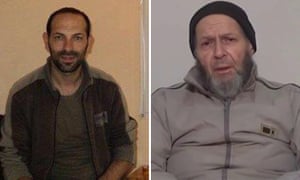 Giovanni Lo Porto (left) and Warren Weinstein, who were held hostage by al-Qaida at the time of their deaths. Photograph: AFP
The Obama administration has agreed to pay €1m to the family of an Italian aid worker who was killed in a US drone strike in 2015.
Giovanni Lo Porto, 37, was being held hostage by al-Qaida at the time of his death and his family had been led to believe a month before the strike that he was close to being released.
Last year, the US president, Barack Obama, acknowledged that Giovanni Lo Porto and an American named Warren Weinstein, 73, had accidentally been killed in a secret counter-terrorism mission.
The payment was confirmed by the US embassy in Rome and Lo Porto's brother, Daniele. Details of the agreement were first reported by the Italian newspaper La Repubblica.
A spokesman for the US embassy in Rome said the government had confirmed at the time the deaths were announced that it would be providing a condolence payment to both families.
"We did that knowing that no dollar figure would ever bring back their loved ones and, out of respect for the families, we are not sharing any details of those payments," the spokesman said.
The embassy declined to comment on whether a similar payment was made to the Weinstein family.
The agreement between the US government and the Lo Porto family was signed on 8 July, according to documents obtained by La Repubblica that were shared with the Guardian. The payment – €1,185,000 in total – was considered a "donation in the memory of Giovanni Lo Porto".

Polish team re-examining 2010 crash in which President Lech Kaczynski died says its predecessors manipulated facts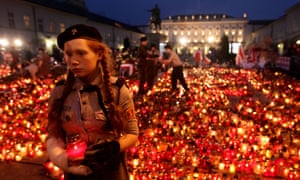 A Polish girl scout outside the presidential palace in Warsaw to commemorate the Smolensk crash. Photograph: Sean Gallup/Getty Images
RFE/RL, part of the New East network
A new Polish commission re-investigating the 2010 plane crash that killed President Lech Kaczynski and 95 others has accused its predecessors of doctoring evidence and manipulating facts.
The crash near Smolensk airport in Russia was one of Poland's worst tragedies since the second world war. Among the dead were military commanders, state officials and public figures. It further strained relations with Moscow.
The previous investigation team was appointed by Donald Tusk, then Poland's prime minister and now the head of the European council. In 2011, that team declared the crash a result of Polish pilot error, poor guidance by Russian controllers in dense fog, and poor visibility at the rudimentary military airport.
A separate report by Russian experts blamed the Polish crew and the alleged presence of a Polish air force commander in the cockpit, suggesting he might have pressed for a landing in spite of bad weather conditions.
The passengers were travelling to ceremonies to honour Polish officers killed by Soviet secret security during the war.

Critics argued that the course, which studied Palestine 'through the lens of settler colonialism', was anti-Israel and antisemitic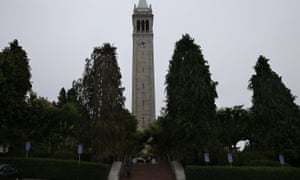 UC Berkeley said the school was 'very concerned' about a course that 'espouses a single political viewpoint'. Photograph: Justin Sullivan/Getty Images
The University of California, Berkeley has suspended a course dedicated to studying Palestine "through the lens of settler colonialism", sparking international debate about academic freedom.
The course at UC Berkeley – entitled Palestine: A Settler Colonial Analysis – faced intense backlash this week from Jewish organizations, which argued that the class was "anti-Israel and antisemitic" and "intended to indoctrinate students to hate the Jewish state".
After a stream of negative news stories and editorials the northern California school, considered the top public university in the US, announced that it was suspending the class because it "did not receive a sufficient degree of scrutiny to ensure that the syllabus met Berkeley's academic standards".
Israel advocates and antisemitism watchdog groups applauded the decision and called for an overview of the course review process. But pro-Palestine organizations, along with some faculty members at UC Berkeley, have criticized the suspension, arguing that administrators were silencing viewpoints and prioritizing public relations over academic discourse.
The dispute comes at a time of increasing tensions between pro-Israel and pro-Palestine university activists, with Jewish donors and organizations launching coordinated campaigns to counter a growing Students for Justice in Palestine (SJP) movement across the US.
The "colonialism" course, which already had its first class this fall, was part of an acclaimed UC Berkeley program called DeCal, which allows students to propose and teach courses to their peers with guidance from a faculty member.

Opinion
We are facing the most hostile environment since the immediate aftermath of 9/11. All Americans must speak out otherwise there will be worse to come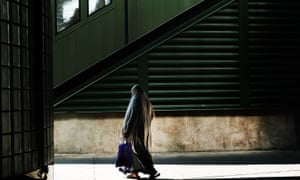 'All people of faith, Muslims included, should be able to practice their religion freely.' Photograph: Spencer Platt/Getty Images
E

ach year, I look so forward to Eid Al Adha – the holiest holiday for Muslims worldwide – but not this year. As I watched my daughters prepare for the celebrations with joy, I learned of a horrific crime. A 36-year-old woman dressed in traditional garb was set on fire on Fifth Avenue in Manhattan. She was the same age as me, walking in the city where I was born and raised. This comes at the heels of two Muslim women in Brooklyn who were physically assaulted by a woman as they pushed their babies in strollers.
As if this news wasn't enough, we also learned that a mosque in Fort Pierce, Florida, which Omar Mateen reportedly used to visit, had been set on fire. They had to cancel their planned holiday celebrations as a result. How could I enjoy the day without thinking of them? Instead of celebrating as planned, the community in Florida has to explain to their children why someone would intentionally set their place of worship, their sanctuary, on fire the night before the highest holy holiday.
These horrific acts follow the execution style murders of an imam and his assistant in Ozone Park, and the stabbing of a 60-year old Muslim woman in Queens. These are only the stories that make the headlines. I don't think we know the extent of the impact, trauma and pain of Muslim communities nationwide.
Muslim Americans found themselves caught in a conversation about how close Eid Al Adha was to the 15th anniversary of 9/11. Pundits wondered whether Muslims would alter their annual Eid celebrations for sensitivity purposes. This insinuation both disappointed and outraged me. Muslims, like any other faith community, deserve to be Muslim, and celebrate their high holy holidays. We would never ask that of any other faith community and it should never be asked or implied to Muslim Americans.

Police suspect the fire that broke out early Monday morning at the Florida mosque where Orlando nightclub shooter Omar Mateen worshipped was set intentionally, authorities said. Authorities made the decision to investigate the fire at the Islamic Center of Fort Pierce as arson after reviewing surveillance video
Muslim American communities are facing the most hostile civic and political environment since days, weeks and months after 9/11. Hate crimes against Muslims or those perceived to be Muslim has risen exponentially in the last year. All people of faith, Muslims included, should be able to practice their religion freely without fear and intimidation. Bigotry against Muslims has become the norm and often has no consequences. The irresponsible and rhetorical vilification of Muslims in this current election cycle is leading to violent acts against members of a faith community and it must stop.