21 Sep
If confirmed, the claim of direct Russian involvement in the bombing that killed at least 20 people in Syria would have far-reaching consequences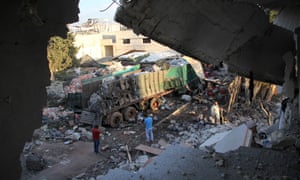 The scene the morning after a convoy delivering aid was hit by a deadly airstrike in Syria. Photograph: Omar Haj Kadour/AFP/Getty Images
US defence officials now believe that Russian planes dropped the bombs that destroyed a UN aid convoy that killed at least 20 people, the Guardian has learned.
The claim of direct Russian involvement in the bombing, if confirmed, would have far-reaching consequences. Earlier on Tuesday, Ban Ki-moon used his farewell address to the UN general assembly to denounce it as a "sickening, savage and apparently deliberate attack", describing the bombers at "cowards", and UN officials have said it is a potential war crime.
The outgoing secretary general told world leaders in New York that the UN had been forced to suspend aid convoys in Syria because of Monday's attack on Syrian Red Crescent trucks that were carrying UN food supplies to a rural area west of Aleppo city.
Victims of the attack included the local director of the Syrian Arab Red Crescent, Omar Barakat. Ban hailed the dead aid workers as heroes and said "those who bombed them were cowards" before calling for accountability for crimes committed in the war. "Just when you think it cannot get any worse, the bar of depravity sinks lower," he said.
Reuters news agency quoted two US officials as saying two Russian Sukhoi SU-24 warplanes were in the sky above the aid convoy at the precise time it was struck.
The White House and state department said they could not confirm the allegations, while the Russian foreign ministry rejected them with "resentment and indignation".
Related:
Group of more than 30 countries offer hope after limited response at UN general assembly, as Barack Obama announces concrete measures to respond to crisis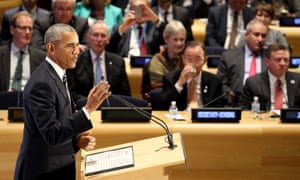 Barack Obama addresses a meeting on refugees during the UN general assembly. Photograph: Andrew Gombert/EPA
A coalition of more than 30 countries has unveiled a series of concrete responses to the refugee crisis, giving a glimmer of hope during a week in which world leaders gathered at the UN summit in New York have otherwise failed to offer direct action on refugee issues.
Barack Obama announced that the US-led coalition had collectively agreed to roughly double resettlement places for refugees, increase humanitarian aid for refugees by $4.5bn, provide education to 1 million more refugee children, and potentially improve access to legal work for another million adults.
Full details were not disclosed, but the move constituted the most concrete set of refugee measures at the UN general assembly. On Monday, refugee advocates were left disappointed by the announcement of a non-binding declaration that upheld world leaders' existing responsibilities for refugees, but offered little in terms of direct commitments.
But the mood changed on Tuesday, with 18 developed countries announcing plans to increase legal access for refugees, 17 developing countries pledging to increase refugees' access to education, and 15 claiming that they would take various measures that could help to expand refugees' access to work.

All 193 UN member states are set to sign a declaration to fight drug-resistant superbugs that are estimated to kill more than 700,000 people each year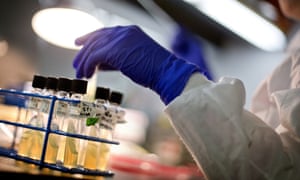 A microbiologist works with tubes of bacteria samples in a US antimicrobial resistance and characterization lab. Photograph: David Goldman/AP
All 193 United Nations member states are set to sign a declaration agreeing to combat "the biggest threat to modern medicine" in Wednesday's high-level meeting on antibiotic resistance.
The agreement was reached just before the general assembly convened to discuss the threat of antibiotic resistance, which is only the fourth health issue to trigger a general assembly meeting.
"It's ironic that such a small thing is causing such an enormous public threat," said Jeffrey LeJeune, a professor and head of the food animal research program at Ohio State University. "But it is a global health threat that needs a global response."
The declaration routes the global response to superbugs along a similar path as the one used to combat climate change. In two years, groups including UN agencies will provide an update on the superbug fight to the UN secretary general.
It is estimated that more than 700,000 people die each year due to drug-resistant infections, though it could be much higher because there is no global system to monitor these deaths. And there has been trouble tracking those deaths in places where they are monitored, like in the US, where tens of thousands of deaths have not been attributed to superbugs, according to a Reuters investigation.
Scientists warned about the threat of antibiotic resistance decades ago, when pharmaceutical companies began the industrial production of medicine. The inventor of penicillin, Alexander Fleming, cautioned of the impending crisis while accepting his Nobel Prize in 1945: "There is the danger that the ignorant man may easily underdose himself and by exposing his microbes to non-lethal quantities of the drug make them resistant".

Source: WSOC / WBTV / AP
Police clash with demonstrators in Charlotte, North Carolina, on Tuesday, after a black man, Keith Scott, 43, was shot dead by officers. In this footage, protesters are seen crowding around a police car, some jumping on the roof. Police use teargas in an attempt to disperse the crowds

Opinion
People who've fled war and terror were likened to poisoned candy in a Trump campaign ad. It's a bizarre image, and carries a message unworthy of America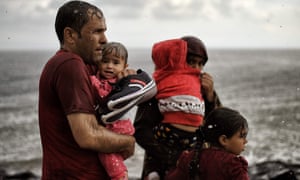 'Let us not fear the stranger because of where they came from or what their religion is.' Photograph: Aris Messinis/AFP/Getty Images
I

am a Syrian refugee who was forced to leave my country. It was discovered that I had created an underground network to provide medical aid and supplies to the sick and wounded. The regime had ruled that what I was doing was against the law, so I fled. I took whatever I could fit in a rolling suitcase and nothing more. I now live in the greatest country in the world, and have just become a US citizen.
In the past year, more than 10,000 Syrian refugees, like me, found refuge in the US. However, there are those who are portraying this great humanitarian deed as a bad thing. They are calling for the United States to shut its doors to Syrians, who are fleeing unspeakable horrors of war and acts of daily terror. Those who would turn their backs on these innocent, desperate victims use scare tactics to gain support.
The latest one was an ad by the Trump campaign comparing Syrian refugees to poisonous candy, Skittles, in this case, but it's not the first time the analogy has been used. Last year, another reference was made to poisonous peanuts. Of course, the aim is to spread fear, with the ultimate goal of shutting our doors to those who need us most.
Turning away those fleeing war would mean disregarding the very values that made America the richest, most powerful nation in the world. We should be more afraid of losing our honor and virtue, than of helping these refugees, 80% of whom are women and children. Remember Alan Kurdi, who washed up on the shores of Turkey trying to make it to safety? He was a toddler; someone's beloved child. Not a Skittle.
While scare tactics can be effective, the greater good always is served by the facts. Of the more than 750,000 refugees that have been admitted to the US since 9/11, just three have been arrested in relation to planning terrorist activities. None have been Syrian.
According to the latest Cato Institute study, the chance of an American being killed by a refugee is 1 in 3.6 billion. The likelihood of being murdered by a non-terrorist was 1 in 14,275. Should we suspect our neighbors since they are in the "more likely" group?
I should be angry and outraged by the hateful things that are said about Syrians, but since coming to the US, I began educating myself about the immigrants and refugees who have found safety in this great land. I realize that our welcome of the weak and vulnerable has not come without name-calling and labels.
One of my learning experiences took me to the Holocaust Museum in Washington, DC, where I discovered the WWII story of the St Louis, the ship carrying German Jews who were permitted to leave Germany and denied entry to, among other countries, the US. It was feared they might be "German spies" or "communists". They ultimately had to return to Europe where many of them perished in the Holocaust.