22 Sep
Residents describe intense bombardments in fresh attacks that signal further the collapse of last week's ceasefire deal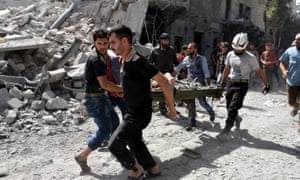 A wounded man is rescued after airstrikes in Aleppo on Wednesday. Photograph: Anadolu Agency/Getty Images
Dozens of Syrians were killed overnight in rebel-held districts of Aleppo during airstrikes described by residents as some of the most intense bombardments in months.
The fresh attacks signalled further the collapse on the ground of a ceasefire deal negotiated last week by Washington and Moscow, whose foreign ministers have set a Friday deadline to rescue the agreement while insisting it still hung by a thread.
Diplomats from the US and Russia are to meet with other key players in New York on Thursday.
Despite the renewed airstrikes, the United Nations said it would resume humanitarian deliveries to besieged areas in the country, days after a Syrian Arab Red Crescent (SARC) convoy was bombed in an attack that US officials blamed on the Russian air force and which killed aid workers and volunteers outside Aleppo.
"The planes have not left the city's skies and the bombing is continuous and indiscriminate," said one activist inside opposition-controlled eastern Aleppo. "The wounded have not been counted yet."
By midnight, doctors and activists had identified 49 people, including children, who were killed in Aleppo province since noon that day in dozens of airstrikes that hit rebel territory. Another four were killed in late-night bombing of the city's Bustan al-Qasr neighbourhood, with residents sharing images and videos showing buildings engulfed in flames, the results of what they alleged were phosphorus bombs.
Human Rights Watch describes deal with Gulbuddin Hekmatyar as 'an affront to victims of grave abuses'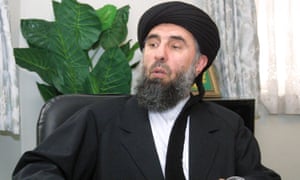 Gulbuddin Hekmatyar giving an interview in 2001. He has now committed to not supporting terrorism. Photograph: Behrouz Mehri/AFP/Getty Images
The Afghan government has pardoned one the country's most notorious warlords for past offences including terrorist attacks and alleged war crimes as part of a peace deal with his militant group, Hezb-i-Islami.
The agreement, signed on Thursday after months of negotiations, paves the way for a return to public and possibly political life for Gulbuddin Hekmatyar, who holds an almost unparalleled record of human rights abuses.
These include indiscriminate shelling of civilians, targeted assassinations of intellectuals and disappearances of political opponents. Hekmatyar's followers are accused of throwing acid at women and of running an underground torture prison in Pakistan.
In a central, upper-class Kabul neighbourhood, a group of young activists organised a protest against the pardoning of the man known as The Butcher of Kabul, coinciding with the signing ceremony less than a mile away. Placards picturing Hekmatyar with blood spilling from his mouth and a rocket through his nose read: "We will never forgive the executioner of Kabul."
The accord also allows for the release of Hezb-i-Islami prisoners, and obligates the Afghan government to pay for security in two or three locations inside Afghanistan where the group can choose to settle its leadership.
Human Rights Watch called the deal "an affront to victims of grave abuses".
Second night of unrest rocks the city following the fatal police shooting of Keith Scott, a black man
Matthew Teague in Charlotte, North Carolina
Two protesters describe the moment a demonstrator was shot in Charlotte, North Carolina, on Wednesday night. Gloria Merriweather and Tai Little say police opened fire on and threw teargas at hundreds of people protesting against the fatal shooting by police of Keith Scott. The man who was shot is in a critical condition, according to city officials
Violence and confusion has spread across Charlotte after a second night of protests was interrupted by gunfire when one protester shot another.
North Carolina governor Pat McCrory declared a state of emergency on Wednesday, and called for help from the National Guard and the Highway Patrol.
Late on Wednesday night crowds gathered at the site of the protester's shooting, and pulled clay planters from city flowerbeds to throw at police. Dirt from the pots mixed with the wounded protester's blood on the sidewalk, trampled by the opposing ranks of police and protesters.
Initially city officials said the man had died from the gunfire, but later reversed to say he was alive but critically wounded.
Protesters held signs that read "release the tape", referring to police video of the shooting that started the protests on Tuesday.
Police shot and killed Keith Scott, a black man, in the parking lot of an apartment complex where he lived on the east side of the city. Mayor Jennifer Roberts's spokesman said she would review the video footage on Thursday, but has no plans to release it.
Coalition of 1,200 archeologists, museum directors and historians say $3.8bn Dakota Access pipeline disturbS Native American artifacts in North Dakota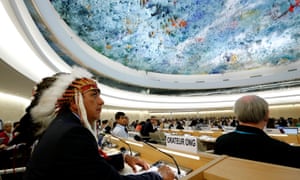 Dave Archambault II, chairman of the Standing Rock Sioux tribe, waits to give his speech against the Dakota Access oil pipeline in Geneva, Switzerland on Tuesday. Photograph: Denis Balibouse/Reuters
Archeologists and museum directors have denounced the "destruction" of Native American artifacts during the construction of a contentious oil pipeline in North Dakota, as the affected tribe condemned the project in an address to the United Nations.
The $3.8bn Dakota Access pipeline, which will funnel oil from the Bakken oil fields to Illinois, will run next to the Standing Rock Sioux reservation. The tribe has mounted a legal challenge to stop the project and claimed that several sacred sites were bulldozed by Energy Transfer, the company behind the pipeline, on 3 September.
A coalition of more than 1,200 archeologists, museum directors and historians from institutions including the Smithsonian and the Association of Academic Museums and Galleries has written to the Obama administration to criticize the bulldozing, which Energy Transfer claims did not disturb any artifacts.
The letter states that the construction work destroyed "ancient burial sites, places of prayer and other significant cultural artifacts sacred to the Lakota and Dakota people".
It adds: "The destruction of these sacred sites adds yet another injury to the Lakota, Dakota, and other Indigenous Peoples who bear the impacts of fossil fuel extraction and transportation. If constructed, this pipeline will continue to encourage oil consumption that causes climate change, all the while harming those populations who contributed little to this crisis."
The head of the agency that operates the George Washington Bridge testified Wednesday that he was told Chris Christie's office was briefed on lane closures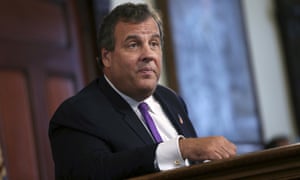 Chris Christie isn't charged and has denied knowledge of the plan until well after it was put into action. Photograph: Mel Evans/AP
Associated Press in Newark, New Jersey
The head of the agency that operates the George Washington Bridge testified on Wednesday that a former colleague charged with causing gridlock for political retribution tried to persuade him to keep traffic lanes closed because it was "important to Trenton", which he took to mean Chris Christie's office.
Patrick Foye later acknowledged during cross-examination he approved sending press releases promoting a false story about the traffic jams.
Foye's testimony put the focus on the Port Authority of New York and New Jersey, which runs the bridge and New York-area airports, tunnels, transit hubs and the World Trade Center.
Foye, the agency's executive director, put a stop to the four days of September 2013 traffic jams in Fort Lee that the government has charged were part of a political vendetta against the town's Democratic mayor for not endorsing the Republican governor for re-election.
He described ordering the reopening of the lanes on 13 September 2013, after receiving reports of massive gridlock for days. Later that day, he testified, he met twice with the deputy executive director, Bill Baroni, Christie's top appointee to the agency.
Baroni and Christie's former deputy chief of staff, Bridget Kelly, are accused of reducing access lanes to the bridge and face fraud, conspiracy and civil rights charges. They have pleaded not guilty and have said the government has twisted federal law to turn their actions into crimes. They have also said other people with more power and influence were involved in the lane closures but are not being prosecuted.
Baroni asked Foye at both meetings to close the lanes again because it was "important to Trenton", Foye testified. Foye said he took that to mean Christie's office, which was located there. Foye also testified Baroni told him Christie's senior staff had been briefed.
Christie is not charged and has denied knowledge of the plan until well after it was put into action. However, prosecutors said in opening statements on Monday that jurors would hear testimony that people bragged about the scheme to Christie on the third of the four days of closures.
During often testy cross-examination on Wednesday, defense attorneys tried to show Foye knew about the closures earlier than he said and waited a day to stop them so he could "swoop in and look like a hero".
Opinion
Ijeoma Oluo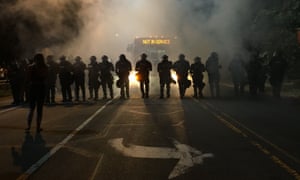 'We've always known the police are not in service – they just aren't even bothering to hide it anymore.' Photograph: Adam Rhew/AFP/Getty Images
An image from Charlotte, scene of yet another killing, encapsulates the message black people receive daily from the officers who are supposed to protect them
undefined
A line of police officers stand in the dark on a Charlotte, North Carolina, highway. They look like an occupying force with their helmets and face shields and various weaponry strapped all over their armored clothing. A large bus illuminates them with its headlights. The front of the bus declares in bright lights: "NOT IN SERVICE".
It's as if these police responding to protests of Tuesday's shooting death of Keith Scott are carrying with them a lighted banner that declares what black Americans already know: they are not in service. Not for us.
It's the message that police have always been sending black Americans. Blacks make up about 13% of the US population, and yet accounted for 27% of the approximately 1,146 people killed by police in 2015. "Not in service" is the message we got when Tamir Rice was killed, when Freddie Gray was killed, when Eric Garner was killed. This was the message we got when Terence Crutcher was killed this week while asking for service. We understand that if our police force really does exist to protect and serve, it does not exist to protect and serve us.
When I or any of my black friends discuss issues of police brutality online, we receive a common response: "Well see what happen next time you need the police and they aren't there to protect you." But we've already seen what happens – it's our current reality.
Terence Crutcher needed the police when he was killed by them. Veteran Anthony Hill needed the police when he was killed by them. Elliott Williams needed the police but he was instead taunted by them as he slowly died in a jail cell without food and water. Quintonio LeGrier needed the police and had called them three times when he and his neighbor were killed by them. We already live in a world where we can't call the police when we need them, because we know that there is a good chance that we or our loved ones will be killed for it.
Advertisement
The police have become even more open in their declarations that they are not here to serve us. They have threatened not to provide police protection to athletes who dare protest police brutality by not standing during the national anthem. They stopped doing their jobs in New York when the mayor dared to question why so many black men have died by their hands. In Seattle, police demanded higher pay and more benefits before they would start implementing measures to stop abusing the public. In West Virginia, they have started firing police officers for not killing black men. The message has been simple: we are not in service for black people, and if you question us, we won't be in service for you either.
And as grieving black people gathered in the streets to protest yet another killing of a black man by police officers, police in North Carolina made it perfectly clear, once again, that they are not here for us. Charlotte police say Keith Scott was armed when they encountered him while trying to execute a warrant on somebody else. Scott's family insists that he never carried a gun and was in fact afraid of them. They say that Scott was simply reading a book in his vehicle while waiting for his son's school bus to arrive. Those who are served by the police may be more likely to believe them over Scott's family.