25 Sep
French authorities hope Britain will honour pledges and rescue minors when the bulldozers move in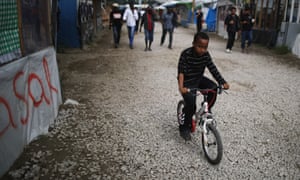 A boy rides his bicycle in the Calais migrant camp. Photograph: Christopher Furlong/Getty Images
Up to 1,000 unaccompanied minors will be left to fend for themselves when the so-called jungle camp for refugees in Calais is bulldozed next month. The French authorities have made no plans to rehouse the children, the Observer has learned, because it is hoping to force Britain to honour a promise to help child refugees.
The French interior ministry has informed charities and aid organisations that it intends to destroy the camp in less than four weeks.
Almost 400 unaccompanied youngsters in the camp, some of whom have relatives in the UK, have already been identified as having a legal right to come to Britain.
In May, David Cameron announced that Britain would accept as many as 3,000 unaccompanied minors. James Brokenshire, immigration minister at the time, said Britain had "a moral duty to help".
However, Home Office figures reveal that by mid-September, only 30 children had arrived under the scheme. The Home Office did not respond to queries over whether it intended to help lone child refugees once the Calais camp was destroyed.
On Monday President François Hollande is expected to visit Calais and confirm that the refugee camp will be demolished. Details emerged last week when refugee organisations were told that alternative accommodation elsewhere in France would be supplied for 9,000 adults and families.
Anti-immigration sentiment has been on the rise in Finland following an influx of asylum seekers last year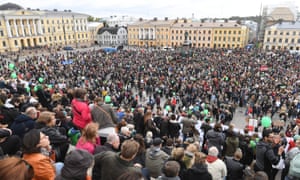 Demonstrators gather in Helsinki to protest against racism and fascism, following the fatal attack on a man by a neo-Nazi. Photograph: Kimmo Brandt/EPA
Reuters
More than 15,000 people gathered in Helsinki on Saturday to protest against racism and violence, after the death of a man assaulted during a neo-Nazi rally in the city earlier this month.
Following an influx of asylum seekers last year, anti-immigration sentiment has been on the rise in the small Nordic country, which has little experience of taking in large numbers of refugees.
Police a week ago detained a member of a far-right movement on suspicion of attacking a Finnish national in central Helsinki who died of his injuries a few days later.
Holding placards showing peace signs and red lines crossing out swastikas, demonstrators said it was time to break a silence they said had allowed racism and far-right violence to grow in the country. Similar events were held in other towns.
"People really feel that there's not enough talk about racism here. There's too much neglect. We should all speak more against racism, including the leaders," said a demonstrator who gave her name as Rosa.
The prime minister, Juha Sipila, who has been criticised for being cautious on his comments about far-right movements, joined a similar anti-racism rally in the city of Kuopio.
"People are here for a just cause. Actions by violent extreme movements are a worry to the silent majority of the nation," Sipila told public broadcaster YLE.
He said the government was planning to tighten legislation regarding extremist movements and hate speech.
Related Content:
Opinion
Revelations that Donald Trump's so-called charity helped him settle legal disputes are extraordinary, and would sink Clinton. This is vital reporting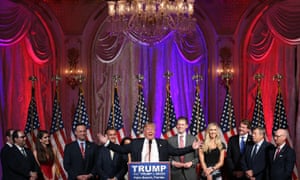 'David Fahrenthold's reporting unfolded as so many other journalists were writing their 50th stories about Hillary Clinton's emails.' Photograph: Win McNamee/Getty Images
I

magine if Hillary Clinton had a 6ft portrait of herself painted for a charity auction. Then Bill bid it up and paid for it with $20,000 from the Clinton Foundation. And the Clinton Foundation donated $100,000 to the ACLU or Naral.
Then imagine that she spent $258,000 from the foundation to cover expenses arising from legal challenges.
And here's the really beautiful bit: imagine that the Clinton Foundation has no discernible purpose as a charity.
If the Clinton Foundation had done all of these things, Hillary (and perhaps Bill and Chelsea too) might well be headed to prison, the place Donald Trump and his supporters insist she belongs.
There is a clear disparity in the attention focused on Clinton's supposed ethics problems and Trump's
But it's the Trump Foundation, not the Clinton Foundation, which reportedly bought a portrait of its namesake, settled legal claims for him, donated money to a rightwing advocacy group and whose purpose is somewhat opaque.
I know about the Trump Foundation's ersatz charity mostly from the work of one dogged investigative reporter from the Washington Post, David Fahrenthold, who bothered to contact more than 300 charities to see whether they'd received donations from the Trump Foundation. His reporting unfolded as so many other journalists were writing their 50th stories about Hillary Clinton's emails. It is only in the past week that the Post's reporting on the Trump Foundation has gained traction. The issue should come up in the first presidential debate Monday, as those "damn emails", as Sanders called the over-covered controversy over Clinton's private email server, surely will. (The Trump campaign, by the way, has claimed that the report is "peppered with inaccuracies and omissions".)
There is a clear disparity in the attention focused on Clinton's supposed ethics problems compared with Trump's. There has been some excellent reporting on everything from Trump University to his business practices, especially the tax breaks he received on real estate deals uncovered by the New York Times. But these revelations seem to roll off Trump's back, while in the Clintons' case they create indelible stains.
I have covered the nexus of money and politics since 1988. My investigations revealed the twisting of the tax code governing charities by GOP political figures and different Democratic fundraising abuses in Bill Clinton's presidential campaign. When it comes to the cesspool of political money, I've been an equal-opportunity scrutinizer.
I also practically know by heart the tax code governing charitable groups – section 501C(3) – and immediately recognize that some of the Trump Foundation's donations involve unusual interpretations of it, to say the least.
For example, when Melania Trump used a Trump Foundation check to purchase the towering (forgive the pun) portrait of her husband, the painting wasn't donated to a charity but apparently hung in the boardroom of one of her husband's golf clubs. The more than a quarter of a million dollars of Trump Foundation funds that went to help settle legal disputes included a case involving the height of a flagpole at Mar-a-Lago, Trump's estate in Palm Beach, Florida. And the conservative activist group that received $100,000 from the Trump Foundation was Citizens United, the group that opposes the disclosure and limitations of political fundraising and is headed by David Bossie, who was recently hired as Trump's deputy campaign manager.
Perhaps the most salient thing about the foundation that bears his name is that Donald Trump himself has given a relatively small amount of money to the Trump Foundation and none since 2009, although we won't know for sure until – don't hold your breath – Trump releases his tax returns. Although there are some