26 Sep
PNN/ Bethlehem/
On Sunday, the Israeli prime minister, Benyamin Netanyahu has seperately met with the Republican candidate, Donald Trump, as well as the Democratic Hillary Clinton in New York.
During the visit, Trump reportedly pledged to recognize Jerusalem as the "undivided capital" of Israel if elected president.
In an official statement, the Trump administration said:
"Mr. Trump acknowledged that Jerusalem has been the eternal capital of the Jewish People for over 3,000 years, and that the United States, under a Trump administration, will finally accept the long-standing Congressional mandate to recognize Jerusalem as the undivided capital of the State of Israel." 
Apart from the Israeli-Palestinian issue, RT reported that Trump and Netanyahu also discussed "at length" Israel's "successful" experience in building a border fence, a 708-kilometer long security barrier in the West Bank along the Green Line, which Palestine criticized as an "apartheid wall."  The Republic nominee is eying to build a similar kind of wall at the border with Mexico, the construction of which he says would be financed by Mexico.
Following  that, Netanyahu paid a visit to Hillary Clinton, who to her part said she would oppose BDS and UN meddling.

The Israeli PM's meeting with Clinton, who was also attended by her advisor Jake Sullivan and Israel's Dermer, lasted about 50 minutes.
"Secretary Clinton stressed that a strong and secure Israel is vital to the United States because we share overarching strategic interests and the common values of democracy, equality, tolerance, and pluralism," says a campaign statement, released after the meeting by her campaign. The McGlynn Note: Pure garbage!
Related Articles
Accusations centre on widespread use of bunker-busting and incendiary bombs on civilians in rebel-held eastern Aleppo
Britain's ambassador to the UN, Matthew Rycroft, US ambassador Samantha Power and French ambassador Francois Delattre walk out of an emergency security council session on the conflict in Syria on Sunday when the Syrian ambassador begins speaking. Before the protest Rycroft addressed the meeting and accused Russia of war crimes
Russia has been directly and repeatedly accused of war crimes at the UN security council in an unusually blunt session, as hopes of any form of ceasefire were flattened by the scale and ferocity of the Syrian regime's assault on eastern Aleppo.
The war crimes accusations centred on the widespread use of bunker-busting and incendiary bombs on the 275,000 civilians living in the rebel-held east of the city, weapons that Moscow's accusers say were dropped by Russian aircraft.
"Bunker-busting bombs, more suited to destroying military installations, are now destroying homes, decimating bomb shelters, crippling, maiming, killing dozens, if not hundreds," Matthew Rycroft, the UK ambassador to the UN said during the emergency security council session on Syria on Sunday.
"Incendiary munitions, indiscriminate in their reach, are being dropped on to civilian areas so that, yet again, Aleppo is burning. And to cap it all, water supplies, so vital to millions, are now being targeted, depriving water to those most in need. In short, it is difficult to deny that Russia is partnering with the Syrian regime to carry out war crimes."
Rycroft later walked out of the chamber with his US and French counterparts before the Syrian government representative began speaking, in protest at the regime's bombing campaign.
The bombardment of Aleppo entered a fifth consecutive day on Monday, after 95 people were killed in the east of the city on Sunday, according to doctors. A tally from local hospitals put the number of wounded at 398, including 61 children.
"What has happened over the last three days is indescribable," said Mohammad Abu Rajab, a doctor in one of the largest medical centres in eastern Aleppo. "Words fail, pictures fail, everything fails."
Senior police were happy to admit the practice of 'encounter killings', in which about 2,000 people died in 2015, Human Rights Watch says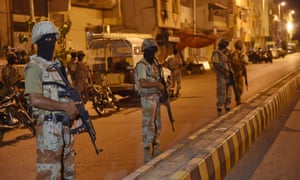 Police often said criminal or terrorist suspects were shot after they resisted arrest or tried to ambush officers. Photograph: Rizwan Tabassum/AFP/Getty Images
Police in Pakistan may be illegally executing hundreds of people each year in fake "encounter killings", human rights investigators have warned.
The term "encounter" is a widely understood euphemism for extra-judicial killings in Pakistan. Police accounts often say that criminal or terrorist suspects were shot after they resisted arrest or tried to ambush officers.
In reality many are killed in police custody, according to a report by Human Rights Watch (HRW) on Monday.
The group said it was concerned that many, "if not most", of the 2,108 people reported by the media to have been killed in encounters in 2015 died in circumstances that were "faked and did not occur in situations in which lives were at risk".
The report said: "In the vast majority of these cases, no police officer was injured or killed, raising questions as to whether there was in fact an armed exchange in which there was an imminent threat to the lives of police or others."
Senior officers admitted the practice to researchers from HRW, who also found that Pakistan's ill-equipped and poorly trained police regularly resort to torture to extract confessions.
Such practices have helped make the police "one of the most widely feared, complained against, and least trusted government institutions in Pakistan", HRW said.
Release of footage comes after protests and demands to see video
Attorney: 'I don't see anything … that would lead to him losing his life'
WARNING: this video of the shooting of Kevin Scott contains distressing scenes. In two sets of video, cameras recorded altercation between officers and Scott
Charlotte police on Saturday released footage of the fatal police shooting of Keith Scott, a 43-year-old African American man whose death precipitated both riots and peaceful protests in North Carolina this week.
In two sets of video of the incident on Tuesday, one from a body camera and another from a police cruiser dashboard, cameras recorded the altercation between officers and Scott.
At a press conference on Saturday evening, members of Scott's family welcomed the release of the footage but argued it offered no concrete evidence that the 43 year-old was armed at the time he was killed.
"There is no definitive evidence in this video as to whether or not there is an object in his hand, and if there is, what that object is," said attorney Justin Bamberg. "I don't see anything there, in my opinion that would lead to him losing his life."
Peaceful protests continued in Charlotte into the early hours of Sunday morning as police reported at least four arrests made overnight in relation to the rioting and looting that gripped the city earlier in the week.
According to a Charlotte police statement issued with the videos of the Keith Scott incident on Saturday, two plain-clothes officers in an unmarked car were preparing to serve an arrest warrant on an unrelated subject when Scott parked his SUV beside them.
Those officers saw that Scott was "rolling what they believed to be a marijuana 'blunt'," the police department said in a statement released with the video on Saturday, but "did not consider Mr Scott's drug activity to be a priority".
Then an officer "observed Mr Scott hold a gun up", the department said. "Due to the combination of illegal drugs and the gun Mr Scott had in his possess
Opinion
The Dakota pipeline protests have drawn indigenous people from across the Americas. But everyone else needs to understand it's their fight too

'The indigenous way of life is more immediately dependent on the natural world, and when nature is damaged, indigenous people are damaged.' Photograph: Jim Watson/AFP/Getty Images
"I'm here until January," said a man sitting with his arms crossed in the backseat. The six of us had piled into an old Ford Taurus, hitching a ride back to camp from a prayer ceremony at the site in North Dakota where protests against the now infamous pipeline project had been met with riot police and attack dogs only days before. "The long haul."
"Right on," said a woman in the front. "That's dedication."
He was from the Navajo Nation, where he was studying business management at Diné College on the reservation. She was from the Cherokee Nation and had arrived at 3am that morning. Everyone in the car, it turned out, was from a different tribe. That's not unusual for Red Warrior Camp near Cannonball, North Dakota, where nations and tribes from around the world have united behind a common purpose: stop the Dakota Access pipeline.
The campsites, Sacred Stone and Red Warrior, have swelled to well over 2,000 people. A seedling camp has sprung up on the road close to where construction on the pipeline is taking place about an hour south of Bismarck. Together, they constitute a sustainable community, complete with kitchens, donation centers, schools and legal counseling. The scope of the gathering is unprecedented, with over 280 tribes represented at the camps.
This combining of forces has been spurred on by the urgent nature of the crisis. For indigenous people, climate change and pollution aren't the battles of tomorrow. They are very real, very present issues that have already dramatically impacted everyday life. The Inuit residents of Shishmaref, Alaska, are voting to relocate their village due to rising sea levels. The Navajo Nation is suing the EPA over a toxic mine spill that contaminated the San Juan River, which the Navajo depend on to water their crops and livestock. Last March, the Lenka people in Honduras lost civil rights leader and environmentalist Berta Cáceres, an ardent opponent of the privatization of the river Río Gualcarqueque, to assassination.
Historically, oil transportation has been bad news for indigenous populations. Last June, a train carrying tens of thousands of gallons of crude oil derailed and caught fire near Mosier, Oregon, contaminating the Columbia River, which the Yakama Nation in Washington depends on. In South Dakota, the Lakota, Nakota and Dakota peoples fought off the Keystone XL pipeline that bisected treaty lands and, the tribes said, would lead to more pollution.
So when pipeline construction began on land just outside the Standing Rock Sioux reservation, and sacred burial sites were bulldozed in the process, it became a lightning rod for a broader struggle. "Water is life" is a rallying cry of the protests, and it's a message that resonates as much with the Inca in South America as it does the Ojibwa in Canada.
"Cut the heads from the snakes!" said a man speaking at the prayer ceremony at the protest site, referring to oil pipelines everywhere. He wore camouflage pants and a feathered headdress. "Today, we hear about the Colonial pipeline." He pauses. "That's a good name for it, isn't it?" He was referencing a recent eruption in the Colonial pipeline in Alabama that resulted in a massive oil spill.
The indigenous way of life is more immediately dependent on the natural world, and when nature is damaged, indigenous people are damaged. When the rivers are poisoned, indigenous people are poisoned. This immediacy is what has drawn so many indigenous people together to fight. But it's time for non-indigenous people to understand that this is their fight too. Their livelihoods also depend on the success of the battle indigenous people are fighting right now.
This was the hottest summer on record, and global temperatures continue to rise. Earth's biodiversity is under threat and so long as corporate profits continue to be prioritized over the planet, we will continue to slide into conditions that are increasingly inhospitable to life.