02 Oct
The United States warned Thursday that it is on the brink of ending talks with Russia over the assault on Aleppo, where the United Nations says a humanitarian catastrophe is unfolding unlike any witnessed so far in Syria's brutal five-year war.
Air strikes pounded Aleppo province while at least 11 civilians, including seven children, died during attacks on the city of Idlib, nearby Jarjanaz and central Hama province, the Syrian Observatory for Human Rights said.
With no let-up in the military campaign, US Secretary of State John Kerry admitted that months of diplomacy to end the war had hit a dead-end.
"I think we are on the verge of suspending the discussion because, you know, it's irrational in the context of the kind of bombing taking place, to be sitting there, trying to take things seriously," he told a conference in the US capital.
US President Barack Obama and German Chancellor Angela Merkel condemned what they called "barbarous" Russian and Syrian regime air strikes on Aleppo during a phone call later on Thursday, the White House said.
The Syrian government and its ally Russia "bear special responsibility for ending the fighting in Syria," the two leaders agreed, strongly condemning the strikes in eastern Aleppo, an area they said is "populated with hundreds of thousands of civilians, half of whom are children."
But Russia said it would press ahead with the air war in support of the regime, warning that Washington's refusal to work with Moscow on a settlement would be a "gift to terrorists."
"If Washington's threats to halt cooperation become concrete decisions, then there is no longer any doubt that the rebels are under the White House's protection and in the streets, terrorists will celebrate," Russian foreign ministry spokesman Maria Zakharova said.
Russia and the United States have traded blame for last week's collapse of a ceasefire deal that would have marked the first step in a new effort to end the war that has killed 300,000 people since 2011.
Strike by Assad regime's helicopters leaves residents in east of the war-torn city with next to no access to essential healthcare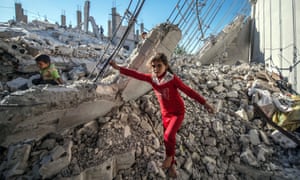 Children in the rubble in Jarablus, just south of Syria's border with Turkey, on Saturday. Photograph: Anadolu Agency/Getty Images
An unrelenting Russian and Syrian blitz of eastern Aleppo heavily damaged one of the city's three remaining hospitals on Saturday, as Moscow warned that any American attempts to stop its assault would lead to "frightening tectonic shifts in the Middle East".
The Russian raids struck at least five areas of the opposition-held half of the city, which is bracing for a ground assault by Shia forces allied to the Syrian regime. Syrian helicopters are believed to be responsible for the strike on the M10 hospital, which has left those who remain in the east with next to no access to essential healthcare.
Earlier in the week two other emergency centres and the only remaining maternity centre were bombed by jets, prompting a bitter response from US diplomats and vague claims that Washington was "reviewing options" about how to defuse a grave and deteriorating humanitarian crisis.
The attacks on Aleppo have worsened since the breakdown of a ceasefire brokered by Russia and the US that had barely lasted a week before Russian jets and Syrian helicopters attacked and destroyed an aid convoy that had been permitted to cross into an opposition-held part of the country. The US and Europe have said Russia is acting in flagrant breach of international law. Three days of phone calls between US secretary of state John Kerry and Russian foreign minister Sergei Lavrov have failed to slow the carnage.
Leaked recordings of Kerry speaking to Syrians in New York last week underscore the divide between US leaders over how to defuse the conflict and, in particular, how to stop the rampant attacks on civilian targets that continue to ravage much of east Aleppo.
Kerry is known to have advocated a more robust US role in the five-year war, especially after the gassing of more than 1,300 civilians in an opposition neighbourhood of Damascus three years ago. However, his calls have been rebuffed by President Barack Obama, who has repeatedly told his senior officials that nothing good would come out of the US taking a lead role.
In the recordings, which were published by the New York Times, Kerry is heard saying: "We are trying to pursue the diplomacy and I understand it's frustrating. You have no one more frustrated than we are." He said that the US had no legal justification for attacking the Assad regime, while Russia had been invited to join the conflict on behalf of the Syrian leader.

Sunday's referendum about whether to accept EU migrant quota – 1,294 refugees – has unleashed dark forces and opened a new era for Europe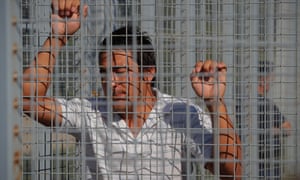 An Afghan migrant crossing from Serbia is halted by Hungary's fence at Roszke last week. Photograph: Vadim Ghird?/AP
A

s a small crowd of pensioners gathered outside the little village hall in Mártély, southern Hungary, all seemed calm. A horse and cart trotted past, long-bearded villagers settled into their wooden seats, and a cat mewed in the corner.
But the atmosphere changed when János Lázár, one of Hungary's most powerful politicians, strolled up the street and began to speak. "There are decisions that extend beyond party politics, and this is one of them," Lázár said softly to the crowd. "This is something that will define the future of Hungary."
Hungarians head to the polls on Sunday for a referendum on immigration that ministers have portrayed as a make-or-break moment for the Hungarian nation, and a watershed for Europe as a whole.
The question being asked is wordy and vague, its legal consequence unclear, and its primary context seems parochial. Literally translated, it asks if immigrants should be sent to Hungary without parliament's approval. Essentially it's about whether Hungary should be forced to accept just 1,294 refugees stuck in Greece and Italy as part of a responsibility-sharing system agreed by EU countries this time last year. However small the numbers involved, the ramifications of this poll on the eastern edge of the European Union could be enormous.
Within Hungary, critics argue that the referendum helps the government of Viktor Orbán to distract from its domestic failures. Outside, analysts say a strong turnout will give the prime minister, perhaps the most influential far-right leader in European electoral politics, added momentum in his battle for the soul of the continent.
A scuffle about 1,294 refugees is in fact a war over the role of the nation-state, and the nature of European democracy, argued Gerald Knaus, the director of thinktank European Stability Initiative. "It's a performance that's not about results – he's not worried that any refugees will end up in Hungary," said Knaus, a major player within refugee-related politics in Europe. "The refugee issue for Orbán is really just a means to an end – and that end is a cultural counter-revolution in Europe and an end to liberal Europe," he said.
Opinion
Huge numbers of voters have yet to make up their mind in the 2016 presidential election. Here, some of them tell us why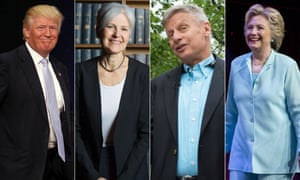 'I want to vote for Hillary. I just need a reason to do so.' Composite: AFP, Getty Images & Rex Features
Heather, 48 – Austin, TX: 'Clinton will say anything to get power, Trump will just say anything'
The reason I am undecided is because no candidate deserves my vote.
I'm a single mother of two, full-time employed, yet living paycheck to paycheck. I'm insulted that women think I'm obligated to vote for Clinton because she's a woman, just as I bristled at Sarah Palin as a viable choice.
I am frustrated by the lack of candid discussion about the real issues my family and I face. Instead we waste time on gender-neutral bathrooms and whether Trump is a rude man. I lived in New York for years. He's obnoxious like a lot of New Yorkers. She's smug and patronizing, implying that I, a female voter, should just trust that she knows what is best for me.
Neither deserves my trust (Clinton because she'll say anything to get power, Trump because he'll just say anything) and I'm thinking of abstaining. It's so depressing. There should be more quality options.
Skipping election day is an awful example to my children (both teens), but I can't stomach either candidate. As they say in sports, it'll likely be a game-day decision.
Drew, 33 – Brevard County, FL: 'Is it my fault the Democrats chose Clinton over Bernie?'
I'm not undecided between Trump and Clinton. My indecisiveness lies between Clinton and Jill Stein.
I consider myself very progressive. I agree with 97% of Stein's policies (that number is verified by multiple tries of an online quiz – haha). According to the same quiz I agree over 90% with Clinton, but I can't bring myself to vote for her. I simply don't believe her.
I believe her instincts are slanted towards conservatism. I believe she'll say anything to get elected. Deep down, I don't believe she's liberal enough and in the end, she won't come through on what she promised.
My indecision stems from living in Florida and knowing my vote is important.
I hate Trump and his band of racist drones. He personifies everything that's wrong with America. If I vote for Stein that could ultimately mean victory for Trump. But then, is it my fault the Democrats chose Clinton over Bernie?
Is my vote a wasted one if I vote for Stein – or are progressive votes for Hillary the truly wasted ones?
Brexton, 19 – San Diego, CA: 'Since Bernie was defeated I have been trying really hard to like Hillary'
I'm undecided because I want to vote for a viable candidate but right now, I can't do that in good conscience.
Climate change is far and away the number one issue and Jill Stein is obviously the best candidate to address that. In terms of policy proposals and electability however, Clinton has the lead.

For a change from the same old news stories from the same old news networks, here are links to English-edition online newspapers from other parts of the world. Nearly all of these are English-edition daily newspapers. These sites have interesting editorials and essays, and many have links to other good news sources. We try to limit this list to those sites which are regularly updated, reliable, with a high percentage of "up" time.
Some of the available newspapers:
| | | |
| --- | --- | --- |
| Asia & CIS | | |
| | | |
| --- | --- | --- |
| China | | |
| | | |
| --- | --- | --- |
| China & Hong Kong | | |
| | | |
| --- | --- | --- |
| France | | |
| | | |
| --- | --- | --- |
| Israel | | |
| | | |
| --- | --- | --- |
| Norway | | |
| | | |
| --- | --- | --- |
| Palestine | | |
| | | |
| --- | --- | --- |
| Russia | | |
| | | |
| --- | --- | --- |
| Ukraine | | |
.