03 Oct
President Juan Manuel Santos fails to win approval as voters balk at an agreement that included amnesty for war crimes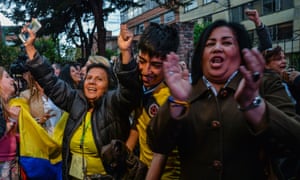 People celebrate in Bogotá after the results of a referendum on whether to ratify a peace accord between the state and the communist Farc rebels. Photograph: Diana Sánchez/AFP/Getty
Colombians have rejected a peace deal to end 52 years of war with Farc guerrillas, throwing the country into confusion about its future.
With counting completed from 98% of polling stations, the no vote led with 50.23% to 49.76%, a difference of 61,000 votes.
The verdict on the deal between the government of Juan Manuel Santos and the Farc, reached after four years of intense negotiations, means it cannot now be implemented.
Polls before the vote predicted that the yes camp would win with a comfortable 66% share. Santos had been confident of a yes result and said during the campaign that he did not have a plan B and that Colombia would return to war if the no vote won. His opponents, led by former president Alvaro Uribe, said a win for their side would be a mandate for the government and rebels to negotiate a "better agreement".
Both government and rebels have repeatedly said that the deal was the best they could achieve and a renegotiation would not be possible.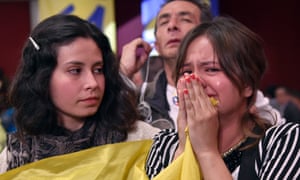 Supporters of the peace deal watch the results of the referendum in Cali on Sunday. Photograph: Guillermo Legaria/AFP/Getty Images
Santos, who watched the results come in at the presidential palace in Bogotá, said he would send his negotiators back to Havana to meet with Farc leaders on Monday. "I will not give up," he said in a televised address. "I will continue seeking peace until the last day of my presidency."
He added that the bilateral ceasefire that has been in place since 29 August would continue.
PM Viktor Orbán fails to convince 50% of electorate to turn out, but those who did so voted to exclude new refugees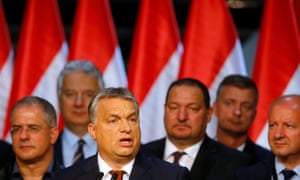 Hungarian Prime Minister Viktor Orban delivers a speech after a referendum. Photograph: Laszlo Balogh/Reuters
The Hungarian prime minister, Viktor Orbán, has failed to convince a majority of his population to vote in a referendum on closing the door to refugees, rendering the result invalid and undermining his campaign for a cultural counter-revolution within the European Union.
More than 98% of participants in Sunday's referendum sided with Orbán by voting against the admission of refugees to Hungary, allowing him to claim an "outstanding" victory. But more than half of the electorate stayed at home, rendering the process constitutionally null and void.
Orbán himself put a positive spin on the low turnout. He argued that while "a valid [referendum] is always better than an invalid [referendum]" the extremely high proportion of no-voters still gave him a mandate to go to Brussels next week "to ensure that we should not be forced to accept in Hungary people we don't want to live with".
He argued that the poll would encourage a wave of similar votes across the EU. "We are proud that we are the first," he said.
The result, though, gives potential respite to the German chancellor, Angela Merkel, and EU officials in Brussels, whose comparatively progressive refugee policies and liberal political outlook had been under sustained assault from Orbán in recent months.
Internationally, Orbán's referendum was seen as a plebiscite on not just the EU's refugee-sharing quota – which would see just 1,294 refugees resettled in Hungary from Greece and Italy – but on the role of nation state and the future of liberal democracy within the EU.
Environment
Demonstrators have been unable to halt the construction a local project – but they aren't giving up as the same company plans the Dakota Access pipeline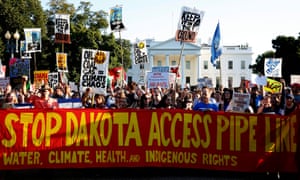 Protesters chant in opposition of the Dakota Access Pipeline on Pennsylvania Avenue in front of the White House. Photograph: Shawn Thew/EPA
It looks to Lori Glover "like a long snake going across the whole desert". For David Keller, it is "like having a very beautiful historic home and having someone run a bulldozer through the kitchen". And in Yolonda Blue Horse's view, it is another example of disrespect from an industry that does not care about native people.
Before the Dakota Access pipeline sparked continuing protests that led to national attention and an Obama administration intervention, a feisty group of activists in remote west Texas waged a long battle against the same company when it pressed ahead with plans to run a 143-mile natural gas pipeline to Mexico through some of the state's most pristine countryside.
The construction traffic, the diggers churning up ranchland and the serpentine sections of 42in pipe being placed along the route in preparation for their burial testify to their defeat, as do the fruitless legal challenges.
Activists held a march to show solidarity with the Dakota movement on Friday along the route in Alpine, a small town near the tourist magnet Marfa, a desert city 220 miles south-east of El Paso. It was supported by the American Indian Movement of Central Texas (AIMCTX), whose members have demonstrated against the Dakota pipeline outside the Dallas headquarters of Energy Transfer Partners, the company behind both schemes.
The Standing Rock Sioux tribe fears that the Dakota pipeline could damage their water supply. "This has really opened a lot of people's eyes – pipelines everywhere – and has brought to life the number of pipelines that are bursting or leaking throughout the United States," said Blue Horse, of the AIMCTX.
"My opinion is this – I think Kelcy Warren figures that my people, Native American people, are on the bottom of the totem pole when it comes to being a voice or being recognised at anything," she said.
Warren is the billionaire CEO of Energy Transfer and he has amassed wealth and power as the mastermind of a vast pipeline network. According to Bloomberg: "Long considered a visionary in the energy infrastructure space, Warren made deals during the shale boom to piece together a 71,000-mile (114,239km) oil-and-gas superhighway that spans the country."
His political networking is also impressive. The 60-year-old was a major donor to the election campaign of Texas governor Greg Abbott. Last year, Abbott appointed Warren to a seat on the Texas Parks and Wildlife Commission, the board of a state department whose mission is "to manage and conserve the natural and cultural resources of Texas".
For the Trans-Pecos Pipeline, which is expected to be finished next year, Energy Transfer linked up with a company controlled by Carlos Slim, Mexico's richest man.
Read Full Article >>
More on the Environment
Opinion
Voters should adopt a 'rejection' rather than a 'choice' strategy when they feel they have two bad options – as is the case for so many in the 2016 election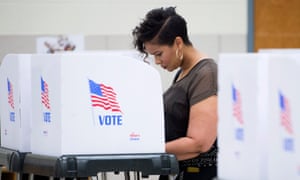 'What do voters do when they consider all of the options bad? Do they fall back on party affiliation, or simply toss a coin?' Photograph: Shawn Thew/EPA
Aradhna Krishna and Tatiana Sokolova
How do voters select a candidate when no one they like is on the ballot?
Behavioral scientists have studied decision-making – including voting – for decades. However, researchers usually give respondents at least one appealing option to choose from.
This led us to wonder: what do voters do when they consider all of the options bad? Do they fall back on party affiliation, or simply toss a coin? This question is especially appropriate in the current presidential election because the two front runners have the lowest favorability ratings ever.
When we did research to answer this question, we learned that in situations where all of the choices are bad, people tend to vote by rejecting the choices they didn't like, rather than by affirmatively choosing the one they disliked least.
Imagine there are two undesirable candidates named Tilly and Ron. Given this "two bad choices" option, voters will be more likely to select Tilly because they reject Ron, rather than select Tilly proactively.
While the end result may be the same, the thought process that leads to this decision is quite different.
As behavioral scientists who study how people make decisions, we think this distinction could affect the upcoming presidential election. If people select between Clinton and Trump by using rejection rather than choice, then the information they use to make their decisions will be different.
In some ways, it may be better. Voters using rejection are more deliberate. They are less likely to be swayed by unimportant information about a candidate that they read or hear on radio, television or Facebook. They may pay less attention to rumors. In fact, conscientious voters may be well served to actively adopt a rejection strategy for their vote in order to make a choice more deliberately.
In a study we ran online in April, we showed people only Hillary Clinton and Donald Trump as the two candidates for president. Those who found at least one of them attractive were more likely to select by choice, while those who disliked both were more likely to select by rejection.
Advertisement
Having determined that people use rejection strategies to make their voting decisions in bad-option situations, we next wanted to test how rejection strategies would change the information people focus on.
In nine separate studies we conducted, some of which will be published in an upcoming Journal of Consumer Research, we found that when people use rejection strategies, they also become more deliberate in their decision-making. In other words, they pay more attention to all information they have – both good and bad – and don't get swayed as much by one piece of information that sticks out.
In our research, we saw more deliberation in rejection decisions and less of a tendency to be swayed by emotional, in-your-face information.
For a change from the same old news stories from the same old news networks, here are links to English-edition online newspapers from other parts of the world. Nearly all of these are English-edition daily newspapers. These sites have interesting editorials and essays, and many have links to other good news sources. We try to limit this list to those sites which are regularly updated, reliable, with a high percentage of "up" time.
Some of the available newspapers:
| | | |
| --- | --- | --- |
| Asia & CIS | | |
| | | |
| --- | --- | --- |
| China | | |
| | | |
| --- | --- | --- |
| China & Hong Kong | | |
| | | |
| --- | --- | --- |
| France | | |
| | | |
| --- | --- | --- |
| Israel | | |
| | | |
| --- | --- | --- |
| Norway | | |
| | | |
| --- | --- | --- |
| Palestine | | |
| | | |
| --- | --- | --- |
| Russia | | |
| | | |
| --- | --- | --- |
| Ukraine | | |
.