04 Oct
Global warming is said to be bringing temperatures last seen during an interglacial era, when sea level was 6-9 meters (20-30ft) higher than today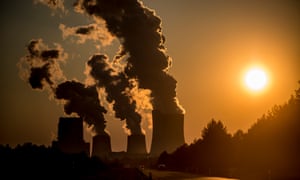 A coal-fired power station. 'Massive CO2 extraction' costing trillions is needed in order to avoid runaway temperature rises, says a new paper. Photograph: Florian Gaertner/Photothek via Getty Images
The global temperature has increased to a level not seen for 115,000 years, requiring daunting technological advances that will cost the coming generations hundreds of trillions of dollars, according to the scientist widely credited with bringing climate change to the public's attention.
A new paper submitted by James Hansen, a former senior Nasa climate scientist, and 11 other experts states that the 2016 temperature is likely to be 1.25C above pre-industrial times, following a warming trend where the world has heated up at a rate of 0.18C per decade over the past 45 years.
This rate of warming is bringing Earth in line with temperatures last seen in the Eemian period, an interglacial era ending 115,000 years ago when there was much less ice and the sea level was 6-9 meters (20-30ft) higher than today.
In order to meet targets set at last year's Paris climate accord to avoid runaway climate change, "massive CO2 extraction" costing an eye-watering $104tn to $570tn will be required over the coming century with "large risks and uncertain feasibility" as to its success, the paper states.
"There's a misconception that we've begun to address the climate problem," said Hansen, who brought climate change into the public arena through his testimony to the US congress in the 1980s. "This misapprehension is based on the Paris climate deal where governments clapped themselves on the back but when you look at the science it doesn't compute, it's not true.
"Even with optimistic assumptions (future emissions reduction) will cost hundreds of trillions of dollars. It's potentially putting young people in charge of a situation that is beyond their control. It's not clear they will be able to take such actions."
Farc leader Timochenko says 'peace is here to stay' and that rebels will insist on the deal that has already been signed despite its rejection by voters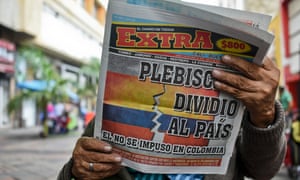 A man reads a newspaper announcing the results of the referendum that surprisingly said no to the peace agreement between the Colombian government and the Farc guerrillas. Photograph: Luis Robayo/AFP/Getty Images
Reeling from the stunning defeat for the deal that took four years of arduous negotiations to conclude, both the government and the Farc have said they will persist in seeking peace for the country after 50.2% of voters rejected the agreement, to 49.7% who approved it.
"Peace is here to stay," Rodrigo Londoño, the Farc commander-in-chief known by the nom de guerre Timochenko, said in a video statement from Havana on Monday, adding that the rebel group's members would not return to hostilities in a war that has cost more than 220,000 lives and displaced more than 6 million from their homes.
His comments echoed a speech after the results were released on Sunday night by Colombia's president, Juan Manuel Santos, who has staked his presidency on the peace deal. "I will not give up."
The no campaign, led by Santos's arch-rival and former president Álvaro Uribe – who has been the most stringent critic of the president and the peace deal – has said the plebiscite results give the government a mandate to renegotiate the accord with the Farc.
But in a hint of the difficulties to come, Timochenko indicated that the guerrilla group would insist on the peace deal that has already been signed. "We remain faithful to what has been agreed to," he said.
Public debate around migrants during campaign veered towards hate speech, campaigners say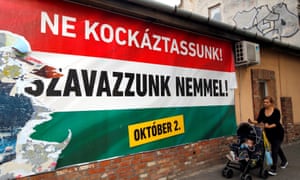 A woman walks in front of a Hungarian goverment poster regarding referendum on EU migrant quotas that reads: "We should not take a risk, vote no." Photograph: László Balogh/Reuters
Members of the Hungarian Jewish community have voiced concern about the divisive public discourse that accompanied Hungary's referendum on the admission of refugees, with some comparing it to the hate speech directed at Jews in the 1930s.
The rightwing prime minister, Viktor Orbán, waged the biggest advertising campaign in Hungarian history in an attempt to convince people to vote against welcoming 1,294 refugees allocated to Hungary under a Europe-wide responsibility sharing system.
Throughout the campaign, Orbán and his allies associated refugees with terrorists. "No one can say how many terrorists have arrived so far among the immigrants," said a state-sponsored pamphlet sent to every Hungarian household that claimed refugees had turned entire cities in western Europe, including London and Berlin, into no-go zones.
In response to the campaign, András Heisler, the head of Mazsihisz, the largest Jewish umbrella organisation in Hungary, said: "The public discourse regarding migrants has begun to switch over towards the direction of hate speech."
Citing the "historical experience" of Jews, Heisler feared that the stigmatisation of migrants could lead to the alienation of other Hungarian minorities.
"For us, it is not acceptable to incite hatred against not only Jews but also against Roma people, Christians, gays, or migrants," Heisler said. "As we know hatred behaves like a virus: it can [slowly] make sick the whole of society."
Diana Groo, a Hungarian director who makes films about Jewish history, said: "The campaign of hatred reminds me very much of the Nazi propaganda, and the film Der Ewige Jude (The Eternal Jew). It does remind us of the 1930s."
Heisler said he agreed with his colleague, Rabbi Zoltán Radnóti, who argued that the rights of refugees should not be up for discussion in a post-Holocaust context. "It should [be] evident in the post-Shoah Europe that those who want to flee should be able to do so," Heisler quoted Radnóti as saying.
Dashboard video recorded an officer saying 'Fuck this guy, I'm going to hit him' before the fatal police shooting of Joseph Mann, a 51-year-old homeless man
Warning: disturbing content.
In the last seconds before he was shot 14 times, Joseph Mann dodged the police cruiser once, then twice. Dashboard video recorded the officer's words inside the car: "Fuck this guy. I'm going to hit him."
"OK, go for it. Go for it," his partner replies.
The Mann family's attorney amended his complaint against the city of Sacramento on Friday and sent a letter to the justice department requesting a civil rights investigation into the Sacramento fatal police shooting of Mann, a 51-year-old homeless man with a history of mental illness.
"It's disgusting," attorney John Burris told the Guardian. "It raises the question that this might have been a deliberate, premeditated murder, that they intended to do what they did."
It's disgusting. It raises the question that this might have been a deliberate, premeditated murder

John Burris
Burris said the video and audio, first published by the Sacramento Bee on Friday, suggested that officers Randy Lozoya and John Tennis "had no regard for him as a human being, and no consideration that he might be mentally impaired from the way he was non-responsive, waving his hands, making karate chops, giving obvious signs of a disability".
"A reasonable person would have said this person has a problem."
Lozoya and Tennis were not the first officers to arrive at the scene on 11 July, when police received reports of a man standing in the street with a knife. "The initial officer acted fine," Burris said. "These two are acting like cowboys."
When the officers first tried to hit Mann, he was pacing in the street and backing away from officers. As the car sped into a turn toward him, Mann slipped away. "We'll get him. We'll get him," one of the officers can be heard saying.
When officers tried to hit him a second time, he jumped over a median, prompting officers to abandon their car in the middle of oncoming traffic. Mann was quickly chased down by officers, who fired 18 times and hit him with 14 bullets. He died in the street. The shooting itself not captured by the dashboard camera.
Sacramento police told the Bee that Lozoya and Tennis had been placed on "modified duty", pending investigation of the case.
Donald Trump's running mate, the governor of Indiana, has sought to prevent resettlement of Syrian people on the basis of terrorism fears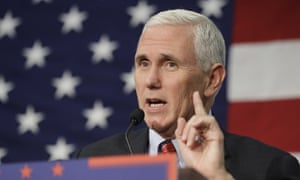 Indiana's governor, Mike Pence, has worked to prevent refugees from being resettled in his state. Photograph: Darron Cummings/AP
A federal appeals court has issued a stinging ruling dismissing as "nightmare speculation" Indiana governor Mike Pence's attempt to deter Syrian refugees from settling in the state because of terrorism fears.
The decision by the seventh circuit on Monday was the latest legal setback to efforts launched by Donald Trump's running mate in the wake of last November's Paris terrorist attacks to stop Syrian refugees from coming to Indiana by denying them aid.
Like many other states, Indiana receives money from the federal Office of Refugee Resettlement and contracts with humanitarian groups to provide local welfare services to refugees. Under federal law, such help must be provided "without regard to race, religion, nationality, sex, or political opinion".
The Republican vice-presidential candidate, though, specifically attempted to exclude refugees originating from Syria on the basis that they might be terrorists. He ordered the state not to reimburse groups for the costs of providing aid to Syrians. According to the court, 174 Syrian refugees came to Indiana in the past fiscal year.
While this hardline stance may have chimed with the views of Trump, whose immigration policies have included proposing a temporary ban on Muslims entering the US, it was rejected by the three-judge appeals court panel in a six-page ruling that echoed a lower court's decision earlier this year.
"The governor of Indiana believes, though without evidence, that some of these persons were sent to Syria by ISIS to engage in terrorism and now wish to infiltrate the United States in order to commit terrorist acts here. No evidence of this belief has been presented, however; it is nightmare speculation," Judge Richard Posner wrote in the opinion.
"[Pence] provides no evidence that Syrian terrorists are posing as refugees or that Syrian refugees have ever committed acts of terrorism in the United States. Indeed, as far as can be determined from public sources, no Syrian refugees have been arrested or prosecuted for terrorist acts or attempts in the United States. And if Syrian refugees do pose a terrorist threat, implementation of the governor's policy would simply increase the risk of terrorism in whatever states Syrian refugees were shunted to."
For a change from the same old news stories from the same old news networks, here are links to English-edition online newspapers from other parts of the world. Nearly all of these are English-edition daily newspapers. These sites have interesting editorials and essays, and many have links to other good news sources. We try to limit this list to those sites which are regularly updated, reliable, with a high percentage of "up" time.
Some of the available newspapers:
| | | |
| --- | --- | --- |
| Asia & CIS | | |
| | | |
| --- | --- | --- |
| China | | |
| | | |
| --- | --- | --- |
| China & Hong Kong | | |
| | | |
| --- | --- | --- |
| France | | |
| | | |
| --- | --- | --- |
| Israel | | |
| | | |
| --- | --- | --- |
| Norway | | |
| | | |
| --- | --- | --- |
| Palestine | | |
| | | |
| --- | --- | --- |
| Russia | | |
| | | |
| --- | --- | --- |
| Ukraine | | |
.