06 Oct
HAVANA TIMES — The center of hurricane Matthew left Cuban territory near Baracoa at 2 a.m. Wednesday heading north.  Initially, Baracoa is the city expected to report considerable damage. Strong winds, rain and coastal flooding persist in some areas of eastern Cuba and people are cautioned to stay put until the storm totally passes.
Other municipalities hard hit were Maisi, Imias, San Antonio del Sur all in the far east of  Guantanamo province.
The Cuban Weather Service (Insmet) reported at 6am Wednesday that coastal flooding would continue with waves of up to 6 to 8 meters in the provinces of Guantanamo and Holguin while moderate flooding can also occur on the north coast from Las Tunas to Camaguey. Lighter coastal flooding is expected in the Ciego de Avila Cays area.
Baracoa is currently incommunicado by land due to landslides.  Initial reports said several hotels and schools suffered damage.  Only when the calm returns will it be able to assess the precarious housing situation.  Some 35,000 residents of Baracoa remain evacuated.
Matthew now threatens Bahamas and will continue on a northwest track towards Florida, where the governor has declared an emergency to facilitate preparations.
Full reports of the damage caused by the powerful hurricane Matthew will be forthcoming.
Cuban President Raul Castro is in Santiago de Cuba to direct the recovery efforts.
Read More:
No one in Guantánamo slept a wink last night and I imagine it was the same story in Santiago and Holguin. These are the three easternmost provinces in Cuba, the ones that faced the greatest menace from the powerful Hurricane Matthew.

Exactly four years ago we experienced something similar to what now approaches us, although the chief meteorologist Dr. Rubiera has stated loudly and clearly that Guantánamo never faced anything like this.

We people in Guantanamo had hoped that the phenomenon would have taken a route further to the West (of course, we would prefer that it didn't have to pass through any province), however, forecasts now indicate yet again that it's coming straight for us.

Security council agrees, in surprisingly quick decision, that former Portuguese PM will succeed Ban Ki-moon at start of 2017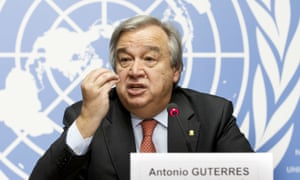 Antonio Guterres will be the next UN chief. Photograph: Salvatore Di Nolfi/AP
António Guterres, the former Portuguese prime minister, will be the next UN secretary general, after the security council agreed he should replace Ban Ki-moon at the beginning of next year.
In a rare show of unity, all 15 ambassadors from the security council emerged from the sixth in a series of straw polls to announce that they had agreed on Guterres, who was UN high commissioner for refugees for a decade, and that they would confirm the choice in a formal vote on Thursday.
"Today after our sixth straw poll we have a clear favourite and his name is António Guterres," the Russian UN ambassador, Vitaly Churkin, told reporters with his 14 council colleagues standing behind him.
"We have decided to go to a formal vote tomorrow morning at 10 o'clock, and we hope it can be done by acclamation."
The abrupt end to the UN leadership race came as a surprise. Many observers had expected the selection process to go on late into October as the major powers struggled to promote their favourite candidates. And some thought that Russia, currently holding the presidency of the security council, would block Guterres, as Moscow had said it wanted an eastern European in the top UN job.
At least 16 people feared dead, thousands staying in shelters and water in short supply as storm sweeps across Caribbean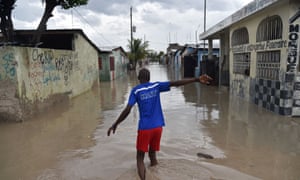 A man walks down a flooded street in the Cite Soleil area of Port-au-Prince, Haiti. Photograph: Hector Retamal/AFP/Getty Images
The destruction wrought by Hurricane Matthew has affected 350,000 Haitians and left the country facing its worst humanitarian crisis since the devastating earthquake six years ago, the UN has said.
Ten thousand Haitians are living in shelters, hospitals are under severe strain and water is in short supply, according to Mourad Wahba, the UN secretary general's deputy special representative for Haiti.
A situation report from the UN's Office for the Co-ordination of Humanitarian Affairs (Ocha), citing information from the Haitian government's directorate of civil protection, said 350,000 men, women and children in Haiti were in need of assistance.
Ocha said flooding had been reported in 11 towns on Haiti's southern coast. The International Organisation for Migration issued alerts over the plight of 55,000 internally displaced people still living in temporary shelters in and around the capital, Port-au-Prince, following the 2010 quake.
At least 16 deaths have been blamed on the hurricane during its week-long march across the Caribbean, 10 of them in Haiti. Marie Alta Jean-Baptiste, head of Haiti's civil protection agency, said on Wednesday that Haiti's confirmed death toll had doubled from five to 10.
Anecdotal evidence suggests it is mainly female journalists filling the gap left by the murder 10 years ago of Anna Politkovskaya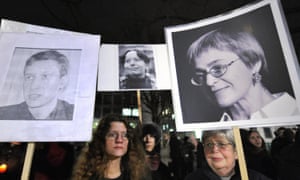 Activists demonstrate with photos of human rights lawyers and journalists, including Anna Politkovskaya (placard on the right), who have been killed in Moscow since 2006. Photograph: Michael Kappeler/AFP/Getty Images
Like many journalists in Russia, Elena Milashina is reluctant to talk about her work. In 2006, her close friend and collaborator Anna Politkovskaya was assassinated in Moscow, shot four times in the entry hall to her block of flats.
It was an event that shocked the journalism community and signalled that the climate of mistrust and the suspicion of a free press, encouraged by a Kremlin crackdown on independent media, was reaching a new peak.
Politkovskaya had been reporting closely on the wars in Chechnya, where separatist groups had been fighting unsuccessfully for independence from Russia, since 1994. By 2006 the region was firmly under the control of its Russian-appointed leader, Ramzan Kadyrov, who was operating a large private militia accused of savage brutality.
Though Politkovskaya had been warned by many friends and colleagues that she was in danger, she decided to keep returning. Thomas de Waal, writing at the time of her death, described how she had fearlessly reported "on the bombings, torture camps, abductions and corruption in Moscow's second campaign in Chechnya."
He added: "It felt at times that our news from Chechnya came from a remarkable one-woman reporting operation."
After her death, many of her colleagues left the profession, fearing for their own safety. Others decided to stop reporting from the North Caucausus, where the bloody conflict was still raging.
But for some women working in the field, her death seemed to have the opposite effect.
Anecdotal evidence suggests there are now more independent female than male reporters covering the post-Soviet conflict zones, from the North Caucasus to eastern Ukraine, and many more women investigating authorities' abuses and corruption.
The near-bankruptcy of the financially ailing resort town was caused in part by the failures of casinos such as those previously owned by Donald Trump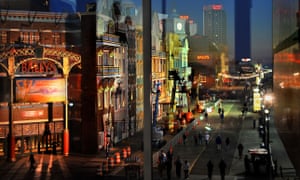 Customers of private water companies routinely pay more, and under privatization the people of Atlantic City would lose democratic control of their water and rates, as the people of Flint did. Photograph: Michael Williamson/The Washington Post
Atlantic City may be forced by New Jersey into an unprecedented state takeover of its water as the result of a bailout, something experts have warned has worrying echoes of the ongoing water crisis in Flint, Michigan, and could result in price hikes.
The near-bankruptcy of the financially ailing resort town was caused in part by the failures of casinos such as those previously owned by Republican presidential nominee Donald Trump.
Instead, a harsh $73m bailout loan was signed by the city and state, which required Atlantic City to dissolve its independent water utility and hold the infrastructure as collateral for the bailout loan. Christie, a water privatization proponent, has said he would "sell" the city's assets if Atlantic City failed to meet its loan obligations, a promise that could result in a private company owning or leasing the city's infrastructure.
Separately, the Guardian can reveal that while two of Trump's Atlantic City casinos were under his control, the mogul failed to pay more than $146,000 in water bills between 2012 and 2014 until March this year.
"It's highly unusual for the state to step in on a municipality's finances at all," said Daniel J Van Abs, a Rutgers University professor and expert in water policy. "The sort of deal that was established for Atlantic City is even more unusual, if you will. The notion that they should be required to privatize their utility – I have not seen the state take that action previously."
Advocates of public water were blunt about the loan's terms.
"It's undemocratic and un-American," said Mary Grant, a water privatization expert at Food & Water Watch, an advocacy group that monitors corporate water takeover attempts.
"The relationship to Flint is very compelling," Grant said. "An emergency manager came in and made decisions about the water system against the wishes of the local elected officials, and that resulted in the Flint water crisis, because they put money before health and human lives."
For a change from the same old news stories from the same old news networks, here are links to English-edition online newspapers from other parts of the world. Nearly all of these are English-edition daily newspapers. These sites have interesting editorials and essays, and many have links to other good news sources. We try to limit this list to those sites which are regularly updated, reliable, with a high percentage of "up" time.
Some of the available newspapers:
| | | |
| --- | --- | --- |
| Asia & CIS | | |
| | | |
| --- | --- | --- |
| China | | |
| | | |
| --- | --- | --- |
| China & Hong Kong | | |
| | | |
| --- | --- | --- |
| France | | |
| | | |
| --- | --- | --- |
| Israel | | |
| | | |
| --- | --- | --- |
| Norway | | |
| | | |
| --- | --- | --- |
| Palestine | | |
| | | |
| --- | --- | --- |
| Russia | | |
| | | |
| --- | --- | --- |
| Ukraine | | |
.