09 Oct
Houthi rebels say Saudi-led coalition to blame for attack on ceremony that left at least another 525 wounded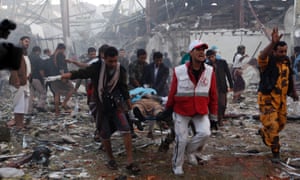 The aftermath of the Saudi-led coalition airstrike in the south of the capital Sana'a. Photograph: Mohammed Huwais/AFP/Getty Images
More than 140 people were killed and more than 525 wounded when airstrikes hit a funeral ceremony in Yemen's capital, Sana'a, a senior UN official has said, as Houthi rebels blamed the attack on the Saudi-led coalition.
The dead and wounded include senior military and security officials from the ranks of the Shia Houthi rebels fighting the internationally recognised government of president Abd Rabbo Mansour Hadi as well as their allies, loyalists of former president Ali Abdullah Saleh.
In the aftermath of the strike on Saturday, hundreds of body parts were found strewn in and outside the hall. Rescuers collected them in sacks. "The place has been turned into a lake of blood," said one rescuer, Murad Tawfiq.
Ambulances rushed to the site to ferry the wounded to hospitals. In radio broadcasts, the health ministry summoned off-duty doctors and called on residents to donate blood. Rescuers, meanwhile, sifted through the rubble in search of more casualties but a fire hindered their efforts.
The funeral was for Ali al-Rawishan, the father of the interior minister Galal al-Rawishan, an ally of both the Houthi movement and their chief ally, Saleh.
Witnesses and medics said a missile hit the hall in the south of the capital, destroying the building. They described ambulances ferrying casualties from the scene, where a plume of black smoke rose into the sky.
The Houthi-controlled news site sabanews.net said: "Dozens of citizens fell as martyrs or were wounded in this attack by planes of the Saudi-American aggression."
There was no immediate comment from the Saudi-led coalition.
US embassy warned nationals against public spaces over long weekend
Foreign ministry expresses 'annoyance' over possible effects on economy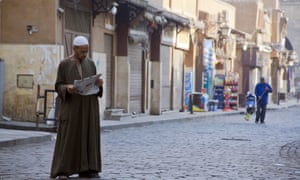 An Egyptian reads a newspaper in the neighborhood of El-Gamaliah, in Cairo, on Friday, the middle of a long weekend in the country. Photograph: Amr Nabil/AP
Reuters in Cairo
Egypt's foreign ministry sharply criticised the US embassy in Cairo for advising citizens to avoid large gatherings in the capital until Sunday, calling the move "unjustifiable".
The largest Arab country is battling an Islamist insurgency mainly concentrated in the Sinai peninsula and which gained pace after its military ousted President Mohamed Morsi, an Islamist, in 2013 after mass protests against his rule. There have been occasional militant attacks in Cairo and other cities.
The US embassy's message warned against being in public spaces such as concert halls, movie theatres, museums, shopping malls, and sports venues, citing "potential security concerns", but did not specify what they were.
"The foreign ministry spokesman has conveyed his annoyance at the warning released by the United States embassy in Cairo to Americans," the ministry said in a statement. "[This] raises questions over the reasons this statement was released in such a way."
The ministry said it had contacted the embassy over the warning and that it had been told there were no specific reasons or threats behind the move. The ministry quoted the embassy as having told it that the warning was a routine measure taken every time there is a long weekend and thus more crowding in public areas.
Thursday was a public holiday in Egypt, in celebration of Armed Forces Day. The Egyptian weekend is Friday and Saturday.
Fears that disease could spread as storm leaves almost 900 dead and tens of thousands displaced on Caribbean island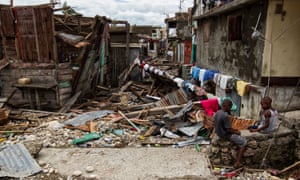 The clean-up continues in Jérémie, Haiti, where Hurricane Matthew has left almost 900 people dead. Photograph: Xinhua / Barcroft Images
Haiti was counting the cost of the devastation wrought by Hurricane Matthew on Saturday night, with almost 900 inhabitants killed and tens of thousands displaced in the Caribbean country.
Outbreaks of cholera led to the deaths of several people, because of flood water mixing with sewage, and fears were growing that the disease could spread.
"Due to massive flooding and its impact on water and sanitation infrastructure, cholera cases are expected to surge after Hurricane Matthew and through the normal rainy season, until the start of 2017," the Pan American Health Organisation said in a statement.
Matthew rampaged through Haiti's western peninsula on Tuesday with 145mph (233km/h) winds and torrential rain. Some 61,500 people remain in shelters, according to officials who said that the storm had hit fragile coastal villages, some of which were only now being contacted.
One of Haiti's most acutely affected regions centres on the beach town of Port-Salut, on the south-western peninsula of the country. At least three towns in the hills and coast of Haiti's fertile western tip reported dozens of people killed. These included the farming village of Chantal, where the mayor reported that 86 people had died, mostly when trees crushed houses.
"A tree fell on the house and flattened it. The entire house fell on us. I couldn't get out," said 27-year-old driver Jean-Pierre Jean-Donald.
"People came to lift the rubble, and then we saw my wife, who had died in the same spot," said Jean-Donald, who had been married for only a year. Fears the storm would cause similar damage on the US mainland proved unfounded as the hurricane steadily weakened throughout Saturday, although five deaths were reported – three in North Carolina and two in Georgia.
There was a period early on Saturday when Matthew – the most powerful hurricane to threaten the Atlantic seaboard in more than a decade – had prompted significant disquiet with mass evacuations in four US states and power failures affecting more than 1.6m homes and businesses.
Americans can't buy Tesla vehicles in four US states, but in Michigan the company has been boxed out entirely. Is it fair to consumers? Tesla says no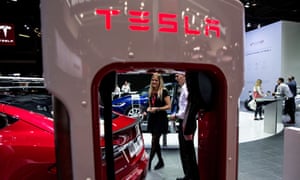 Tesla has taken a strong stance to challenge the prohibitions by filing a lawsuit against Michigan, a move that experts called a 'last resort' maneuver. Photograph: Vincent Isore/IP3/Getty Images
In the city that put America on wheels, in a state whose largest city is synonymous with automobile manufacturing, one auto company has been effectively boxed out.
Since 2014, a Michigan law has limited Tesla Motors' capacity to sell in the state, after the Republican-led legislature implemented a statute that banned the company's only method of selling its cars to consumers.
The move is part of a trend around the US to block the electric car company's direct-to-consumer sales that cut out dealerships from the sales process. The company's efforts to open its own dealership have been resisted by independent franchise dealers around the country, as well as the Big Three automakers.
In four states, it means customers can't buy Tesla vehicles. In Michigan, even customers who own Tesla vehicles have to leave the state to get them serviced. And Tesla has beaten back attempts to block sales in several other states, with more battles likely to come, amid fears that they threaten to eliminate the middleman.
Tesla took its strongest stance last month to challenge the prohibitions by filing a lawsuit against Michigan, a move that experts called a "last resort" maneuver. The lawsuit is the first to be filed by the company in federal court, following several previous legal pursuits at the state level against prohibitions of its sales model.
"The new law was immediately recognized by the public for what it was: a highly protectionist, dealer-driven law intended to shut Tesla out of Michigan," the 24-page complaint stated.
Opinion
Kenneth Pennington
Stopping one fighter plane program would save enough to build wind farms to power 320,000 homes. We need to drastically reassess our priorities

'The F-35 fighter plane program is a prime candidate for big cuts. It's the most expensive weapon ever designed, complete with massive cost overruns.'
One year ago this week, I was sitting in a cramped hotel room with 15 other staffers in Las Vegas for Bernie Sanders' first debate for the presidential nomination. The question came from CNN: "What is the greatest national security threat?" Pundits criticized and mocked him for weeks after he answered "climate change". But he was right.
And it's not just Sanders pointing out the imminent threat posed by climate change to global and national security. CIA analysts and our nation's military strategists are rightfully naming it as a contributor to refugee flows, the spread of disease, and conflicts over basic resources like food and water.
In 2014, 17.5 million people were displaced by climate-related disasters. Those numbers will continue to rise dramatically in the coming decades, according to climate displacement program manager Alice Thomas of Refugees International.
Our nation's defense officials know global warming's destructive forces could undermine fragile governments in unstable regions of the world where extremist ideologies can take root. Yet mainstream Republican avoidance of reality on the science of climate change impedes the necessary reassignment of resources to meet the challenges posed.
Now a new report from the Institute of Policy Studies provides the most accurate calculation of government spending on climate security to date. The picture isn't pretty. We're spending 28 times as much on military security than climate security. A public sector investment of $55bn per year is required to meet the challenge, according to the study. With $21bn in the 2017 budget, a shortfall of $34bn is left.
That may seem like an insurmountable hill to climb. It's not! As the IPS report points out, plenty of money lies untouched in the nation's bloated military budget.
The F-35 fighter plane program is a prime candidate for big cuts. It's the most expensive weapon ever designed, complete with massive cost overruns. The sad cherry on top: the military admits that this plane just doesn't work. If we turned back now, IPS says we could build enough offshore wind farms to power 320,000 homes for millions of people.
Advertisement
Savings from gutting a Navy program designed to build close-to-shore combat ships would provide enough funds to retrain more than 150,000 coal industry workers. The ships have been plagued with mechanical errors. Our own Government Accountability Office says the "actual lethality and survivability performance of LCS is still largely unproven through realistic testing". Others have called the ships an outright "waste". Retraining and redistributing our fossil-fuel workforce to green jobs would be a welcome reprioritization.
Congress could harness additional savings by reducing service contracting and canceling other wasteful or unnecessary weapons programs. But one party largely stands in the way. Republicans are hell-bent on leading our country down an unforgivable road with grave consequences. Their party's nominee for president believes that global warming is a hoax engineered by the Chinese. That would be comical if it weren't so dangerous.
Rich Americans justify inaction by dismissing climate change as a far off problem that will affect others. But climate change is here and now. And while the sharpest edge of its destructive forces will sadly hurt people of color and lower-income the hardest, we're all in deep trouble.
In an unusually forceful public service announcement, The Weather Channel this week warned Floridians that Hurricane Matthew would lead to a heartbreaking loss of life. Florida governor Rick Scott said: "This storm will kill you." These un-natural weather occurrences are becoming more and more frequent.
My home state of California faces its worst drought in 1,200 years. When I traveled home for the holidays two years ago, I saw the devastating impact of climate change firsthand. Where boats once sat docked in my hometown marina, only dust remained. Climate scientists are telling us that the United States is not immune to the instability and infighting that will occur when populations are forced to fight over food and water. They need only look to California for confirmation, where northerners and southerners argue fiercely over water access.
For a change from the same old news stories from the same old news networks, here are links to English-edition online newspapers from other parts of the world. Nearly all of these are English-edition daily newspapers. These sites have interesting editorials and essays, and many have links to other good news sources. We try to limit this list to those sites which are regularly updated, reliable, with a high percentage of "up" time.
Some of the available newspapers:
| | | |
| --- | --- | --- |
| Asia & CIS | | |
| | | |
| --- | --- | --- |
| China | | |
| | | |
| --- | --- | --- |
| China & Hong Kong | | |
| | | |
| --- | --- | --- |
| France | | |
| | | |
| --- | --- | --- |
| Israel | | |
| | | |
| --- | --- | --- |
| Norway | | |
| | | |
| --- | --- | --- |
| Palestine | | |
| | | |
| --- | --- | --- |
| Russia | | |
| | | |
| --- | --- | --- |
| Ukraine | | |
.