16 Oct
PNN/ Jerusalem/
The Israeli prime minister, Benyamin Netanyahu blasted two Israeli rights groups for speaking against illegal Israeli settlements and occupation at a UN Security Council meeting.
B'Tselem and Americans for Peace Now, affilliated to the Israeli Peace Now movement, on Friday joined an informal UN Security Council session on Tel Aviv's continued construction of illegal settlements on the occupied territories, PressTV said.
At the meeting, B'Tselem had said that the Israeli occupation "flew right in the face of its claim to be exercising "democracy" and reminded that occupation was affecting even the smallest aspects of Palestinian lives and had to end," PressTV added.
"The UN Security Council must act and the time is now," B'Tselem Executive Director Hagai El-Ad had said at the meeting, which later denounced Israel for building "illegal settlements," paving the way for a Security Council resolution against Tel Aviv.
The speeches angered Israeli Premier Benjamin Netanyahu, who took to Facebook on Saturday and said the two organizations that joined the "chorus of mudslinging" against Israel and had recycled the calls that Israel "occupation and the settlements are the reason for the conflict" with Palestinians.
He also vowed he would bar Israelis from doing volunteer work at B'Tselem as means of doing their military service.
In response, B'Tselem said in a statement in response that it would not be intimidated by Netanyahu.
Fares Ziad al-Bayed, 16, shot, wounded by IOF
Local authorities mobilise army and police to rescue trapped residents in central Vietnam following torrential rain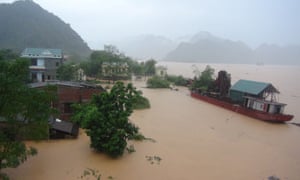 Floods surround houses in Vietnam's Ha Tinh province after torrential rain submerged tens of thousands of houses. Photograph: STR/EPA
Agence France Presse
At least 11 people have died and several more are missing in heavy flooding in central Vietnam, state media said on Saturday, with tens of thousands of homes completely submerged by water.
The communist government has ordered local authorities to mobilise the army and police to rescue trapped residents following heavy downpours, state-run Vietnam television reported.
The channel said at least 11 had died in the flooding with some 27,000 homes under water in the region.
Local official Nguyen Huu Hoai said the death toll was seven in Quang Binh province, but added that conditions were improving.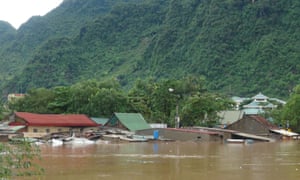 Submerged homes are seen in the central Vietnamese province of Quang Binh. Photograph: AFP/Getty Images
"We can reach areas which were isolated by flooding," the chairman of the provincial People's Committee said.
Though rainfall is expected to ease, officials warned the region could be hammered again if typhoon Sarika in the South China Sea reaches Vietnam.
Meteorologists say that the 2016 Asian monsoon is one of the strongest in many years, and has been intensified by the El Niño natural phenomenon which sees Pacific water temperatures rise and leads to droughts and severe weather worldwide.
US officials predict this year's harvest will be down 14% from last year as trees reel from disease and hurricanes – and orange prices surge
Florida might need to consider redesigning its license plates. The state's plates feature a pair of ripe oranges above the famous "Sunshine State" slogan, but the region is in the midst of the worst orange harvest crisis since records began in 1913 – and prices are soaring.
The state's orange trees, which are mostly used to produce juice, have been devastated by disease and hurricanes, causing harvest totals to fall for five successive seasons. The US Department of Agriculture this week predicted that the 2016 harvest would amount to just 70m boxes of oranges, a 14% drop on last year and a huge decline from bountiful days at the turn of this century when more than 23m boxes, each containing 90lb of fruit, were produced each year.
The steep drop in production has led orange juice futures prices to nearly double in 13 months, pushing producers to reduce the size of cartons and make more drinks that blend orange with other juices, in order to avoid shocking consumers with too big a price increase at the checkout. Orange juice futures traded on the Intercontinental Exchange (ICE) rose from $1.03 a pound in September 2015 to $2.05 last week. Some analysts predict that the price could reach $2.20 by the end of the year.
The orange crop devastation began in 2005 when a bacterium that causes huanglongbing – better known as citrus greening or HLB disease – was found in southern Florida. Since then, the Asian citrus psyllid, a tiny flying insect which transmits the disease, has been blown across Florida by various hurricanes, which also brought down orange trees.
Farmers have spent more than $100m on research into ways to combat the disease, but so far scientists are stumped.
Opinion
We need answers from the candidates on how they would deal with a deadly conflict in one of the Middle East's poorest countries. We're not getting them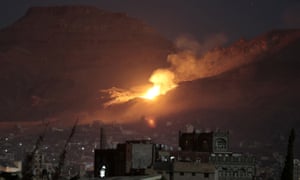 Fire and smoke rise after a Saudi-led airstrike hit a site believed to be one of the largest weapons depots on the outskirts of Yemen's capital, Sanaa, on Friday. Photograph: Hani Mohammed/AP
What if the United States went to war and nobody here even noticed? The question is absurd, isn't it? And yet, this almost perfectly describes what actually happened this past week.
While many Americans, myself included, were all hypnotized by the bizarre spectacle of the Republican nominee for president, a US navy destroyer fired a barrage of cruise missiles at three radar sites controlled by the rebel Houthi movement in Yemen. This attack marked the first time the US has fought the rebels directly in Yemen's devastating civil war.
The Trump show has managed to bump all serious and necessary policy debates not just off the table but out of the room
The cruise missile salvo ramps up the already significant US military involvement in deeply divided and desperately poor Yemen. While it's true that the US has launched drone strikes on al-Qaida targets in Yemen for years, sometimes killing civilians and even US citizens, this particular military engagement has the potential to drag the US straight into a protracted and escalating conflict. And, as everyone knows, America has an uncanny ability to enter protracted and escalating military conflicts.
Yet we've heard absolutely nothing about this from our presidential candidates.
If we investigated, we would find that the Pentagon justified this attack as retaliation. Last week, missiles were fired on two separate occasions at another navy destroyer off of Yemen's southern coast. Those missiles fell harmlessly into the water, but they were enough of a provocation that the navy responded with its own bombardment.
But we would also find that immediately prior to those incidents, on Saturday 8 October, a 500lb laser-guided US-made bomb was dropped on a funeral procession by the US-sponsored Saudi-led coalition fighting the rebels who, the Saudis say, are backed by Iran. This bomb killed more than 140 people, mostly civilians, and wounded more than 525 people. Human Rights Watch called the incident "an apparent war crime".
That heinous attack led to a strong rebuke from the US, which has sold the Saudis $110bn worth of arms since President Obama assumed office, and recently approved the sale of $1.15bn more. The US also supplies the Saudis with necessary intelligence and logistics to prosecute its war. According to Reuters, the US government is also deeply concerned that it may be implicated in future war crimes prosecutions as a result of its support for the Saudi-led coalition.
This worry might explain why National Security Council spokesman Ned Price stated that "in light of this and other recent incidents, we … are prepared to adjust our support so as to better align [the Saudi-led coalition] with US principles, values and interests, including achieving an immediate and durable end to Yemen's tragic conflict". Sounds good. Then again, the US bombed Houthi positions days later.
For a change from the same old news stories from the same old news networks, here are links to English-edition online newspapers from other parts of the world. Nearly all of these are English-edition daily newspapers. These sites have interesting editorials and essays, and many have links to other good news sources. We try to limit this list to those sites which are regularly updated, reliable, with a high percentage of "up" time.
Some of the available newspapers:
| | | |
| --- | --- | --- |
| Asia & CIS | | |
| | | |
| --- | --- | --- |
| China | | |
| | | |
| --- | --- | --- |
| China & Hong Kong | | |
| | | |
| --- | --- | --- |
| France | | |
| | | |
| --- | --- | --- |
| Israel | | |
| | | |
| --- | --- | --- |
| Norway | | |
| | | |
| --- | --- | --- |
| Palestine | | |
| | | |
| --- | --- | --- |
| Russia | | |
| | | |
| --- | --- | --- |
| Ukraine | | |
.