19 Oct
At least three students taken to hospital after vehicle drives into activists who had begun attacking it with batons at anti-US rally
A Philippine police van rams into protesters at an anti-US rally outside the American embassy in Manila on Wednesday. Demonstrators were demanding an end to the presence of US troops in the country. The protest leader, Renato Reyes, says at least three student activists were taken to hospital
A police van has rammed into protesters as an anti-US rally outside the American embassy in the Philippines capital, Manila, turned violent.
At least three student activists were taken to hospital after they were run over by the van driven by a police officer, the protest leader Renato Reyes said.
Television footage showed the van repeatedly ramming the protesters as it drove wildly back and forth after protesters had surrounded and started hitting the van with wooden batons they had seized from the police.
In front of horrified crowds, the van suddenly drove backwards then forwards twice over a space of about 20 metres, scattering protesters.
Some demonstrators screamed in surprise, while others hurled stones at the van. One protester called the police "puppies of imperialists" using a loudspeaker.
"There was absolutely no justification for it," Reyes said of the police tactics. "Even as the president vowed an independent foreign policy, Philippine police forces still act as running dogs of the US."
Officials confirm government cut off internet access for Julian Assange following a raft of leaked emails targeting Democrats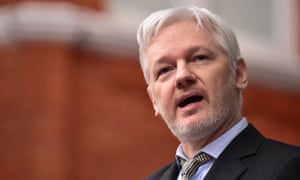 Julian Assange's internet access was cut off on Monday following a raft of leaked emails published by WikiLeaks. Photograph: Dominic Lipinski/PA
Ecuador has confirmed that it has temporarily cut off internet access in its embassy in London to Julian Assange, the founder of the whistleblowing site WikiLeaks, over fears that he was using it to interfere in the US presidential election.
The move followed the publication of leaked emails by WikiLeaks, including some from the Democratic National Committee (DNC) released just before the party's convention in July, and more recently a cache of emails from the account of Hillary Clinton campaign adviser John Podesta.
On Tuesday, officials released a statement saying that the government of Ecuador "respects the principle of non-intervention in the internal affairs of other states" and had cut off the internet access available to Assange because "in recent weeks, WikiLeaks has published a wealth of documents, impacting on the US election campaign".
The statement also reaffirmed the asylum granted to Assange and reiterated its intention "to safeguard his life and physical integrity until he reaches a safe place".
Assange's internet access was cut off on Monday morning. It was not immediately clear who was responsible, though a tweet from the site's official account claimed it had been "intentionally severed" by a "state party".
It is not known who perpetrated the hacks that brought the emails to WikiLeaks. Assange's organization styles itself a whistleblowing outfit and claims not to do or encourage any hacking itself.
Yet cybersecurity experts have linked the hack of the DNC emails to hackers tied to the Russian government, leading many – including Clinton's campaign manager, Robby Mook – to allege that Russia is using both hackers and Assange as tools to help rig the presidential election in favor of Donald Trump.
The supreme court will review the long-running battle over line-drawing, but many fear that voters' voices may be washed out in the presidential race first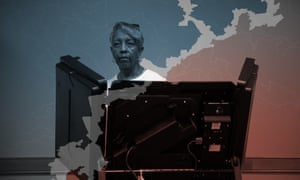 Two years ago, more than half of the state's voters cast Democratic ballots, yet Republicans secured the vast majority of congressional seats. Photograph: Jan Diehm
Max Blau in Charlotte, North Carolina
O

n the outskirts of Charlotte, it's the last day of early voting for the congressional race in North Carolina's 12th district at the Mountain Island library, and there are no lines for the polling stations.
Instead, volunteers outnumbered the voters. It was early voting time, but not for a race nearly as high-profile as the presidential election. Only 266 people turned out in June to the polls to pick the district's next member of Congress. After the election, once all the votes were tallied, only 7% of more than 500,000 registered voters cast ballots.
"Turnout was very, very low," said Carol Johnson, a poll worker and an employee for the city of Charlotte. "Maybe people didn't know. Maybe they weren't interested."
Or maybe people have grown disenfranchised after living in what has long been considered the most gerrymandered district in the United States. Twenty-five years ago, North Carolina lawmakers drew the 12th district, creating the second majority-minority district in a state with a dark history of denying black residents their voting rights.
That line-drawing is what is known as gerrymandering, or manipulating the boundaries of electoral districts to favor a particular result.
The district's borders were long and narrow – so stretched out that it took a two-hour drive from Charlotte, passing through Winston-Salem and Greensboro, before ending in Durham. Naturally, it became known as the I-85 district because, as state representative Mickey Michaux, a Democrat from Durham, once put it: "If you drove down the interstate with both car doors open, you'd kill most of the people in the district."
What gerrymandering can kill is the impact of a person's vote. North Carolina is a prime example of why President Barack Obama and former US attorney general Eric Holder recently announced plans to launch a long-term redistricting reform effort. And after Donald Trump escalated his warnings that this year's presidential election is rigged, several commentators and even the Daily Show's Trevor Noah argued that gerrymandering along with voter suppression laws are the real rigging.
The state's past two presidential races were determined by a margin of two percentage points, yet the simple act of map-drawing distorted electoral outcomes on the ballot. Two years ago, more than half of the state's voters cast Democratic ballots, yet Republicans secured the vast majority of congressional seats. For proof of gerrymandering's chilling effects, look no further than the way that the 12th – which over the years has been described as a serpentine, political pornography and nothing "natural on this planet" – has undercut the power of a single vote.
While we rake over Clinton's emails and Trump's late-night tweets, climate has been the elephant in the room, leaving scientists and campaigners asking why there hasn't been a single direct question about the crisis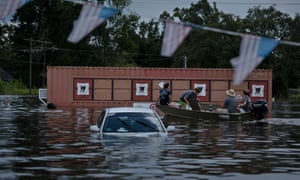 Despite recent extreme weather events, such as Louisiana floods, Hurricane Matthew and California's drought, climate change has failed to feature in the debates. Photograph: Brendan Smialowski/AFP/Getty Images
Climate change has been the elephant in the room during the past two US presidential debates. Ignoring this issue would be more understandable if this metaphorical pachyderm wasn't about to rampage the lives of Americans, causing upheaval on a scale not seen since the start of human civilization.
"I've been shocked at the lack of questions on climate change, it really is fiddling while the world burns," said Kerry Emanuel, a leading climate scientist. "This is the great issue of our time and we are skirting around it. I'm just baffled by it."
Donald Trump and Hillary Clinton have yet to face a moderator question on climate change during two debates in which time was found to grill Clinton repeatedly over her use of emails and to ask Trump about a series of late-night tweets he sent about a former Miss Universe's sex tape. Lester Holt, the moderator of the first debate, was reportedly set to ask a climate question but ran out of time.
Wednesday's final debate is set to retread the same ground, with debate referee Chris Wallace of Fox News planning to prod the candidates on immigration, the economy and "fitness to be president".
Wallace has also decided to ask about "foreign hot spots", but it appears unlikely that it will segue into talking about the diabolical heat suffered in Kuwait and India this year.
"It's like a sort of collective cowardice," said Emanuel of the omission. Michael Mann, another prominent climate scientist, added: "One has to wonder if television networks are compromised by the millions of advertising dollars they take from fossil fuel interests."
Milwaukee is one of the most politically polarized and racially segregated cities in America. Paul Lewis and Tom Silverstone discover a mix of alienation and hope in the city's African American community
The rights of activists and journalists are under threat wherever communities challenge Big Oil – in North Dakota and beyond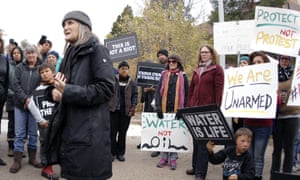 'The trampling of our rights as activists, or as journalists, isn't just a problem in North Dakota.' Photograph: Mike McCleary/AP
For far too long, the world had been ignoring the North Dakota anti-pipelines protests. Then the Democracy Now! host Amy Goodman captured private security forces (employed by a fossil fuel company) sicking dogs on Native Americans during a peaceful demonstration against the Dakota Access Pipeline, which encroaches on their sacred lands and waters. For that, she nearly went to jail.
The video made Goodman a target of North Dakota authorities, who brought charges of trespassing and rioting against her and the native leaders on the ground during the dog attack. Yes, a journalist was threatened with punishment for reporting on the horrific attack on indigenous people.
Authorities said Goodman didn't deserve press protections because her opinions made her an "activist" instead of a journalist. Are we to punish every journalist who calls out state violence as he or she sees it? How could you not have an opinion in the face of such brutality? Should Walter Cronkite have gone to prison for his words about Vietnam?
Clearly not. Organizations defending freedom of the press decried the charges against Goodman. Activists like ourselves rallied behind her cause online because we understand the importance of a free press to social change. And on Monday, a North Dakota judge dropped the charges due to lack of probable cause.
It's a win for freedom of the press, but intimidation by the fossil fuel industry and its government allies is far from over. Native leaders at the Standing Rock camps know this all too well, as they continue to face arrests by North Dakota police and pressure by Energy Transfer Partners, the company behind the pipeline.
There's no question that Goodman's fearless reporting helped make this act of brutality a turning point in the fight to stop the Dakota Access Pipeline. Soon after her broadcast, the Obama administration stepped in and paused the project until there could be "further consultation" of indigenous peoples. Suddenly, TV news and the mainstream media took up the story in a serious way for the first time. Thousands of more people headed out to the camp.
The trampling of our rights as activists, or as journalists, isn't just a problem in North Dakota. It's also a fight that's playing out around the world wherever communities stand up to the fossil fuel industry and other corporate interests destroying our communities and climate.
We see it in the murder of activists like Berta Cáceres in Honduras. We see it in the Philippines, where anti-mining activists are being murdered by paramilitary groups. According to a report by Global Witness, 185 environmental activists in 16 countries were killed last year and the number is just going up.
For a change from the same old news stories from the same old news networks, here are links to English-edition online newspapers from other parts of the world. Nearly all of these are English-edition daily newspapers. These sites have interesting editorials and essays, and many have links to other good news sources. We try to limit this list to those sites which are regularly updated, reliable, with a high percentage of "up" time.
Some of the available newspapers:
| | | |
| --- | --- | --- |
| Asia & CIS | | |
| | | |
| --- | --- | --- |
| China | | |
| | | |
| --- | --- | --- |
| China & Hong Kong | | |
| | | |
| --- | --- | --- |
| France | | |
| | | |
| --- | --- | --- |
| Israel | | |
| | | |
| --- | --- | --- |
| Norway | | |
| | | |
| --- | --- | --- |
| Palestine | | |
| | | |
| --- | --- | --- |
| Russia | | |
| | | |
| --- | --- | --- |
| Ukraine | | |
.