22 Oct
Globally, last year was the deadliest on record for environmental campaigners. States and investors must take steps to tackle this human rights crisis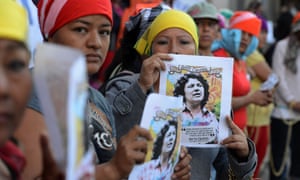 Lenca indigenous women protest against the murder of the Honduran environmentalist Berta Cáceres in March 2016. Photograph: Orlando Sierra/AFP/Getty Images
Michel Forst
The author is UN special rapporteur on the situation of human rights defenders
A

s demand for food, fuel and commodities cranks up pressure on land, companies are all too often striking deals with state officials without the consent of the people who live on it. But the stakes are high for anyone who tries to resist this pressure. Last year was the deadliest on record in terms of defending land, forests and rivers against industries like mining, hydro-electricity, agribusiness and logging. According to Global Witness, more than three people were killed each week in 2015 by police, private security or hired assassins.
At the UN general assembly on Friday, I will present a report setting out the vital steps that governments, companies and investors must take to tackle and end this hidden crisis.
Attacks on human rights defenders are a global problem, playing out across continents. It is a cruel irony that the men and women who are brave enough to fight for the protection of our planet are being assailed, threatened or criminalised. Governments rarely investigate the murders of environmental defenders or punish those responsible.
Take Michelle Campos, for example. She says her father, grandfather and school teacher were executed in front of their family and friends in an attack that drove 3,000 indigenous Filipinos from their homes. All three had protested against the destructive impact of mining on their land. Rich in coal, gold and nickel, the region of Mindanao in the Philippines is one of the most dangerous places in the world for environmental activism, with 25 deaths in 2015 alone.
A new approach is needed, to tackle the root causes of the problem rather than its symptoms. Once a project is under way it can be hard to dampen disputes over land and the environment. Authorities and businesses are eager to see a return on their investment and wield more power than local communities, who are often marginalised in the first place.
My report advocates a preventative approach, one that puts communities at the centre of decisions about the use of their land. Consulting people at the outset will make them less likely to encounter threats further down the line. Their input and expertise will shape projects, making them more sustainable, less destructive and ultimately more profitable for the communities, businesses and states involved, as tensions and violence are prevented.
Tens of thousands of prisoners across the country withheld their labor – for which they are paid as little as 17 cents an hour – in support of inmates' rights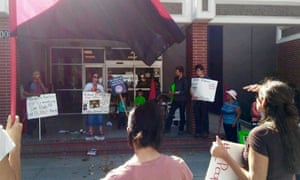 A solidarity demonstration at Merced jail on 15 October for a nationwide strike of prison inmates. Photograph: IWOC
Richard Castillo has not yet been convicted of the crime – evading police in a vehicle – of which he stands accused.
But he has been imprisoned since February 2013, including 12 months in solitary confinement. He still has a bullet lodged in his leg from being shot during his arrest, and his hand was broken in 10 places in a raid by guards on his accommodation block in June.
His son, who turned 10 a few days after his father was imprisoned, is now nearly 14. His four-year-old daughter cries for her father every day, his wife Victoria said.
On 9 September – the 45th anniversary of the Attica prison riot – Castillo joined tens of thousands of prisoners across the country in a general strike for inmates' rights, especially against forced labor, which protesters describe as tantamount to modern-day slavery.
The strike involved inmates in dozens of prisons in 22 states across the country, according to the Incarcerated Workers' Organizing Committee (IWOC), who helped organize the strike, and was coordinated using prison visits by family members and advocates and on illicit calls between inmates at different prisons on smuggled cellphones.
Another inmate who joined the strike was Tony. He spoke to the Guardian over a contraband cellphone from a South Carolina correctional facility, on the condition that his real name and the name of the prison not be used for fear of retribution by prison guards.
Tony described himself as "part of the prison resistance movement".
"Restoring prisoners' human rights – that's our objective," he said. Before going on strike lost him the position, he worked as a wood-scraper, making chairs and tables. At his prison, Tony said, prisoners are forced to work for no pay, sometimes in unsafe conditions – handling chemicals or sawing wood without goggles or the correct masks.
Working conditions can be unsafe, and there is no compensation in case of injury. When woodshop workers asked for face masks to protect their lungs against the sawdust, they were given cheap paper surgical masks, Tony said.
An inquisitive polar bear, blue-footed boobies and autumn colours are among this week's pick of images from the natural world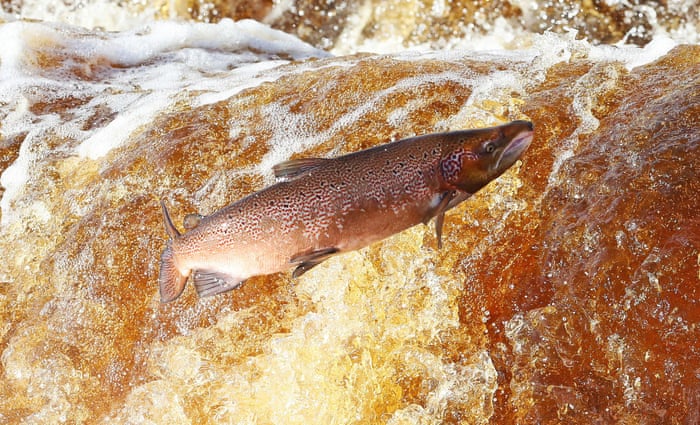 A salmon makes its way upstream on the River Tyne. Thousands of the fish have been helped by a new manmade fish pass at Hexham Bridge, Northumberland, UK
Photograph: Owen Humphreys/PA
Deia Schlosberg and Lindsey Grayzel face felony charges that first amendment advocates say are part of a growing number of attacks on freedom of the press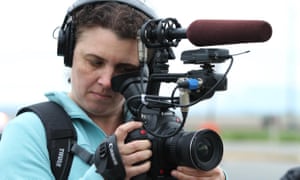 Lindsey Grayzel, an independent film-maker from Portland, Oregon, was arrested and jailed on 11 October while filming at a pipeline protest in Washington state. Photograph: Ben Grayzel
Two documentary film-makers are facing decades in prison for recording US oil pipeline protests, with serious felony charges that first amendment advocates say are part of a growing number of attacks on freedom of the press.
The controversial prosecutions of Deia Schlosberg and Lindsey Grayzel are moving forward after a judge in North Dakota rejected "riot" charges filed against Democracy Now! host Amy Goodman for her high-profile reporting at the Dakota Access pipeline protests.
But authorities in other parts of North Dakota and in Washington state have continued to target other film-makers over their recent reporting on similar demonstrations, raising concerns that the lesser-known journalists are not getting the same kind of public support and national attention.
Schlosberg, a New York-based film-maker, is facing three felony conspiracy charges for filming protesters on 11 October at a TransCanada Keystone Pipeline site in Pembina County in North Dakota, with prosecutors alleging that she was "recruited to record the criminal activity".
The 36-year-old – who produced a documentary called How to Let Go of the World and Love All the Things Climate Can't Change – could face 45 years in prison. US whistleblower Edward Snowden recently tweeted his support of Schlosberg, writing: "This reporter is being prosecuted for covering the North Dakota oil protests. For reference, I face a mere 30 years."
Documentary Filmmaker Faces Up to 45 Years in Prison for Covering Pipeline Protest – The Ring of…
In the same week that activist and celebrity Shailene Woodley was arrested while protesting the Dakota Access Pipeline, a documentary producer was arrested at yet another pipeline protest and charged…
For a change from the same old news stories from the same old news networks, here are links to English-edition online newspapers from other parts of the world. Nearly all of these are English-edition daily newspapers. These sites have interesting editorials and essays, and many have links to other good news sources. We try to limit this list to those sites which are regularly updated, reliable, with a high percentage of "up" time.
Some of the available newspapers:
| | | |
| --- | --- | --- |
| Asia & CIS | | |
| | | |
| --- | --- | --- |
| China | | |
| | | |
| --- | --- | --- |
| China & Hong Kong | | |
| | | |
| --- | --- | --- |
| France | | |
| | | |
| --- | --- | --- |
| Israel | | |
| | | |
| --- | --- | --- |
| Norway | | |
| | | |
| --- | --- | --- |
| Palestine | | |
| | | |
| --- | --- | --- |
| Russia | | |
| | | |
| --- | --- | --- |
| Ukraine | | |
.