24 Oct
Refugees and migrants queue for processing before police move in at the start of a week-long operation to raze camp in northern France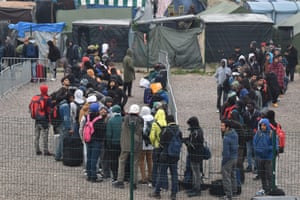 People queue outside a hangar where they will be sorted into groups and put on buses for shelters across France. Photograph: Philippe Huguen/AFP/Getty
Leila de Lima tells the Guardian she fears for her own life after challenging president on a mission to wipe out drug dealers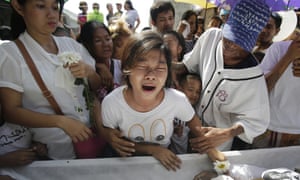 Family and friends grieve as they pay their last respects to alleged drug user Robert Manuel Jnr who was killed by police during an operation. There are calls for President Rodrigo Duterte to be investigated over his war on drugs which has claimed more than 3,800 lives. Photograph: Aaron Favila/AP
Nicola Smith
A leading member of the Philippines' senate has called for an international criminal investigation into the country's president in an effort to stop a vicious war on drugs that has killed more than 3,800 people since June.
Senator Leila de Lima, a human rights advocate and former justice secretary, has told the Guardian that foreign intervention was the only hope of putting an end to "state-inspired" extrajudicial murders that have terrorised parts of the population since president Rodrigo Duterte came to power four months ago.
In an interview De Lima urged world leaders to consider sanctions and the International Criminal Court (ICC) in the Hague to launch an investigation into Duterte and those who worked for him.
"It [ICC] should start to think about investigating already or doing an inquiry into the killings as crimes against humanity," she said.
The senator fears for her own life after she was ousted last month as chair of an inquiry looking into the vigilante death squads targeting drug dealers and users, and her address and mobile number were made public.
"For a few weeks after that I was unable to go home, I slept in other places although I was able to sneak into my house from time to time, so I felt like a thief in the night in my own home," she said.
"The more unfortunate thing is that ever since they publicised my cellphone number I did receive a lot, almost 2,000, of hate messages and death threats."
De Lima has become the nemesis of Duterte, who swept to power in May on a mandate to enforce zero tolerance on drugs-related crime. He denies any links to extrajudicial murder, but critics say his inflammatory rhetoric has unleashed a wave of violence.
The Philippines president Rodrigo Duterte appears to compare himself to Hitler saying he would "be happy to slaughter" three million drug addicts in his war on crime. "If Germany had Hitler, the Philippines would have…," he says, pausing and pointing to himself. Duterte was speaking during a press conference in his home city of Davao
Writer and activist, and ex-husband of Jane Fonda, became forever linked with Chicago seven trial of anti-Vietnam war protesters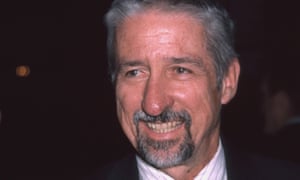 Tom Hayden served on the California assembly for almost 20 years as a progressive force on issues such as education and the environment. Photograph: Roberts/BEI/BEI/Shutterstock
Associated Press in Santa Monica, California
The 1960s anti-war activist Tom Hayden, whose name became forever linked with the celebrated Chicago seven trial, Vietnam war protests and his ex-wife, actor Jane Fonda, has died aged 76.
Hayden died on Sunday after a long illness, said his wife, Barbara Williams. He had a stroke in 2015.
Once denounced as a traitor by his detractors, he won election to the California assembly and senate where he served for almost two decades as a progressive force on issues such as education and the environment. He was the only one of the radical Chicago seven defendants to win such distinction in the mainstream political world.
He was an enduring voice against war and spent his later years as a prolific writer and lecturer advocating for reform of US political institutions.
The Los Angeles mayor, Eric Garcetti, praised Hayden on Twitter: "A political giant and dear friend has passed. Tom Hayden fought harder for what he believed than just about anyone I have known. RIP, Tom."
Hayden wrote or edited 19 books, including Reunion, a memoir of his path to protest and a rumination on the political upheavals of the 1960s.
"Rarely, if ever, in American history has a generation begun with higher ideals and experienced greater trauma than those who lived fully the short time from 1960 to 1968," he wrote.
Hayden was there at the start. In 1960, while a student at the University of Michigan at Ann Arbor, he was involved in the formation of Students for a Democratic Society (SDS), then dedicated to desegregating the south. By 1962, when he began drafting the landmark Port Huron Statement, SDS and Hayden were dedicated to changing the world.
"We are people of this generation, bred in at least modest comfort, housed now in universities, looking uncomfortably at the world we inherit," began the statement, which outlined a plan for a revolutionary campus social movement.
Hayden was fond of comparing the student movement that followed to the American revolution and the civil war.
In 1968, he helped organise anti-war demonstrations during the Democratic national convention in Chicago that turned violent and resulted in the notorious Chicago seven trial. It began as the Chicago eight trial, but one defendant, Bobby Seale, was denied the lawyer of his choice and ultimately received a separate trial.
After a circus-like trial, Hayden and three others were convicted of crossing state lines to incite riot. The convictions were later overturned, and an official report deemed the violence "a police riot".
The country's biggest trash-burning facility has been issued with a notice to sue, with local residents complaining of the bad smell and pollution it produces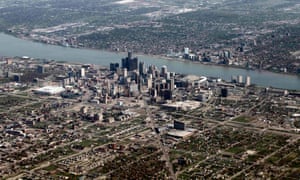 Detroit, Michigan, takes in garbage to burn at the incinerator from states across the midwest and from Canada. Photograph: Jason Reed/Reuters
At the intersection of two highways just outside downtown Detroit, a hulking relic of the city's past looms over the skyline: the largest municipal trash incinerator in the US. It's a facility that has raised concerns of nearby residents since its construction in the 1980s.
And some days, it stinks.
"The odors, if you ride I-94, you get this foul, rotten egg smell," said Sandra Turner-Handy, who lives about three miles from the facility.
The 59-year-old said her son used to work a block away from the incinerator and said the smell was "constant". Her granddaughter developed asthma while attending a school near the incinerator, but hasn't used an inhaler since she graduated and moved away.
The persistent odor and emission of other polluting substances are among 40 alleged Clean Air Act and state violations that have been logged against the company that owns the facility, Detroit Renewable Energy, since March 2015, according to a notice to sue by the Great Lakes Environmental Law Center.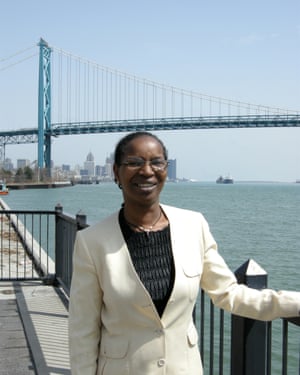 Sandra Turner-Handy: 'You get this foul, rotten egg smell.' Photograph: courtesy of the Michigan Environmental Council
"It's the things that you can't smell that are the most harmful," said Turner-Handy. "And how do residents report something that they can't smell?"
In 2015, the incinerator burned more than 650,000 tons of garbage, according to the notice. And since the beginning of that year, the incinerator has been fined for persistently violating an earlier agreement with the state for alleged state violations.
The law center also said in the filing that the incinerator presents a clear example of an environmental justice problem, as a majority of the trash burnt at the facility is imported from outlying communities, which pay $10 a ton less than Detroit to dispose of garbage.
"In short, Detroit is subsidizing other communities throughout the State of Michigan, the Midwest, and Canada to dispose of its garbage at the Incinerator," the filing said, with the incinerator "located in a neighborhood that is composed mostly of low-income people of color and is heavily overburdened by air pollution".
For a change from the same old news stories from the same old news networks, here are links to English-edition online newspapers from other parts of the world. Nearly all of these are English-edition daily newspapers. These sites have interesting editorials and essays, and many have links to other good news sources. We try to limit this list to those sites which are regularly updated, reliable, with a high percentage of "up" time.
Some of the available newspapers:
| | | |
| --- | --- | --- |
| Asia & CIS | | |
| | | |
| --- | --- | --- |
| China | | |
| | | |
| --- | --- | --- |
| China & Hong Kong | | |
| | | |
| --- | --- | --- |
| France | | |
| | | |
| --- | --- | --- |
| Israel | | |
| | | |
| --- | --- | --- |
| Norway | | |
| | | |
| --- | --- | --- |
| Palestine | | |
| | | |
| --- | --- | --- |
| Russia | | |
| | | |
| --- | --- | --- |
| Ukraine | | |
.