27 Oct
Charities fear for safety of unregistered minors as French officials try to declare clearout complete and fires ravage camp
The Guardian's Mat Heywood reports on the third day of the clearing of the Jungle refugee camp in Calais on Wednesday. On Tuesday night and Wednesday fires broke out in the centre of the camp, which steadily got more out of hand as the day progressed. The Guardian reports that some refugees are still planning on sleeping in the remnants of the camp
Scores of unaccompanied children remain unaccounted for in an increasingly chaotic situation at the Calais refugee camp, where French authorities tried to declare that it would be completely cleared at the end of the day.
Charities working at the site estimated about 100 children remained there without adequate safeguards, and called for the dismantling of the site to be halted amid growing concern for their welfare.
Save the Children said it was "extremely concerned" about children who had not been registered as parts of the camp went up in flames. About 100 were still in the queue when the registration centres were "swiftly" closed, the charity said.
Converted shipping containers set up near the camp to house children were full, and "hundreds" of youngsters remained outside with nowhere to go, the charity added.
Earlier in the day, Help Refugees said it had reports of up to 300 unaccompanied minors being turned away from the registration centres and sent back to the camp while fires were still smouldering. In a Facebook post, it also said volunteers were trying to find places for them to stay.
Guardian photographer Sean Smith has visited Calais, where the camp that housed as many as 7,000 refugees is being dismantled
Migrant death toll for year to date is 'highest ever recorded', despite fewer people trying to cross sea than in 2015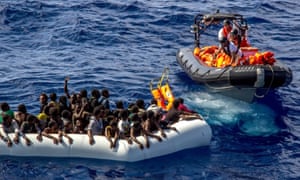 An MSF rescue mission in the Mediterranean. UNHCR say more smugglers are now using 'flimsy inflatable rafts that do not last the journey'. Photograph: Borja Ruiz Rodriguez/AP
A record number of people have died or gone missing while attempting to cross the Mediterranean sea, making 2016 the deadliest year for migrants trying to reach Europe, the UN refugee agency has said.
Updating figures on migrants and refugees reported dead or missing, the UNHCR spokesman William Spindler said: "We can confirm that at least 3,800 people have been reported dead or missing in the Mediterranean sea so far this year, making the death toll in 2016 the highest ever recorded."
News of the toll emerged as Pope Francis called for greater tolerance towards people seeking refuge or a better life, rather than "closed and unwelcoming" attitudes. Speaking in St Peter's Square, Vatican City, the pope said: "In some parts of the world, walls and barricades are being erected. Closure [of borders] is not a solution, it ends up by encouraging trafficking. The only path towards a solution is that of solidarity."
Fatalities in the Mediterranean have been rising, despite the falling numbers of people making the journey. According to the UNHCR 327,800 people have tried to cross the Mediterranean so far this year, compared to one million in 2015.
In 2016 people have had a one in 88 chance of dying, compared to one death for every 269 arrivals in 2015. Officials said the changing risks reflected different migration patterns and greater use of flimsy, overloaded boats.
While there has been a reduction in people crossing the eastern Mediterranean to Greece, numbers of migrants taking the central route from north Africa to Italy are almost unchanged since last year.
Living Planet Index shows vertebrate populations are set to decline by 67% on 1970 levels unless urgent action is taken to reduce humanity's impact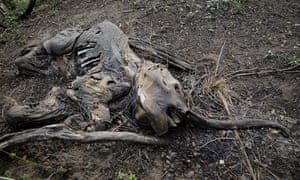 A victim of poachers in Kenya: elephants are among the species most impacted by humans, the WWF report found. Photograph: imageBROKER/REX/Shutterstock
The number of wild animals living on Earth is set to fall by two-thirds by 2020, according to a new report, part of a mass extinction that is destroying the natural world upon which humanity depends.
The analysis, the most comprehensive to date, indicates that animal populations plummeted by 58% between 1970 and 2012, with losses on track to reach 67% by 2020. Researchers from WWF and the Zoological Society of London compiled the report from scientific data and found that the destruction of wild habitats, hunting and pollution were to blame.
The creatures being lost range from mountains to forests to rivers and the seas and include well-known endangered species such as elephants and gorillas and lesser known creatures such as vultures and salamanders.
The collapse of wildlife is, with climate change, the most striking sign of the Anthropocene, a proposed new geological era in which humans dominate the planet. "We are no longer a small world on a big planet. We are now a big world on a small planet, where we have reached a saturation point," said Prof Johan Rockström, executive director of the Stockholm Resilience Centre, in a foreword for the report.
Marco Lambertini, director general of WWF, said: "The richness and diversity of life on Earth is fundamental to the complex life systems that underpin it. Life supports life itself and we are part of the same equation. Lose biodiversity and the natural world and the life support systems, as we know them today, will collapse."
He said humanity was completely dependent on nature for clean air and water, food and materials, as well as inspiration and happiness.
At Virginia mosque campaigning for Hillary Clinton, Gold Star father vows to fight until 'hatred and political bigotry is wiped out'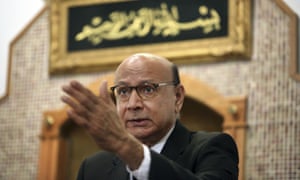 Khizr Khan speaks at the Masjid William Salaam mosque during a campaign stop for Hillary Clinton in Norfolk, Virginia. Photograph: Steve Earley/AP
With less than two weeks before the general election, Hillary Clinton's campaign deployed one of its most potent weapons in the fight against Republican presidential nominee Donald Trump: Khizr Khan, the father of a Muslim war hero killed in the line of duty.
Khan, a Gold Star father whose impassioned speech on the final night of the Democratic national convention helped knock Trump down to his current flailing position in the presidential race, spoke on Clinton's behalf to congregants and guests of a mosque in Norfolk, Virginia, home to the world's largest naval base and more than 60,000 active duty military personnel.
"The courage [to speak against Trump] wasn't ours," Khan said at Masjid William Salaam, the first of three stops in Norfolk that Khan made on Wednesday. "The courage was given to us.
"People ask would I do it again," Khan continued. "A million times – again and again and again – up until hatred and political bigotry is wiped out of this United States, we will continue to speak."
Khan's son, Marine Cpt Humayun Khan, was killed in 2004 by a car bomb after instructing the soldiers under his command to fall back from the vehicle. Khan was posthumously awarded the Bronze Star and the Purple Heart, and is buried in nearby Arlington national cemetery.
With his wife, Ghazala Khan, standing beside him, Khan excoriated Trump in a self-written speech at the DNC in June, describing his family as "patriotic American Muslims with undivided loyalty to our country" whose son would have never been able to serve his country had Trump's proposed ban on Muslims entering the US been in place.
"If it was up to Donald Trump, he never would have been in America," Khan said at the time. "Donald Trump consistently smears the character of Muslims. He disrespects other minorities, women, judges, even his own party leadership. He vows to build walls and ban us from this country."
After the speech – in which Khan emotionally declared that Trump had "sacrificed nothing and no one" and questioned whether he had even read the US constitution – Trump launched a prolonged public feud against the Khan family, implying that the speech had been crafted by Clinton campaign operatives and that Ghazala Khan was "not allowed" to speak because of her Muslim faith.
In an op-ed published in the Washington Post, Ghazala Khan explained that she still finds it too painful to speak about her son in public.
Opinion
She's a champion of workers' rights, and a thorn in the side of Wall Street. What a tragedy that the Massachusetts senator isn't on the ballot paper
'Warren is unapologetically in the tradition of courageous Americans who confront elites and stand up for the rights and freedoms of the average citizen.' Photograph: Justin Sullivan/Getty Images
I

f only it were Elizabeth Warren on the brink of taking the White House. At a New Hampshire rally, tearing remorselessly into the misogyny of Donald Trump, Warren was a reminder of what could have been. The US presidential election has not, to say the least, showcased the best of the US: the country of the anti-slavery movement, the suffragettes, the labour movement and the civil rights movement. Instead, the racism and bigotry that infests significant swathes of the country has been distilled into human form and paraded for a global audience. Hillary Clinton is the only means to stop the victory of a candidate who could send the last remaining superpower hurtling into a political death spiral. But although the Bernie Sanders movement has shifted the Democratic party to the left, let's not pretend a Clinton presidency would provide an alternative to a society rigged in favour of Wall Street and corporate America.
Warren, on the other hand, has been a determined champion of Main Street. She has passionately campaigned against Obama's proposed Trans-Pacific Partnership deal, which would grant corporations the ability to sue elected governments in secret courts to stop policies they don't like. She is unlikely to be invited to give lucrative speeches to Wall Street firms: she has castigated the failure to prosecute bankers for the financial crisis, and has supported a campaign to "Take On Wall Street" with a raft of reforms. It took Warren's campaigning zeal to create the Consumer Financial Protection Bureau, which provides some protection for consumers in the financial sector.
She's a champion of workers' rights, campaigning for those employed in the "gig" economy to get basic employment protections and social security. She has fought for a genuine living wage, arguing that the minimum wage would have risen to $22 an hour if it had increased at the same rate as productivity. She has demanded action to crack down on corporate tax avoidance, passionately making the case that "there is nobody in this country who got rich on his own. Nobody."
She has courageously embraced the Black Lives Matter movement, demanding reform of the police to stop the unjust killing of black Americans. She has co-sponsored a bill to repeal the authorisation for the Iraq war – which Clinton, of course, voted for – and has demanded the return of US troops from Afghanistan. And she backed equal marriage for same-sex couples before Clinton belatedly converted to the cause.
For a change from the same old news stories from the same old news networks, here are links to English-edition online newspapers from other parts of the world. Nearly all of these are English-edition daily newspapers. These sites have interesting editorials and essays, and many have links to other good news sources. We try to limit this list to those sites which are regularly updated, reliable, with a high percentage of "up" time.
Some of the available newspapers:
| | | |
| --- | --- | --- |
| Asia & CIS | | |
| | | |
| --- | --- | --- |
| China | | |
| | | |
| --- | --- | --- |
| China & Hong Kong | | |
| | | |
| --- | --- | --- |
| France | | |
| | | |
| --- | --- | --- |
| Israel | | |
| | | |
| --- | --- | --- |
| Norway | | |
| | | |
| --- | --- | --- |
| Palestine | | |
| | | |
| --- | --- | --- |
| Russia | | |
| | | |
| --- | --- | --- |
| Ukraine | | |
.