31 Oct
Completion of controversial oil pipeline near as work moves quickly, but one protester says: 'There is no time for waiting any more'
Sam Levin in Cannon Ball, North Dakota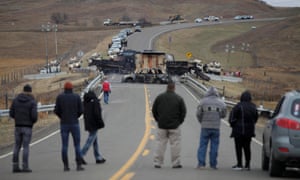 Dakota Access pipeline protesters inspect charred vehicles and signs in front of a law enforcement barricade. Photograph: Reuters
Native American protesters are preparing to take a "last stand" against the Dakota Access pipeline after police raided their camps and arrested hundreds, paving the way for construction of the final stretch of the controversial oil project.
The Standing Rock protesters in North Dakota have been fighting the $3.8 bn pipeline since April but were dealt a blow last week when police successfully pushed them off the property where construction is rapidly advancing.
While claims of excessive use of force by police and inhumane treatment in jail have sparked national outrage, native leaders camped out in the cold in Cannon Ball said they have also grown increasingly concerned that time is running out to stop the project on the ground. Pipeline workers, they say, are getting frighteningly close to the sacred water of the Missouri river.
"There isn't much land left between the water and the equipment," said Cheryl Angel, a member of the Sicangu Lakota tribe who in the spring helped form the first Sacred Stone camp for protesters who call themselves "water protectors".
"They're right there. They have breached our sacred ground. There is no time for waiting any more," the 56-year-old said, tears streaming as she gestured toward the water and encroaching pipeline. "It is almost complete. All they need to do is go under that river."
It is unclear when the final phase of construction could finish, but native activists on Sunday said it appeared the project was within a few miles of the water and that the construction crew seemed to be working at a fast pace. The North Dakota portion of the 1,172-mile pipeline was originally scheduled for completion by November.
A judge has denied a request from tribal leadership to block construction but last month, as protests heated up, a number of federal agencies said the government would hold off on issuing permits to dig on federal land near or under the Missouri river.
The government has not provided an update since. Silence from President Barack Obama and the continuing expansion of the pipeline have increased anxiety for activists.
Marcelo Crivella's victory underscores fall of Rousseff's Workers' party and voters' contempt for entire political system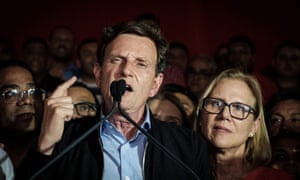 Rio de Janeiro's newly elected mayor, Marcelo Crivella, delivers his victory speech. Photograph: Yasuyoshi Chiba/AFP/Getty Images
An evangelical bishop has been elected mayor of Rio de Janeiro, as rightwing candidates across Brazil strengthened their influence at the expense of a decimated Workers' party.
Despite his past condemnation of Catholics and homosexuals, Marcelo Crivella of the Universal Church of the Kingdom of God won control of the city in a second round of municipal elections that underscored the rise of religious conservatism and the demise of the leftwing party that has dominated national politics for more than a decade.
The Workers' party lost every mayoral post it contested on Sunday, including two in São Paulo state, where it was founded, and Recife, which was long considered a stronghold. This followed heavy defeats elsewhere in the first round of local elections earlier this month.
It extends a horrendous period for the party, which was pushed out of power this year with the impeachment of former president Dilma Rousseff, and has subsequently seen its founder, Luiz Inácio Lula da Silva, ordered to stand trial on charges of corruption and obstruction of justice in the Lava Jato (Car Wash) investigation into bribery at the state-run oil firm Petrobras.
Although almost all the major parties were involved in the scandal, Michael Mohallem, law professor at the Getúlio Vargas Foundation, said the Workers' party (PT) was worst hit and would be severely weakened in the run-up to the 2018 presidential election.
"The PT suffered the most. It has regressed 20 years in terms of its number of votes. That is a direct impact of the Lava Jato operation," he said.
Disgusted by the revelations of Lava Jato – which implicated dozens of politicians across the ideological spectrum in a massive kickback system – and tired of a lingering recession, voters nationwide showed their contempt for the entire political system. There was a record number of spoiled and blank ballots and many people failed to vote altogether despite a legal obligation to do so.
Security chief says most of those killed were inmates, but Saudi-led coalition says building was command centre for rebel Houthis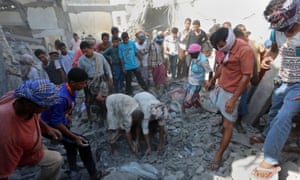 People search for survivors at the prison complex destroyed by Saudi-led airstrikes on Hodeida, Yemen, on Saturday. Photograph: Abdoo Alkarim Alayashy/AP
Associated Press in Sana'a
The number dead from a Saudi-led coalition airstrike on a prison complex in western Yemen has risen to 58, security officials have said.
Abdel-Rahman al-Mansab, a security chief of the district of al-Zaydiya in the Red Sea port of Hodeida, said most of the dead in Saturday's airstrike were prisoners. They were among a total of 115 prisoners who were serving jail terms for minor crimes or who were in pre-trial detention.
The city is under the control of Yemen's Shia Houthi rebels, who seized the capital and much of the northern region in 2014. The Houthi takeover has forced the internationally recognised government to flee the country and request military intervention by neighbouring Gulf states, which have conducted an extensive air campaign in Yemen since March last year.
The conflict has left more than 10,000 people dead and injured and displaced nearly 3 million Yemenis while pushing the Arab world's poorest nation to the brink of famine.
Rights groups have accused the coalition of systematically carrying out attacks on civilians. On Sunday, the Saudi-led coalition said the prison complex was used as a command centre for Houthis.
Mansab denied that, saying it was a "civilian" site and added that the complex came under three airstrikes that killed the prisoners along with rescuers who came to help the injured. He said there were still bodies under the rubble.
Pro-tenant group says a landlord who has a seat on Oakland's housing cabinet is also the top evictor in the city, where a housing crunch has reached crisis levels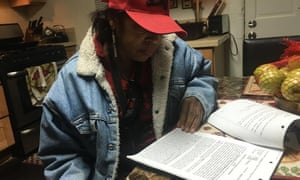 Leketha Williams, in her new home in Oakland, reviewing an old copy of her eviction lawsuit. Photograph: Sam Levin for the Guardian
L

eketha Williams was out of options. When the Oakland, California, mother was evicted and became homeless in May of 2010, she had just enough money to book a hotel for her and her two sons, then ages seven and 12.
In the following weeks, she worked to get her children to school on time each morning before carrying all of their belongings from one temporary home to the next, often forced to make dinners for the family out of hotel microwaves.
Williams had fallen behind on rent during a difficult financial period and had begged her landlords for mercy, writing in one handwritten letter: "Please let us stay for at least a week because my boys do not have anywhere to go … Do it for the sake of my boys."
But records show the sheriff ultimately forced her to surrender her apartment.
"It was horrible," Williams, 47, recalled in a recent interview. "I was very shocked … They didn't give us no time."
It's possible that Williams' story could have turned out differently had she not lived in a building managed by William Rosetti. A review of public records by the Anti-Eviction Mapping Project, a pro-tenant group, suggests that the Bay Area real estate executive, through his expansive portfolio of property companies and investments, is Oakland's number one "mega-evictor".
The organization's research and an analysis by the Guardian reveal that in Oakland, Rosetti and his business firms have filed more than 3,000 eviction notices, which are the first step in removing a tenant. The data, along with accounts from evicted tenants, paint a picture of painful displacement and rising income inequality in Oakland, a city that is rapidly gentrifying amid the tech boom of nearby San Francisco and Silicon Valley.
"These evictions and the rent increases are part of an ecosystem that's leading to a massive demographic shift of who can live in Oakland," said Erin McElroy, co-founder of the mapping project and co-author of a new report on displacement in the region.
Evictions aren't the only way Rosetti may be impacting Oakland. The researchers were particularly shocked to discover that the apparent top evictor has a seat on Oakland Mayor Libby Schaaf's "housing cabinet", a body dedicated to promoting equity and affordable housing in an increasingly unaffordable city.
'I watched the gentrification'
Williams' story is a familiar one in the Bay Area, where black residents have been displaced at alarming rates. By many measures, the housing crunch has reached crisis levels in Oakland, which has been deeply burdened by the migration out of San Francisco, the city across the bay known to have the priciest real estate in the country.
The harrowing election season is almost over, and while it may not be rigged as Donald Trump claims, US elections aren't decided by the popular vote alone. It must be time for a refresher on the electoral college – the complex and at times infuriating voting system that elects the United States president
Opinion
WikiLeaks' dump of messages to and from Clinton's campaign chief offer an unprecedented view into the workings of the elite, and how it looks after itself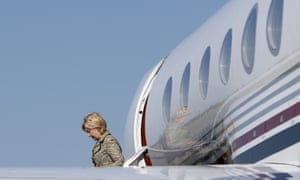 Presidential candidate Hillary Clinton arrives on her campaign plane at Martha's Vineyard Airport on 20 August 2016. Photograph: Carolyn Kaster/AP
T

he emails currently roiling the US presidential campaign are part of some unknown digital collection amassed by the troublesome Anthony Weiner, but if your purpose is to understand the clique of people who dominate Washington today, the emails that really matter are the ones being slowly released by WikiLeaks from the hacked account of Hillary Clinton's campaign chair John Podesta. They are last week's scandal in a year running over with scandals, but in truth their significance goes far beyond mere scandal: they are a window into the soul of the Democratic party and into the dreams and thoughts of the class to whom the party answers.
The class to which I refer is not rising in angry protest; they are by and large pretty satisfied, pretty contented. Nobody takes road trips to exotic West Virginia to see what the members of this class looks like or how they live; on the contrary, they are the ones for whom such stories are written. This bunch doesn't have to make do with a comb-over TV mountebank for a leader; for this class, the choices are always pretty good, and this year they happen to be excellent.
They are the comfortable and well-educated mainstay of our modern Democratic party. They are also the grandees of our national media; the architects of our software; the designers of our streets; the high officials of our banking system; the authors of just about every plan to fix social security or fine-tune the Middle East with precision droning. They are, they think, not a class at all but rather the enlightened ones, the people who must be answered to but who need never explain themselves.
Let us turn the magnifying glass on them for a change, by sorting through the hacked personal emails of John Podesta, who has been a Washington power broker for decades. I admit that I feel uncomfortable digging through this hoard; stealing someone's email is a crime, after all, and it is outrageous that people's personal information has been exposed, since WikiLeaks doesn't seem to have redacted the emails in any way. There is also the issue of authenticity to contend with: we don't know absolutely and for sure that these emails were not tampered with by whoever stole them from John Podesta. The supposed authors of the messages are refusing to confirm or deny their authenticity, and though they seem to be real, there is a small possibility they aren't.
With all that taken into consideration, I think the WikiLeaks releases furnish us with an opportunity to observe the upper reaches of the American status hierarchy in all its righteousness and majesty.
The dramatis personae of the liberal class are all present in this amazing body of work: financial innovators. High-achieving colleagues attempting to get jobs for their high-achieving children. Foundation executives doing fine and noble things. Prizes, of course, and high academic achievement.
Certain industries loom large and virtuous here. Hillary's ingratiating speeches to Wall Street are well known of course, but what is remarkable is that, in the party of Jackson and Bryan and Roosevelt, smiling financiers now seem to stand on every corner, constantly proffering advice about this and that. In one now-famous email chain, for example, the reader can watch current US trade representative Michael Froman, writing from a Citibank email address in 2008, appear to name President Obama's cabinet even before the great hope-and-change election was decided (incidentally, an important clue to understanding why that greatest of zombie banks was never put out of its misery).
For a change from the same old news stories from the same old news networks, here are links to English-edition online newspapers from other parts of the world. Nearly all of these are English-edition daily newspapers. These sites have interesting editorials and essays, and many have links to other good news sources. We try to limit this list to those sites which are regularly updated, reliable, with a high percentage of "up" time.
Some of the available newspapers:
| | | |
| --- | --- | --- |
| Asia & CIS | | |
| | | |
| --- | --- | --- |
| China | | |
| | | |
| --- | --- | --- |
| China & Hong Kong | | |
| | | |
| --- | --- | --- |
| France | | |
| | | |
| --- | --- | --- |
| Israel | | |
| | | |
| --- | --- | --- |
| Norway | | |
| | | |
| --- | --- | --- |
| Palestine | | |
| | | |
| --- | --- | --- |
| Russia | | |
| | | |
| --- | --- | --- |
| Ukraine | | |
.