01 Nov
Officers carry out identity checks and bulldoze tents near Métro station amid calls for action to find people shelter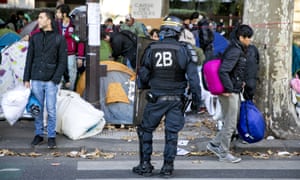 A police officer stands in front of migrants and refugees during a police operation at a shanty town in Paris. Photograph: Xinhua/Rex/Shutterstock
French police have carried out identity checks on migrants and refugees sleeping rough in a camp in northern Paris and bulldozed dozens of tents, sparking anger in the city.
The operation started shortly after 8am on Monday and took humanitarian organisations by surprise. People considered eligible to apply for asylum were taken away by bus; others were threatened with expulsion. Many were scrambling to retrieve their few belongings as the clearing operation began.
The rough sleepers, many of them from Afghanistan, claimed they had no time to collect their belongings, including tents and sleeping bags, as riot police were drafted in to clear the area.
"We are human, not animals. We need help and you're treating us like dogs," one shouted at an officer. "We need homes, we need to be protected, not this," said another.
Houssam El Assimi, of the humanitarian organisation La Chapelle Debout, said: "This is a roundup. They are throwing people on to the streets … and taking others into detention."
The group later condemned the operation and said people were being sent to unsuitable and insanitary accommodation while awaiting their fate.
In a statement, the group said: "The term 'giving them shelter' can sometimes mean institutional mistreatment, insalubrious lodgings, a lack of support from social, legal and health services.
"What's more, it's a complete waste of taxpayers' money."
The shanty town of tents and cardboard shelters under the arches of Stalingrad Métro bridge in northern Paris, not far from the Eurostar terminal at the Gare du Nord, is home to about 2,500 migrants and refugees, according to officials. Support groups claim the number exceeds 3,000.
At the weekend, the French president, François Hollande, vowed to evacuate the Stalingrad settlement, saying Paris had a "duty to receive" migrants and refugees.
Related:
The destruction of the refugee camp in Calais has meant thousands of its residents were dispersed quickly throughout France. Around 200 children were accepted by the UK, but as the registration process closed, the Guardian's Mat Heywood found hundreds of adults and children were left with nowhere to go
Some government officials suggested an increase to quota, which maintains this year's target, to help spur economic growth for top companies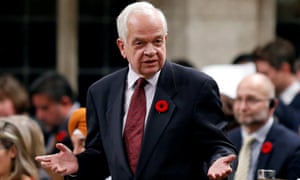 Canadian immigration minister John McCallum said more immigrants would be a 'good policy for demographic reasons'. Photograph: Chris Wattie/Reuters
Reuters
Canada said on Monday it would let 300,000 immigrants into the country in 2017, maintaining this year's target despite recommendations to increase it to help spur economic growth.
The government said it was establishing 300,000 as a new baseline for the admission of permanent residents, with the majority of those allowed into the country to be selected as economic immigrants.
While the target is unchanged from 2016's plan, it is above the average of 259,542 immigrants admitted from 2011 to 2015.
Immigration minister John McCallum told reporters that making the 300,000 target permanent laid the foundation for future immigration growth.
"I do believe it is true that more immigrants for Canada would be a good policy for demographic reasons," McCallum told reporters.
Like many developed countries, Canada has an aging population, which poses a challenge for economic growth.
An economic advisory council to finance minister Bill Morneau recently recommended that Canada increase its annual immigration target to 450,000 over the next five years to attract top talent to Canadian companies.
More than 1 million people answered a call on Facebook to 'overwhelm and confuse' law enforcement, though police deny tracking activists on social media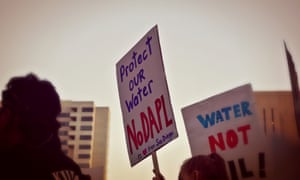 One of the million who remotely checked in to the protest camp at the Standing Rock Indian reservation called it 'a gesture to show solidarity'. Photograph: Esperanza Gutierrez/GuardianWitness
Sam Levin in Cannon Ball, North Dakota, and Nicky Woolf in San Francisco
More than 1 million people have checked in on Facebook to the Standing Rock Indian reservation in response to a viral post claiming that doing so would help protect activists in North Dakota protesting against an oil pipeline from police surveillance.
Members of more than 90 Native American nations have converged on Standing Rock in North Dakota since April to protest against the construction of the Dakota Access pipeline, saying it would jeopardize the tribe's water supply and threaten sacred tribal sites.
Early on Monday, a Facebook post said that the Morton County sheriff's department was using Facebook check-ins to target people at the protest camp.
"Water Protecters are calling on EVERYONE to check-in at Standing Rock, ND to overwhelm and confuse them," the post said, going on to urge that everyone copy and share the text along with their check-in.
The origin of the text is not known. But it is spreading quickly; the number of check-ins at the Standing Rock reservation page went from 140,000 to more than 870,000 by Monday afternoon.
The pipeline's proposed route, to transport fracked crude oil from the Bakken oilfield in North Dakota to a refinery near Chicago, would cross the Missouri river just upstream of the reservation.
Thousands have set up camp on land abutting the reservation, and hundreds have been arrested in numerous clashes with police. Protesters say they are ready for a "last stand" as the pipeline's construction advances.
Related:
Protests against the controversial Dakota Access pipeline move into a new phase when police in North Dakota make mass arrests and deploy pepper spray against protesters and the media. Activists say tear gas was also used, claims the county sheriff denies
The scientific numbers are not yet in from the UK Butterfly Monitoring scheme, but the Big Butterfly Count recorded its worst figures since it began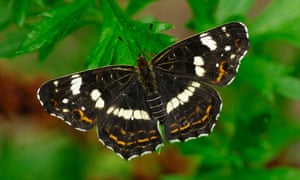 The white admiral has had a particularly difficult year. Photograph: Arco Images/Alamy
A

t first glance, it has been a bafflingly bad summer for butterflies. After a decent spring in the north-west and a dazzling late summer in the south-east, garden buddleias remained bereft. The only butterfly I've seen in good number is the red admiral, which thrived during the second-warmest September on record.
The scientific numbers are not yet in from the UK Butterfly Monitoring scheme (a magnificent dataset collected by 2,000 volunteers each summer which celebrates its 40th birthday this year) but the Big Butterfly Count recorded its worst figures since it began – worse than the washout of 2012.
"Because the summer weather wasn't anything like as bad as 2012, the finger is pointing at the mild, wet winter," says Matthew Oates of the National Trust.
Most of us probably don't consider last winter an "extreme" event, but it was wet and violently mild. December 2015 was the warmest ever in the Met Office's Central England Temperature series stretching back to 1659. It's the most anomalous month ever recorded – 5.1C above average, more than double the ordinary monthly average.
We may have barely noticed last December, but butterflies did. Caterpillars emerged from their diapause, found nothing to eat and perished.
"The interesting thing is the species that did worst this summer are generally those that spend the winter as larvae," says Oates: the purple emperor, silver-washed fritillary and white admiral all struggled this year.
We need more scientific research on the impact of mild, wet winters, but such correlations are fiendishly difficult to prove. "It's scary," says Oates of the mysterious impact of extreme weather.
Read Full Article
For a change from the same old news stories from the same old news networks, here are links to English-edition online newspapers from other parts of the world. Nearly all of these are English-edition daily newspapers. These sites have interesting editorials and essays, and many have links to other good news sources. We try to limit this list to those sites which are regularly updated, reliable, with a high percentage of "up" time.
Some of the available newspapers:
| | | |
| --- | --- | --- |
| Asia & CIS | | |
| | | |
| --- | --- | --- |
| China | | |
| | | |
| --- | --- | --- |
| China & Hong Kong | | |
| | | |
| --- | --- | --- |
| France | | |
| | | |
| --- | --- | --- |
| Israel | | |
| | | |
| --- | --- | --- |
| Norway | | |
| | | |
| --- | --- | --- |
| Palestine | | |
| | | |
| --- | --- | --- |
| Russia | | |
| | | |
| --- | --- | --- |
| Ukraine | | |
.