08 Nov
Pro-Beijing newspapers praise blow to 'political extremists' after Beijing bars two lawmakers from taking seats in parliament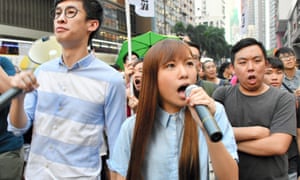 Newly elected lawmakers Yau Wai-ching (R) and Sixtus Leung (L), who have been barred by China from taking their seats in Hong Kong's parliament. Photograph: The Asahi Shimbun/The Asahi Shimbun via Getty Imag
Beijing's unprecedented eviction of two pro-independence activists from Hong Kong's parliament has dealt a severe blow to "political extremists", a Communist party-controlled newspaper has claimed as members of the city's legal community prepared to take to the streets in protest.
One day after Beijing effectively barred Sixtus 'Baggio' Leung and Yau Wai-ching from taking up their seats in the former colony's 70-seat legislative council, an editorial in the Global Times praised their ousting, arguing that the appeasement of such voices would plunge the financial hub into confusion and ruin.
The Communist party's official mouthpiece, the People's Daily, said Beijing was taking decisive action against an intolerable and unrepentant collection of pro-independence "elements" who posed a direct threat to China's sovereignty and national unity.
"The central government will not hesitate to take effective measures to crack down on and curb the "Hong Kong independence" [movement]," it said.
Hong Kong's South China Morning Post echoed those views, describing the intervention, which came in the form of a highly unusual interpretation of the former colony's mini-constitution, as a "strong tool to stamp out pro-independence forces".
Pro-democracy activists have reacted to the intervention with astonishment and dismay while the British government expressed its concern in a brief and cautiously worded statement.
Opinion
Despite higher than usual early voting among Latin communities, Trump could still succeed. Even if he doesn't, he's made racism against us fashionable again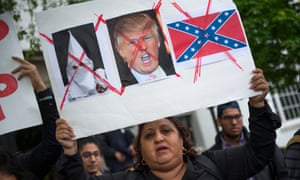 'Things are about to get worse for us, not better.' Photograph: Shawn Thew/EPA
T

he nightmare truly began when Donald Trump threw Jorge Ramos out of a press conference in August last year. Some might argue it was when he called Mexican immigrants "rapists" the month before, but the beast hadn't yet emerged, hadn't yet been given a clear face or features.
"Go back to Univision!" Trump shouted as Ramos was escorted out of the room. The familiar syntax was not lost on us Latinos, who have been told to "go back" for as long as we've been in the United States, whether we were born here or not.
Before he was forcibly removed, Ramos was criticizing Trump for effectively saying he would deport 11 million undocumented people and build a 1,900-mile border wall. Well, Trump skirted those specifics, but that was the reality of what he was proposing. We Latinos were put in a familiar place – where we are merely numbers or parasites to the economy, seen not for our worth as human beings but for our worth as laborers.
Al mal tiempo, buena cara, goes an old Mexican proverb. "To the bad times, good face." When I first delved into the world of activism, I used to hold the saying in contempt. It seemed to feed into the bottomless humility of the Mexican American in the face of oppression, the immigrant family, the Chicano who doesn't want to make a fuss. It painted us, I thought, as a people who merely stood by while bad things happened to us.
Watching the Trump campaign, being its first scapegoats, I felt we were in that helpless place where our only option was to endure. The slogan Make America Great Again encapsulated exactly how we are seen in this country. We are the unclean other, our culture dilutes the purity of America's white citizens who must be protected from us. Make America great again – by kicking us out.
Violence against Latinos surged, at Trump rallies and across the country. Xenophobia and racism were whipped into a fever pitch by the demagogue's rants, his constant attacks on our families and our neighbors. "Send them back" was a phrase I heard more in those months than I ever had in my life. "You have to go back" became a common response to everything I wrote. Something had changed.
It was Trump's attack on US district court judge Gonzalo P Curiel, born in Indiana and of Mexican descent, that saw our worst fears begin to take shape in reality. Trump, then the presumptive Republican nominee, accused Curiel, who was overseeing a class action lawsuit against Trump University, of being biased simply because of his Mexican heritage.
I remember watching the debacle unfold and thinking: "So this is how he'll silence us as president." All of us. For Trump, it has never been about immigration. It's been about stoking racism against brown people, against black people, against the "other". "He's a member of a club or society very strongly pro-Mexican," Trump said of Curiel. "Which is all fine. But I say he's got bias." It harkened back to McCarthyism. This is what he meant when he said he would make America great again.
Things took a dip into the absurd with the infamous Cinco de Mayo taco bowl tweet. Trump, smiling and without irony, as if he hadn't advocated for the mass deportation of our people and hadn't called us criminals and thugs, tweeted: "I love Hispanics!"
It was beyond parody.
Today, many hope that the long nightmare is about to draw to a close. But Trump could still pull off a win. And even if he doesn't, the Trump machine will roll on, with or without him. We have on our hands a significant population of angry white citizens who blame us for all their frustrations. Things are about to get worse for us, not better.
It happens in cycles. America's last mass deportation of Latinos and Mexican Americans happened during the Great Depression. Approximately 2 million Mexicans and Mexican-Americans were rounded up and ejected from the country. And leading up to Trump, xenophobia in the Republican party was already the norm. Trump merely brought the subtext to the fore, bolded it and added several exclamation points. It's a recipe for disaster.
Al mal tiempo, buena cara. I used to hate the phrase, but now I think of it daily. It helps me survive the daily inanities of the election cycle, the daily ways we are dehumanized. It's not putting on a smile and pretending the bad times aren't happening. It is a radical act of survival. It is a resolute affirmation in the face of adversity: I will make it through this. I will live to see the better days.
For a change from the same old news stories from the same old news networks, here are links to English-edition online newspapers from other parts of the world. Nearly all of these are English-edition daily newspapers. These sites have interesting editorials and essays, and many have links to other good news sources. We try to limit this list to those sites which are regularly updated, reliable, with a high percentage of "up" time.
Some of the available newspapers:
| | | |
| --- | --- | --- |
| Asia & CIS | | |
| | | |
| --- | --- | --- |
| China | | |
| | | |
| --- | --- | --- |
| China & Hong Kong | | |
| | | |
| --- | --- | --- |
| France | | |
| | | |
| --- | --- | --- |
| Israel | | |
| | | |
| --- | --- | --- |
| Norway | | |
| | | |
| --- | --- | --- |
| Palestine | | |
| | | |
| --- | --- | --- |
| Russia | | |
| | | |
| --- | --- | --- |
| Ukraine | | |
.