13 Nov
Malcolm Turnbull announces one-off agreement for refugees on Manus Island and Nauru to be resettled in US under auspices of the UNHCR
Malcolm Turnbull hailed a landmark 'one-off' resettlement deal to the United States for an unspecified number of refugees held at offshore detention facilities on Nauru and Manus Island. Speaking to the media on Sunday alongside immigration minister Peter Dutton, the Australian prime minister said the deal would prioritise families, women and children
The Australian government has announced a landmark "one-off" resettlement deal to the United States for some refugees held at Australia's remote offshore detention facilities on Nauru and Manus Island.
On Sunday the prime minister, Malcolm Turnbull, and the immigration minister, Peter Dutton, announced a deal that would prioritise families, women and children for settlement with "the prospect" that some others of the 1,616 people found to be refugees so far in offshore detention would be resettled in the US.
"I can now confirm that the government has now reached a further third-party resettlement arrangement," Turnbull said. "The agreement is with the United States. It is a one-off agreement. It will not be repeated. It is only available to those currently in the regional processing centres."
"It will not be available to any persons seeking to reach Australia in the future. Our priority is the resettlement of women, children and families."
At the press conference, at Maritime Border Command in Canberra, Turnbull refused to say how many refugees the deal would apply to but said the deal showed the government "can source and provide alternative resettlement options".
The remaining refugees on Nauru will be eligible for 20-year temporary visas on Nauru.
The US resettlement would be contingent on vetting by the United States Homeland Security agency.

Turnbull said that the scheme would be "administered with" the United Nations High Commissioner for Refugees.
Speaking in New Zealand before the announcement, US secretary of state John Kerry said the US had agreed to "consider referrals from [the] UNHCR on refugees now residing in Nauru and Papua New Guinea".
But a statement from the UNHCR said while it welcomed the deal and would endorse referrals to the US, it was "not a party to it" and had no formal role in processing.
"The arrangement reflects a much-needed, long-term solution for some refugees who have been held in Nauru and Papua New Guinea for over three years and who remain in a precarious situation," the statement said.
"It is on this basis that UNHCR will endorse referrals made from Australia to the United States, on a one-off, good offices, humanitarian basis, in light of the acute humanitarian situation. The full details of the agreement are not yet known, and UNHCR is not a party to it."

One million expected to turn out for day of protest in Seoul against the president, who is engulfed in a growing corruption scandal
Agence France-Presse
An estimated 170,000 protesters marched through the streets of the South Korean capital Seoul on Saturday, calling for President Park Geun-Hye to resign. In the third peaceful mass protest against the Park government saw people express their unhappiness over a growing corruption scandal surrounding the president. Park is accused of allowing Choi Soon-sil. a close friend, to exerting undue influence of the South Korea government
Tens of thousands of men, women and children joined one of the largest anti-government protests seen in Seoul for decades on Saturday, demanding President Park Geun-Hye's resignation over a snowballing corruption scandal.
Police had planned for 170,000 people, but organisers said they expected a final turnout of up to one million for what was the third in a series of weekly mass protests that have left Park fighting for her political survival.
On the back of official appeals for calm, police deployed around 25,000 officers, many of them in full riot gear, while police buses and trucks blocked every access road – major or minor – around the presidential Blue House.
As with the previous protests, the huge crowds were extremely mixed, with high school children rubbing shoulders with retirees and young couples marching with babies or young children.
"Park Geun-Hye must resign because she didn't take good care of our country," said 11-year-old student Park Ye-Na.
The steady beat of drums and chanted slogans made for a raucous but largely peaceful atmosphere, with banners everywhere mocking Park and calling for her to step down immediately
In a televised news conference on Friday, deputy prime minister Lee Joon-Sik had voiced concerns at the possibility of "illegal collective action or violence" and urged the protestors to respect police barriers.
The scandal engulfing Park is focused on a close personal friend, Choi Soon-Sil, who is currently under arrest on charges of fraud and abuse of power.
Prosecutors are investigating allegations that Choi, 60, leveraged their personal relationship to coerce donations from large companies like Samsung to non-profit foundations which she set up and used for personal gain.

The hashtags that sum up worldwide despair and fear after Donald Trump wins the US presidential election
Donald Trump is the next president of the United States. A man who has been criticised for misogyny, whipping up xenophobic hysteria about migrants living in the US, and rejecting climate science, and who told Japan and South Korea to "enjoy themselves" if they were to wage nuclear war on North Korea, is set to take power in one of the most powerful countries in the world.
By 1pm GMT on Wednesday the word Trump had been tweeted tens of millions of times, and internet users around the world have reacted to the news with a mix of dark humour, fear, and hope for what might be next.
#JeSuisUSA
After the offices of Charlie Hebdo were attacked by extremists in Paris last January millions got behind the hashtag #JeSuisCharlie in solidarity against the violence. The "Je Suis" (I am) sentiment has since been used in many sad circumstances, from mourning the victims of Boko Haram in northern Nigeria to bombings in Beirut.
Today this has been adapted yet again as people mourn the election result using #JeSuisUSA. Many adapted the image of the Statue of Liberty, a proud symbol of America's history of welcoming immigrants, to one of despair.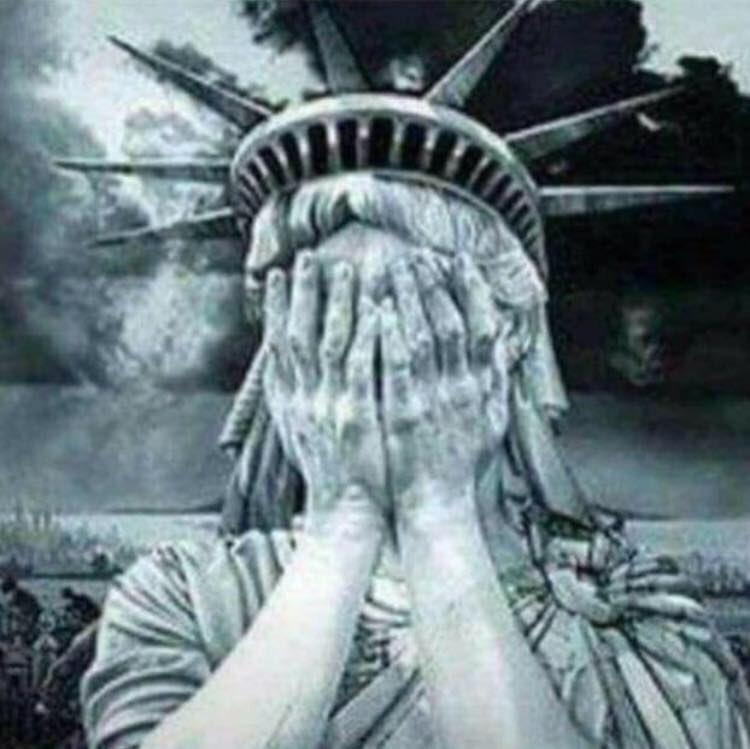 #Michellefor2020
Support started growing for Michelle Obama to run for president next time round. Using the hashtag #Michellefor2020 many asked whether the current first lady could provide hope for America.

Fossil fuel executives and climate change skeptics, including former Alaska governor Sarah Palin, feature among the candidates for key environmental roles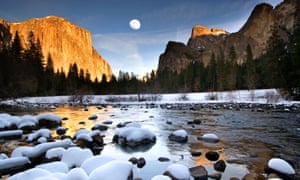 Yosemite national park and other federal lands could become the responsibility of the former Alaska governor Sarah Palin under a Trump administration. Photograph: MdN/BBC NHU / MdN / Shutterstock
The future of America's basic environmental protection has been thrown into doubt, with a host of fossil fuel executives and climate change skeptics set to get key roles in Donald Trump's new administration, including a potential return to political life for Sarah Palin.
Palin, the former Alaska governor and vice-presidential nominee, is thought to be in the running to become interior secretary in a Trump presidency. The move would put Palin, a vocal proponent of oil and gas drilling, in charge of America's public lands, including prized national parks such as Yosemite, Yellowstone and the Everglades.
Forrest Lucas, co-founder of oil products firm Lucas Oil, is also reported to be in the running for the interior secretary job. Palin has previously voiced her interest in heading the Department of Energy, if only to dismantle it, and said last year that gas and oil are "things that God has dumped on this part of the Earth for mankind's use instead of us relying on unkind foreign nations for us to import their resources".
The future of the Environmental Protection Agency (EPA) also appears uncertain, with Trump appointing Myron Ebell to head the transition team for the regulator. Ebell is a director at the Competitive Enterprise Institute, a conservative thinktank, and has expressed doubts over the reality of what he calls "global warming alarmism".
In April, Trump said he wanted to completely abolish the EPA, which he erroneously called "the department of environmental", and told Fox News that it was "killing us environmentally, it's just killing our businesses". The EPA was created in 1970 under Richard Nixon's administration and is responsible for the Clean Air Act and the Clean Water Act, which have both come under attack from Republican lawmakers in recent years.
Trump has since modified his stance on the EPA, stressing that he supports clean air and "crystal clear, crystal clean" water but not programs that combat climate change.

More US politics

For a change from the same old news stories from the same old news networks, here are links to English-edition online newspapers from other parts of the world. Nearly all of these are English-edition daily newspapers. These sites have interesting editorials and essays, and many have links to other good news sources. We try to limit this list to those sites which are regularly updated, reliable, with a high percentage of "up" time.
Some of the available newspapers:
| | | |
| --- | --- | --- |
| Asia & CIS | | |
| | | |
| --- | --- | --- |
| China | | |
| | | |
| --- | --- | --- |
| China & Hong Kong | | |
| | | |
| --- | --- | --- |
| France | | |
| | | |
| --- | --- | --- |
| Israel | | |
| | | |
| --- | --- | --- |
| Norway | | |
| | | |
| --- | --- | --- |
| Palestine | | |
| | | |
| --- | --- | --- |
| Russia | | |
| | | |
| --- | --- | --- |
| Ukraine | | |
.